Category System Utilities / Automation Tools (Filter: Demo)
Mobile Software Wedge TWedgeCE
Version: 2.1.0 | Demo (EUR 71.00)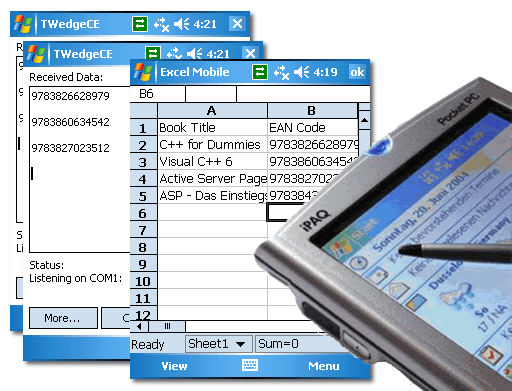 TWedgeCE is a universal data acquisition software for mobile devices or handhelds. This keyboard wedge software enables you to capture data from external devices (e.g. bar code readers and electronic scales) with any Pocket PC, Windows CE or Windows Mobile application. TWedgeCE reads device data and forwards it to target applications by simulating keystrokes (keyboard wedge operation). Works with serial interfaces, Bluetooth, TCP and UDP.
More…
Keyboard Software Wedge TWedge
Version: 3.0.0 | Demo (EUR 94.00)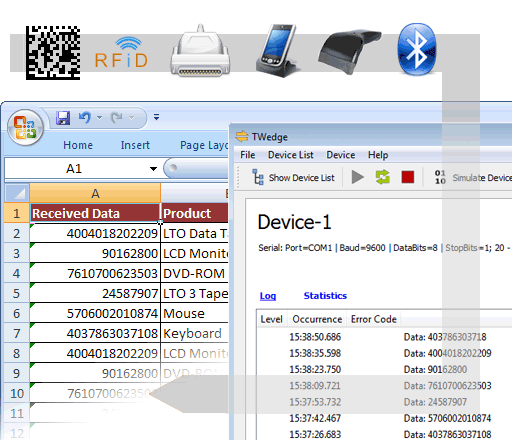 Automated data acquisition with TWedge- Keyboard Wedge, Software Wedge, Barcode Wedge: this data acquisition software extends programs and databases with real time data collection. Data from USB, RS232, RS485, Bluetooth, UDP or TCP/IP interfaces (e.g. barcode readers, barcode scanners, gauges, controller, scales, RFID) is captured with all applications and databases. TWedge provides flexible, script-based data acquisition without any programming.
More…
Flowman HotFolders&ProcessMonitor Bundle
Version: 4.3 | Demo (EUR 4,990.00)
Automate all your routine tasks - Manage all automation needs (and also existing scripts) in one simple "drag and drop" style graphical user interface. - Automation triggers based on defined schedule, hot folder, ftp hot folder or database actions - Monitor processes and log files - Develop your own automation plugins with included SDK - License includes free backup server license for business critical use.
More…
AD Bulk Users
Version: 3.1.1 | Demo (USD 99.00)
AD Bulk Users makes importing and modifying large numbers of Active Directory Users easy. You can import simple or very detailed account information such as Passwords, Group Membership, Expiry Date, Profile locations, Exchange Mailbox creation, a large list of Active Directory attributes is supported.
More…
User Manager Pro
Version: 7.03.070208 | Demo (USD 795.00)
Rapid mass management of security on servers/workstations. Allows system administrators to report on and make global changes to local user credentials, groups, rights, registry settings, and more across an entire network in a single operation.
More…
S7 Quicklogger Pro
Version: 2.3 | Demo (USD 219.00)
S7 Quicklogger is a software which is intuitive to operate and perfectly suited to quickly and simply read out data from the PLC and save the data. You can record data either time triggered or process triggered. S7 Quicklogger allows the mandatory storage of process data for quality assurance as well as for PLC debugging. The data is saved in a standard Access database and can be exported to Excel (xls file) with a push of a button.
More…
TwitterOnTheRun
Version: 1.0 | Demo (USD 12.00)
TwitterOnTheRun makes twitter friend adder, twitter auto follow, twitter bot, twitter tools, twitter apps and you can add more followers on twitter. TwitterOnTheRun works on both PC and Mac. It will follow about 500-800 targeted people a day. It will unfollow anyone that does not follow you after 24 hours automatically.
More…