VSPD All-in-one
This programme is presented to you by:
ELTIMA Software GmbH
Georg-Wilhelm str. 4
10711 Berlin
Deutschland / Germany
| | |
| --- | --- |
| E-mail: | submit [at] softinfinity [dot] com |
| Facsimile: | +1 530 698 5877 |
| Website: | www.eltima.com |
| | |
| --- | --- |
| Category: | System Utilities / System Information |
| Version: | 1.0 |
| Release date: | 2003-11-25 |
| Size: | 4.26 MB |
| OS: | Win 98 / ME / 2000 / XP / 2003 |
| Requirements: | Windows OS |
| Languages: | English |
| Downloads: | 0 in June / 94 in total |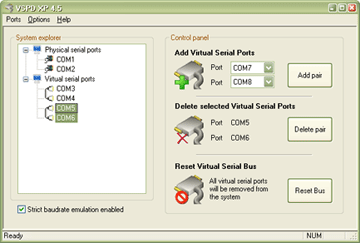 VSPD All-in-one is a professional solution for programmers, which delivers the power of 3 award-winning products ? Virtual Serial Ports Driver XP, Virtual Serial Port ActiveX Control and Serial Splitter. Purchasing this bundle now, you receive OEM license, which grants you unlimited rights for most effective utilizing of the products ? you will be entitled to use, reproduce, incorporate and embed the products? components or integral software into your own software.
Virtual Serial Ports Driver XP creates two pure virtual serial ports in your system which are virtually connected to each other and can be used as if they were real serial ports.
Virtual Serial Port ActiveX Control allows your application to create custom additional virtual serial port in system and fully control it. You can control data sent to virtual serial port by other applications and respond to them by sending your own data to virtual serial port.
Serial Splitter is an advanced technology application which creates up to 255 virtual serial ports, allowing you to share real serial port between several applications in such a way, that all application will receive same data from real serial port simultaneously.
Here you can subscribe for the update infos for this programme. You will then receive an e-mail notice each time an update has been submitted for this programme.
In order to subscribe for the update infos, please enter your e-mail address below. You will then receive an e-mail with a link, which you need to click in order to confirm you subscription.
You can unsubscribe from the list at any time. For this purpose, you will find a link at the end of each update info e-mail.
This service is completely free of charge for you.

Comments on VSPD All-in-one
There are no comments to this programme.
Write a comment