Category Games & Entertainment / Sports
TOTOFoot pro
Version: 2.5 | Shareware (EUR 24.00)
TOTOFoot Pro is a reduction software bet for fans of sports games such as paris Lotofoot 7 (France), Lotofoot 15 (France), Totocalcio (Italy), Totobola (Portugal), Quiniela (Spain), Toto 10 (Croatia), Toto 13 (Croatia), Toto Wette (Germany) ,Lotec (Brazil) Totofoot (Morocco), Progol (Mexico), Toto Liga (Poland), Unibet Supertoto, Totogoal (Switzerland)
More…
The Goalkeeper (Pc)
Version: 1.2.2 | Shareware (EUR 15.95)
Ever wanted to take the role of a great goalkeeper? Now with The Goalkeeper game you can! Create your own goalkeeper, choosing between Handling, Reflexes, Jumping and Charisma skill. Then select your starting team from 6 different leagues: England, Italy, Spain, France, Germany and Netherland.Gain Prestige Points with your saves and try to become the best goalkeeper in the world! Featuring over 100 teams from the top european leagues.
More…
Universal Boxing Manager (WIN)
Version: 1.3.8 | Shareware (EUR 24.95)
UBM is a boxing manager simulation. Manage up to 6 different boxers, each one with different stats and skills, in 17 weight categories. Choose from a huge database of over 1000 unique boxers. Arrange fights, buy new training tools, and watch the boxers fighting for real in a top view of the ring!
More…
New Star Soccer 4
Version: 4.03 | Shareware (USD 19.95)
NSS4 puts you right in the heart of the action in the most thrilling soccer game yet. Whether you choose to start out at a premier team or in the lower leagues you will need to prove yourself on the pitch and off it in this football career game.
More…
Bowling PC
Version: 1.0 | Freeware
A super addictive bowling game is here. Tons of great features, including single and team play modes. It is a great fresh new challenge for everyone who loves bowling!
More…
Free Billiards 2008
Version: 1.0 | Freeware
No need to go out to play your favorite billiard game, play here right at your PC. This amazing 3D pool game will make you believe that you are playing a real billiard game with real opponents. Tons of features and lots of fun are waiting you.
More…
Litchie Pro
Version: 3.2 | Shareware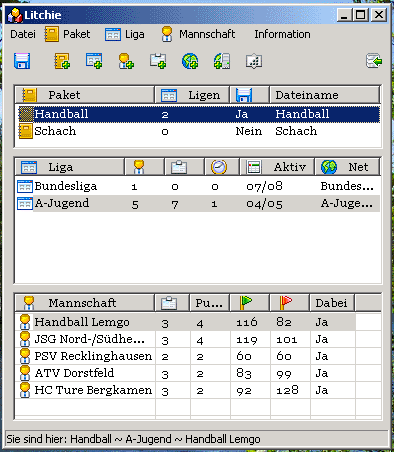 Litchie manages leagues and tournaments. It can be adjusted to any kind of sport. It can create charts, schedules, statistics, printable versions and websites. It contains Round Robin, Swiss System, Knock-Out, ELO-rating, Buchholz-rating, adjustable gained points depending on the result, and many more options. The terms can be individually adjusted as "goal"/"strikes"/etc. The table can be sorted in many kind of ways and different tie-breakers.
More…
3D MiniGolf
Version: 1.0 | Freeware
3D Mini Golf is a golf game with great graphics and music surrounding. The game may be played as one player or as hotseat. Hotseat supports up four players. 3D Mini Golf has three stages. Each stage has from 18 to 26 levels.
More…
DXsoft TrackLog
Version: 1.20 | Freeware
GPS log-maker. Software create *.plt track file, *.rte route file and, optionally, NMEA-log file.
More…
Arcade Wheels
Version: 1.0 | Freeware
Free racing game with shooting elements by GameFalls.com Take part in this fascinating race, shoot at the rivals, avoid their bullets and bombs and be the first at the finish. Collect bonuses: acceleration, money and car repair. Do not forget about the timer. Get money for each successful level that can be spent on car upgrade or on new weapon. There are ten skill levels for continuous and addictive play.
More…
KickBall3D
Version: 1.1 | Freeware
Amazing game. OpenGL Game. Kick the ball!
More…
Animation & Dance
Version: 2.0.120 | Shareware (EUR 29.00)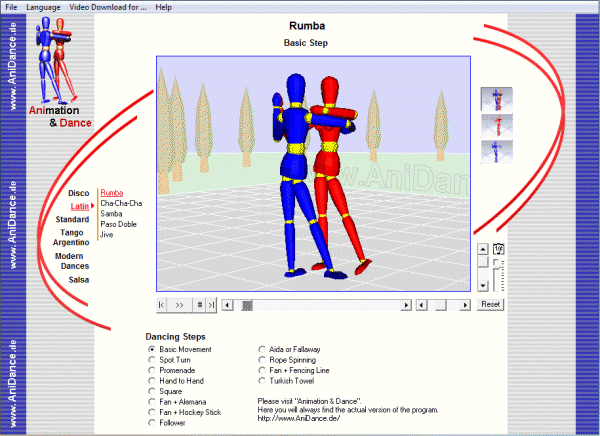 Animation & Dance presents a selection of classical dance steps as computer-animated video clips. In addition to the step combinations of Standard and Latin dances popular dances as Salsa and Tango Argentino will be introduced.
More…