Category Games & Entertainment / Strategy & War Games (Filter: Freeware)
Chinese Checkers
Version: 1.9.2 | Freeware
Challenge your mind and try various strategies as you battle with the computer in this traditional board game! Your target is to move all your marbles to the enemy base before your opponent does so. When the game starts, you will be given a checkerboard in the shape of a hexagram, and the board is divided into 6 bases of different colors. The 10 blue marbles on your side are placed in the blue area, while the 10 green pieces of the computer are l
More…
Guitar strum patterns
Version: 11.09 | Freeware
Guitar strum patterns. Free guitar lessons. Basic right hand technique for strumming. Strumming patterns. Tips on Guitar Accompaniment I'm having problems with my strumming patterns for different songs. I'm pretty much stuck
More…
Absolute Evil
Version: 3.1 | Freeware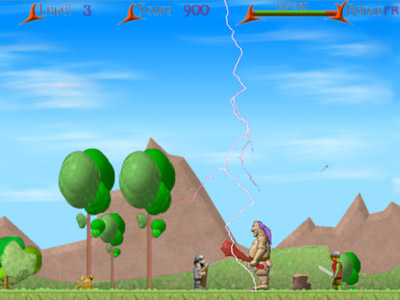 A long time ago, when magic was a common thing, people were not the only sentient beings on the Earth. There were also trolls, goblins, elves and more. Every so often, wars between the races broke out and chaos reigned. Some kingdoms would win over the others, and some would suffer defeat. The rulers were changing, and enlighteners were born. But then a horrible creature appeared...
More…
I of the Enemy: Ril'Cerat
Version: 2.25 | Freeware
I of the Enemy: Ril'Cerat is a totally free, stand alone, science fiction real-time starategy game, that is the first chapter in the "I of the Enemy" saga. The player is a Lokob (luh-kobe) officer who is in charge of his race's contingent. Major Verkkal (voice talents of Ian McNeice, famed for his role as Baron Harkonnen in Dune) is his trusted friend and Field Commander.
More…
Crazy Towers
Version: 1.2 | Freeware
On the 8x8 board bricks and bombs in packages of 1 to 4 are distributed at random. Also you'll find one or more bananas. Right to the board there is a foundation. It will be your job to build a tower there. To be able to build your tower you need bricks, which you find on the board. Bombs logically reduce the height of towers. You can only take bricks, which are inside of the small yellow bar. This bar changes its dirtection after every move.
More…
3018nC
Version: 0.2 | Freeware
Mehrspieleronline Strategie- und Aufbauspiel - Pflanze Bäume und Sträucher, gestalte Deine eigene Landschaft, grabe nach Bodenschätzen, pflanze und ernte wie ein Farmer und baue Deine eigene kleine Stadt in der Du viele Dinge prodzieren kannst.. Spiele dieses Spiel mit vielen anderen Spielern zusammen. Lasse Dich überraschen von einer ganz neuen Spielidee, die es bisher noch nie gegeben hat.
More…
Needles
Version: 5.7 | Freeware
Excellent first-person shooter with all levels played in the arena style. Your task is to eliminate all enemies and bosses in order to complete all levels. The game encompasses six different levels in varying locations. Choose from five weapons and four levels of difficulty.
More…
Tsunami Doomsday
Version: 5.6 | Freeware
Tsunami Doomsday, a fight for survival in the wake of the apocalypse. Every year, a bunch of scientists and visionaries make dire yet inaccurate predictions. After yet another prediction, instead of building a bunker and stocking up on supplies, you vacation on a tropical island to get some rest. But this time, unfortunately, what they said came true. The island paradise is almost completely flooded!
More…
Battle For Life
Version: 4.2 | Freeware
Truly a cool shooter with a beautiful 2.5D graphics. Your battalion takes on the enemy and this game is not intended for children. Your mission: There are important military positions located in Afghanistan, Peru, Russia and Brazil. Walk through the deserts, forests, mountains, and don't be shy about pumping lead. At your disposal are several types of motor vehicles, infantry, tanks, armored personnel carriers, helicopters, etc.
More…
Falco Fire
Version: 9.6 | Freeware
Falco Fire - The year is 2105. Climatic disasters and energy shortages lead to widespread panic and chaos. A new energy field is discovered in Siberia which may very well be the last one on Earth. Civil war breaks out in Russia and the US invades, taking advantage of the disarray to seize the energy field. Tank battles are raging everywhere. Your hero is in the center of all this mess, trying to protect his native land and loved ones.
More…
Multiplayer Chess
Version: 1.5.2 | Freeware
Whether you are a brave commander who aims to wipe out all enemy forces, or a wise tactician who defeats your opponent through tactics and intrigue, the historic game of chess will surely make you sit on the edge of your chair. Your goal is to move your pieces to capture the king of your opponent. When the game starts, you will be given a chessboard with 64 squares, and each player will be assigned a set of pieces. Each set contains 1 king, 1 que
More…
Multiplayer Checkers
Version: 1.6.1 | Freeware
Can you capture all of your opponent's pieces and become the ultimate winner of checkers? In this 2-player game, you will be given a 8x8 chessboard, and each player will start with 12 pieces placed on the dark spaces of the 3 rows closest to the player's side. Before reaching the row closest to your opponent (the kings row), your pieces can only move forwards. During your turn, you can click to move one of your pieces one step forward diagonally
More…