Category System Utilities / Backup & Restore
Delphino Z!PBackup
Version: 2.0 | Freeware
Delphino Z!PBackup ist ein einfaches und doch sehr zeitersparendes Backupprogramm. Es packt ganze Verzeichnisse als ZIP-Dateien die dann auf CD gebrannt werden können. Features: AutoZipNaming, Autostart, AutoClose, AutoShutdownWindows, ZIP-Passwort
More…
Backupper
Version: 1.00 | Freeware
Backupper ist ein Tool, womit Sie Ihre Daten per Zeitsteuerung auf ein anderes Laufwerk backuppen können. Zur Installation benötigen Sie eine Serial, welche Sie kostenlos von uns per E-Mail erhalten. Senden Sie uns dazu einfach eine E-Mail.
More…
Hard Drive Recovery
Version: 2.1 | Shareware (3,360.00)
Advance Hard Drive Recovery Software makes deep scan of your logically damaged, corrupted or crashed hard disk drives for bring back valuable data. Software helps to recover deleted files which have been removed using Shift Delete keys.
More…
mySQL Backup Automation Task
Version: 2.0 | Shareware (EUR 39.00)
Das Programm führt automatisch einen SQLdump auf einem entfernten Rechner mittels einer Telnet-Verbindung aus und lädt die Sicherungsdatei per FTP- oder HTTP-Download (nur bei Vollversion) herunter. Es können für jeden Tag Sicherungsverzeichnisse automatisch angelegt werden, in die die Sicherungsdaten gespeichert werden. Es können nahzu unbegrenzt viele mySQL-Datenbanken gesichert werden ohne administrative Eingriffe gesichert werden.
More…
S3 BackupSystem
Version: 1.0_free | Freeware
S3 BackupSystem is freeware application that allows making secure and reliable backup copies of your files to Amazon S3 online servers. It uses state of the art Amazon cloud storage servers, offering industrial robustness and security. All your data is heavily protected with military grade AES encryption, then transmitted through SSL secure channel and is stored on your personal account on Amazon S3.
More…
R-Drive Image Hard Disk Backup Software
Version: 2.0 | Demo (USD 44.95)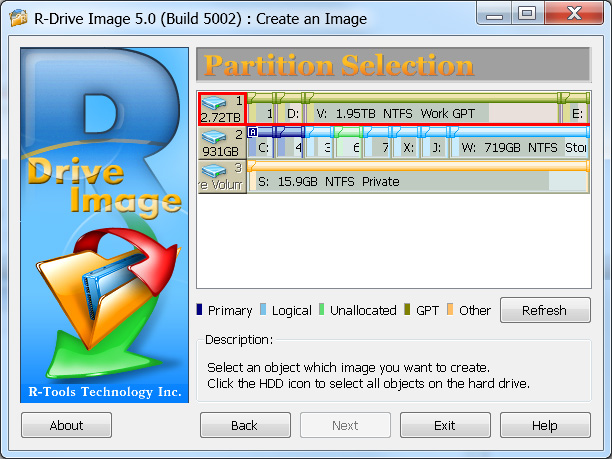 R-Drive Image ist eine umfassende Lösung für Backups, Festplattenspiegelung und Systemaktualisierungen. Es legt eine Image Datei an, die eine exakte, Byte-für-Byte Kopie der Festplatte, der Partition oder des Laufwerks darstellt. Verschieden Kompressionsraten können eingestellt werden.
More…
Basic Backup
Version: 1.0.0 | Freeware
Basic Backup ist eine JAVA basierte Softwarelösung zur plattformunabhängigen Datensicherung. Basic Backup bietet die Möglichkeit zum Betrieb auf einem USB-Stick oder externer Festplatte, sowie die Möglichkeit zur Datensicherung in der Konsole oder GUI.
More…
1st Backup
Version: 1.0 | Freeware
1st Backup ist eine leicht zu bedienende Softwarelösung um sensible Dateien schnell, effizient und automatisiert zu sichern. Als Backup können einzelne Dateien oder ganze Verzeichnisse inkl. Unterverzeichnisse definiert werden. Für einen automatisierten Backup, kann ein Backup stündlich oder täglich eingerichtet werden.
More…
Z-DATdump
Version: 3.2 | Freeware
Z-DATdump kopiert automatisch bzw. zeitgesteuert komplette Verzeichnisse, zum Transport, als Backup, zur Sicherung oder zur Archivierung auf Streamer-Laufwerke, d.h. schnelle, automatisierte Datensicherung auf: TRAVAN, SLR, MLR, QIC, LTO, AIT, DLT, DDS oder DAT-Bandlaufwerke. Das Programm hat eine einfach zu bedienende Programmoberfläche und kann auch über Kommandozeilen-Parameter gesteuert werden.
More…
R-Linux Data Recovery
Version: 1.0 | Freeware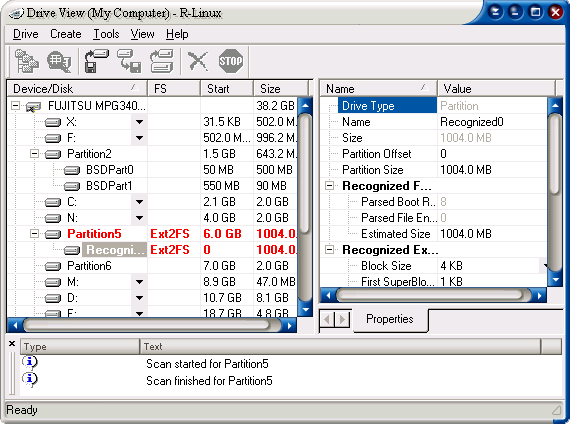 R-Linux ist eine kostenlose Lösung zur Datenrettung von Ext2FS-Partitionen unter Windows. Die verwendete IntelligentScan-Techologie und flexible Parameter geben Ihnen die volle Kontrolle über eine schnelle und effektive Wiederherstellung von Daten auf logischen Datenträgern.
More…
R-UNDELETE File Recovery Software
Version: 2.1 | Demo (USD 29.99)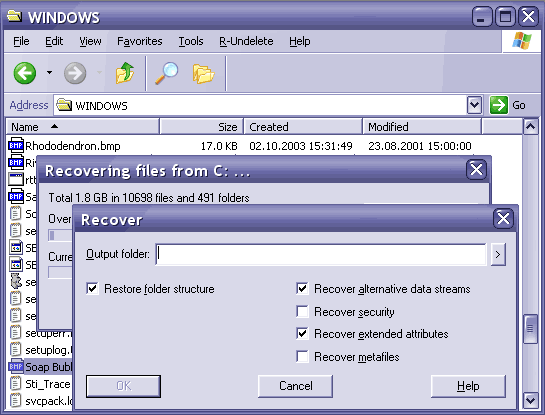 R-Undelete ist eine mächtige Lösung für das Wiederherstellen von Daten unter FAT, NTFS, NTFS5 und Ext2FS. R-Undelete ist in der Lage, Dateien von gültigen logischen Laufwerken wiederherzustellen, wenn sie nicht (mehr) im Papierkorb liegen oder durch einen Virenbefall beziehungsweise Stromausfall gelöscht wurden. R-Undelete kann auch verschlüsselte und komprimierte Dateien oder alle anderen Datenfolgen wiederherstellen.
More…
Datensicherung / Backup
Version: V1.0 | Shareware (19.00)
Dies ist ein Datensicherungs- und Backup-Tool. Hiermit lassen sich ganz gezielt einzelene Dateien, oder kompl. Ordner, als auch die gesamte HDD kopieren. Ein ISO, bzw. ein Image, mit dem man eine 1:1 Kopie erstellen kann, lässt sich hiermit jdoch noch nicht erstellen. Es dient z.Z. lediglich erst einmal dazu, seine wichtigen und seriösen Daten sichern zu können und dann mit Hilfe eines zus. Brennprogramms auf einer CD/DVD brennen zu können.
More…