Kategorie System Utilities / Launchers & Task Managers
ServiceCommander
Version: 4.0 | Shareware
ServiceCommander is a free utility that helps you to take control of your important Windows Services. Easily start, stop, or restart selected services on any computer on your network, all conveniently from the Windows Taskbar.
Mehr…
Aston2 Panels
Version: 1.3 | Shareware (19,95 USD)
Aston2 Panels are an integral part of Aston2 Suite, that allows users to change the appearance of regular Windows taskbar and provides additional panels . Its basic features are skins support, widgets and plug-ins support, fast and convenient search, flexible configuration, animation support, Drag'n'Drop operations support, unicode support, XML standard, multi-language support. Every element of the panels can be tweaked according to your needs.
Mehr…
ProcessKO
Version: 4.08 | Freeware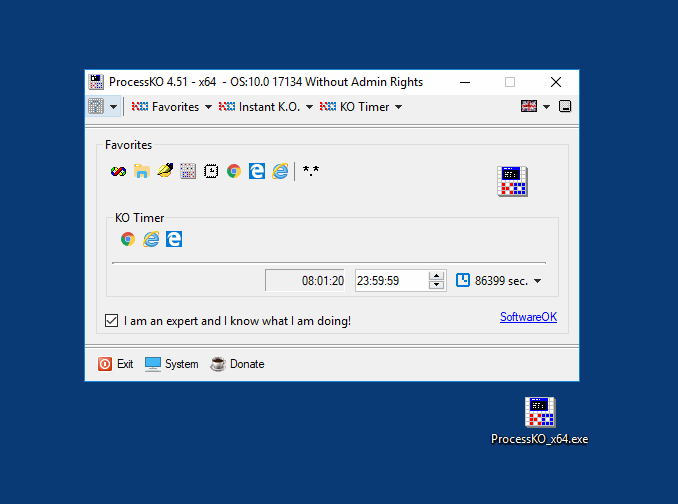 ProcessKO ist ein kleines hilfreiches Tool zum schnellen Killen der laufenden/hängenden Prozesse bzw. Programme, es ist nicht gerade selten bei Entwicklern oder Programmtestern, daß sich die Programme aufhängen und sich über den Taskmanager nicht schließen lassen. Teilweise sind es immer wieder die selben Kandidaten, aus diesem Grund verfügt ProcessKO über eine hilfreiche Funktion: das Anlegen von Lieblings-KO's!
Mehr…
Able Launch Bar
Version: 3.8.32 | Freeware
Able Launch Bar is a window similar to the Quick Launch bar. This is Application Desktop Toolbar with built-in Windows Explorer. Able Launch Bar offers a system of shortcuts far more superior than Quick Launch. Arranged into folders, they are just the same as folders in the Explorer window. Able Launch Bar support for Drag & Drop helps quickly fill the folders with shortcuts from your desktop or start menu.
Mehr…
Comfort Keys Pro
Version: 7.5 | Shareware (29,95 USD)
Denselben Text immer wieder eintippen müssen? Endlose Menüs durchblättern müssen um etwas bestimmtes auf einer Webseite zu finden? Schluss damit! Mit diesem Hotkey-Manager der neuen Generation könnt ihr Eurer Maus etwas Ruhe gönnen und Hotkeys für alle möglichen Operationen festlegen - wie die Profis!
Mehr…
AnVir Task Manager Pro
Version: 7.5 | Shareware (49,95 USD)
Complete app that controls everything on computer. Monitor your system (replace Task Manager). Get rid of spyware and viruses. Enhance and tune up XP or Vista. Accelerate your PC and Windows boot process. Task manager. Startup manager. Full information about processes. Manages startup programs and active processes and removes spyware while offering a great variety of Windows enhancements. http://www.anvir.com
Mehr…
RecentX
Version: 3.0 | Shareware (29,95 USD)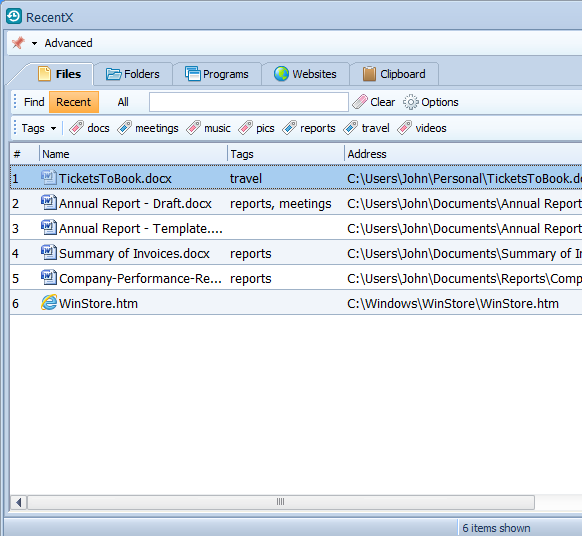 RecentX lets you quickly launch any document, folder, program or bookmark in just 3 steps and in less than 3 seconds. You do not have to waste time finding scattered files, navigating through deep folders, program menus, accessing cluttered desktop shortcuts, unorganized bookmarks & slow network paths.
Mehr…
True Launcher
Version: 2.8 | Freeware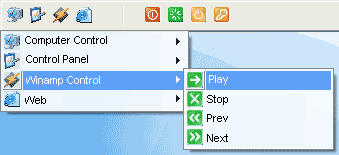 True Launcher is a simple, easy to use program launcher. True Launcher allows you to combine your shortcuts into groups, helps to free the desktop from numerous icons, folders, and files by moving them to the True Launcher start panel. This panel automatically hides when it is inactive and pops up when the user points to the area where it is located. Also you can start applications via tray menu and hotkeys.
Mehr…
Control Runner
Version: 3.4 | Shareware (29,95 USD)
Control Runner is a program launcher and manager for Windows (95/98/Me/2000/XP) that can substantially increase your productivity. Control Runner presents installed applications in a powerful and convenient tabbed interface, allowing you to group together related items, whether they are applications, documents or Internet links. Selecting and launching the right one is a guaranteed two clicks tasks. No more guessing around.
Mehr…
12Ghosts QuickStart
Version: 9.70 | Shareware (12,99 USD)
Unlimitted hotkeys and tray icons for each entry. Open programs, documents, websites, and special system folders like StartUp or SendTo, specific control panel pages, and even registry keys in RegEdit. With a variety of unrelated functions: quick resolution changing, shutdown or logoff, remove formatting from clipboard text, set task sequence, or changing the middle mouse botton click to a double-click.
Mehr…
Active Keyboard
Version: 3.1 | Shareware (29,95 USD)
HotKey Program, Launch applications, documents, and URLs, and over 80 other actions to hot keys
- Control your Winamp player
- Hide application windows
- Open, Play and close your CD-ROM
- Change the volume, mute
- Logon and Power management
- Open dialup connections
- Empty recycle bin
- Create New Folder
- Lock/Unlock Desktop
- Show/Hide Windows
- Show/Hide Icons from Desktop
- Restart Explorer
- Lock/Unlock Mouse
- more...
Mehr…
RLauncher
Version: 2.3 | Freeware
RLauncher is an easy to use application launcher. It is used to quickly launch applications, documents, and URLs with one mouse click and save your time. You can do it via main toolbar, tray menu, floating window, hotkeys and aliases. The software has Load at startup and Auto-hide options that should make your life even more easier. RLauncher is a free software and it does not contain any spyware.
Mehr…