Kategorie System Utilities / Launchers & Task Managers
FireDaemon Pro
Version: 3.14.2755 | Shareware (49,00 USD)
FireDaemon Pro is a system utility that allows you to install and run any 32-bit or 64-bit application or script (EXE, DLL, BAT CMD, .NET, Perl, Java, Python, TCL/TK) as a Windows service. FireDaemon Pro features easy service configuration via the GUI or command line, a low memory and CPU overhead, subprocess prioritization, custom environments, scheduling, popup closing, CPU binding, monitoring and logging to the event log and on-disk log files.
Mehr…
Active Keyboard
Version: 3.1 | Shareware (29,95 USD)
HotKey Program, Launch applications, documents, and URLs, and over 80 other actions to hot keys
- Control your Winamp player
- Hide application windows
- Open, Play and close your CD-ROM
- Change the volume, mute
- Logon and Power management
- Open dialup connections
- Empty recycle bin
- Create New Folder
- Lock/Unlock Desktop
- Show/Hide Windows
- Show/Hide Icons from Desktop
- Restart Explorer
- Lock/Unlock Mouse
- more...
Mehr…
RLauncher
Version: 2.3 | Freeware
RLauncher is an easy to use application launcher. It is used to quickly launch applications, documents, and URLs with one mouse click and save your time. You can do it via main toolbar, tray menu, floating window, hotkeys and aliases. The software has Load at startup and Auto-hide options that should make your life even more easier. RLauncher is a free software and it does not contain any spyware.
Mehr…
Flexiblesoft Launcher
Version: 3.1 | Shareware (19,97 USD)
Flexiblesoft Launcher is a small program that allows you one mouse-click access to a pop-up menu of your favorite shortcuts, minimizing use of valuable desktop space and system resources. By extending mouse functionality, your customized pad of shortcuts appears with the click of a mouse or a combination that you specify. Click one of the shortcuts on your pad, and your application is launched.
Mehr…
DE Launcher
Version: 2.2 | Freeware
DE Launcher is a desktop utility that provides an alternative method of launching your favorite applications, documents and URLs and starting common Windows tasks. It's easier to use than Windows Start menu, and neater than having large numbers of desktop shortcuts. Now you can launch your favorite tasks/programs using DE Launcher's toolbar, a system tray menu, a floating window or with keyboard hotkeys.
Mehr…
getStarted!XP
Version: 4.5.6 | Shareware (19,90 EUR)
Völlig anpassbare und animierte Schnellstartleiste im Apple-Style für Ihren Desktop. getStarted!XP ist ein sehr leistungsfähiger und stylischer Ersatz für das Startmenü, die Quicklaunchbar und die Office-Shortcutleiste. Einige Funktion von getStarted!XP: Magnify Effect/Variable Icon Size/Support of Styles and Skins/Autohide/Hide Desktop Icons/Seperators/Directory Flyoutmenus/Dock on all Edges of Screen
Mehr…
Vista Start Menu
Version: 6.00 | Freeware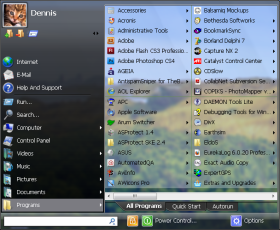 Haben Sie unzählige Programme im Start-Menü? Vergeuden Sie Ihre Zeit mit endlosem Suchen nach dem richtigen Programm? Probieren Sie Vista Start Menu aus und finden Sie die Stecknadel im Heuhaufen! Vista Start Menu ist sowohl für fortgeschrittene Benutzer als auch für Anfänger geeignet. Arbeiten Sie mit Vergnügen!
Mehr…
Magic Utilities
Version: 6.20 | Shareware (39,95 USD)
Magic Utilities is a cute program designed to make your computer clean and more stable. These utilities include Uninstaller Plus, StartUp Organizer,Process Killer,Disk Cleaner,File Shredder and File Protector. Magic Utilities enables you to easily and safely uninstall programs, inspect and manage the programs that automatically start when your turn on or logon to your computer,lists and controls all currently running processes .
Mehr…
HiBase Task Scheduler
Version: 2.21 | Shareware (29,95 USD)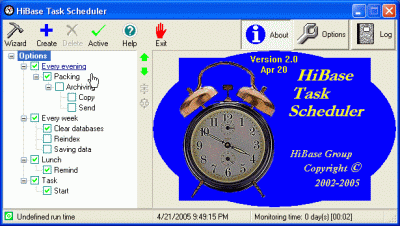 In UNIX systems, the cron daemon exists to automate tasks that should be done periodically. Unfortunately, Windows provides only a very limited ability to automate tasks. HiBase Task Scheduler comes to the rescue. The program allows you to schedule various tasks. You can run applications at certain times, execute files using Windows file associations, copy/rename/delete files, etc. Task Scheduler has built-in ZIP compression support too.
Mehr…
Astatix Launcher
Version: 1.63 | Shareware (19,95 USD)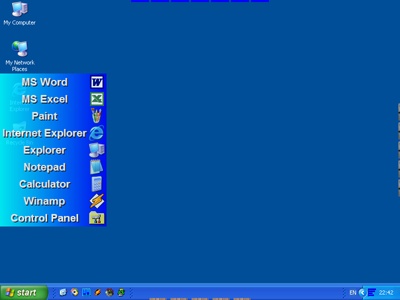 Astatix Launcher allows you to quick start any applications, open documents and explore folders in a single click. It allows assigning hotkeys to any actions, fulfill several special functions: open/close CD door, run screen saver, hide task bar and others. One of additional possibilities is a control of Winamp. You can use any hotkeys and control Winamp player anytime even you are playing full-screen games like Quake or Counter Strike.
Mehr…
PS Hot Folders
Version: 2.2 | Shareware (19,95 USD)
Using PS Hot Folders special easily configured menu, you can quickly go to the folder that you want in standard Open, Save As and Browse dialogs or quickly open the folder that you need in Windows Explorer. This menu can be called by clicking the special button in the dialog caption or the program icon in the taskbar system tray. For fast navigation to the necessary folder the hot keys are supported.
Mehr…
eXtended Task Manager
Version: 2.15 | Shareware (42,00 EUR)
XTM ist ein Tool zur erweiterten Aufgabenüberwachung und Fehlersuche für das Betriebssystem Microsoft Windows. XTM kann schnelle Lösungen für Probleme liefern, die plötzlich beim Produktbetrieb auftreten können, ohne dass eine Neuinstallation von der Workstation des Benutzers erforderlich ist, oder sogar ohne das Programm schließen zu müssen.
Mehr…