Category System Utilities / System Information
EF Process Manager
Version: 7.60 | Shareware (EUR 10.00)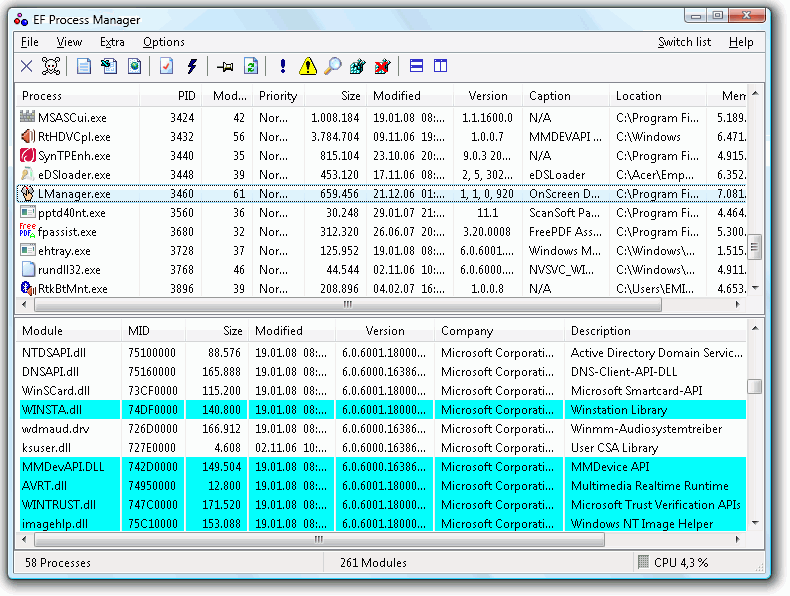 EF Process Manager is a Windows program that shows you comprehensive information about which modules processes have opened or loaded,register/unregister modules to registry database, show the environment variables or the Windows error codes, make operations like kill process and much more... Multilingual. Shareware
More…
Effective Solution to Export EDB to PST
Version: 8.7 | Shareware (EUR 200.00)
Download the Effective Solution to Export EDB to PST and makes your all exchange file again useable or readable into PST Outlook file. EDB Export to PST Software smoothly recover selective single and multiple folders of exchange file and Export exchange EDB to PST Outlook file, EML, MSG and HTML format with emails, contacts, calendars, task, notes and appointments. It works on all exchange EDB file versions upto 2013.
More…
Exchange EDB Converter Tool
Version: 8.7 | Shareware (EUR 200.00)
For getting the exchange file data back into outlook file is became very easy for users by download Exchange EDB Converter Tool that supports multiple emails conversion for this you can select the emails one another after and export all the selected emails into PST Outlook, EML file, MSG file and HTML file. Software gives messages filtering option that gives the permission to filter the emails by dates for recovery emails
More…
EDB Email to PST Recovery
Version: 8.7 | Shareware (EUR 200.00)
Enstella Exchange EDB email to PST Recovery search EDB file location applying by two method fast you automatically search EDB file location and second one you can manual browse EDB file location on your PC and after that you can recover EDB file data with smart EDB to PST Recovery process.
More…
OST Email Converter
Version: 7.0 | Shareware (EUR 74.00)
What will you do? If OST gets corrupt, definitely creates a need of perfect OST email converter that can do OST recovery perfectly and also perform to OST conversion to PST. OST file conversion tool makes OST extraction easily from such OST versions as 97 to 2016 It smoothly convert OST data into such MS outlook file as 97 to 2016.It can smartly save OST file data in PST/EML/MSG/HTML/MHTML/RTF/TXT/DOC/PDF/MBOX/etc.
More…
DrivesVisor
Version: 2.2 | Shareware (USD 14.95)
Monitors hard drives, provides advanced reports of recently created, deleted, modified or renamed files. Detects applications that use abusively your hard drives and thus decrease the performance of your computer; detects files hidden by applications on your hard disk during setup; can be used to retrieve the location of misplaced files. Can be set up to notify you on low disk space - by message boxes, sounds or even by e-mail or net messages.
More…
Export Data From Exchange
Version: 5.0 | Shareware (EUR 225.00)
Are you unable to access on Exchange EDB file? Want to Export Data From Exchange EDB file? Use PDS best Exchange EDB Export PST Software to repair corrupt EDB file and Export Exchange Mailbox to PST with full attachments- Inbox, Outbox, Sent Items, Deleted Items, Draft, Journals, Tasks, Calendars, Notes, and Contacts. By using this software you can Extract EDB file and Move EDB file to PST file on EDB versions-5.0/5.5/2000/2003/2007/2010
More…
Export from Outlook Mac 2011 to Outlook
Version: 5.4 | Shareware (EUR 72.00)
Find an well organized way to execute Outlook for Mac 2011 OLM files into PST, MSG or EML file formats are easy to run on all Windows email clients, also this tool assists you to export from Outlook Mac 2011 to Outlook 2010 and other platforms too. Thus this .olm to .pst migration task can be assigned to Outlook Mac exporter tool on which one can rely upon and which has the ability for importing OLM to Outlook for Windows with Data-Hierarchy.
More…
NSF Thunderbird Converter
Version: 2.3 | Shareware (EUR 72.00)
To access .nsf files on manifold .mbox based email clients is achieved without great effort by anyone who wannabe to switch of Lotus Notes files on various MBOX supportive email clients. NSF Thunderbird Converter tool is fully compatible on miscellaneous email clients. Now most of the users are answered with desired solutions of their queries as How to convert .nsf files to .mbox format.
More…
OLM to Outlook 2013 Software
Version: 5.4 | Shareware (EUR 72.00)
One might have faced many complexities in the direction to Migrate OLM to PST files in their line of business in earlier days however at the present time a massive number of options are reachable to facilitate them convert OLM files in Windows machine whereas few converter utilities also supports the newest editions of Outlook and Windows. OLM to Outlook 2013 Software is one of them which in return enable to convert files from Mac to Windows.
More…
EDB Converter
Version: 7.5 | Shareware (USD 299.00)
Enstella superb EDB Converter Software quickly works on your corrupt EDB file & repair exchange EDB file. Best exchange EDB export PST software brilliantly export EDB to PST. Through exchange EDB to PST conversion software you can smoothly convert exchange EDB to PST with EDB folders- Inbox, Outbox, Sent Items, Deleted Items, Draft, Journals, Tasks, Calendars, Notes, & Contacts. It works on EDB file versions-5.0/5.5/2000/2003/2007/2010.
More…
Migrate EDB to PST
Shareware (EUR 299.00)
Best Exchange server recovery software takes few seconds to recover EDB file and migrate EDB to PST. It works against any trouble or obstruction and assures about successful recovery and conversion of EDB file to PST. Users can easily migrate EDB file to Outlook with entire mailbox elements such as contacts, calendars, tasks, notes, appointments etc. Exchange EDB converter program is fully efficient to make Exchange data readable into PST file.
More…