Category System Utilities / System Information
Mac to Outlook Contacts
Version: 5.4 | Shareware (EUR 73.00)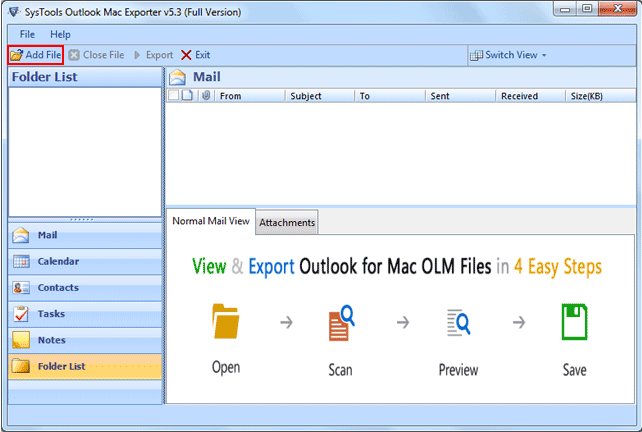 Lately established reorganized edition of Mac to PST Converter has turn out unfeasible into realistic this as a whole implies that conversion of OLM to EML and MSG was used to be unfeasible earlier for the users however now with OLM to PST Software it become feasible along with other useful factors of Mac OLM file. The software at the initial stage just prior to Mac to Outlook Contacts Conversion gives users the option to scan the Mac OLM file.
More…
Outlook for Mac OLM to PST
Version: 5.4 | Shareware (EUR 73.00)
Mac Outlook OLM to PST Converter Pro has happened to be one of the effective tools to convert Mac OLM to PST file as in to assist users View OLM database in Windows environment since this used to be unfeasible before however Free OLM to PST Conversion Tool made it feasible and much more productive too. The OLM 2 PST Software has been restructured now and is supported by conversion of Outlook for Mac OLM to PST, EML and MSG file intact.
More…
How To Unlock My PDF File
Version: 3.2 | Shareware
Have you come here looking for information on how to unlock PDF files? Then you are at the right place and you can find an unlock PDF Online free tool to Unlock PDF Owner Password Online PDF document limitation removal tool is powerful yet simple utility which enables you to unlock PDF Online free tool. This can be handy if you have forgotten the password on your PDF file and need to get rid of how to unlock PDF files?
More…
Outlook PST Recovery
Version: 12.0 | Shareware (USD 69.00)
MS Outlook PST Recovery Software is a Professional Outlook PST Repair tool to get back outlook email data from corrupt or damaged MS Outlook PST files. After successful recovery process Outlook PST Recovery Software creates a new working PST files and imports all emails into ms outlook. Fix PST file with QR PST Recovery Software. Outlook PST Recovery Software successfully repairs corrupt pst files of MS Outlook 98/2000/2002/2003 & 2007.
More…
FileProtection
Version: 1.0 | Shareware (EUR 9.99)
Mit FileProtection können Sie Systemdateie
und andere wichtige Dateien überwachen und sich bei Änderungen benachrichtigen lassen.
Außerdem enthält das Programm eine Dateishredder Funktion, mit der man Dateien löschen und mit Zufallszahlen überschreiben kann, damit diese auch mit speziellen Datenrettungsprogrammen nicht mehr wiederherstellbar sind.
Nebenbei überwacht das Programm Ihre IP-Adresse und protokolliert Änderungen in einer Logdatei mit.
More…
Zip File Recovery
Version: 1.0 | Shareware (USD 29.00)
Zip File Recovery software is an only solution to repair broken or corrupt zip files created using Winzip, Winrar or any other compressed utility archives. Software successfully repair corrupt zip files which showing errors such as "Cannot open file: it does not appear to be a valid archive and CRC error".
More…
HTMLtoRTF Converter Easy
Version: 1.1 | Freeware
Fast converting multiple HTML to RTF. You can convert HTML into RTF with tables or transform tables to the text. You can convert many files at once. Average speed of converting in RTF - 15 files in a second. After converting RTF - files decrease twice in comparison with a DOC-format.
More…
[mkb] WinSockInfo
Version: 2.0 | Freeware
Zeigt ein paar interessante Informationen rund um die WinSock Schnittstelle von Windows an.
More…
AH-Integrity
Version: 1.1.1 | Freeware
Mit
Integrity
lassen sich unter Windows Vista die Integritäten von verschiedenen Objekten (Dateien, Prozessen, Threads, Services, ...) über eine grafische Oberfläche listen und ändern.
Zum Downloaden einfach auf der Homepage des Autors auf die Überschrift der Programmbeschreibung - Integrity - klicken.
More…
CPUiD
Version: 2.0.1 | Freeware
Das Programm liefert Ihnen zahlreiche Informationen über den Prozessor, der in Ihrem System arbeitet. Es erkennt ca. 400 unterschiedliche Prozessoren, teils sogar mit Codename Auch ist es möglich, das Programm auf Multiprozessor - Systemen auf einem bestimmten Prozessor laufen zu lassen. Außerdem ist es möglich, die Daten in einer übersichtlichen HTML - Datei zu speichern.
More…
CheckSystem
Version: 4.0 | Demo
CheckSystem ist ein Programm mit dem man u.a. die Festplattenkapazität von Partitionen und Verzeichnissen kontrolieren kann, sodaß es als Disk-Quota-Programm einsetzbar ist. Die Ereignisprotokollüberwachung informiert per Email über neue Einträge und die Watson-Kontrolle liefert einen ausführlichen Bericht, wenn ein Fehler aufgetreten ist. Die Anwendungsüberwachung prüft, ob ein bestimmtes Programm läuft und die HTTP-Überwachung prüft Webseiten.
More…
ProcessInfo
Version: 2.5 | Demo (EUR 12.00)
ProcessInfo liefert Informationen zu allen Prozessen, die aktuell von Ihrem Windows ausgeführt werden. Es bietet in Form einer komfortablen und einfach zu bedienenden Benutzeroberfläche die Möglichkeit, einen oder mehrere Prozesse zu beenden, Reports über einen oder mehrere Prozesse zu erstellen, Modul-Informationen eines jeden Prozesses anzuzeigen, einen Prozess mit einem Debugger zu verbinden und vieles mehr.
More…