Category Graphic Apps / Screen Capture
Icecream Screen Recorder
Version: 5.76 | Shareware (USD 29.95)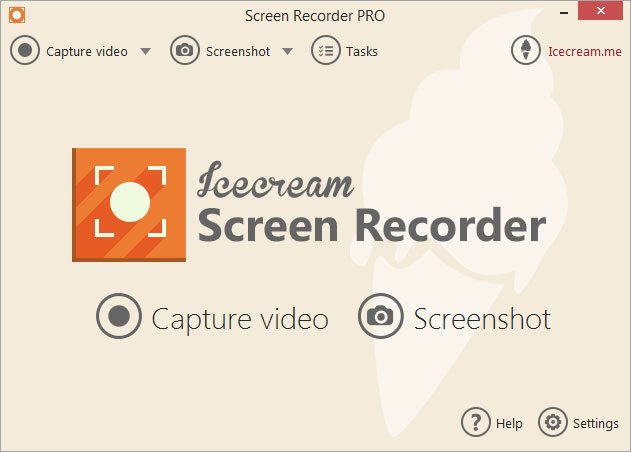 Icecream Screen Recorder is a versatile program that supports capturing video with audio and screenshots and use special options to adapt them to specific needs. The program features multiple options for creating screencasts and screenshots: record audio, use drawing tools, capture screen within a selected area, use special instruments to capture screen in the most effective way. Now users can save screenshots as JPG and PNG files and add tasks.
More…
Debut Pro Video-Aufnahme-Programm
Version: 5.04 | Shareware (USD 59.95)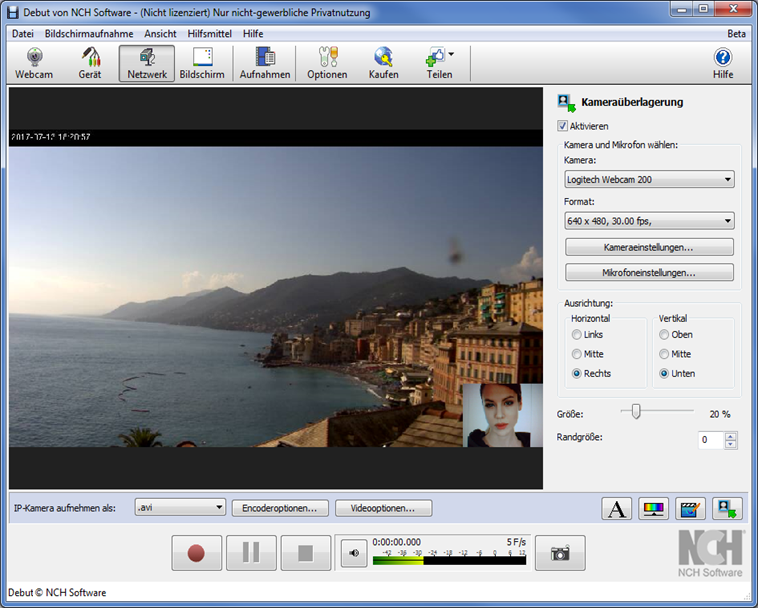 Video vom Bildschirm aufnehmen, von Webcam oder anderen Videoger
More…
Debut Pro Mac Video-Aufnahme-Programm
Version: 4.11 | Shareware (USD 34.99)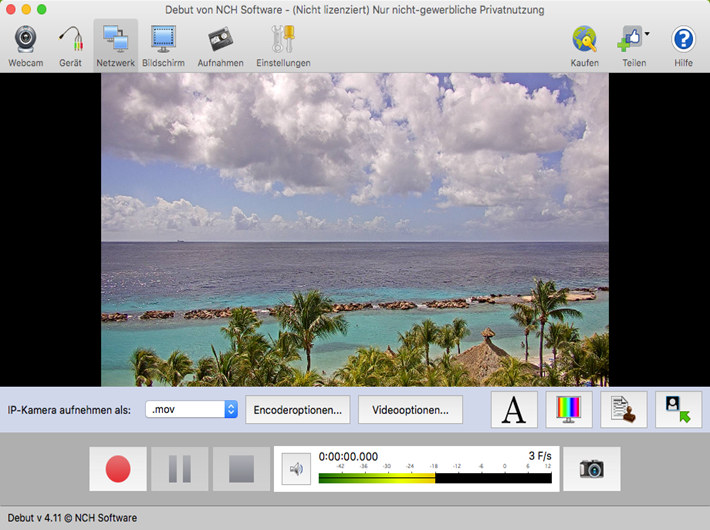 Debut Pro Video-Aufnahme-Programm fuer Mac. Video vom Bildschirm aufnehmen oder anderen Videogeraeten. Einen ausgewaehlten Bereich oder den gesamten Desktop aufnehmen und das aufgezeichnete Video in AVI, FLV, WMV, MP4, etc. speichern. Videoaufnahmen per E-Mail oder via FTP versenden. Debut dazu einrichten, Video zu einer bestimmten Uhrzeit aufzunehmen. Computerspiele aufnehmen, Videoanleitungen erstellen, Videonachrichten aufzeichnen u. m.
More…
Direct Stream Recorder
Version: 3.2 | Shareware (USD 29.95)
With Direct Stream Recorder, you can save any kind of video and audio stream to your disk, including video chats in instant messengers, Skype conversations and streams protected streams. Direct Stream Recorder saves a stream into a standard .avi file. Just select the area to capture, set the audio source, choose video/audio codecs and start the record. Record anything that you can see on your display and hear.
More…
Desktop Adviser
Version: 5.7 | Shareware (USD 24.95)
Desktop Adviser is an invisible spy screen capture software that help you to control PC activity in your family or in your office. Desktop Adviser captures screenshots of the active application window or the entire desktop at the predefined time intervals varying from 1 second to several hours and saves the recorded images to a specified directory on the hard drive in image or video format.
More…
Easy Screen Capture And Annotation
Version: 2.5.0.0 | Shareware (USD 29.95)
Easy Screen Capture and Annotation will help you capture any part of the screen. You can easily edit the captured images and also add descriptions using text balloons, arrows and other objects. You can assign a keyboard hotkeys so that you can capture the screen at any point of your work. The intuitive interface will also provide you with the common features available in the leading image processing products.
More…
TurboDemo
Version: 7.5 | Shareware (EUR 299.00)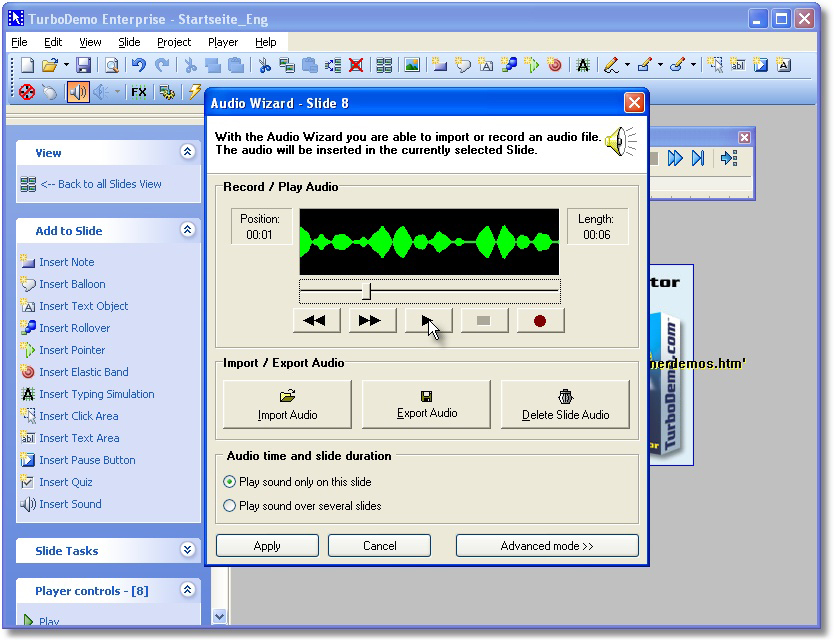 Explain software, PC-applications, websites and products with your own animated demos, simulations and tutorials.
Turbodemo uses an intelligent technique for capturing Screenshots which allows it to reproduce actions such as the movement of a mouse cursor. These Screenshots can be worked on afterwards as slides using many different effects. The video can be compiled in different formats and published on the Web, CDs, as well as documentation.
More…
CaptureXT Screen Capture
Version: 3.0.3 | Shareware (USD 30.00)
CaptureXT Screen Capture is a screenshot taker and professional presentation software. Capture any part of your computer screen, edit it, apply edge effects with real world shadow to enhance communication and share easily. Put shadowed text, lines, arrows, translucent shapes to illustrate your ideas effectively. Save your work in popular image formats (jpg, gif, bmp, png, tiff, wmf) or directly paste to your presentations, marketing materials.
More…
FlashBack Express Screen Recorder
Version: 5.12.0.3858 | Freeware
Free screen recorder for creating compact, high quality AVI and Flash movies with sound. Includes one-click uploading of movies to YouTube, Blip.tv and Revver. Based on the acclaimed FlashBack screen recorder. Radical technology means a perfect capture of your Windows desktop with minimal impact on PC performance. Now includes Vista Capture Driver and webcam capture. Download now and be making movies in minutes.
More…
ScreenNemo
Version: 1.2 | Shareware (EUR 39.00)
ScreenNemo is the desktop screen recording program that allows users to capture screen as a movie from any kind of sessions including Remote Control, X-Windows, or SSH. ScreenNemo can be started remotely as a background application. With ScreenNemo you can audit PCs, or exercise Parental Control or produce demonstrable support solutions including software installs, business presentations, and educational materials such as tutorials
More…
Better Screenshots
Version: 1.2 | Shareware (USD 19.95)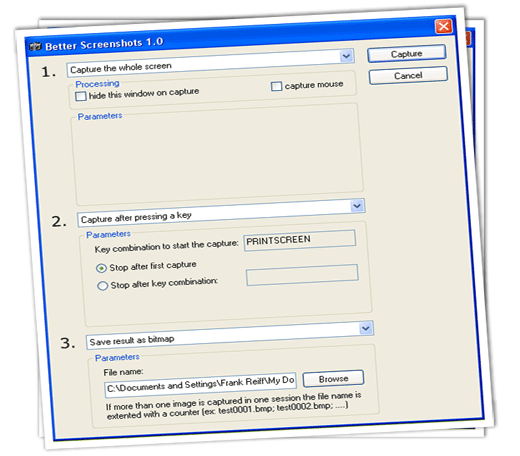 Professional quality screen capture has never been easier.
Better Screenshots allows you to take instant fullscreen, mouse selection and window selection screenshots and record animated gif movies directly from the screen.
What makes Better Screenshots unique is its simplicity of use and intuitive interface.
Better Screenshots produces screen captures in JPEG, GIF, PNG and Windows Bitmap formats and movies in animated GIF format.
More…
MouseZoom
Version: 1.5 | Freeware
Mouse as magnifier, color dropper and distance analyser. MouseZoom is a nice small utility. It zooms the current mouse position (50x) and shows the color value (RGB, HEX, HLS, CMYK) and absolute and relative position of the point where the mouse is. MouseZoom is available in English and German language. That software doesn't record activities, doesn't require runtimes, doesn't require installation, doesn't write to the registry or modify files.
More…