Kategorie Grafik / Screen Capture
Capture By George!
Version: 2.7 | Shareware (29,95 USD)
Capture By George! is an advanced Windows screen capture application that offers an easy and intuitive method of making screen captures. Simply select the screen region to capture before pressing the Capture button; not after as with many other screen capture applications. You can edit, print or save the captured image. With Capture By George!, you can save time and enhance your screen shots.
Mehr…
Web SiteGrabber
Version: 1.1 | Demo (10,20 EUR)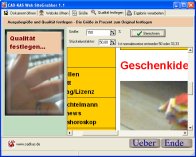 Das Programm konvertiert Internetseiten (HTML) in Bitmap Bilder. Die Bilder lassen sich dann als JPG, TGA, TIF etc. Datei speichern. So haben Sie den Inhalt der Seite dann als einzelne Grafikdatei vorliegen. Die Qualität kann frei definiert werden, so das auch Vergrößerungen und Verkleinerungen der Internetseite gemacht werden können.
Mehr…
HardCopy Pro
Version: 4.7.2 | Shareware (20,00 USD)
HardCopy Pro is the professional, easy to use screen capture tool for Windows! It can capture rectangular screen areas and whole windows. Images can be saved in all major file formats, copied to the clipboard, edited with any image editing program, printed, emailed, etc. Many options allow the customization of all these actions to individual user needs.
Mehr…
SmartCapture
Version: 3.9.3 | Shareware (30,00 USD)
SmartCapture is the professional, easy to use screen capture tool for Windows! The clear and intuitive user interface and powerful features make it the ideal utility for everyone who wants to capture any contents of the Windows desktop. SmartCapture supports all major file formats, image manipulations (e.g. resize, flip, rotate,and much more!
Mehr…
Icecream Screen Recorder
Version: 4.95 | Shareware (29,95 USD)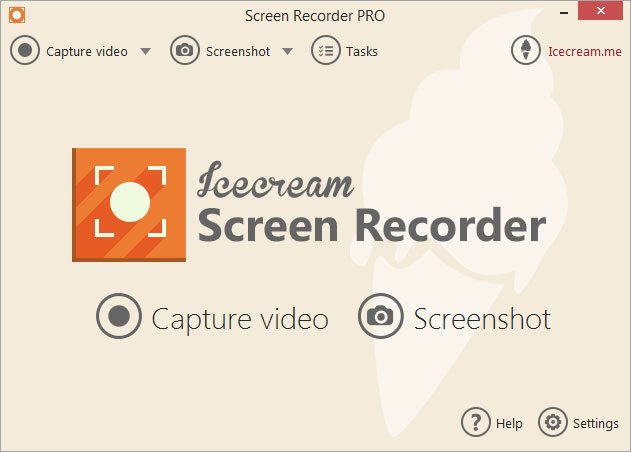 Icecream Screen Recorder ist ein kostenloses Programm für Schaffen von Screenshots und Videoaufnahme vom Bildschirm. Anhand des Programms kann man Screenshots des vollen Fensters oder des gewählten Teils machen, sowie beliebige Verfahren auf dem Bildschirm aufnehmen und diese für Videoanweisungen, Spielverlauf, Aufnahme von Videostreaming und andere Ziele benutzen. Das Programm hat ein einfaches und handliches Interface.
Mehr…
Get Back PDF Images
Version: 1.0.1.3 | Shareware (15,47 EUR)
Having problem in copying & pasting multiple images embedded in pdf documents one by one? Don?t panic, try AWinware PDF Image Extractor tool to get back all stored images from pdf file into your local hard disk drive automatically. Tool search complete pdf document for embedded graphics, lists them out with preview option. User can choose one or more images to extract back on to drive folder.
Mehr…
SRecorder
Version: 2.0 | Freeware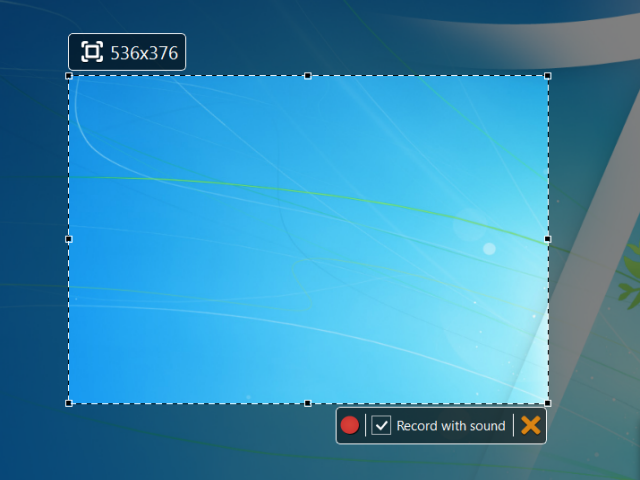 SRecorder ermöglicht es Ihnen, Video mit dem Audio-Stream in hoher Qualität aufnehmen und Lehrvideo mit Tonbegleitung erzeugen. SRecorder speichert die aufgezeichnete Video-Datei auf Ihrem Computer oder auf unserem Server. Letztlich sparen Sie Platz auf Ihrer Festplatte und können Sie problemlos ein Video- Detei von überall in der Welt öffnen.
Mehr…
X-Mirage
Version: 1.02.7 | Shareware (16,00 USD)
X-Mirage allows users to mirror and record iPad, iPhone, iPod screen on Mac to make demo videos, app design or showcasing, record lessons for teachers, record iOS games, iOS app tutorials. X-Mirage aims to be the best tool both for AirPlay streaming and one-touch recording of anything on your iOS device screen.
Mehr…
Free Webcam Capture
Version: 4.4.5 | Freeware
Free Webcam Capture is free webcam recorder program that can webcam audio and video while chatting with your friends or in a conference call. Its cutting-edge technology allows you to record full screen, a window or a specific part of the screen. You can record the video chatting on Skype, MSN and any other software alike, then you can save them on your harddisk, send them to your friends or clients, or burn them to CD/DVD discs as second copies.
Mehr…
Movavi Screen Capture Studio
Version: 6.1.0 | Shareware (49,95 USD)
The ultimate screen recorder, Screen Capture Studio can be used to capture various kinds of screen activity: online video, screencasts, webcam, or video chats thanks to simultaneous speaker and microphone recording. Use the ready-made presets with optimal settings for most common types of screencasting. Edit recordings using the full-featured video editor to create video tutorials with captions and voiceover, special effects, and music.
Mehr…
Movavi Screen Capture
Version: 4 | Shareware (29,95 USD)
With Screen Capture 4 there's no need to use different programs for screencasting and game video capture. This software lets you record any kind of screen activity and provides high quality results. Record PC games, web surfing, video chats, or desktop video to create software tutorials. Save your recordings in all popular video and audio formats, prepare them for viewing on mobile devices, and share with your friends on YouTube and Facebook.
Mehr…
Any Capture Screen
Version: 3.50 | Shareware (24,95 USD)
Screen capture software that can capture and print your desired anything of screen such as active window, menu rectangle, square, ellipse, circle etc., even surfaces of DVD players and video games, long pages with a vertical scroll bar. Copy it to the clipboard, the printer and save it in BMP, JPEG,GIF, PNG, TIFF formats automatically. Moreover, You can editing the image, and undo/redo 10 steps.
Mehr…