Category Security & Privacy / Other
ABF Password Recovery
Version: 1.74 | Shareware (USD 29.95)
ABF Password Recovery is a program to retrieve lost or forgotten passwords for many well known programs and popular file formats. All passwords are recovered instantly. Passwords for programs can be recovered for current installation of Windows only. There are some useful tools inside the program, such as: Password picker, Hidden passwords browser, Personal folder recovery. Program interface is customized.
More…
Maxpatrol
Version: 7.0.916 | Demo (USD 877.00)
MaxPatrol is a professional network security scanner distinguished by its uncompromisingly high quality of scanning, optimized for effective use by companies of any size (serving from a few to tens of thousands of nodes). It supports vulnerability testing for servers with non-standard configurations, intelligent recognition of vulnerabilities in known (and custom) web-server scripts, full identification of RPC services and more.
More…
LastBit Act! Password Recovery
Version: 12.0.9123 | Demo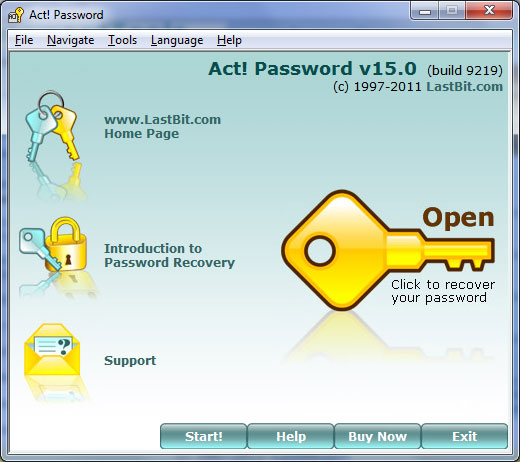 Act! Password is a tool to recover lost or forgotten passwords to password-protected Act! databases. User passwords are decrypted instantly in old Act! versions. In the new Act! version SQL database is used. Brute Force Attack or Dictionary Search are required to recover original password. This may take a lot of time. Fortunately it is possible to reset the password to a known one instantly. Supports all versions through Act! 2008.
More…
Password Generator
Version: 1.0 | Freeware
Password Generator is a software program to generate random passwords that contain a varied set of characters, including lowercase and uppercase letters as well as numerals. Password Generator is freeware. You will never have to think of another random password ever again. Password Generator is very easy and simple to use. Save the password to a .txt file and you are good to go!
More…
MHS Passwort
Version: 1.1 | Shareware (EUR 8.18)
MHS Passwort unterstützt Sie dabei, zufällige Passwörter zu generieren. Sie können Passwörter nach bestimmten Konventionen erstellen (nur Buchstaben, nur Zahlen, bestimmte Sonderzeichen etc. oder auch ein spezielles Muster hieraus) und zusätzlich auch ganze Passwortlisten erstellen, welche auf Wunsch jedem Passwort bestimmte Daten zuordnen (Datum, Uhrzeit, Nummer etc.). Interessant besonders für jene, die oft und viele Passwörter vergeben müssen
More…
abylon SHREDDER
Version: 15.90.1 | Shareware (EUR 24.95)
The deletion of files with the windows recycle bin removes only the references to the files, without real clearing. In contrast to this the software abylon SHREDDER overwrite the data up to 35 times (Peter Gutman method). Afterwards the data can not be reconstructed any longer. The same goes for free space, clustertips, surf traces of the browser, file names, duplicate files or full drives.
More…
Folder Password Expert
Version: 2.1 | Shareware (USD 39.95)
Folder Password Expert is a security software program that lets you restrict access to the folders that contain your sensitive data. Secure your documents to prevent people from viewing, printing, or altering them. The folder can be protected simply by right-clicking on it within Windows Explorer. Folder Password Expert will both secure your folders against accidental deletion and prevent other users from copying them.
More…
Webroot Window Washer
Version: 6.5 | Shareware (USD 29.95)
Webroot Window Washer protects your privacy by washing away online activities that are traced through your Internet browser history, cache and cookies. Recommended by privacy advocates around the world, Webroot Window Washer cleans hundreds of programs like Adobe Photoshop, Microsoft Word and Paint Shop Pro along with a number of operating system areas. Webroot Window Washer works with multiple browsers and is now compatible with Windows Vista.
More…
east-tec Eraser
Version: 12.9.5 | Shareware (USD 29.95)
Protect your sensitive data and privacy, and securely erase all evidence of your Internet and PC activity. Go beyond any system optimization or cleanup tool, improve your PC performance, and keep it clean and secure! east-tec Eraser has been continuously improved since its launch in 1998, and exceeds government and industry standards for the permanent erasure of digital information (secret documents, online history, pictures, cookies, and more).
More…
Ardamax Free Keylogger
Version: 4.7 | Freeware
Ardamax Free Keylogger supports several levels of user activity monitoring and saves recorded data to an encrypted log file only viewable through a proprietary tool. The program can be configured to constantly capture different types of data, from simple keystrokes to audio and photos, and offers a simple, self-explanatory interface. The product supports all known languages and remains invisible to users being monitored.
More…
Disconnect for Windows
Version: 2.0.5 | Freeware
With over 3 million customers, Disconnect is the easiest way to protect your privacy on all of your devices. Disconnect protects you in 6 ways: Visualize Tracking - see who's following you Encrypted Internet - secure all of your online activity Safe Browsing - block 5000+ trackers Anonymous Search - search privately on Google, Bing, & more Location Control - defeat censorship Privacy Icons - easily decipher privacy policies
More…
east-tec DisposeSecure
Version: 5.1 | Shareware (USD 24.95)
Don't give away sensitive information with the old computers that you or your company resells, donates or removes from operation. Deleting all files, formatting the hard disk or using FDISK is not enough to stop people to restore information using basic recovery programs. east-tec DisposeSecure 5 removes all traces of data from the computer hard disk by overwriting and destroying beyond recovery every sector and bit of information.
More…