Category Security & Privacy / Other
Real Hide IP
Version: 4.6.1.8 | Shareware (USD 19.95)
Real Hide IP is easy-to-use privacy software which allows you to conceal your IP address, choose IP country at will and surf anonymously. It protects your privacy and helps you prevent identity theft and guard against hacker intrusions, all with the click of a button. Real Hide IP automatically configures your web browser to use our proxy server. You can also select to use fake IP from different countries via Choose IP Country window.
More…
Mask My IP
Version: 2.6.8.6 | Freeware
Mask My IP, the best Free security and privacy protection software, can conceal your online identity with the click of a button. Primary benefits include anonymizing your web surfing, keeping your computer safe from hacker attacks and other risks, preventing identity theft, sending anonymous E-mails, etc. It is guaranteed to be 100% clean of viruses, adware or spyware, and compatible with Internet Explorer, FireFox, Opera, Maxthon, MyIE, etc.
More…
1 Free Keylogger
Version: 1.6 | Freeware
1 Free Keylogger offers full invisible remote control of user activity on PC: keystroke logger, makes screenshots, web camera snapshots, website visits, online searches, social networks - Facebook, myspace, google+, vkontakte, capture login/password for web sites, apps activity, IM/chat etc. 1 Free Keylogger allows remote monitoring in three ways: sending logs via email or FTP and online logs view via secure web account on 1freekeylogger.com.
More…
Kid Key Lock
Version: 2.4 | Freeware
Kid Key Lock is a simple program to selectively lock specific keyboard and mouse functions. You can use kid key lock to lock any of the mouse buttons, double clicks and/or the mouse wheel. Regarding the keyboard, Kid Key Lock can be used to lock character keys, navigation keys, function keys and/or system shortcuts (such as Alt-F4, Alt-Tab, "Start" key, etc).
More…
AlienVault OTX Reputation Monitor Alert
Version: 1.0 | Freeware
Get free, real-time alerts if one of your IPs or domains is found in a hacker forum, a blacklist, or the AlienVault Open Threat Exchange (OTX) database, indicating a potential breach. The OTX database is the industry's only open and collaborative threat intelligence system, providing the most comprehensive IP reputation data available. Monitoring changes to your IPs and domains' reputation provides an early warning sign of a potential breach.
More…
Anti Toolbar
Version: 1.0.0.3 | Freeware
Anti Toolbar will automatically detect any Toolbars installed on your PC and give you the opportunity to erase or disable them. AntiToolbar finds and displays a list of toolbars, homepage, and search settings on your browsers and then lets you choose the ones you want to remove. More than just disabling add-ons that you no longer need, AntiToolbar's intelligent technology ensures that the settings you selects remains on your PC.
More…
Recovery Toolbox for PDF Password
Version: 1.1.11 | Shareware (USD 19.00)
Recovery Toolbox for PDF Password is a compact and affordable, yet extremely powerful and flexible reconstruction of PDF passwords that uses a user-defined mask and other recovery parameters for fulfilling the task. The software uses a friendly wizard-based interface that makes initial mask configuration and subsequent password reconstruction a snap. Try Recovery Toolbox for PDF Password for excellent flexibility and ultimate password recovery p
More…
Keyboard Tracer
Version: 2.90 | Shareware (EUR 7.21)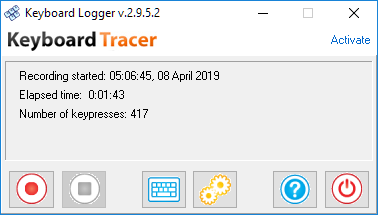 Keyboard Tracer is an easy-to-use tool to record keyboard and monitor keystrokes on your own computer. It can track activities of other people using your keyboard without your permission. Keyboard Tracer runs in invisible mode automatically after Windows starts up.
More…
Netbios Share Scanner
Version: 1.0 | Freeware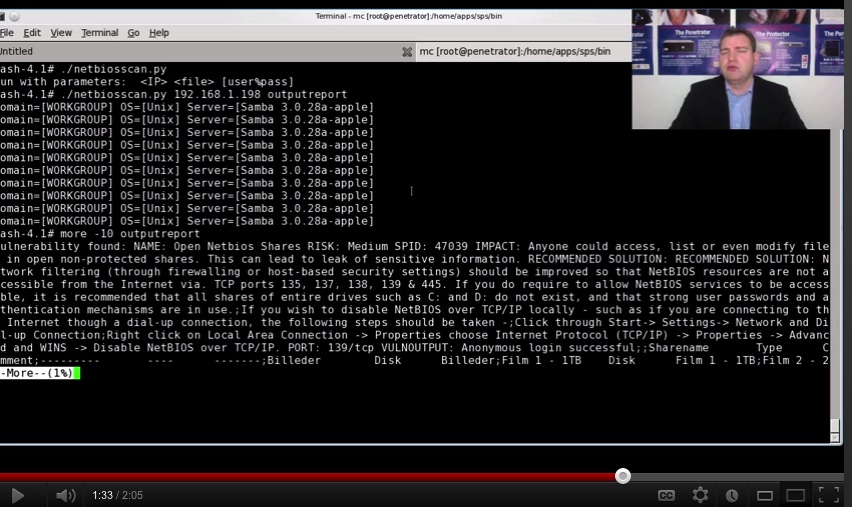 Netbios Share Scanner is a free network share scanner from SecPoint, one of the leading producers of IT security software. In this day and age when hackers are a constant threat to a business's web servers, it is more important than ever to frequently test IT systems for security vulnerabilities. Netbios Share Scanner is a user-friendly and effective solution for both Linux and Windows.
More…
iKeyMonitor iPhone/iPad Spy
Version: 3.9.0-29 | Shareware (USD 29.95)
iKeyMonitor, a security and invisible keylogger for iPhone, iPad and iPod touch, records everything on iOS devices, like Keystrokes, Passwords, Call history, SMS messages, WhatsApp messages, GPS locations, Websites, Screenshots and more. After these activities are recorded by the iPhone/iPad Keylogger, they will be sent to specified Email box or FTP account, which enables users to view the logs remotely.
More…
LastBit AOL Password Recovery
Version: 2.0.466 | Demo (EUR 29.00)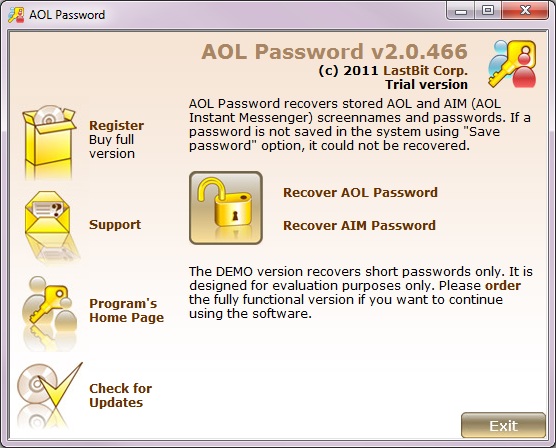 AOL Password is a tool to recover lost passwords for AOL Instant Messenger. Whenever you lose or forget your password for your AOL screen names. AOL Passwords supports both AOL and AIM (AOL Instant Messenger). AOL Password instantly obtains all stored passwords and screen names.
More…
Lastbit SQL Password Recovery
Version: 2.5.593 | Demo (USD 59.00)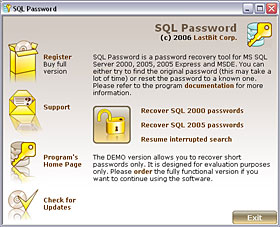 SQL Password is a full-featured password recovery solution for MS SQL Server 2000, 2005, 2005, 2008 (all editions). It can either recover your original password using a number of password recovery methods, such as Brute Force Attack, Dictionary Attack or Smart Force Attack, or the password can be instantly reset to a known one (though the original password will remain unknown).
More…