Category Security & Privacy / Other
Blancco - File Shredder
Version: 2006 | Demo (EUR 26.95)
Blancco - File Shredder is a secure solution for day-to-day erasure of files and folders
Deleting and formatting do not erase data stored on your computer. Blancco - File Shredder is a user-friendly, easy-to-install software that ensures a 100% secure destruction of selected data. It uses an advanced algorithm technique which overwrites your files multiple times so that the data contained in them is no longer readable. Data recovery is impossibl
More…
Index.dat Analyzer
Version: 2.5 | Freeware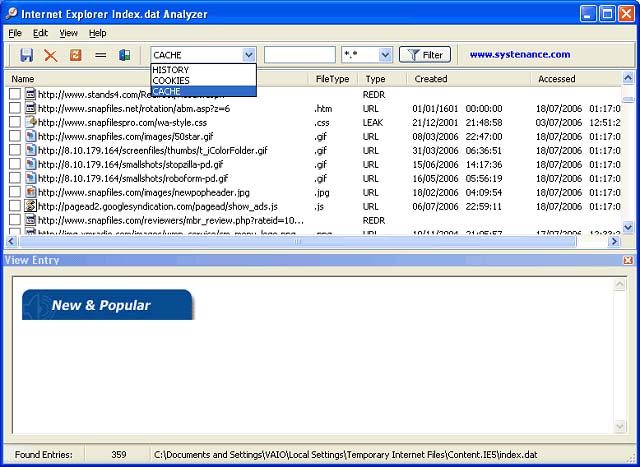 Index.dat files are hidden files on your computer that contain all tracks of your online activity, where have you been on internet, what sites you visited, list of URL-s, files and documents you recently accessed. Index.dat files stored on your computer are obviously a potential privacy threat as they can be found and viewed without your knowledge. Index.dat Analyzer is free tool to view and delete contents of hidden index.dat files.
More…
DPASHA
Version: 1.99 | Freeware
DPASHA created a single HASH. MD2, MD4, MD5 120bits, RIPEMD128 128bits, RIPEMD160 160bits, CRC32 32bits,CRC16 16bits, ARC-CRC 16bits, SHA1 160bits, SHA-256 256 bits, SHA-384 384 bits, SHA-512 512 bits, HAVAL128 128bits, HAVAL160 160bits, HAVAL192 192bits, HAVAL224 224bits, HAVAL256 256bits, Tiger128 128bits, Tiger160 160bits, Tiger192 192bits and GOST R 34.11-94. Freeware version.You can test files for manipulations.
More…
PantsOff!
Version: 2.0.3 | Freeware
Das Programm zeigt bei Passwortfeldern, in denen normalerweise nur die Sterne angezeigt werden, das Passwort im Klartext an.
More…
Filestream Security Disk
Version: 1 | Shareware (EUR 29.99)
der Hochsicherheits-Safe für Ihre Daten! Schnell können Laptops, USB-Sticks oder CDs abhanden kommen. Ihre persönlichen Daten, dieDritte nichts angehen, sind dann für jeden zugänglich.FileStream Secure Disk verschlüsselt Ihre persönlichen Daten mit hochsicheren Algorithmen. Damit sind Ihre vertraulichen Daten so sicher wie in einem Tresor. Schützen Sie Ihren PC vor fremden Blicken.
More…