Kategorie Audio & Multimedia / Präsentation Tools
CD FrontEnd LITE
Version: 2016.32 | Freeware
CD FrontEnd, the professional CD DVD creation software. Make autorun CD catalogs, brochures, presentations, menu, file collections. The user simply inserts the autoplay/autostart CDROM, then a Web like presentation is shown. You can include video, music, hyperlinked texts and images, any buttons you want to launch files (PDF, PowerPoint, AutoCAD..). No browsers needed, no HTML, no hassles. Several protections: password, disable print & copy...
Mehr…
Icecream Slideshow Maker
Version: 2.65 | Shareware (19,95 USD)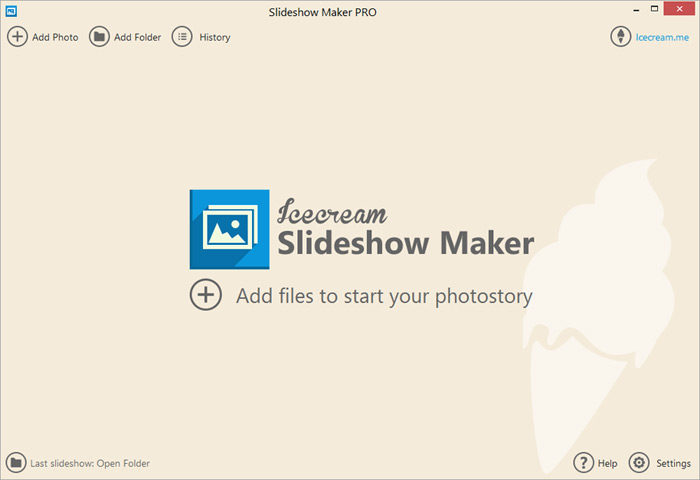 Icecream Slideshow Maker makes creation of photo slideshows easy and intuitive for all categories of users. It features a number of effects and options for creating photo presentations with music from scratch. Simply add files, configure resolutions and other parameters, make up your mind on transition effects, and create a decent presentation.
Mehr…
VSDC Free Screen Recorder
Version: 1.2.1 | Freeware
Der VSDC Free Screen Recorder nimmt alles auf, was auf dem Bildschirm geschieht und speichert jedes einzelne Bild in einem Videofilm. Der universelle VSDC nutzt die im System vorhandenen Codecs, um die Video- und Audiodateien zu verarbeiten. Kommentare, Zeichnungen, Hinweise und eine smarte Handhabung von Tastatur und Maus machen die Software zu einem perfekten Tool für jede Art von Video-Training und jede Bedienungsanleitung.
Mehr…
Zoom Presenter
Version: 8.7.1 | Evaluation

Based on Zoom Player technology, Zoom Presenter is an advanced, network controlled media presentation engine managed by Zoom Commander to present Digital Signage media and interactive content across one or multiple display devices in fullscreen, split-screen-zone, picture-in-picture and video wall layouts.
Mehr…
Zoom Commander
Version: 2.0.1 | Evaluation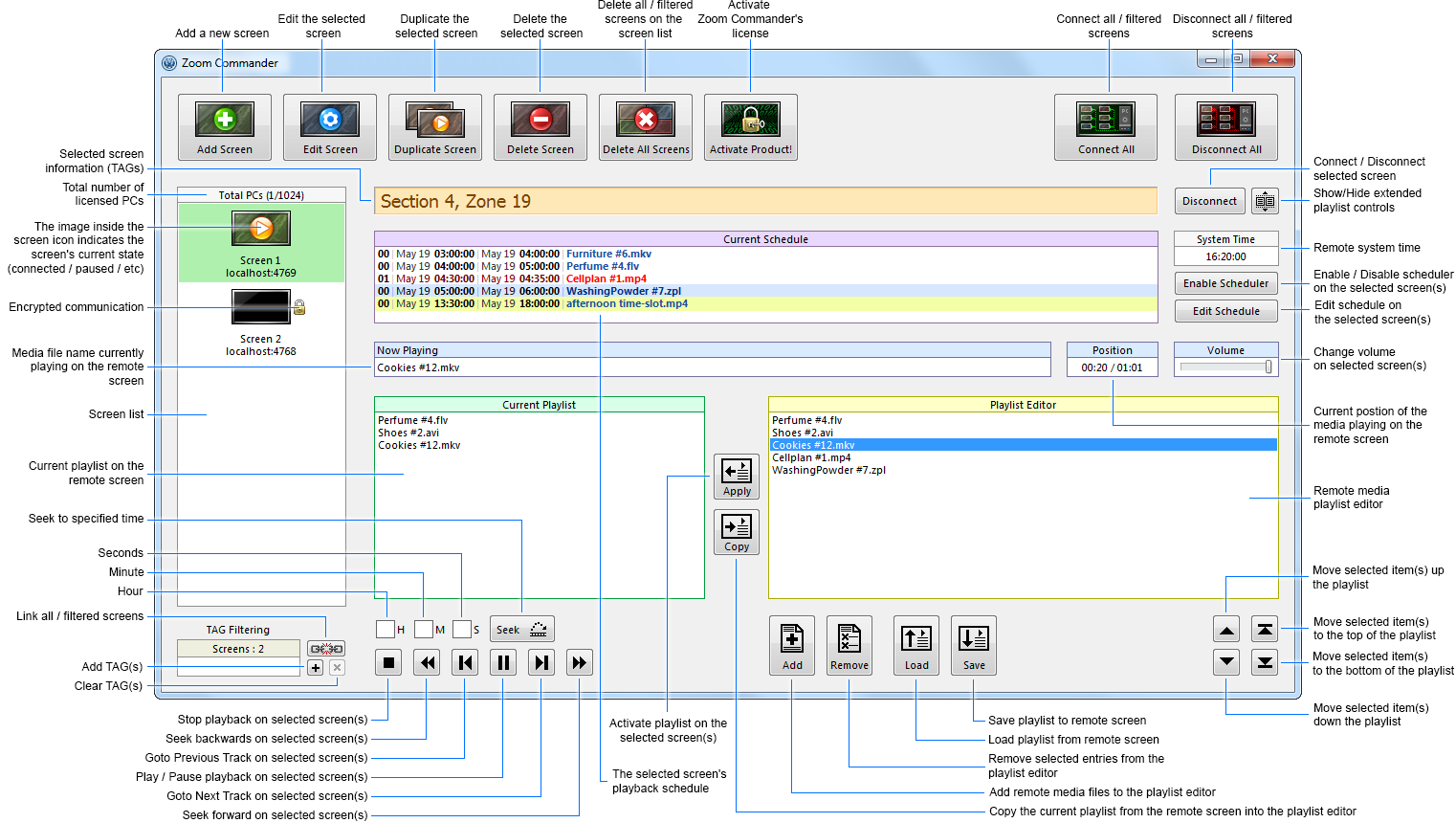 Zoom Commander is a Windows PC application that easily manages, controls, schedules and presents 'audio / video / image / interactive' content playback on multiple remote Windows PCs over the Internet or local network with a straight-forward and clean user interface.
Mehr…
Photo Slideshow Director iPhone App
Version: 1.0 | Shareware (0,99 USD)
Photo Slideshow Director is a photo slideshow iPhone software that lets you use your iPhone to organize your digital photos and create eye-catching slideshow. It features lots of dynamic transition effects and can play on HDTV with Apple Digital AV adaptor and HDMI cable at hi-resolution of 1280x720.
Mehr…
DVD Photo Slideshow Dulex
Version: 8.05 | Shareware
DVD Photo Slideshow erstellt Foto-Diashows mit Hintergrundmusik, Übergänge, Effekten, Text, etc., die auf DVD/VCD/SVCD/Blu-ray DVD brennen zum Ansehen an TV, zu iPod, iPad, iphone, PSP, Handys übertragen, bei YouTube,Facebook, blog und MySpace hochladen, und in FLV, MP4, MKV, SWF, MOV, 3GP, 3GPP2, MPEG-4, MPEG-2, H.264, HD video,MPEG, AVI Videoformate speichern können. Es ist einfach und unterhaltsam für Sie.
Mehr…
Wedding Slideshow Studio
Version: 1.36 | Shareware (49,95 USD)
Wedding Slideshow Studio is a photo slideshow software to create stunning DVD, Blu-ray DVD, SVCD, VCD photo slideshow with your wedding photos, video clips and music and play on TV with DVD player . Wedding Slideshow Studio lets you create amazing DVD slideshows from your wedding photos, music and burn them directly to a DVD-R/RW, DVD+R/RW disc. It also supports MP4, H.264, MKV, FLV, MOV, AVI, MPEG-1, MPEG-2, SWF, HD video outputs.
Mehr…
mediAvatar iPhone Kontakt Transfer
Version: 1.0.0.0714 | Shareware (9,99 EUR)
mediAvatar iPhone Kontakt Transfer ist ein multifunktionaler iPhone Kontaktmanager, um iPhone Kontakte zu verwalten. Das Programm kann iPhone Kontakte auf PC als CSV oder vCard speichern, Kontakte aus beliebigen CSV oder vCard Dateien auf das iPhone wiederherstellen, iPhone Kontakte in andere Adressbücher importieren, wie Yahoo Adressbuch, Google Adressbuch etc.
Mehr…
iSpring SDK
Version: 5.7 | Shareware
iSpring SDK is a high performance platform providing automatic PowerPoint to Flash conversion facilities for web sites and online applications. PPT to Flash SDK is designed to extend e-learning, web conferencing solutions with automatic conversion of thousands of PowerPoint presentations to Flash . It is also possible to create unique custom players for your presentation and take full control over them.
Mehr…
Media Show XP
Version: 3.5 | Shareware (19,95 USD)
Media Show XP allows to create, save and play presentations with background music and beautiful transition effects. It has simple and intuitive interface, so creating of the slide-shows is very easy. You can select transition effects, backgrounds, show or hide filenames. If you want to save the presentation, all the settings will be saved to a single file. Programs's folder contains more than 10 kinds of backgrounds and one sample of midi.
Mehr…
Xilisoft PPT Video Converter Business
Version: 1.0.3.0126 | Shareware (79,95 EUR)
Möchten Sie jemals Ihre PowerPoint Präsentation auf YouTube hochladen? Oder wollen Sie PPT lieber auf iPhone, iPod, PSP oder BlackBerry anschauen? Xilisoft PowerPoint to Video Converter Business kann alles erledigen! Der PowerPoint Converter kann PPT in iPhone MP4, AVI, H.264/MPEG-4 AVC, MOV, MPEG-2, H.264, MPEG-4, FLV SD Videos, und sogar in HD Videos wie HD AVI, HD H.264, HD MPEG-2 TS, HD WMV und HD MOV umwandeln.
Mehr…