Kategorie Audio & Multimedia / Präsentation Tools
Free PowerPoint to Video Converter
Version: 1.0.3.0126 | Freeware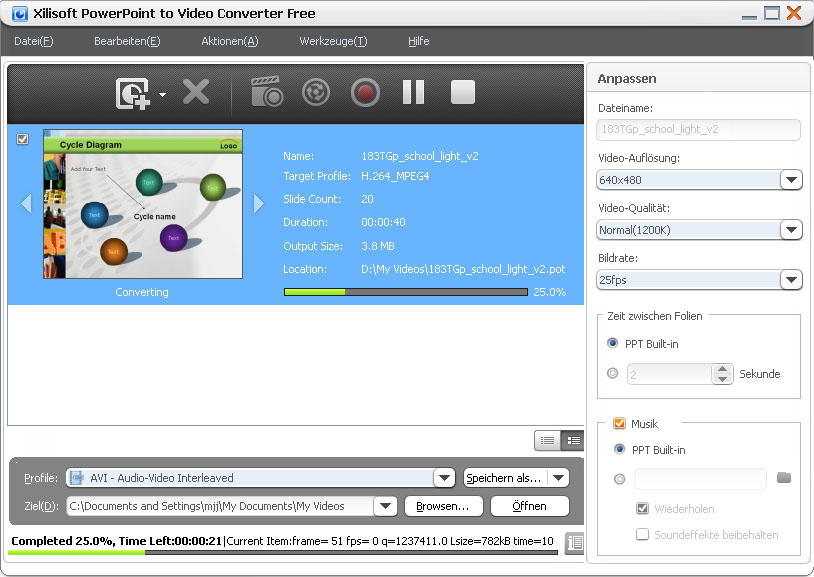 Xilisoft PowerPoint to Video Converter Free (Freeware) kann PPT in AVI, MP4, WMV, MPEG-2, MOV oder FLV konvertieren, damit Sie PowerPoint Video auf PC (ohne Installation von Microsoft PowerPoint) oder auf Digital-Players anschauen oder auf YouTube, Google Video, Ihr Blog oder andere Video Sharing Seite aufladen können.
Mehr…
Xilisoft PPT to Video Converter Personal
Version: 1.0.3.0126 | Shareware (39,95 EUR)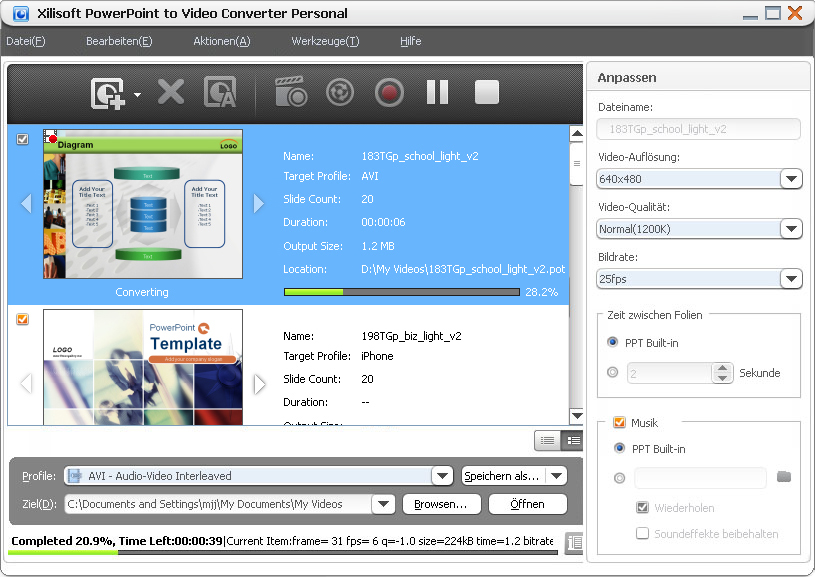 Möchten Sie jemals Ihre PowerPoint Präsentation auf YouTube aufladen? Oder wollen Sie PPT lieber auf iPhone, iPod, PSP oder BlackBerry ohne Installation anschauen? Xilisoft PowerPoint to Video Converter kann alles erledigen! Der PowerPoint Converter kann PPT in iPhone MP4, AVI, H.264/MPEG-4 AVC, MOV, MPEG-2, H.264, MPEG-4, FLV SD Videos, und sogar in HD Videos wie HD AVI, HD H.264, HD MPEG-2 TS, HD WMV und HD MOV umwandeln.
Mehr…
Mediashout
Version: 4 | Demo (389,00 USD)
World's #1 professional worship and media presentation software. MediaShout Version 4 combines time-saving tools and a streamlined workspace with the comprehensive list of features you've come to expect from the premiere ministry presentation system. From basic worship presentations to intricate multimedia experiences, Version 4 connects your creativity with powerful tools to communicate life's most important message.Includes world class support!
Mehr…
DVD Photo Slideshow Professional
Version: 8.06 | Shareware
DVD Photo Slideshow erstellt Foto-Diashows mit Hintergrundmusik, Übergänge, Effekten, Text, etc., die auf DVD/VCD/SVCD/Blu-ray DVD brennen zum Ansehen an TV, zu iPod, iPad, iphone, PSP, Handys übertragen, bei YouTube,Facebook, blog und MySpace hochladen, und in FLV, MP4, MKV, SWF, MOV, 3GP, 3GPP2, MPEG-4, MPEG-2, H.264, HD video,MPEG, AVI Videoformate speichern können. Es ist einfach und unterhaltsam für Sie.
Mehr…
Proximity Promoter 24x7
Version: 1.25.0 | Demo (149,00 USD)
This is software for proximity advertising via Bluetooth connectivity (Bluetooth Marketing). Proximity Promoter 24x7 provides free transmission of any files (TXT, MP3, JPG, 3GP, MP4, vCard, vCal) to any Bluetooth devices (mobile phones, smartphones, hand-held devices, communicators, laptops, mini-laptop computers) via Bluetooth. Does not require any special hardware - only a computer (PC, laptop) and a Bluetooth dongle.
Mehr…
Picture To Video Converter
Version: 1.4.6.2 | Shareware (25,00 EUR)
Picture To Video Converter ist ein Programm zum Diashow erstellen oder verbinden van Bilder auf Video mit Hintergrundmusik un Übergangseffekte. Der Merkmale gehören: digitale Bilder zusammenfügen. Hinzufügen Hintergrundmusik zu WMV, AVI, ASF, MKV Videodatei. unterstützen Bildformat: BMP, JPEG, GIF, TGA. unterstützen Audioformat: WAV, MP3, WMA, MPA, MP2, AU, SND, AIF. Geben Sie Überblend-Effekten. Passen Sie Video-Größe (1024 * 768 oder höher).
Mehr…
Dance Music Player
Version: 2.0.2.0 | Freeware (250,00 EUR)
Mit dem für Touchscreens optimierten Dance Music Player importieren Sie komfortabel größere Musiksammlungen in eine Verwaltungsdatenbank. Danach haben Sie als Tanzschulen oder DJ die Möglichkeit, sich durch Tanzzuordnung jederzeit die passenden Titel in einer Playlist zusammenzustellen, die dann mit Crossfading ohne Pause abgespielt werden kann.
Mehr…
Animated Captures Maker
Version: 2.1.31 | Shareware (9,95 USD)
Animated Captures Maker is a software tool to make presentations and tutorials about using software. You can capture screen in many ways, including full screen capture, region capture, active window capture, object capture. Whatever you can see on your screen, Animated Captures Maker will record easily and fastest in animated GIF format. With created tutorials you can advertise your software or answer questions about the use your program visually
Mehr…
Wondershare PPT2Video Pro
Version: 6.1.6 | Shareware (49,95 USD)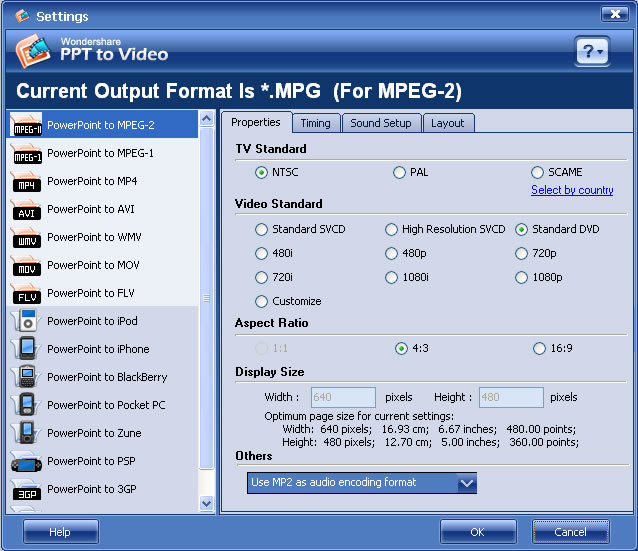 Wondershare PPT2Video Pro is an all-in-one PowerPoint to video converter to convert PowerPoint presentation to video of up to 130 formats such as AVI, MOV, WMV, MPEG, FLV, 3GP and HD videos of excellent quality with all the original animations and sound effects retained.
Mehr…
Wondershare PPT to iPhone
Version: 4.7.0 | Shareware (29,95 USD)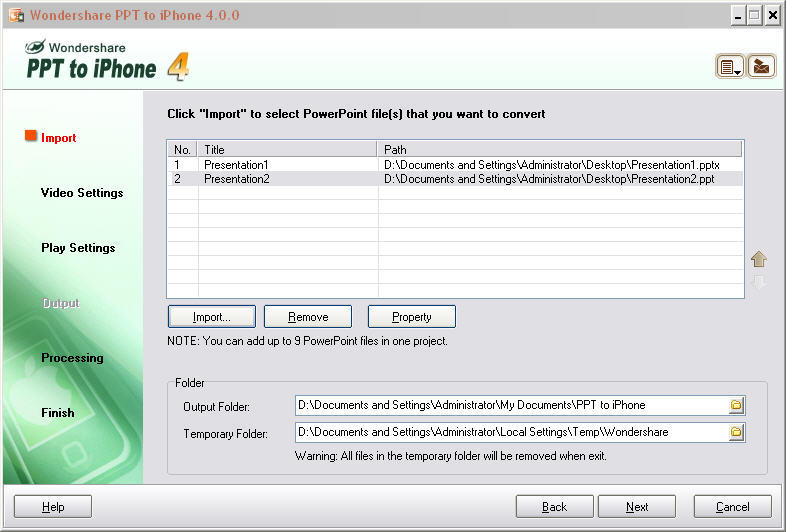 Wondershare PPT to iPhone is a professional PowerPoint to iPhone video converter. It can convert PowerPoint presentations to iPhone MP4 video formats with the best quality
Mehr…
PPTonTV (PowerPoint to Video Converter)
Version: 1.21 | Shareware (99,00 USD)
PPTonTV help you convert PowerPoint to Video, burn to DVD, and play it on TV. Key features: narration & audio supported; keep all PowerPoint transitions effect and animations; MPEG, AVI video format supported; 4:3 and 16:9 widescreen supported.Feel free send us any suggestion or question, you may have a chance to win a FREE copy.
Mehr…
Wondershare PPT to Video
Version: 1.1.0 | Shareware (49,95 USD)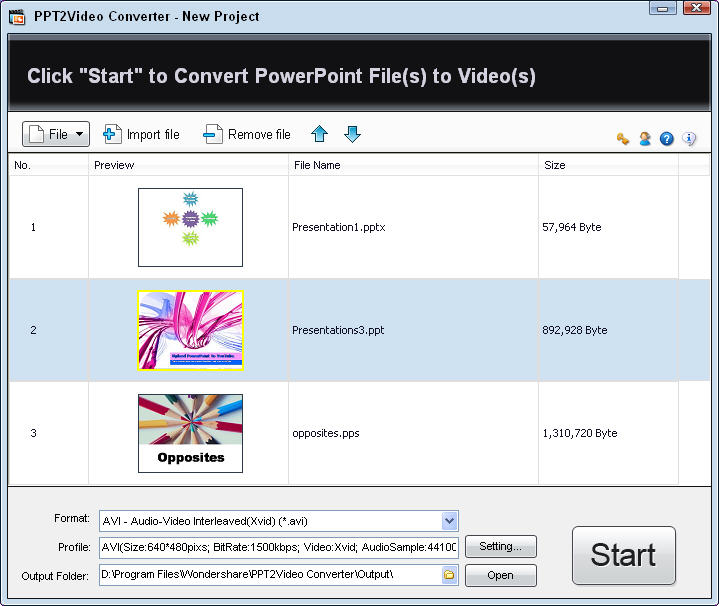 Wondershare PPT2Video Converter is an all-in-one PowerPoint to video converter. It can convert PowerPoint presentations to almost all popular video formats such as MPEG, AVI, MP4, WMV, ASF, FLV, MOV, 3GP, 3G2 with excellent quality. You can not only play PowerPoint on iPod/iPhone/Zune/Pocket PC/Apple TV, but also convert PowerPoint presentations to video to easily share online such as upload PowerPoint to YouTube or your own blog
Mehr…