Kategorie Audio & Multimedia / Präsentation Tools
Icecream Slideshow Maker
Version: 2.65 | Shareware (19,95 USD)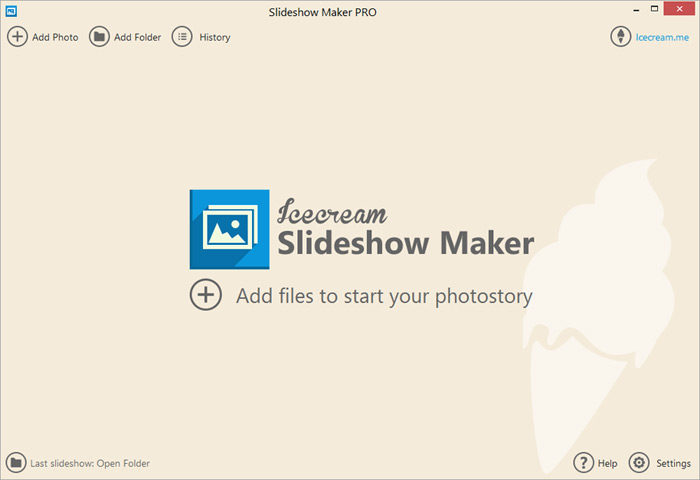 Icecream Slideshow Maker makes creation of photo slideshows easy and intuitive for all categories of users. It features a number of effects and options for creating photo presentations with music from scratch. Simply add files, configure resolutions and other parameters, make up your mind on transition effects, and create a decent presentation.
Mehr…
Easy HTML Autorun Builder
Version: 1.6.0 | Shareware (29,95 USD)
Easy HTML Autorun Builder is an application pack designed for easy creation of HTML-based CD/DVD autorun menu that will run from CD/DVD ROM automatically. From this menu you can open documents in their default programs, run installations etc. Setup Pack contains executable configurer file, executable shell file and some additional files. Program gives you the ability to preview your Menu before burning the CD/DVD.
Mehr…
Photo Slide Show
Version: 3.0.3.1 | Shareware (31,00 EUR)
Foto Diashow kann einfach, mit höherer Auflösung als bei einer DVD, Diashows gestalten, Digitalfotos ins Videoformat umwandeln und mit ihren Übergangseffekten atemberaubende Diashows erzeugen.
Mehr…
ConceptDraw MINDMAP Professional
Version: 5.4 | Shareware (165,00 EUR)
ConceptDraw MINDMAP 5 is a business and personal productivity tool that provides versatile integration with MS Office and project management software along with complete support of mind mapping and brainstorming techniques within single productivity toolbox.
Mehr…
gPhotoShow Pro
Version: 7.4.7 | Shareware (15,90 EUR)
gPhotoShow Pro is an easy to use make-your-own photo slide show or screen saver. gPhotoShow can display an unlimited number of jpeg, png, tiff, avi,mov,mpg, swf (flash) panorama and web pages. Main features: pictures sorting, stretching/shrinking, wallpaper creation, captions (with filename, date, iptc,exif info), music, transition effects, pan&zoom animation, multiple monitors and more. gPhotoShow can create standalone slideshows/screen savers.
Mehr…
Pictures Slideshow Maker
Version: 1.6 | Shareware (22,90 EUR)
Pictures Slideshow Maker erlaubt Ihnen eine professionelle Diashow zu erstellen, die Sie an alle Ihre Freunde versenden können. Alle Ihre Bilder und Musikdateien sind in Ihrer einzigen EXE oder SCR Datei eingeschlossen. Es ist sehr einfach den Slideshow Maker zu benützen. Er verwendet eine Menge von Spezial 3D Fade Effekte um Ihre Bilder zum Leben zu erwecken. Dieses Programm benützt DirectX Technologie um Ihre Fotos zu Kunstwerken zu machen.
Mehr…
StillMotion PE-II
Version: 1.0 | Shareware (29,95 USD)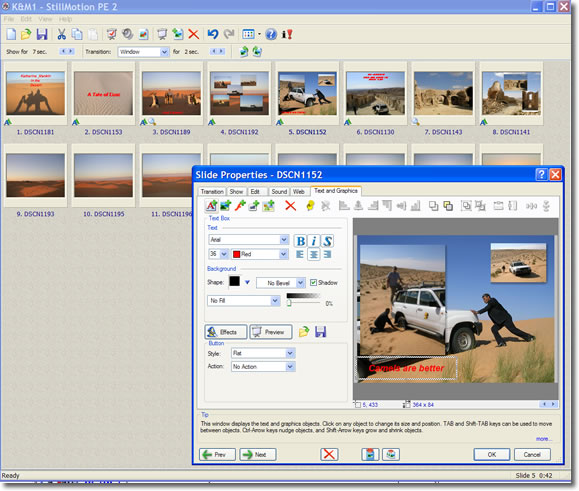 Downloaders Special Offer, Save50%. Creates multimedia slideshows from digital images. Add sound, titles, labels, transitions, pan and zoom, framing and matting. Single click publish to auto-run CD ROM, YouTube, videi, Screen saver, Web page, SWF file and self extracting file. Individual sound tracks may be applied to each slide, sound blending and automatic slide duration timing to sound tracks,.
Mehr…
CD FrontEnd PRO
Version: 2016.7.7 | Freeware (1,00 USD)
Create autorun CD DVD menu presentations, make a brochure catalog depliant; manage files collection, protect. The user simply inserts the autoplay CD, and Web-like pages are shown (also full screen). Can include video, music, hyperlinked texts, hot spots, popup windows, any buttons you want to launch files (PDF, PowerPoint, AutoCAD...). No browsers needed. No configurations / HTML / hassles. Several protections available: password, print & copy..
Mehr…
CDMenuPro
Version: 6.50.00 | Shareware (49,95 EUR)
CDMenuPro ermöglicht ohne Programmier-Kenntnisse individuelle Menü-Anwendungen mit grafischer Bedienoberfläche zu erstellen. Zahlreiche Vorlagen und Projektassistenten ermöglichen es jedermann schnell professionelle Resultate zu erzielen. CDMenuPro erstellt alle für den Autorun notwendige Dateien, unterstützt zahlreiche Trailer wie AVI, Intro, Sound, Splash Screen und startet zuverlässig Ihre Programme oder Dokumente von Ihrer CD.
Mehr…
Diji Album
Version: 7.0 | Shareware (39,50 USD)
Diji Album software allows you to create electronic photo albums. Diji Album files resemble real photo albums and are just as fun and almost as easy to create. You can easily share your albums via e-mail as a single highly-compressed file (viewed with our free viewer) or as a self-extracting album file (no software needed to view), as self-running CD-ROMs or as web pages on the Internet.
Mehr…
CD FrontEnd LITE
Version: 2016.32 | Freeware
CD FrontEnd, the professional CD DVD creation software. Make autorun CD catalogs, brochures, presentations, menu, file collections. The user simply inserts the autoplay/autostart CDROM, then a Web like presentation is shown. You can include video, music, hyperlinked texts and images, any buttons you want to launch files (PDF, PowerPoint, AutoCAD..). No browsers needed, no HTML, no hassles. Several protections: password, disable print & copy...
Mehr…
VSDC Free Screen Recorder
Version: 1.2.1 | Freeware
Der VSDC Free Screen Recorder nimmt alles auf, was auf dem Bildschirm geschieht und speichert jedes einzelne Bild in einem Videofilm. Der universelle VSDC nutzt die im System vorhandenen Codecs, um die Video- und Audiodateien zu verarbeiten. Kommentare, Zeichnungen, Hinweise und eine smarte Handhabung von Tastatur und Maus machen die Software zu einem perfekten Tool für jede Art von Video-Training und jede Bedienungsanleitung.
Mehr…