Kategorie Kommunikation / Web | Video Cams
Phonewebcam Publisher
Version: 3.6 | Freeware
The secure and easy way to publish your private webcam or network/WiFi IP camera to mobile phones. Simple to use setup wizard ensures quick start without requiring specialist knowledge. All relayed images are compressed and encrypted using a 128bit cypher and unique protocol. Designed to complement existing camera systems. Features include snapshot, skins, themes, customised sounds, offline image, text/image overlay, camera controls and help.
Mehr…
CamPermanent
Version: 1.0 | Shareware
Video-Komplettloesung mit Scheduler und Bewegungsmelder. Das Programm CamPermanent kommt mit WebCams, NetCams und allen anderen Videoquellen bestens zurecht. Die Kameras lassen sich leicht zur Ueberwachung von Raeumen verwenden und uebertragen dank CamPermanent ihre Bilder nicht nur auf den eigenen PC, sondern auch auf alle anderen PCs im Netzwerk oder direkt ins Internet.
Mehr…
CamShot Monitoring Software
Version: 3.2.5 | Shareware (24,95 USD)
CamShot monitoring software is a simple and easy-to-use monitoring software. It can capture the WebCam image and deliver it via Internet. CamShot has two monitoring modes Schedule Mode and Motion Detect Mode. The screen capture can be sent out via email notification, ftp upload, file saving, post to built-in server. You can set to play an audio file to act as warning system.
Mehr…
H264 WebCam
Version: 4.0 | Shareware (35,95 USD)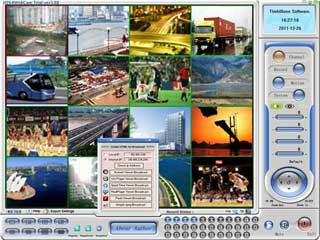 4-ch h264 remote video surveillance software for Windows. It can capture images up to 30 fps from USB and analog cameras,TV boards,capture cards,network ip camera etc. Broadcast live video to internet, and help you to create web page. It has an advanced video motion detection algorithm, various alert functions including Email,FTP,and sound. It uses H264 video encoder and AAC audio encoder, can record to MP4,MOV,AVI,FLV file.
Mehr…
Webcam Dashboard
Version: 2.1 | Shareware (19,95 USD)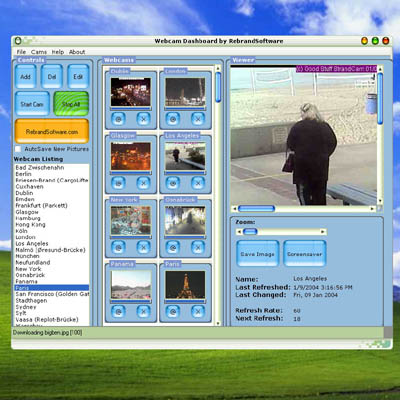 Watch up to 24 webcams simultaneously! Save any new pictures! Click on a webcam's thumbnail to view it full size! Even use a webcam as your screensaver!
Mehr…
CamUniversal
Version: 5.0.0.0 | Shareware (49,95 USD)
CamUniversal - Is the ultimate solution for all of your video demands. It supports WebCams, NetCams (IP-Cams) and all video devices which are working with an up to date driver for Windows. Additional it includes a network server client functionality to send the video from all cameras from one server PC to all connected client PCs. For professional and privat surveillance purposes there is a built-in motion detector which has numerous functions.
Mehr…
Leawo Blu-ray Player for Win
Version: V1.9.3.5 | Freeware
Reibungslose Wiedergabe von Blu-ray, DVD, Video und bis zu 1080P HD-Film;
Lebenslang kostenloser DVD Player und Video Player, gängige Videos und HD-Videos völlig kostenlos abspielen;
Untertitel und Audiospuren für ein besseres Filmerlebnis frei anpassen;
Vollbild-Wiedergabe für besseren Filmgenuss;
Komplettes Menü der Wiedergaberegelung für optimales Filmvergnügen;
100% kompatibel mit Windows 10 OS
Mehr…
ICUII Video Chat
Version: 6.02 | Shareware (49,95 USD)
A full-color IP-based videoconferencing system. ICUII includes a Quick Message function that can send audio, text, and/or a video image to any user on the directory, or to your Pal list. Other features include visual caller ID, a 'do not disturb' option, a buddy list, picture e-mail, user profiles with pictures, a 320x240-pixel viewing screen, content filters, and global listings, Instant Message forwarding of new and saved Instant messages.
Mehr…
TrueConf Server
Version: 4.1.0 | Shareware (1.595,00 USD)
Der TrueConf Server, eine Software-basierte Video-Brücke, ist eine Unified-Communications-Plattform mit Unterstützung von WebRTC und SVC. Diese wurde entworfen, um Gruppen-Videokonferenzen für bis zu 250 Benutzer in privaten Netzwerken von beliebiger Komplexität und über das Internet zu organisieren. Die Web-Schnittstelle ermöglicht es Ihnen, den TrueConf Server von jedem Betriebssystem aus zu verwalten.
Mehr…
Video Booth
Version: 2.7.9.8 | Freeware
Video Booth helps you add fantastic effects to your webcam and then take cool snapshots and video clips. Take a single snapshot or 4 quick pictures in succession using Continuous Shooting; record a video clip with your normal camera or by adding effects for fun. You can directly share your videos and pictures on Facebook! Video Booth is fairly easy to use and works perfectly with all webcams and all systems with a clean interface.
Mehr…
1AVStreamer
Version: 2.0.0.90 | Shareware (45,95 EUR)
Mit eines Klicken werden Sie übertragen Ihren webcam oder Ihren Bildschirm des PCS mit Audio in hohem Beschluss über das Internet in einer spezialgefertigten Seite in Ihrer eigenen Webseite. Alles ist automatisch und sehr leicht, zu benutzen. Es funktioniert mit Fernseher und Camcordern.
Mehr…
ScreenCamera Free Edition
Version: 1.8.4.21 | Shareware
ScreenCamera ist ein mächtiges Gerät für Windows, der Benutzer erlaubt, um den Arbeitsfläche zu teilen, schützen Sie zusammen zu dem gleichen Zeitpunkt! Es kann von mehrfachen Anträgen gleichzeitig benutzt werden und Skype vollkommen mit MSN Messenger funktioniert werden, Yahoo, AOL, Live Messenger, PalPalk, Camfrog, AIM, Stickam, oder irgendein anderes Video conferencing Programm oder eine Website.
Mehr…