Kategorie Audio & Multimedia / Ripper & Konverter
TS Video Converter
Version: 10.2.1 | Shareware (26,66 EUR)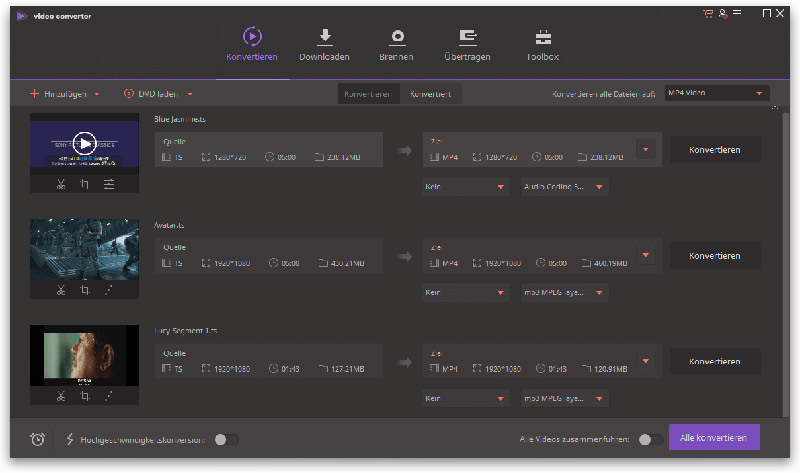 Mit TS Converter k
Mehr…
Generic File Converter
Version: 1.1 | Demo (8,00 USD)
Generic File Converter converts an enormous range of audio, video and image files, plus other types. Audio file types include: avi, aac, flac, gsm, mov, mp2, mp3, ogg, pcm, wav. Video file types include: flv, mpeg-1, mpeg-2, mpeg-4, QuickTime, RealVideo, wmv. Image file types include: bmp, jpeg/jpg, png, tiff
Mehr…
AVS Audio Converter
Version: 8.5.1.584 | Shareware (39,00 USD)
Wandeln Sie MP3, WMA, WAV, M4A, AMR, OGG, FLAC, MP2 usw. um. AVS Audio Converter erlaubt Ihnen, mehrere Audiodateien mit Batch-Modus gleichzeitig umzuwandeln. Schneiden, vereinigen Sie Audiodateien, löschen Sie einzelne Abschnitte, wenden Sie Effekte an. Exportieren/wandeln Sie Audio aus Video. Erstellen Sie einzigartige Klingeltöne für iPhone. Erwerben Sie käuflich ein Abonnement für €29/Jahr oder €39/unbefristet und benutzen alle AVS software.
Mehr…
2plane rotor balancing calculator
Version: 1.0 | Freeware
2-plane rotor balancing calculator is used to calculate mass and angle of the correction weights to reduce vibration of rotating machines. 2-plane balancing calculator can transform any single-channel vibration instrument that is capable of measuring vibration and phase into a 2-plane balancing system. For a full-featured, dynamic 2-plane balancing system you can see inexpensive "Balanset-1" portable field balancer.
Mehr…
Prism Plus Edition
Version: 4.03 | Shareware (69,95 USD)
Mit der Prism Plus Edition in Windows Videos konvertieren. Dieser Video-Converter kann Videodateien von AVI, MPG, VOB, WMV (Windows Media Videoformate) und mehr in MOV, MP4, WMV, OGG uvm. umwandeln. Der Prism Video-Converter ist nicht schwer zu bedienen. Einfach die zu konvertierenden Dateien zur Liste hinzuf
Mehr…
Switch Plus-Edition
Version: 6.06 | Shareware (29,99 USD)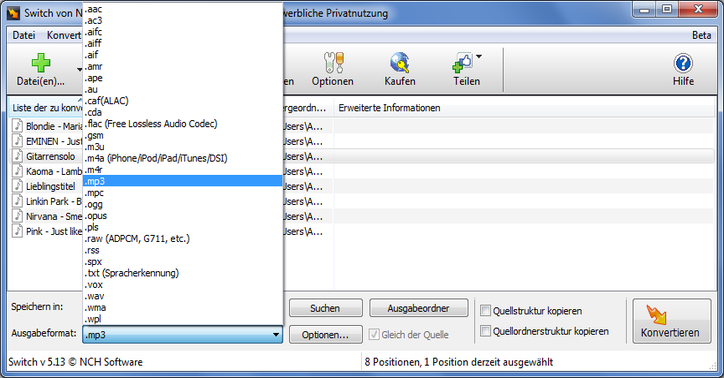 Switch Plus ist ein Audio-Converter f
Mehr…
Switch Audio-Converter Mac
Version: 6.01 | Shareware (25,36 EUR)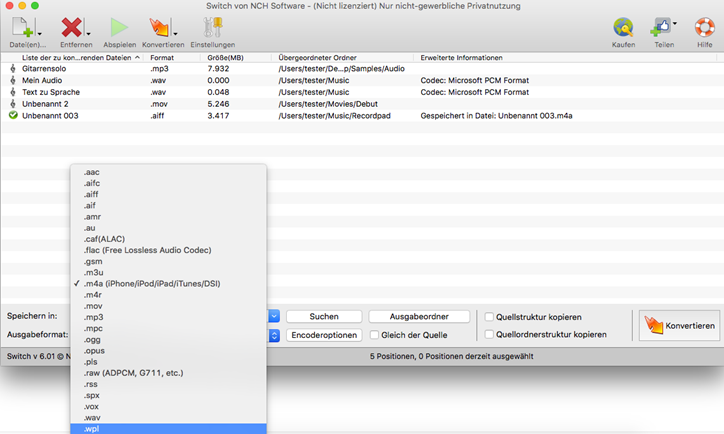 Switch ist ein MP3-Converter fuer Mac OS X. Man kann beispielsweise WMA in MP3 umwandeln oder viele andere Formate von und in MP3 umwandeln. Dieser Audio-Converter unterstuetzt alle gaengigen Formate und ist schnell und einfach zu bedienen. Einfach die zu konvertierenden Dateien zur Liste hinzufuegen, das gewuenschte Format waehlen und die Konvertieren-Schaltflaeche druecken.
Mehr…
Aiseesoft Mac Video Converter Ultimate
Version: 9.1.28 | Shareware (69,99 EUR)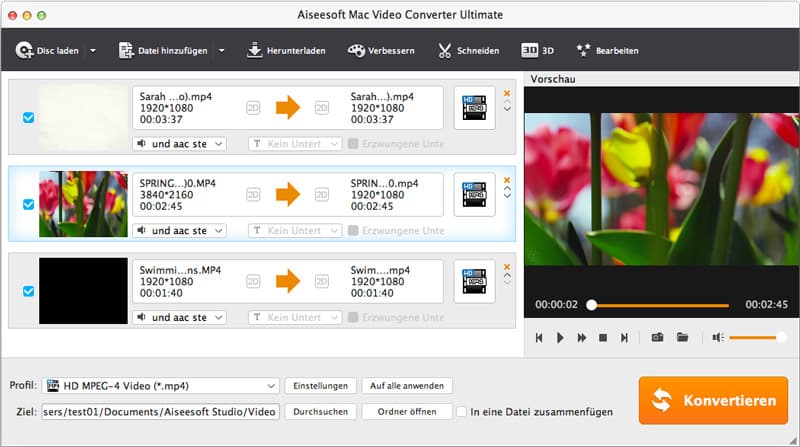 Aiseesoft Mac Video Converter Ultimate bietet Mac-Benutzern vollst
Mehr…
Aiseesoft Video Converter f
Version: 9.1.18 | Shareware (45,00 EUR)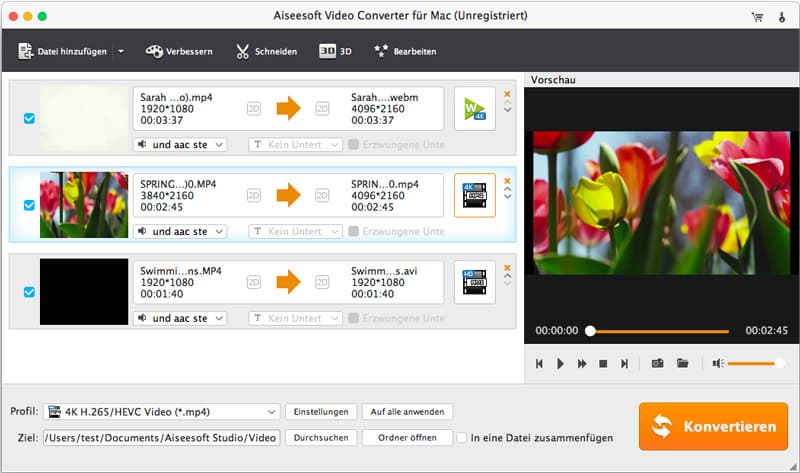 Aiseesoft Video Converter f
Mehr…
Audials One
Version: 2018 | Demo (49,90 EUR)
Musik, Radios, TV, Filme & Videos finden, aufnehmen, runterladen, konvertieren & ??berall genie??en+Rekorder f??r 100.000 Internetradios+TV-Serien, Spielfilme und Live-Streams der besten Fernsehsender+Autotagging f??r Filme & Serien+Audio-Streaming Rekorder Musik Services+Video-Streaming Rekorder TV & Online Videotheken+DVD-Kopierer+Audio & Video Konverter PC, Smartphone, Tablet, iPhone+Medienmanager+Player+Cloud-Manager
Mehr…
Audials Tunebite Platinum
Version: 2018 | Demo (39,90 EUR)
Universal Streaming-Rekorder Musik, Filme + TV, Filme und DVDs legal und ohne Werbung aufnehmen, Autotagging f??r Filme & TV Serien, gesch??tzte Musik konvertieren und ??berall genie??en, Universalkonverter PC, Smartphone, Tablet, Apple, Internetvideo-Downloader + Video zu MP3 + Deutsches Internet TV + DVD-Kopierer+ Playlist Media-Player + CD/DVD-Brenner + Medienverwaltung+ verbesserte Videothek +Cloud-Manager + ID3-Editor
Mehr…
Aiseesoft Video Converter Ultimate
Version: 9.2.28 | Shareware (69,99 EUR)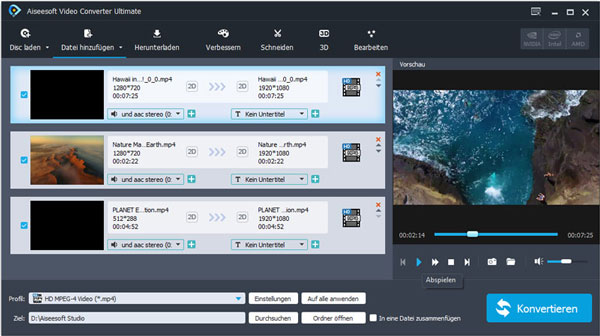 Aiseesoft Video Converter Ultimate ist ein professioneller Video Converter/Downloader/Editor, der Videos und ungesch
Mehr…