Kategorie Audio & Multimedia / Ripper & Konverter
4K Video Converter
Version: 9.2.16 | Shareware (50,73 EUR)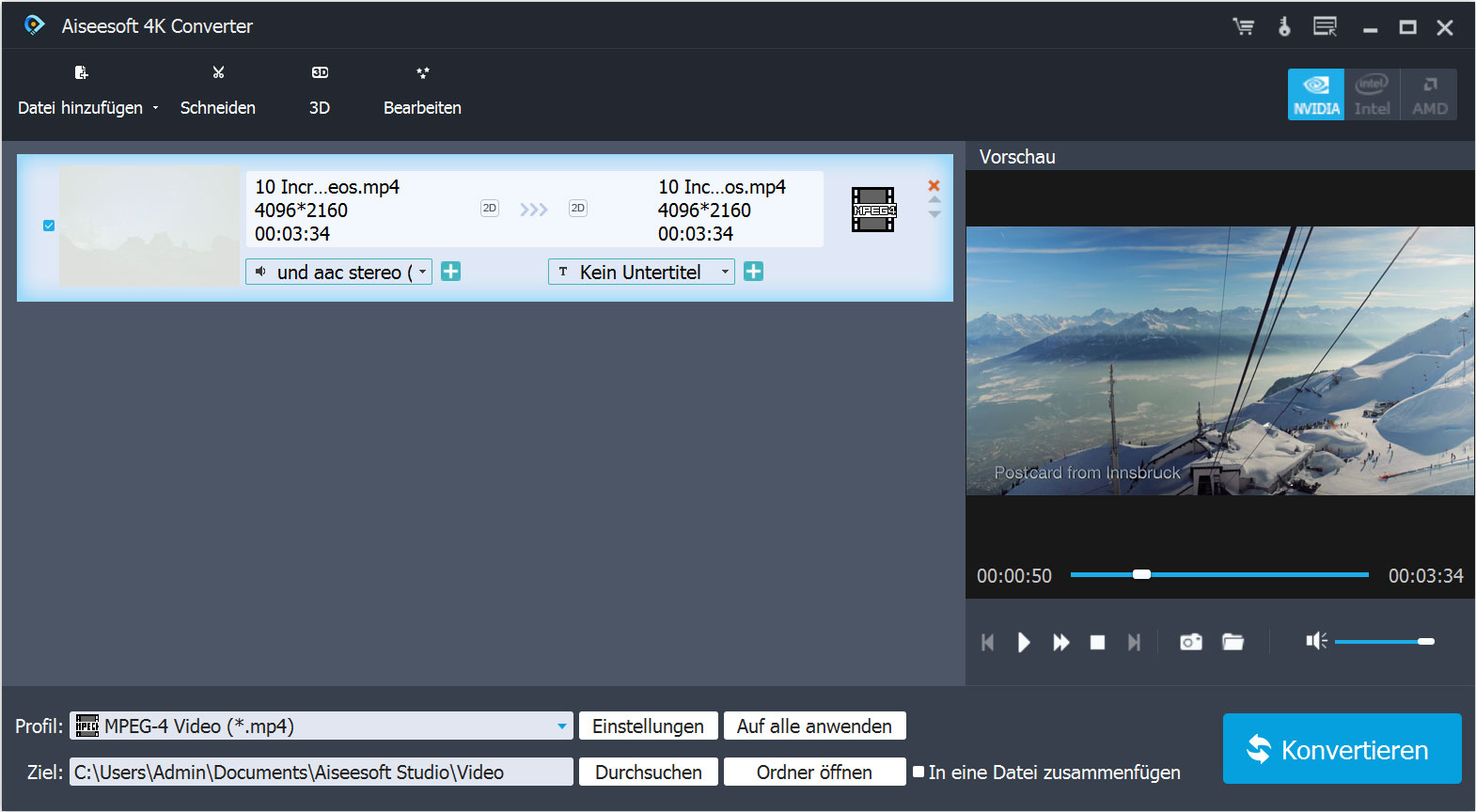 Die Abk
Mehr…
TS Video Converter
Version: 10.1.3 | Shareware (59,99 EUR)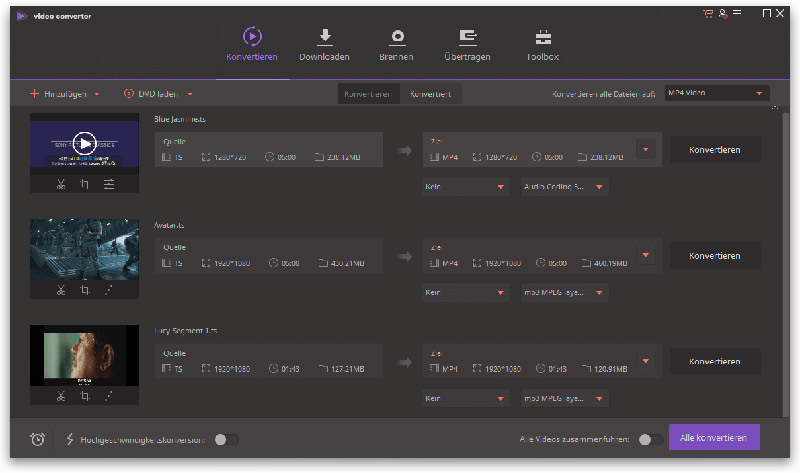 Mit TS Converter k
Mehr…
Xilisoft Video Converter Ultimate Mac
Version: 5.0.72.1218 | Shareware (49,95 EUR)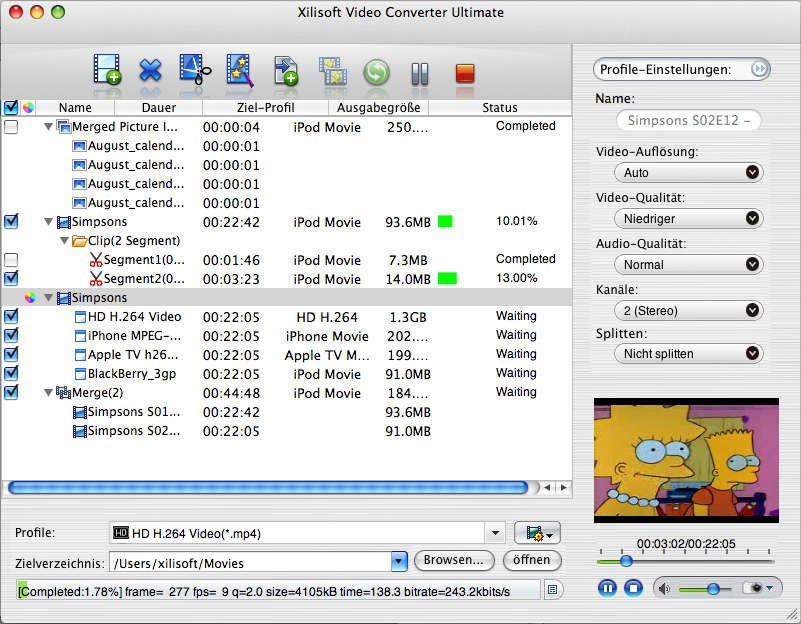 Xilisoft Video Converter Ultimate for Mac ist ein leistungsstarker Video Konverter, mit dem man Dateien unter Mac OS X zwischen fast allen gängigen Video- u. Audioformaten umwandeln kann, wie z.B. AVI, MPEG,MOV, WMV, MP4, RM, MP3, usw. Außerdem kann man noch Snapshot bei der Vorschau im Programm erfassen und Video aus Bildern erstellen.
Vorteile: Große Geschwindigkeit beim Umwandeln und Vielfalt an den unterstützten Video- und Audioforamten.
Mehr…
Protected Music Converter
Version: 1.9.7.5 | Shareware (24,95 USD)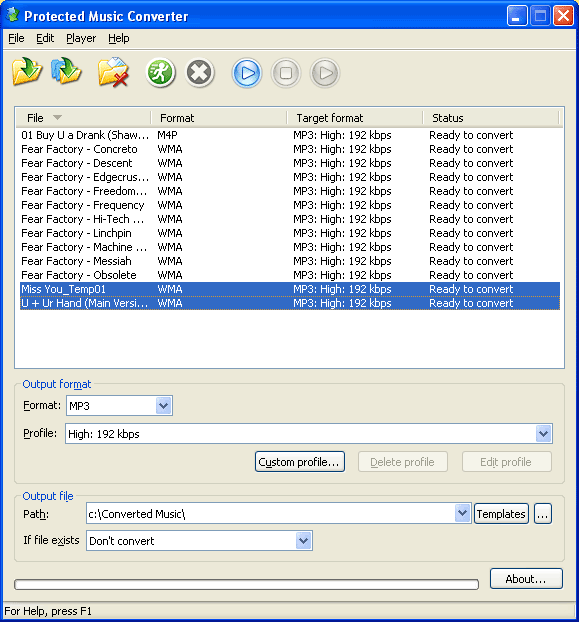 Protected Music Converter is a software which allows you easily convert your protected music files to most frequently used unprotected formats (MP3, OGG, WMA, WAV). Thus you can listen your music on your iPod, burn them to Audio CD, upload them on your cell phone, use them on whatever device you want, even if it doesn't support protected content playback. Supported input formats are: WMA, M4P, MP4, AAC, MP3, WAV, OGG, AU audio files, AIFF.
Mehr…
1X-RIPPER
Version: 6.0.1 | Freeware
Kostenloser Ripper mit CDDB (CD-Datenbank). Der Free Ripper liest Audio-CD's ein und holt die Titel-, Album-, Genre-, Jahr-, und Künstler-Daten aus einer Internet-Datenbank. Die Informationen werden beim Rippen in die MP3-Dateien geschrieben. Zusätzlich beinhaltet der Ripper noch eine MP3toWAV und WAVtoMP3 Funktion zum konvertieren von MP3's nach WAV Dateien oder WAV nach MP3 Dateien.
Mehr…
WMV to AVI Converter
Version: 3.1.9.9 | Shareware (26,00 EUR)
WMV to AVI Converter ist ein einfach zu nutzendes shareware programm, welches wmv dateien in avi umwandeln kann. Besser noch, Das Programm kann konvertiert viele Videoformate direkt zu AVI, wie AVI, MPEG, WMV, DivX, ASF, MPG, DAT, VCD, SVCD, OGM, usw.
Mehr…
MPEG To Wav Converter
Version: 1.0.8.7 | Shareware (23,00 EUR)
MPEG zum Wav Konverter kann MPEG MPG in wav Format umwandeln. Es kann andere Audiovideoformate wie AVI in WAV, VCD in WAV, WMV in WAV, ASF in WAV, DAT in WAV, MP3 in WAV, WMA in WAV, MPA in WAV, MP2 in WAV, AU in WAV, AIF in WAV, SND in WAV auch umwandeln, etc.
Mehr…
Alive iPhone Video Converter
Version: 2.0.2.8 | Shareware (29,95 USD)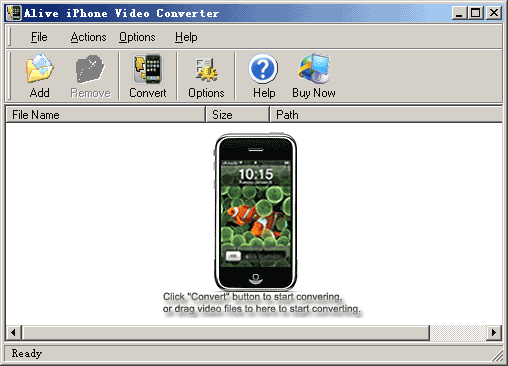 Alive iPhone Video Converter is a professional video converter to convert almost all popular video/movie formats to iPhone MP4 format. The output iPhone MP4 video files can be played on your Apple iPhone. All popular video/movie formats are supported, including AVI, MPEG/MPG/DAT, WMV, ASF, MP4, M4V, 3GP, 3G2, H264, MPEG4, AVC, MOV, QT, DivX, XviD, VOB, FLV, etc. A free trial version is here: http://www.alivemedia.net/iphone-video-converter.htm.
Mehr…
Audials Tunebite Platinum
Version: 2017 | Shareware (29,90 EUR)
Universal Streaming-Rekorder Musik, Filme + TV, Filme und DVDs legal und ohne Werbung aufnehmen. Doppelte Aufnahmegeschwindigkeit für Musik & Hörbücher + Folge für Folge aus VoD Diensten automatisch aufnehmen mit Autoplay-Funktion, Autotagging für Filme & TV Serien + Video zu MP3 + Deutsches Internet TV + DVD-Ripper + Playlist Media-Player + CD/DVD-Brenner + Medienverwaltung+ verbesserte Videothek +Cloud-Manager + ID3-Editor
Mehr…
Direct MIDI to MP3 Converter
Version: 7.0 | Shareware (29,95 USD)
Direct MIDI to MP3 Converter ist eine einfache Audio-Utility, die MIDI-Dateien in MP3-, WAV-, WMA- und OGG-Format umwandelt. Die Batchmode Umwandlung der MIDI-Dateien in MP3-Format ist nützlich, wenn man Musiksammlungen auf Audio-CDs erstellt. Sie können das Musiktempo ändern und ein Album aus Ihren MIDI und Karaoke-MIDI Kompositionen im beliebigen Tempo erstellen. Die Tonqualität ist einstellbar und kann einfach verändert werden.
Mehr…
Alive Zune Video Converter
Version: 1.9.0.9 | Shareware (29,95 USD)
Alive Zune Video Converter is an all-in-one video converter to convert popular video to Zune or MPEG-4. It supports converting DivX, XviD, MPEG, MOV, MPG, MOD, QickTime, MP4, 3GP, 3G2, SWF, GIF, DV, MJPEG, VOB, WMV, ASF, AVI to Zune or MPEG-4 video format for Microsoft Zune. Alive Zune Video Converter also allows you to convert various video to DivX, XviD, MPEG, or MP4 formats. http://www.alivemedia.net/zune-video-converter.htm
Mehr…
Alive Video to Flash Converter
Version: 1.5.0.2 | Shareware (39,95 USD)
Alive Video to Flash Converter is an easy-to-use video converter to convert popular video to Flash FLV and SWF streaming Macromedia Flash video format. It supports all popular video formats, such as AVI, DivX, XviD, MPEG, MOV, MPG, MOD, QickTime, MP4, M4V, 3GP, 3G2, GIF, DV, MJPEG, VOB, WMV, ASF. So you can convert the above videos to Flash SWF and FLV for sharing on the web easily and quickly! You can get trial version: http://www.alivemedia.net
Mehr…