Kategorie Grafik / Sonstige
Nero CoverDesigner
Version: 2018.19.1.1011 | Freeware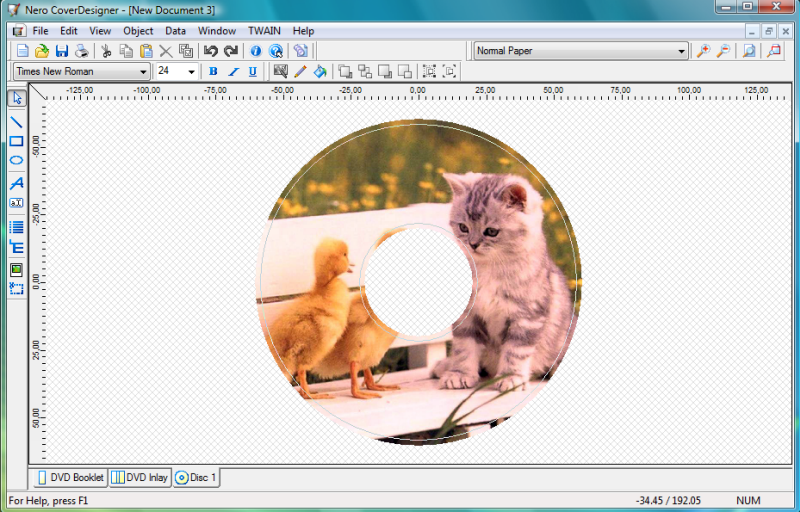 Erstellen Sie benutzerdefinierte Diskbeschriftungen, Jewelcase-Inlays, Booklets
Mehr…
Fotowerkzeuge 2
Version: 2.1 | Shareware
Unsere Fotowerkzeuge bieten Ihnen eine umfassende Fotoverwaltung mit zahlreichen Funktionen und Filtern zur Bildbearbeitung. Häufig wiederkehrende Aufgaben lassen sich komfortabel erledigen, wie das Importieren von Fotos von einer Kamera, einer Speicherkarte oder einer CD/DVD oder das Umwandeln mehrerer Bilder auf einmal. Die Fotowerkzeuge können auch von einem USB-Stick aus auf verschiedenen PCs eingesetzt werden.
Mehr…
DreamPlan Raumplaner kostenlos
Version: 3.03 | Freeware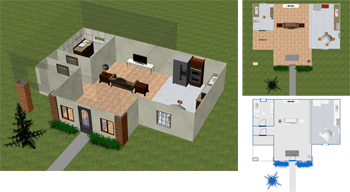 Mit dem DreamPlan Raumplaner kostenlos koennen Sie Ihr Traumhaus in 3D planen und entwerfen. Bevor Sie mit der Raumplanung oder dem Renovieren beginnen, perfektionieren Sie mit DreamPlan den Grundriss und sehen Sie sich alle Designideen im Vorfeld an. Erstellen Sie von Ihrem Haus, Ihrer Eigentums- oder Mietwohnung oder einem Zimmer einen Grundriss. Planen Sie die Gartengestaltung. Bestimmen Sie Farben, Strukturen, Moebel und mehr.
Mehr…
ClickCharts Pro Edition
Version: 2.15 | Shareware (49,99 USD)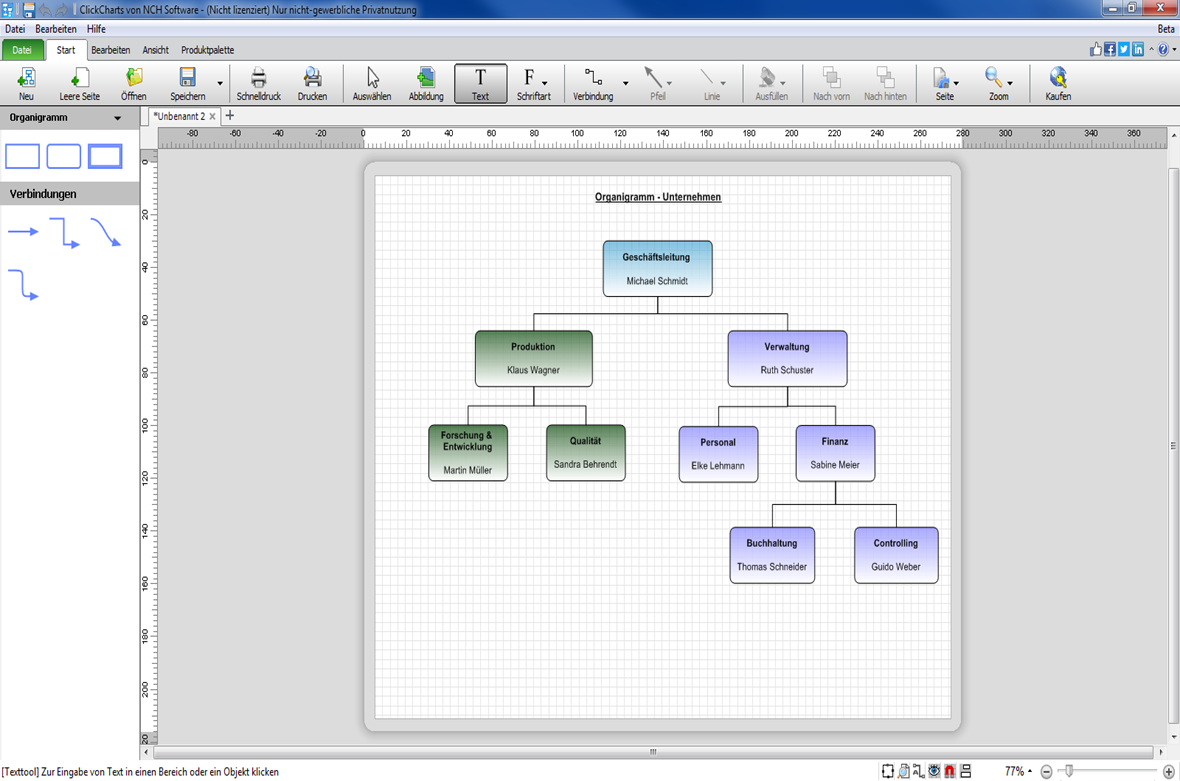 Mit der ClickCharts Pro Edition k
Mehr…
Sib Mobile Imager
Version: 2.01 | Shareware (16,95 EUR)
Sib Mobile Imager will benefit anyone who wants to expand the picture collection on a cell phone. Using this powerful utility you can transfer images you like to any mobile. Sib Mobile Imager supports various connection types, including Bluetooth, IRDA and WAP. It can also cut out a picture fragment to fit it to the size of your phone's screen, supports animated GIF files and converts images to various formats, including JPEG, BMP, WBMP and GIF.
Mehr…
Cardio Calipers
Version: 3.3 | Shareware (49,50 USD)
The Cardio Calipers from Iconico.com provide a fast and accurate way to measure electrocardiograms on a computer screen with pixel perfect accuracy.
The Cardio Calipers allow measurement of any EKG, no matter what format the EKG image is in. Simply open up your EKG in any image viewer application and move the Cardio Calipers into place with the mouse.
Mehr…
ImageIron
Version: 2.10.0 | Shareware (69,00 EUR)
ImageIron kann Abbildungsfehler von Digitalkameras mit höchster Präzision erfassen und entfernen (Verzeichnung, Vignettierung). Deutliche Aufwertung von Aufnahmen mit Billig-Objektiven. Automatische Berechnung der Kalibrationsparameter anhand von Kalibrationstafel-Aufnahmen. Daher geeignet für alle Kameras und Objektive. Stapelverarbeitung durch EXIF-Unterstützung (inkl. 16 Bit). Mit zusätzlicher Lizenz Analyse der Kalibrations-Daten möglich.
Mehr…
ADG Panorama Tools Pro
Version: 5.4 | Shareware (99,00 USD)
ADG Panorama Tools Pro combines a series of individual photos. Panorama automatically aligns, stitches images together to form High Quality panoramas and even creates a web page for you in seconds. No plug-ins required. ADG Panorama Tools supports ADG, QTVR, JPEG output formats, TWAIN-32 import from scanners and digital cameras. Javascript control enabled. Contains Hotspots GUI for Virtual Tour creation. Batch Processing supported.
Mehr…
TimeToPhoto
Version: 2.6 | Shareware (29,95 USD)
Most digital cameras don't add datestamps to digital photos. TimeToPhoto helps you to see the date and time when you snapped your photos. TimeToPhoto allows you to add datestamps or memory labels to selected photos with one mouse click.
Mehr…
Panorado Flyer
Version: 1.2 | Freeware
Panorado Flyer ist ein einfaches Geocoding-Tool, mit dessen Hilfe Sie JPEG-Bilddateien über geografische Koordinaten mit ihrem Aufnahmeort verknüpfen können. Es lässt sich über den Windows-Explorers starten. Die Koordinaten des Aufnahmeorts werden in der JPEG-Datei im EXIF-Format abgelegt. Sie können von Hand oder automatisch von Google Earth übernommen werden. Später können Sie den Ort wieder in GE anzeigen lassen! 64-Bit-Version verfügbar.
Mehr…
Graphics4VO Demo
Version: 10.00 | Demo (100,00 EUR)
Graphics4VO ist eine Graphik-Library für CA-Visual Objects (Vers.2.0 - 2.8). Diese stellt die Graphikausgabe auf dem Bildschirm, dem Drucker, dem Plotter, in die Datei und in Memory-Bitmaps zur Verfügung. Neben elementarer Pixelgraphik und graphischen Primitiven können in einfacher Weise Geschäfts- und Präsentationsgraphiken, Funktionsgraphen und Fraktale erstellt sowie Bilder verschiedener Graphikformate und ArcView-Shapes bearbeitet werden.
Mehr…
CD Label Designer
Version: 7.0.1 | Shareware (19,95 USD)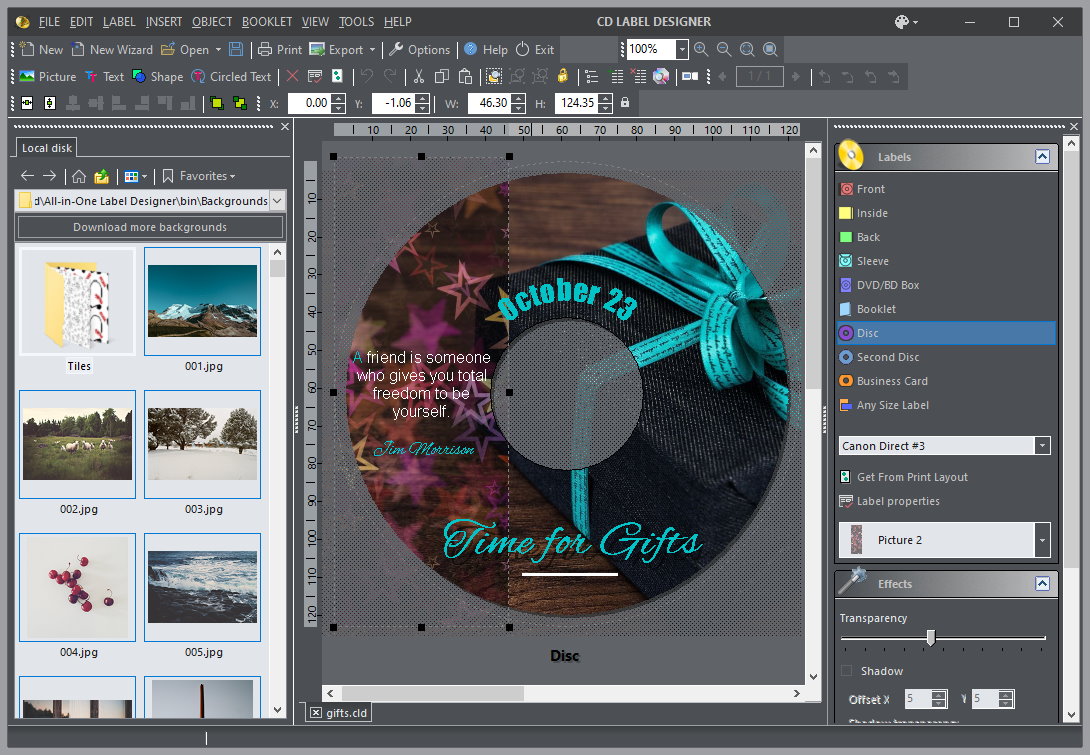 CD Label Designer is application that will help you to design and print CD jewel case and DVD box labels, booklets, sleeves/envelopes, round and business card disk labels. It supports images, RTF, circled texts and shapes allowing you to arrange, change size, angle and transparency of objects. You can read directory and file structure, CDDB audio CD database or define own lists to include them on labels, and you can customize printout positions.
Mehr…