Kategorie Sicherheit & Datenschutz / Anti-Virus Tools
Abacre Antivirus
Version: 1.0 | Shareware (24,99 USD)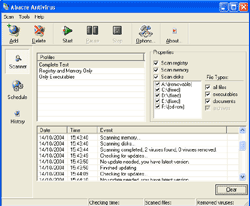 Abacre Antivirus is new generation of antivirus software which reliably protects Windows-based computers from internet viruses worms and Trojans spreading via email and local networks, macro viruses and old executable viruses. It?s strictly based on 5 main principles: 1. Reliability of healing viruses due to novice virus detection algorithms; 2. Stability of work; 3. Fast scanning speed; 4. Extremely low CPU load; 5. Reasonable price.
Mehr…
Security Task Manager
Version: 2.1.8 | Shareware (29,00 USD)
Security Task Manager erkennt potentiell gefährliche Prozesse, welche den PC überwachen oder langsam machen. Hierzu zeigt die Software zu jedem Prozess neben Dateiname, Verzeichnispfad, etc. auch ein Sicherheits-Urteil. Dieses basiert auf der Analyse von Prozess-Eigenschaften wie Tastaturaufzeichnung, Browser-Überwachung, Autostart, Tarnmethode. Zusätzlich erhält man SpyProtector, der PC-Überwachung und Trojaner stoppt und Internet-Spuren löscht.
Mehr…
Digital Patrol
Version: 5.5.50 | Shareware (19,95 USD)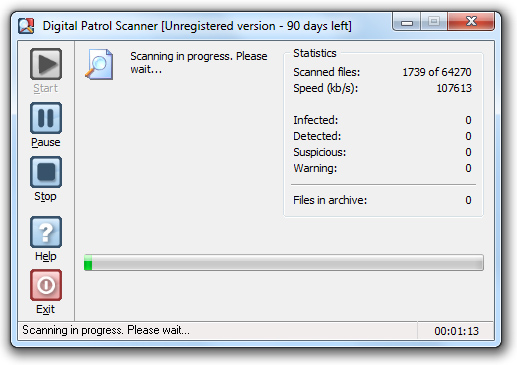 Digital Patrol is a powerful antivirus solution for protecting your computer from all sorts of malicious software and hacking attempts. Unlike most other solutions, it can also be run in conjunction with other antivirus products without causing conflicts or slowdowns. The best antivirus program supports every edition of Windows and it provides a user-friendly and responsive interface.
Mehr…
Dekart Secrets Keeper
Version: 3.11 | Shareware (19,00 USD)
Protect your important files with 256-bit AES encryption. Full integration with Microsoft Windows® Explorer, Microsoft Word, Microsoft Excel and PowerPoint.To encrypt or decrypt files, simply click Encrypt or Decrypt buttons in the main dialog or press the Encrypt or Decrypt buttons in Microsoft Word, Excel and PowerPoint. Allows to store passwords on the USB flash drive, CD's. Full data portability - work safely with your data from any machine.
Mehr…
1st Email Anti-Virus
Version: 4.0 | Shareware (19,95 USD)
1st Email Anti-Virus is the only security program that protects from all kinds of email threats. Generic antivirus programs and setting the most secure options in email client software can't provide the same level of protection as 1EAV does. It copes with iframe / MIME header / CLSID extension attack, script attacks, ActiveX / Java / Flash attacks, "web bugs", fragmented message attack, and so on.
Mehr…
TerminScout
Version: 3.31 | Shareware (60,00 EUR)
Dieses Programm verwaltet die Termine f?r Ihre Mietobjekte (bis zu 100 Objekte), vorzugsweise
Ferienwohnungen oder -h?user.
Reservierungen, Buchungen, Stornierungen, Mietvertr?ge, Rechnungen werden automatisiert.
Die Daten werden in Form eines Terminkalenders pr?sentiert, der mehrere Jahre abdeckt.
Umfangreiche Statistik- und Auswertefunktionen sind verf?gbar.
Ein Online-Verbund erlaubt Recherchen bei anderen Mitgliedern. (Daten anonym!)
Mehr…
Spam Bully 2.0 for Outlook Express 5/5.5/6
Version: 2.0.0.79 | Shareware (29,95 USD)
Spam Bully 2.0 is an easy to use self learning spam filter for Outlook. Bayesian artificial intelligence quickly learns what you consider spam and not spam. Other features: Friends/Spammers lists, email blocking by country/language, Allow/Block words and phrases, spam link analyzer, bounce spam, Realtime Blackhole List integration, customizable interface for your language, graphical stats. Fully customizable.
Mehr…
AnVir Virus Destroyer
Version: 7.5 | Shareware (49,95 USD)
Monitor processes, services, connections, CPU, disk, memory, DLLs, drivers, locked files. Remove spyware. Speed up boot time and performance. Descriptions for 70 000 startup programs and services, alerts on new startups. Security analysis. Icons in tray for CPU, memory and disk load. Quick access to last launched programs and folders. Hide windows to system tray. Balance CPU usage. http://anvir.com Can replace Windows Task Manager
Mehr…
Metadefender Cloud Client
Version: 4.0.8.76 | Freeware
Metadefender Client ist die gründlichste Art und Weise, Daten auf einem Client vor und nach dem Verbinden mit einem (sicheren) Netzwerk zu scannen, schützen und kontrollieren. Metadefender Client durchsucht Endgeräte, ohne auf diesen installiert zu sein, mit mehreren Antivirusengines, um sie auf Viren, Keylogger und andere Schadsoftware zu überprüfen.
Mehr…
Orange Defender Antivirus
Version: 3.23 | Shareware (15,00 USD)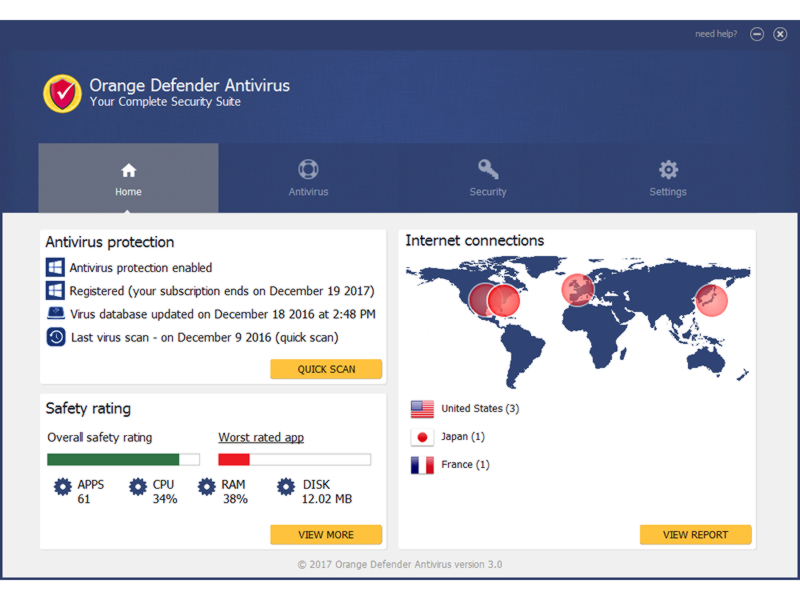 Orange Defender Antivirus provides 24/7 protection against malware and other computer viruses. The application features an easy-to-use interface backed up by a highly effective antivirus program.
Mehr…
Auslogics AntiMalware 2016
Version: 1.6.0 | Shareware (29,95 USD)
Auslogics Anti-Malware is an innovative security solution that helps eliminate threats your antivirus may miss and keeps your sensitive data safe from unauthorized access. Easy to use, light on system resources and with flexible auto-scan options, this tool is designed to provide multi-faceted protection and give you the peace of mind you want. Your chances of becoming an ID theft victim instantly drop once you install this powerful shield.
Mehr…
Defender Pro Ultimate
Version: 17.0.52 | Shareware (49,99 USD)
Defender Pro is the ultimate antivirus and online security solution for any PC user. Consistently ranked among the top antivirus software products in its category, Ultimate offers an all-encompassing security solution that is flexible and can be used by the working professional or the Internet connected family. Defender Pro Ultimate combines industry leading technology that provides all users with the peace of mind and online security they need.
Mehr…