Kategorie Sicherheit & Datenschutz / Anti-Virus Tools
Metadefender Cloud Client
Version: 4.0.8.76 | Freeware
Metadefender Client ist die gründlichste Art und Weise, Daten auf einem Client vor und nach dem Verbinden mit einem (sicheren) Netzwerk zu scannen, schützen und kontrollieren. Metadefender Client durchsucht Endgeräte, ohne auf diesen installiert zu sein, mit mehreren Antivirusengines, um sie auf Viren, Keylogger und andere Schadsoftware zu überprüfen.
Mehr…
Auslogics AntiMalware 2016
Version: 1.6.0 | Shareware (29,95 USD)
Auslogics Anti-Malware is an innovative security solution that helps eliminate threats your antivirus may miss and keeps your sensitive data safe from unauthorized access. Easy to use, light on system resources and with flexible auto-scan options, this tool is designed to provide multi-faceted protection and give you the peace of mind you want. Your chances of becoming an ID theft victim instantly drop once you install this powerful shield.
Mehr…
Defender Pro Ultimate
Version: 17.0.52 | Shareware (49,99 USD)
Defender Pro is the ultimate antivirus and online security solution for any PC user. Consistently ranked among the top antivirus software products in its category, Ultimate offers an all-encompassing security solution that is flexible and can be used by the working professional or the Internet connected family. Defender Pro Ultimate combines industry leading technology that provides all users with the peace of mind and online security they need.
Mehr…
Emsisoft Emergency Kit
Version: 2017.8.0.7904 | Freeware
Kostenloses, tragbares Malware-Notfallkit zum Prüfen und Reinigen infizierter PCs. Bietet eine Sammlung an Programmen, die sich ohne Installation nutzen lassen. Emsisoft Emergency Scanner, Emsisoft Commandline Scanner und Emsisoft BlitzBlank. Tragbar und ideal geeignet für USB-Flashspeicher.
Mehr…
SafenSoft SysWatch Personal
Version: 3.6 | Shareware (19,95 USD)
SysWatch has a completely different take on PC protection than traditional antivirus; it focuses on maintaining the integrity of your system and its contents, not detecting individual viruses. It does this by combining whitelisting, sandboxing, and behavioral analysis techniques to keep malware and intruders out - automatically. And you no longer need to rely on frequent, large, performance-sapping signature updates to keep your PC virus-free.
Mehr…
NETGATE Internet Security
Version: 19.0.900 | Shareware (35,95 USD)
NETGATE Internet Security is complete security protection solution against all of the most serious Internet threats, including spyware, adware, trojans, worms, rootkits, phishing, spam and hackers consisting of anti-malware, anti-spyware, anti-spam, anti-rootkit, anti-phishing and firewall technologies. With built-in proactive resident shield with dynamic heuristic engine it can even detect new and unknown Internet threats.
Mehr…
AVG AntiVirus FREE
Version: 17.2.3008 | Freeware
AVG AntiVirus FREE bietet erweiterten Schutz beim Surfen, für E-Mails und soziale Netzwerke. Mit umfassenden Funktionen: eine benutzerfreundliche Oberfläche mit Zugriff auf kostenlose Mobile-Apps, File Shredder zum dauerhaften Löschen vertraulicher Dateien, LinkScanner zur Identifizierung gefährlicher Links, Anti-Spyware zum Schutz persönlicher Daten, kostenloser Online-Support und mehr.
Mehr…
Avira AntiVir WebGate
Version: 3.3.0.2-5 | Shareware (66,60 EUR)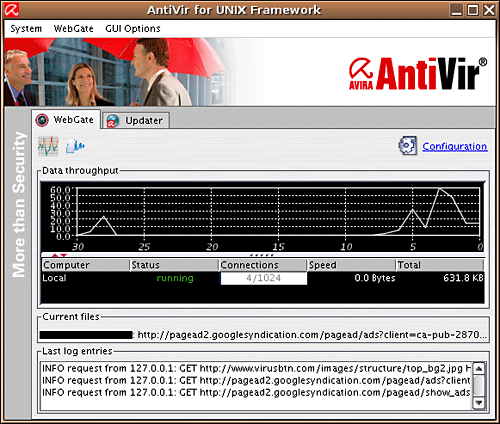 Corporate protection starts at the Internet Gateway, the main entrance for viruses, malware and digital attacks.Avira AntiVir WebGate protects the data traffic of your company handled via HTTP, HTTP over FTP or directly via FTP. It enables risk-free surfing and downloading without loss of performance and reliably prevents infected contents from being sent and received.
Mehr…
AppGuard
Version: 4.2.8 | Shareware (29,95 USD)
AppGuard stops malware and phishing attacks, zero-day attacks, watering hole attacks, drive-by-downloads, ransomware, weaponized documents, and other undetectable advanced threats by preventing exploits. AppGuard is the next generation of comprehensive endpoint protection. This breakthrough prevent-and-report protection is achieved through Blue Ridge patented isolation, containment, anti-execute, application control , and other advanced controls.
Mehr…
Acronis Backup and Security
Version: 2011 | Shareware (59,95 EUR)
Acronis Backup and Security 2011 ist eine Abonnement-basierte Lösung, basierend auf Grundlage der preisgekrönten Disk-Imaging- und Bare-Metal-Technologien von Acronis. Sie bietet umfangreiche Funktionen zum Schutz Ihres PCs vor internen Gefahren, die zu Datenverlust führen können, als auch vor externen Bedrohungen, die Systeme und Daten beschädigen können.
Mehr…
Avira Server Security
Version: 13.0.0.2935 | Shareware (80,70 EUR)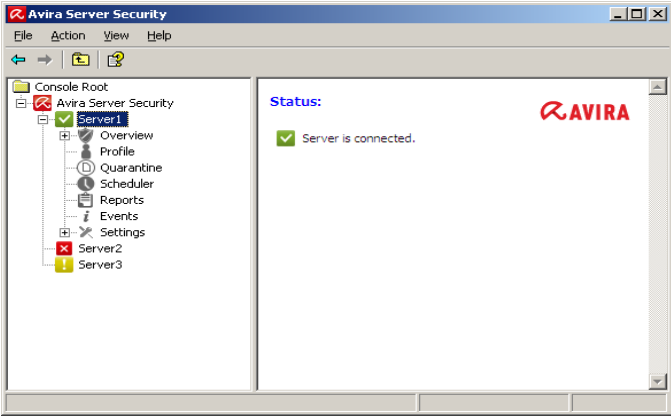 Avira Server Security is a remote-configurable antivirus program, due to its modular structure, which includes the Resident Service containing the main engine, and the associated Control Program. These modules may be installed separately, so that the admins use the Control Program on their own workstation. The product also features updates via Intranet/Internet Update Wizard to efficiently update program files in the network.
Mehr…
VIRUSfighter Server
Version: 7.5.155 | Shareware (24,00 EUR)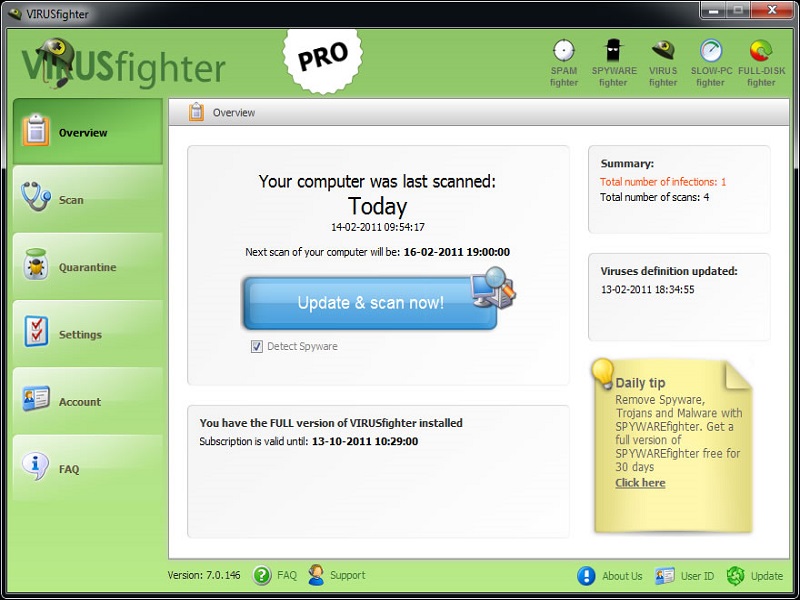 VIRUSfighter Server schützt Ihren Server gegen Viren . Das Programm ist einfach zu installieren und arbeitet diskret im Hintergrund. Ihr Server ist optimal geschützt, während Sie VIRUSfighter Server fast nicht bemerken. Das Programm wird regelmässig - oft mehrmals am Tag - aktualisiert, um den besten Schutz für Ihren Server und den sich darauf befindlichen Daten zu garantieren.
Mehr…