Kategorie Spiele & Unterhaltung / Arcade
Star Defender 4 for Mac OS X
Version: 1.11 | Shareware (19,95 USD)
Star Defender 4 is a breathtaking space shooter with splendidly craft graphics and music. Face tons of new enemies with a unique style of behavior and new ways of attacking. Use new Star Defender 4 weapons: machine-gun, saw, flame thrower, acid bomb and cutter! Blast through more than 100 levels, 8 original missions and of course huge impressive Bosses in the end of every mission!
Mehr…
FreeGames CosmicBall
Version: 2.1.2 | Freeware
Neue Herausforderung für alle Fans von Breakout-Spielen. Böse Roboter beschützen Steinblöcke, darum müssen Sie nicht vergessen, sich vor Bomben und Geschossen zu hüten, indem Sie die Blöcke vernichten. Sind Sie schnell genug, um gleichzeitig dem Ball zu folgen und auf Feinde zu zielen? Spielfunktionalitäten: 90 spannende Levels, sich bewegende Steinblöcke, angreifende Raumschiffe, verschiedene Waffen und Bälle. Reizendes Spiel für ganze Familie.
Mehr…
Dragon Jumper Free Edition
Version: 1.0 | Freeware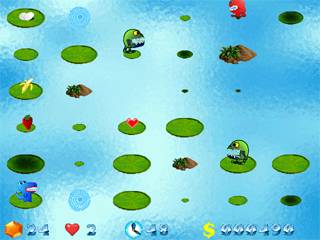 Ein kleiner Drache lebt in einem magischen See. Der See ist gefährlich, aber Diamante gefallen unserem kleinen Freund. Er springt ausgezeichnet und wenn der Drache irgendwas glänzendes im See sieht, fängt er sofort mit dem Springen von einem Stück der Erde auf einen anderen an, um es zu bekommen. Das Springen auf Lilienblätter verbraucht viel Energie, so muss der Drache auch essen. Böse Monster wollen ihn fangen und fressen.
Mehr…
Strike Ball 3
Version: 1.02 | Shareware (19,95 USD)
Strike Ball 3 takes Breakout games to explosive heights with spectacular graphics and outrageous animation! Superb level design, wildly fun bonuses and powerful new weapons complete the package!
Mehr…
Farm Frenzy - Pizza Party!
Version: 1.0 | Shareware (9,95 USD)
Return to the farm to create your favorite food! Grow grass, feed animals and collect produce, and then turn your goods into the ingredients you need to make pizzas that will be enjoyed around the world!
Mehr…
Anal Masters
Version: 1.2 | Shareware (14,99 USD)
This is a perfect casual game to spend your spare time with pleasure. This hentai-style arcade features entertaining gameplay and a vast collection of exclusive pictures (more than 70 hentai pics and extra image pack support). There is a girl with her butt up, and you score points by catching oblong things (like bananas or cucumbers) in it and lose points by catching round ones (balls or pumpkins). When you get enough points, you see a new pic!
Mehr…
Amelies Cafe
Version: 1.0 | Shareware (19,95 USD)
Feed the famished masses in Amelie's Cafe! You'll have to stay on your toes as you take orders, tell your cooks what to make, deliver the food and keep the joint shining like a new penny. Amelie's Cafe will satisfy your craving for fast-paced fun!
Mehr…
Clown Fish Adventure
Version: 2.0 | Shareware (1,99 EUR)
Fischi, der kleine Clownfisch hat ein Problem: ein böser Raubfisch hat seine Eier gestohlen und überall verteilt. Nun muss er über viele Level hinweg versuchen, sie wieder einzusammeln und dass trotz vieler Gefahren. Fischi ist ein kleines buntes Actionspiel für zwischendurch.
Mehr…
Boulder Dash. Episode IV: Rockford Returns
Version: 1.0.1 | Shareware (7,45 EUR)
Boulder Dash. Episode IV: Rockford Returns. This is the fourth episode of the classical game redeveloped to enhance the experience. This remake features 96 levels from the original game. Improved gameplay & usability, varying color palettes, 4 background music themes composed specifically for this release. Rediscover the long forgotten caves. Go for quality and think retro. Download trial version and play the first 4 levels for free.
Mehr…
Lode Runner. Episode III: Die Hard Levels
Version: 1.2 | Shareware (7,45 EUR)
Lode Runner. Episode III: Die Hard Levels. Third episode of series by ZX Games with level editor, state of the art gameplay and user interface. A new set of 31 custom crafted, extremely difficult levels for die hard fans. The ultimate challenge for the real Lode Runner master of the 21st century. Download the game to see how well you can do. Users with faint heart should take caution.
Mehr…
Piggly Xmas
Version: 1.22 | Shareware (14,95 EUR)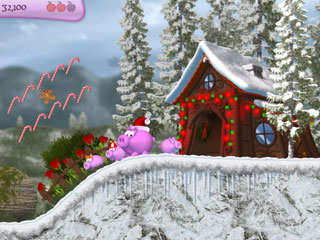 Have you ever seen a pig climb up a tree? Juggle apples? Perform a somersault? Then you haven't met Mrs. Piggly yet. She's a pig on a mission, and her mission is to bake delicious homemade apple pies for her piglets. So she's gone out to the forest to gather some apples. But those apples aren't coming in without a fight! Help Mrs. Piggly overcome the dangers that await in her path and gather apples for her delicious homemade apple pies!
Mehr…
TERMINAL Tetris
Version: 1.6 | Shareware (24,95 USD)
TERMINAL Tetris is an ultra-modern 3D remake of the all-time classic Tetris game. The game comprises two full tetris realizations with high quality 3D graphics, lots of visual effects, 3D sound and ear-pleasing music (12 professionally selected tracks). But the most important part is that it is all done in the best tradition of the classic Tetris game. You can choose between 4 levels of difficulty: Classic, Advanced, Special and Crazy.
Mehr…