Kategorie Netzwerk & Internet / Remote Computing
Inletex Easy Meeting Classic
Version: 1.20 | Freeware (12,00 USD)
Inletex Easy Meeting Classic is our solutions for easy and friendly desktop sharing. Easy Meeting Classic replaces basic NetMeeting functionality on Windows 7 and Windows 8. Greenware: No installation required. Zero footprint. Peer-to-peer for LAN/WAN: No Internet required. All information stays in your private network. Ease of use: Whether you share your desktop or join a shared session it is one application and one click operation.
Mehr…
RDM+
Version: 3.3.7 | Shareware (34,95 USD)
RDM+ (Remote Desktop for Mobiles) allows you to access remotely your desktop or laptop computer from Java powered phones and Symbian mobiles. You can send and receive emails, surf web, edit documents in word processor, copy, cut, paste files or folders and do hundreds other things that you typically do sitting in front of your home or office computer. Interface is user-friendly and navigation is simple.
Mehr…
Techinline Remote Desktop
Version: 2.5.1.0 | Shareware (30,00 USD)
Techinline Remote Desktop lets you instantly access and control a remote computer over the Internet, across firewalls and proxies, using any browser. It doesn't require manual downloads or installs. With Techinline you can view, diagnose and rapidly solve your customers' problems from anywhere in the world. Additionally, you can share your desktop with remote customers.
Mehr…
USB over IP Connector
Version: 5.0 | Shareware (69,95 EUR)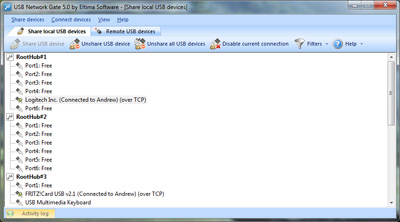 USB over IP Connector ist die perfekte Lösung, wenn sie mit USB Geräten arbeiten müssen, die sie nicht direkt mit ihrem Rechner verbinden können. Es wird ihnen auch beim Verbinden und Verwalten von USB Geräten innerhalb einer virtuellen Umgebung helfen. Installieren sie USB over IP Connector auf einem Computer mit einem lokalen USB Gerät (Server) und auf dem Computer, auf welchem sie das entfernte USB Gerät benutzen wollen (Client).
Mehr…
SDI LPD
Version: 3.3 | Shareware (590,00 USD)

Fast, easy and inexpensive LPD print server for Windows. SDI LPD prints reports from IBM zSeries (mainframe) iSeries (AS/400) and UNIX systems on your Windows local or network printers. Handles TCP/IP network printing for LAN, WAN or the Internet.
Mehr…
Amiga Explorer
Version: 2010.0.1.0 | Shareware (9,95 USD)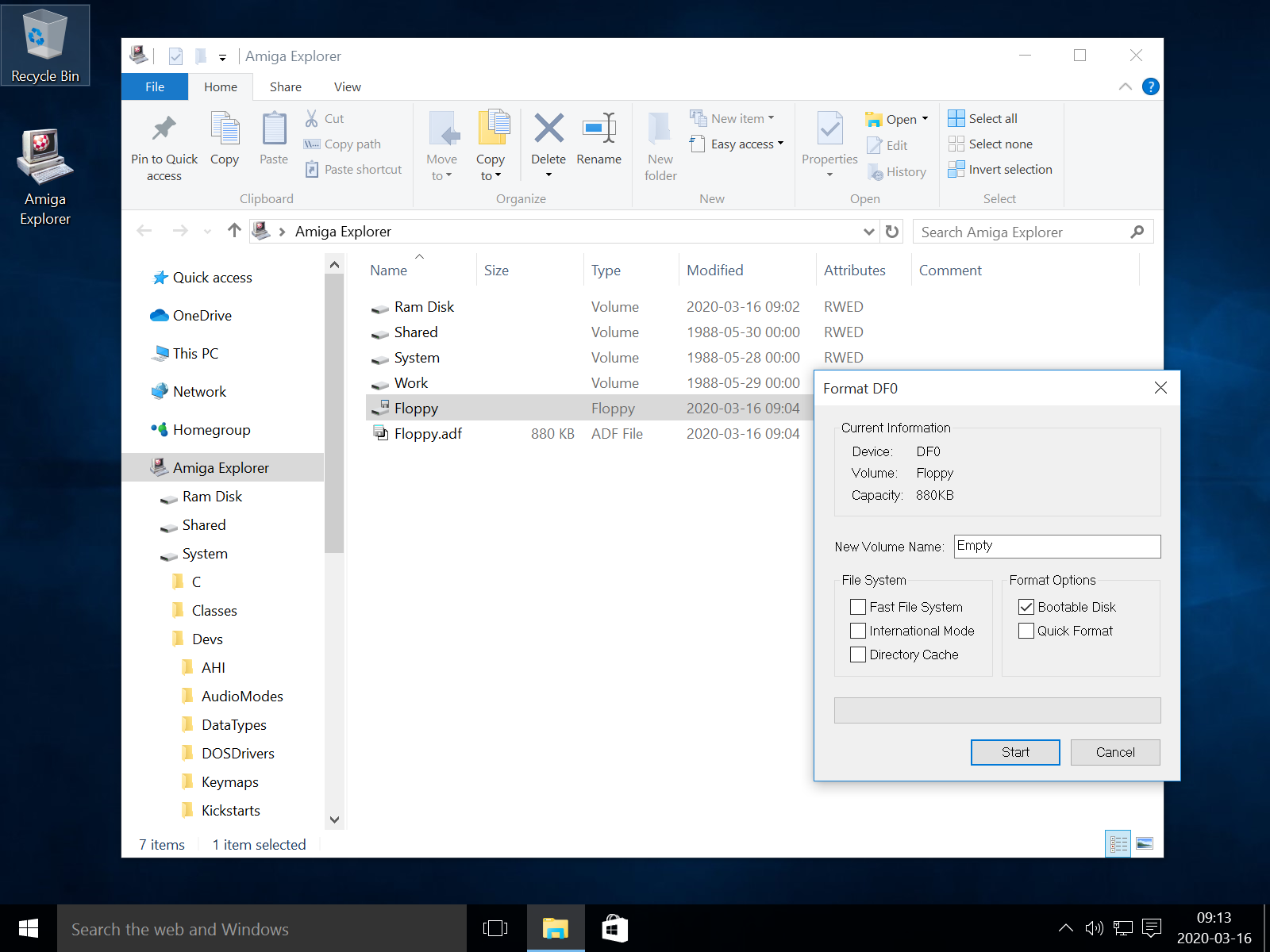 Connect an Amiga with one or more PCs, and access Amiga resources (e.g. files, floppy and hard disk images, ROM transfer, etc.) from the Windows desktop. Features a revolutionary self-install technology that requires no additional Amiga software (PC file system, terminal software, etc.) Supports serial and TCP/IP connections, including Bluetooth and Wi-Fi. Available in a standalone package or as part of Amiga Forever.
Mehr…
iPIG WiFi Hotspot VPN Security
Version: 2.06 | Freeware
iPig creates a secure "tunnel" VPN that protects your communications (Email, Web, IM, VOIP, calls, FTP, etc.) at any Wi-Fi hotspot or wired network. iPig works with any kind of Internet connection (Wifi, WLAN, wired ethernet). iPIG shields your data from even the most sophisticated methods of online spying and snooping like the "Evil twin attacks". Get iPig now - NO configuration required.
Mehr…
Easy-PC-Gate
Version: 1.0.1 | Shareware (89,00 EUR)
Fernwartung leicht gemacht. Easy-PC-Gate muss nicht installiert werden und ist sofort einsatzbereit. Es muss lediglich das ca. 300 kB grosse Client-Modul gestartet werden und die vom Administrator übermittelte PIN angegeben werden - schon wird die Verbindung zwischen den PCs hergestellt. Auch Firewalls und Proxyserver machen Easy-PC-Gate keine Probleme. Testen Sie Easy-PC-Gate kostenlos.
Mehr…
ViPNet OFFICE
Version: 2.2.0(6346) | Shareware (199,00 EUR)
ViPNet OFFICE ist eine VPN-Softwarelösung mit Zusatzfunktionen, die über das klassische VPN weit hinausgehen. ViPNet OFFICE bildet ein geschlossenes Netz, das jedem Hacker-Angriff sowohl von innen als auch von außen standhält. Eine hervorragende Anpassungsfähigkeit der ViPNet-Technologie ermöglicht es Ihnen, sehr flexible VPN-Szenarien für mobile Benutzer zu verwirklichen oder aber hochsichere virtuelle Abteilungen innerhalb des LANs aufzubauen.
Mehr…
PlanetRemote Plus
Version: 2.01 | Shareware (59,95 USD)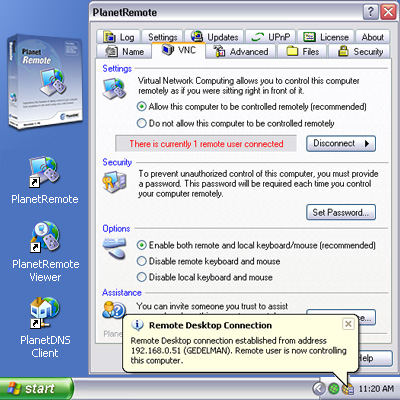 PlanetRemote allows you to take control of your PC and access your files remotely as if you were actually sitting right in front of it! You can control your PC using a web browser from anywhere on the Internet, even with a dynamic IP address.
Security is provided by assigning a special access password to your computer, which is needed each time you want to control your computer or access your files remotely.
Mehr…
Radmin
Version: 3.5.1 | Shareware (49,00 USD)
Radmin ist die preisgekrönte und weltberühmte Software für Remote Control und Remote Access mit Multi-User-Text-und-Voice-Chats, Dateitransfer, Support für mehrere Monitore, NT-Sicherheits-Support, Telnet-Zugang, verschiedene Verbindungsmodi usw. Radmin ist eine schnelle, sichere und günstige Lösung für Remote Access, mit der Sie am Remote-Computer so arbeiten, als säßen Sie davor und auf denselben Rechner von mehreren Orten aus zugreifen können.
Mehr…
EMCO Remote Desktop Professional
Version: 1.0 | Shareware (245,00 USD)
EMCO Remote Desktop Professional is a remote desktop management solution for professionals, education and business in a wired and wireless Microsoft network Reduces administration costs and enhances productivity all from a central location Software and Hardware information gathered from remote computer?s Remote Desktop Professional can scan your remote client?s for many useful information such as Service Pack, Installed Applications etc..
Mehr…