nanoCAD Plus
Version: 8.5.4129 | Shareware (180,00 USD)
nanoCAD Plus ist ein einfach zu bedienendes, erschwingliches CAD-Programm, das mit klassischer Benutzeroberfläche und nativer Unterstützung von .dwg eine einzigartige Benutzererfahrung bietet. nanoCAD Plus erstellt Entwicklungs- und Projektunterlagen für alle Branchen. Keine teuren Lizenzgebühren oder übermäßige Gebühren für jährliche Wartung und den Support. Wir liefern ein komplettes Programmabonnement, alles inbegriffen.
Mehr…
CADopia Professional Edition
Version: 17.2.3159 | Demo (545,00 USD)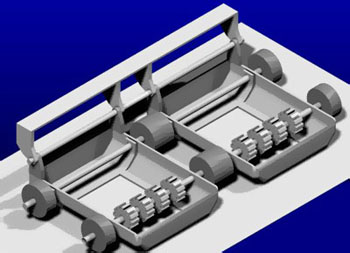 CADopia 17 Professional Edition is an ideal tool for engineers, architects and other CAD professionals who need a full-featured CAD solution at an affordable price. CADopia 17 is available in 12 languages - Chinese, Czech, English, French, German, Italian, Japanese, Korean, Polish, Portuguese, Russian, and Spanish. New features include Power Trim, Pattern along a path, Advanced PDF to DWG conversion, Multi-functional grip, many utilities & more.
Mehr…
CADbro
Version: 2018 | Shareware (1.500,00 USD)
CADbro ist ein voll funktionsfähiger und budgetfreundlicher 3D-CAD Viewer, für jedermann ausgelegt , zur Visualisierung und Kommunizierung von Engineering-Daten. Dank intelligenter 3D-CAD-Betrachtung, lebendiger 3D-Anmerkung und erweiterten Analysetechnologien, kann CADbro Ihrem Team, intern und extern, in kürzester Zeit hocheffiziente Investitionsprojekte sichern.
Mehr…
ZW3D
Version: 2018 | Shareware (3.000,00 USD)
ZW3D, eine integrierte CAD/CAM Lösung, speziell für den kompletten Prozess der Produktentwicklung entworfen, ist mit dem schnellsten Kern für Hybrid Modellierung, Formenbau mit Flächen und einfach programmierbaren Frässtrategien von 2-5 Achsen ausgestattet. Es bringt Kunden viele Vorteile, z.B. geringe Kosten, optimierter Entwicklungsprozess und verbesserte Leistungsfähigkeit.
Mehr…
DXF Laser Cutting Fonts
Version: 4.22 | Demo (175,00 USD)
CAD Tool for fast creating of letterings, signs and stencils. Generation of smooth curve contours for a smooth cut ! Different text shapes, variable font sizes, easy to create stencil letters, input millimetre or inch, merges contours, different frames, easy to use, a lot of graphic functions to modify the created geometries. DXF import function to add own DXF-graphics. Ideal for laser-, plasma- and waterjet cutting.
Mehr…
CAD Import .NET for Compact Framework
Version: 1 | Shareware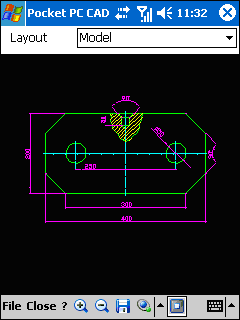 CAD Import .NET für Compact Framework. DWG 9 - 2007, DXF, PLT, SVG, CGM.
Mehr…
Screen Compass Mac Edition
Version: 3.2 | Shareware (29,50 USD)
The Screen Compass allows you to measure the radius, circumference and area of circular or polygonal shapes on your screen simply and quickly. The Screen Compass floats above any other application so you can measure any angle on your screen. Unlike the compass that you may use on your drawing board the Screen Compass is not limited to simply drawing circles, you can use triangles, squares, or any polygon.
Mehr…
Screen Tracing Paper
Version: 1.0 | Shareware (29,50 USD)
Screen Tracing Paper overlays a transparent digital sheet over your PC desktop so that you may trace diagrams and designs, giving you measurement capability in any situation.
Engineers and Designers can see the exact measurements of each shape that is traced so that position, area and circumference can be calculated, with pixel perfect accuracy.
Mehr…
ZWCAD
Version: 2018 | Shareware (799,00 USD)
ZWSOFT, ein innovativer Anbieter von CAD-Lösungen für die AEC- und MCAD-Industrie, bringt ZWCAD 2018 heraus, die neueste Version der bekannten CAD-Software. ZWCAD 2018 wird von einem überlegenen Motor angetrieben, um die bessere .dwg-Kompatibilität und Code-Level-API-Fähigkeit zu gewährleisten. Darüber hinaus kommt es auch mit neuem dunklem Thema UI und viele wichtige neue Features in einigen Bereichen des Produkts.
Mehr…
Screen Protractor Mac Edition
Version: 3.2 | Shareware (29,50 USD)
The Screen Protractor allows you to easily and quickly measure any angle on the screen to the nearest Degree or Radian. Work with any application to overlay maps, photos, designs or plans to measure angles with ease and with perfect accuracy. The Screen Protractor floats above any other application so you can measure anything on your screen.
Mehr…
Envisioneer Express
Version: 5.0.C2.662 | Freeware
Envisioneer Express can also be used to display and review professional designs created with many popular design programs on the market including: Cadsoft Envisioneer 3D Home Architect Series (versions 5-8) HGTV Home Design and Remodeling IMSI TurboFloor Plan IMAGINiT Builder 3D The Home Depot 3D Home Designer The Home Depot 3D Landscape Designer CFM 3D Comfort Zone
Mehr…
DipTrace
Version: 3.1 | Shareware (355,00 EUR)
DipTrace is advanced electronic PCB design software. The program features an integrated Schematic Capture, shape-based autorouter, 3D viewer/STEP exporter, supports high-speed and differential signaling, and provides Component and Pattern Editors for designing new component libraries and footprints. DipTrace has a very intuitive user interface and high flexibility. The output formats: DXF, Gerber, Gerber X2, ODB++, N/C Drill, and G-code.
Mehr…