Kategorie Netzwerk & Internet / FTP Clients
FilterFTP pro
Version: 3.0.0 | Shareware
Intelligenter FTP mit Filter Funktionen für den Transfer, löschen, suchen, suchen und ersetzen auf dem Server. Zur Verfügung stehen Filterkriterien wie Dateinamen, Ordnernamen, Dateierweiterung, Dateidatum und Dateigröße. Weiter Funktionen sind: Ermittlung des benutzen Speicherplatzes auf dem Server, ausführliche Transfer-Diagramme und Statistiken, integrierter Editor mit Syntax Highlighting, Account Import aus verschiedenen anderen FTP-Clients.
Mehr…
SolarWinds TFTP Server
Version: 10.4.1 | Freeware
Multi-threaded TFTP server commonly used to upload and download executable images and back up configurations for routers and switches. TFTP Server is the most robust, widely-trusted, and easy-to-use free TFTP solution available. TFTP Server Highlights: Upgrade IOS images and firmware on your network devices Back up configuration files for your critical routers and switches Upload or download configs to multi-vendor network devices.
Mehr…
FTPGetter Professional
Version: 5.91.0.23 | Shareware (85,00 USD)
Manual tasks at the office can always be annoying because they waste valuable time. Moving files through an FTP client the old way is a great example. With FTPGetter 3 Professional, at least those tasks can be streamlined and carried in a more effective manner. The software lets workers automate FTP and SFTP transfers by setting up tasks and scheduling them using innovative built-in wizards that make the program straightforward to learn.
Mehr…
Vicomsoft FTP Client
Version: 5.0.2 | Shareware (25,00 USD)
Robust, powerful, yet easy to use FTP client for Mac OS X, FTP Client 5.0 represents the culmination of over 15 years experience in FTP transfers on the Mac platform. Extreme performance and unrivaled reliability, married with a sleek and intuitive user interface is the result. Who better to transfer your precious files than a name you can trust, and a devoted Mac developer since 1997...
Mehr…
Sysax FTP Automation
Version: 6.23 | Shareware (197,00 USD)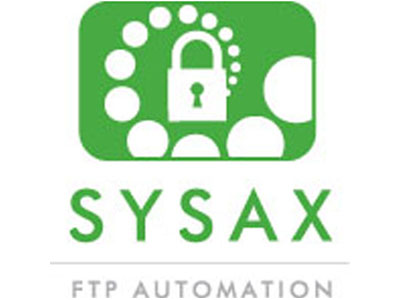 Secure file transfer automation and synchronization program with support for FTP, SFTP and FTPS. Other features include email notification, task scheduling, command line secure ftp, file (de)compression, transfer status monitoring, and OpenPGP Encryption. The program has an integrated script development and debugging environment with a built-in script generation wizard and provides a complete solution for securely automating file transfers.
Mehr…
FTP Synchronization Software
Version: 7.0 | Shareware (19,99 USD)
This software offers a solution for users who want to update files automatically by synchronizing a local folder with an FTP server. The user enters the required details for the FTP server and can test the connection before continuing to choose the local and FTP folders. The application will then compare the two folders and the user can check/uncheck files in the resulting list before synchronizing files.
Mehr…
Fling Kostenlose Dateiübertragung
Version: 2.37 | Freeware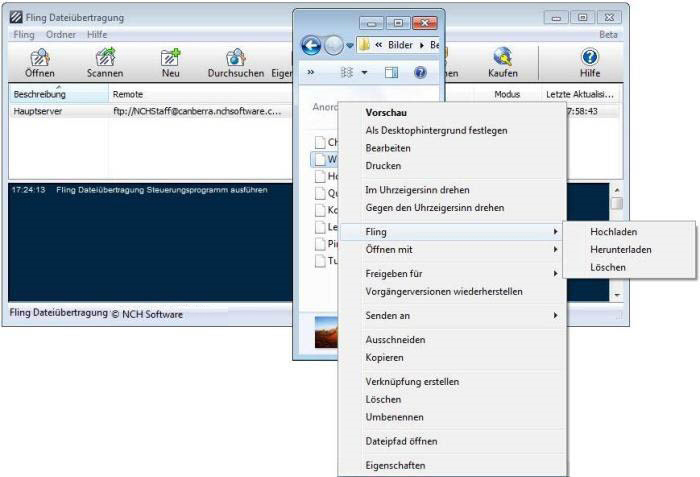 Fling ist ein FTP-Programm, das Ihnen beim Automatisieren vom Hochladen oder Übertragen von Dateien hilft. Es wird oft dazu verwendet, eine Webseite auf einem remote gehosteten Server zu pflegen oder um die Sicherung von Dateien zu automatisieren. Die Software unterstützt sowohl das Dateiübertragungsprotokoll (FTP), als auch Netzwerkdateiübertragung.
Mehr…
CrossFTP
Version: 1.97.9 | Freeware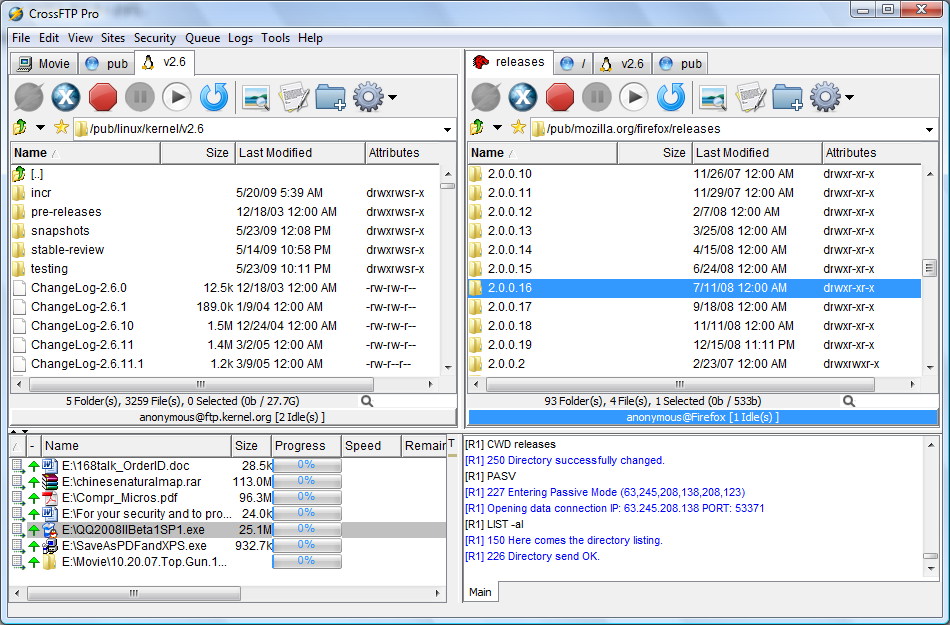 CrossFTP is a FTP and Amazon S3 client. CrossFTP Pro is a FTP client supporting SFTP, FXP, WebDav, iDisk, Amazon S3, Amazon Glacier and Google Storage. CrossFTP features user-friendly two-pane explorer-like interface, and supports: multi-tab navigation; archive browsing; anti-idle; filter; FTP server launcher; and more. CrossFTP Pro further features: multi-protocol; multi-thread engine; synchronization; proxy; remote editing; and much more.
Mehr…
TurboFTP
Version: 6.30.998 | Demo (39,95 USD)
TurboFTP is a secure FTP client with a wealth of features. It supports secure FTP over SSL/TLS and SFTP over SSH2. The built-in Folder Synchronizer helps you synchronize local and remote folders with ease. The Task Scheduler offers scheduled FTP transfer and synchronization capabilities. It can monitor a folder and upload new files automatically. Its Sync Service Module can run schedule tasks as NT service. Includes an upload wizard utility.
Mehr…
FTP Synchronizer
Version: 7.0.15 | Shareware (49,95 USD)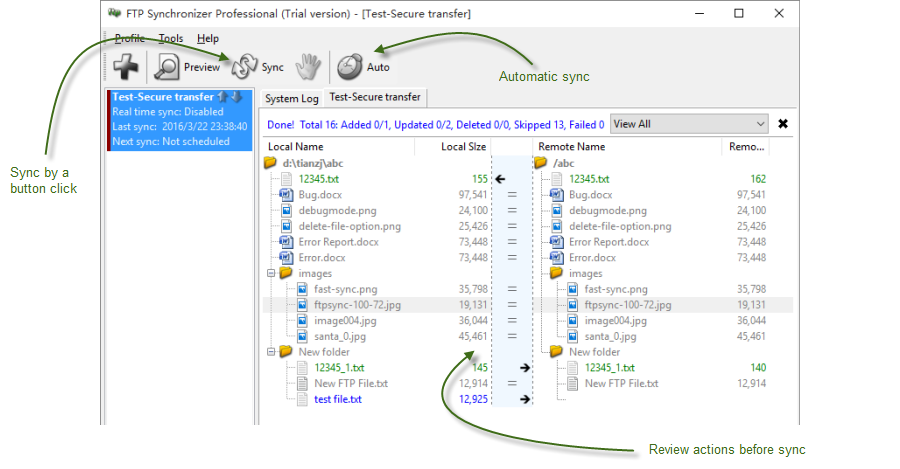 Secure and high performance FTP file sync product * Secure FTPS (FTP over TLS/SSL) and SFTP (SSH) connection * Unique Real Time and Block-Level FTP sync feature * Synchronize multiple files or sites at the same time * Flexible schedule options, you set-it-and-forget-it
Mehr…
BulletProof FTP Client
Version: 2010.75.0.76 | Shareware (34,95 USD)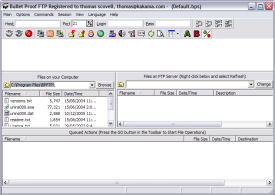 BulletProof FTP is an automatic FTP program. It automatically reconnects and resumes file transfers right from where it left off if the connection is lost, or no data is received for a specified period of time. You can download files in any order, from any directory on an FTP site. Browse the FTP site from the cache while off line or transferring - this does not open another connection to the FTP server.
Mehr…
FTPGetter Standard
Version: 5.91 | Shareware (55,00 USD)
Such repetitive tasks as web site uploading and mirroring, the backing up of large amounts of data to remote locations, downloading of updated packages (and more) are very time consuming and can significantly slow down Internet connections during work hours. FTPGetter is a automatic download and upload ftp transfers manager and scheduler. There's no need to write complicated scripts or batch files! Define tasks with a visual Wizard
Mehr…