Kategorie Lernen / Mathematik
SuperPreciseMath
Version: 3.2 | Freeware
SuperPreciseMath enthaelt Taschenrechner fuer grosse ganze Zahlen, rationale Zahlen, Bruchzahlen und komplexe Zahlen mit hoher Genauigkeit (max. 10000 Ziffern). Es koennen algebraische Gleichungen bis 10. Grades sowie lineare Gleichungssysteme geloest werden. Fuer die schnelle Berechnung von Primzahlen steht ein Primzahlgenerator zur Verfuegung. Ausserdem lassen sich Primfaktorzerlegungen und Teiler berechnen.
Mehr…
MathProf
Version: 5.0 | Shareware (49,00 EUR)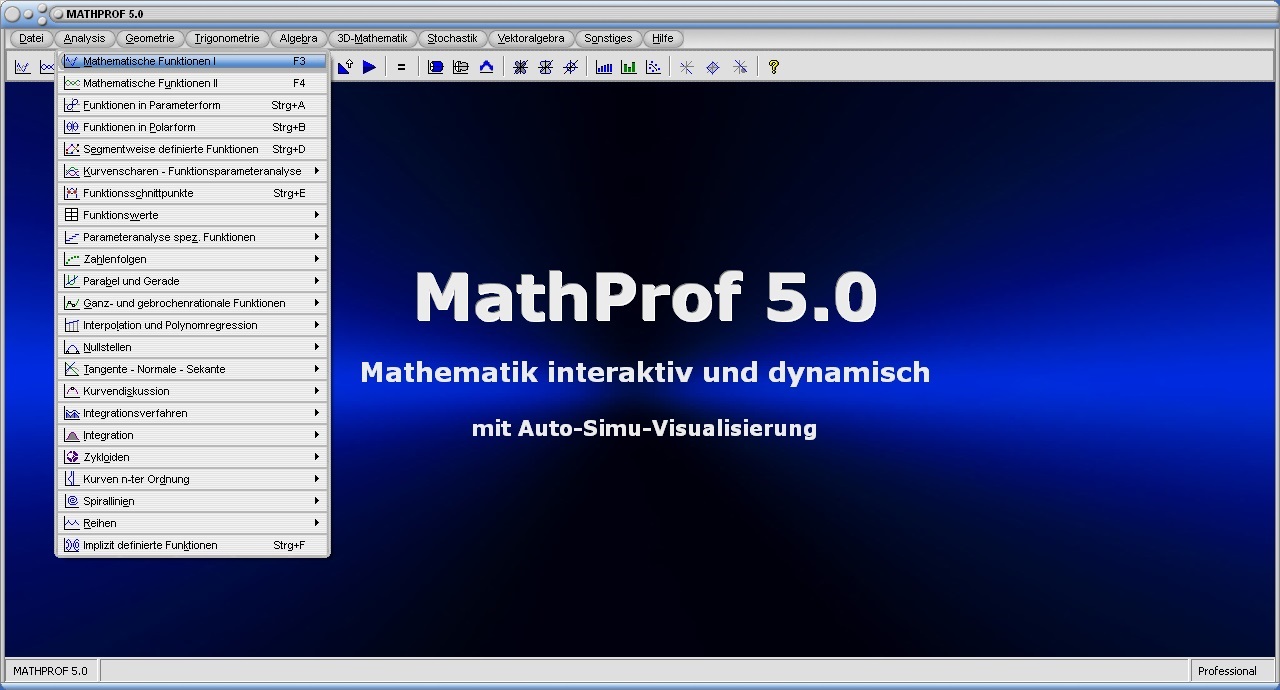 MathProf 5.0 - Ein einfach bedienbares Mathematikprogramm welches es, unter anderem durch die Darstellung zwei- wie auch dreidimensionaler Grafiken erm
Mehr…
Nonlinear regression - CurveFitter
Version: 4.5.25 | Shareware (15,00 USD)
CurveFitter performs statistical regression analysis to estimate the values of parameters for linear, multivariate, polynomial, exponential and nonlinear functions. The regression analysis determines the values of the parameters that cause the function to best fit the observed data that you provide. This process is also called curve fitting.
Mehr…
Equation graph plotter - EqPlot
Version: 1.3.25 | Shareware (15,00 USD)
EqPlot plots 2D graphs from complex equations. The application comprises algebraic, trigonometric, hyperbolic and transcendental functions. EqPlot can be used to verify the results of nonlinear regression analysis program. Graphically Review Equations: Up to ten equations could be plotted at the same time, so that intersections and domains could be studied visually.
Mehr…
Scientific calculator - ScienCalc
Version: 1.3.25 | Shareware (15,00 USD)
ScienCalc is a convenient and powerful scientific calculator. ScienCalc calculates mathematical expression. It supports the common arithmetic operations (+, -, *, /) and parentheses. The program contains high-performance arithmetic, trigonometric, hyperbolic and transcendental calculation routines. All the function routines therein map directly to Intel 80387 FPU floating-point machine instructions.
Mehr…
MathEnvision
Version: 2.2.30 | Shareware
MathEnvision ist eine Mathematik-Software, mit der schnell und einfach Graphen zu mathematische Funktion jeglicher Art, insbesondere Kurven, Flächen, Vektorfelder, Feldlinien und implizite Funktinen, erstellt werden können. Mit MathEnvision können diese Graphen sowohl im 2- als auch im 3-dimensionalen Raum zu betrachtet werden. Des weiteren können Simulationen ausgeführt und entwerden als AVI-Film oder als animiertes GIF-Bild gespeichert werden.
Mehr…
Random Number Generator Trial
Version: 3.0.34 | Shareware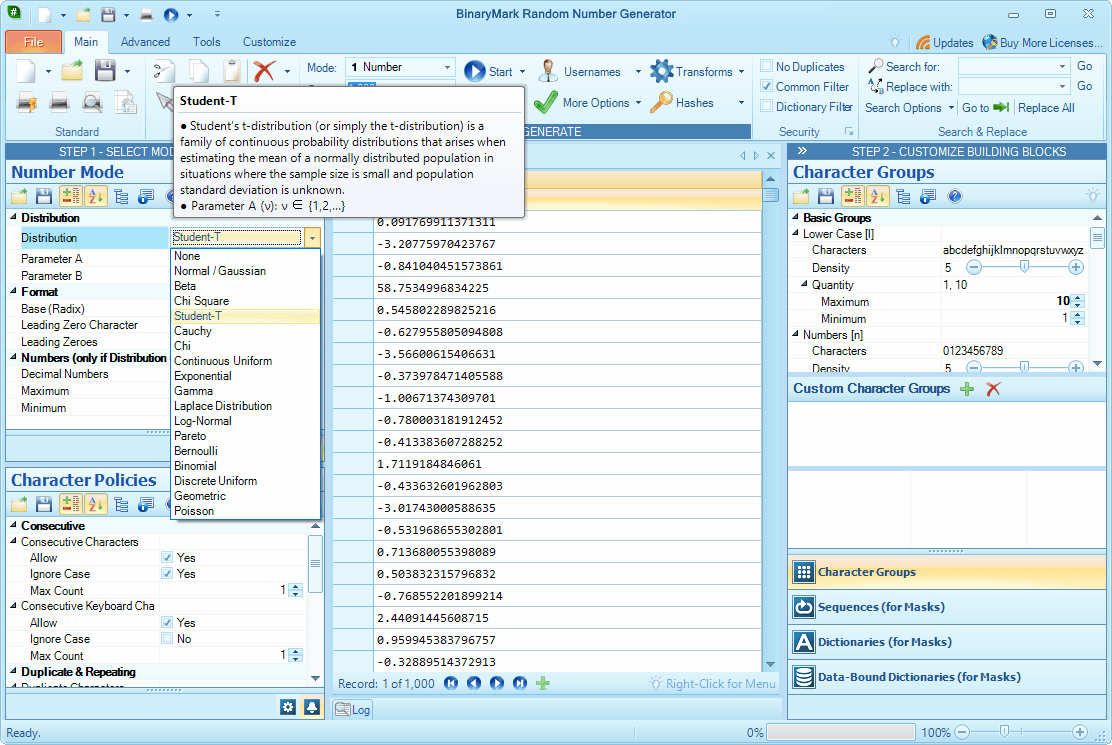 Randomly generate millions of integers or floating point numbers in the desired radix (base), format, and numeric range. Generated random numbers may match any one of the 17 built-in statistical probability distributions: continuous - Normal / Gaussian, Beta, Chi Square, Student-T, Cauchy, Chi, Continuous Uniform, Exponential, Gamma, Laplace, Log-Normal, Pareto; and discrete - Bernoulli, Binomial, Discrete Uniform, Geometric, Poisson.
Mehr…
ClimeCalc
Version: 1.000 | Freeware
Berechnung von Pt100 , Temperatur , rel.Feuchte , Sättingungsdampfdruck , Wasserdampf Partialdruck , Wassergehalt, Taupunkttemperatur t', Luftdichte, Sättigungsfeuchte , Absolute Feuchte , Enthalphie usw.
Mehr…
RRs Unit Converter
Version: 3.1 | Shareware (19,95 USD)
RRs Unit Converter is an useful tool for metric conversion, weight conversion or any other unit conversions performed by scientist, engineers or students. Simple or compound units. User defined database. Over 1000 units with definition. User defined simple and compound unit conversion like Fuel Consumption or Price Conversions( USD/gallon to Euro/liter). And more.
Mehr…
Prime Number Spiral
Version: 9.00 | Shareware
Die Primzahlspirale (Ulamspirale) setzt sich aus Primzahlen zusammen, die in einer spiralförmigen Anordnung der natürlichen Zahlen durch Markierung hervorgehoben sind. Mit dieser Software lassen sich Untersuchungen der Primzahlspirale durchführen.
Mehr…
3D Geometrical Objects
Version: 1.4 | Shareware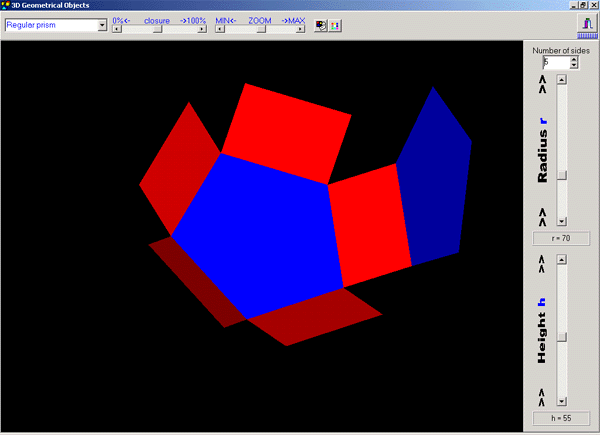 The software is designed as a simple accessory for teaching math. The program can represent the following objects in 3D space: regular prism (3 to 10 sides); general three-sided prism; special four-sided prism (adjustable inclination of sides); regular pyramid (3 to 10 sides). For each geometrical object, certain parameters can be interactively adjusted, such as: height and length of sides, inclination of sides, number of sides, etc.
Mehr…
A-Converter
Version: 1.0SR1 | Shareware (14,95 USD)
A-Converter is a handy utility, that can handle unit conversions in number of categories, such as Length, Volume, Area, Mass, Time and more. Just enter the value, select category with the source units and you will get the list of converted values, ready to be copied into the clipboard with or without the units label. A-Converter is designed to be very compact, consuming little desktop space while active and minimizing to the system tray
Mehr…