Kategorie Netzwerk & Internet / Download-Manager
Fooja Video Downloader
Version: 1.0.0 | Freeware
Fooja is a simple and easy to use video download software for your desktop. Copy and paste video links from your favourite youtube video, facebook video or dailymotion video. Powerful features allow you to download the video and convert them with your desired options. You can select the quality of the MP4. Yes you can convert the video directly into a MP3 for your music devices.
Mehr…
DataShark
Version: 1.2.8.2 | Shareware (99,00 EUR)
DataShark ist ein generischer Web-Crawler/Web-Scraper, der speziell zum Erfassen von Daten aus externen oder internen Internetseiten entwickelt wurde.
Mehr…
Free YouTube to iPod Converter
Version: 3.11.3.610 | Freeware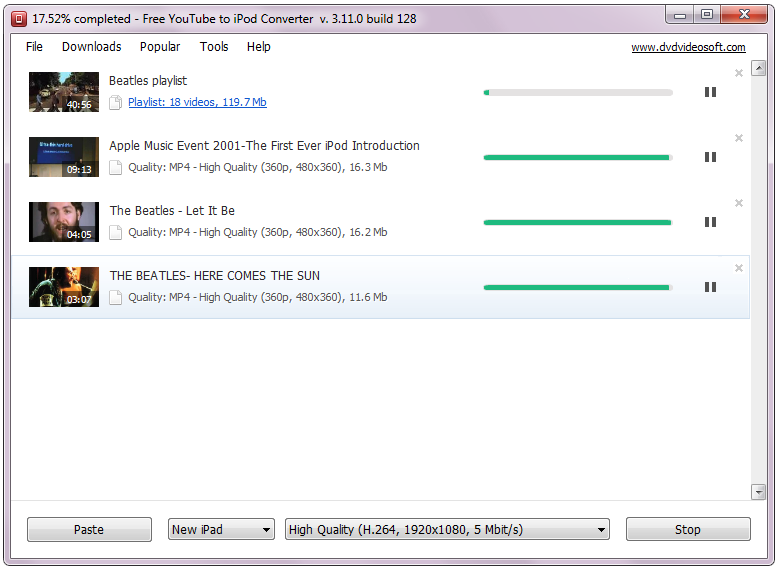 Free YouTube to iPod Converter ist ein leicht benutzendes Tool zum Download aller möglichen YouTube-Videos für Ihr iPod. Free YouTube to iPod Converter ermöglicht eine einfache Bedienung in Verbindung mit erweiterten Download-Funktionen. Die Ausgabedateien werden im MP4- oder 3GP-Format im Ordner Videos gespeichert und werden denselben Namen haben, wie der YouTube-Titel ist. Sie können sie auf iPod, PSP, BlackBerry oder Mobiltelefon abspielen.
Mehr…
NeoDownloader Lite
Version: 2.9.4 | Freeware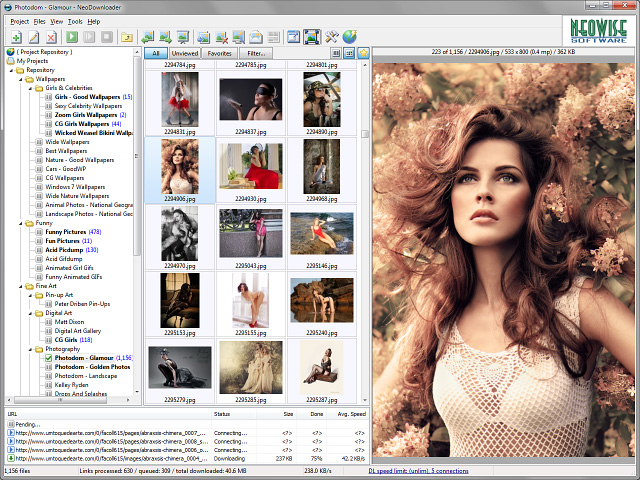 Download and view thousands of hot and sexy girl pics, favorite celebrity photos, amazing wallpapers, funny pictures, animated gifs, artworks of various artists, and much more. Just drag-n-drop a link to the program's floating basket and this bulk image downloader will download all found images to your hard drive. You can immediately see everything you download and delete unwanted pictures.
Mehr…
iOpus File and Website Downloader
Version: 3.01 | Freeware
Automate, schedule and batch file and web page downloads with command line utility. Very easy to use and integrates well with batch files, windows scripts, visual basic or the windows task scheduler. Ideal for automatically downloading files, patches and for stress and load testing your download web server. A must have utility for every internet and system administrator tool box. Freeware!
Mehr…
1A Bildsauger
Version: 1.8 | Freeware
Schneller Download aller Bilder einer Website mit optionaler Filterung und Vorschaufunktion. Das gesuchte Bildprofil kann durch Vorgabe von Bild- und Dateigröße sowie Dateiformat definiert werden. Download von mehreren Websites gleichzeitig möglich.
Mehr…
DownloadStudio
Version: 10.0.3.0 | Shareware (14,97 USD)
DownloadStudio is an ultra-fast download manager that gets everything on the web. It contains over 12 specialized downloading tools for downloading movies, TV shows, music, programs, games, photos, podcasts, RSS feeds and web sites. Features include accelerated downloads, resume broken downloads, schedule downloads for a later time and more! Works with all popular web browsers - Google Chrome, Firefox, Internet Explorer and Opera.
Mehr…
NeoDownloader
Version: 3.0.3 | Shareware (32,95 EUR)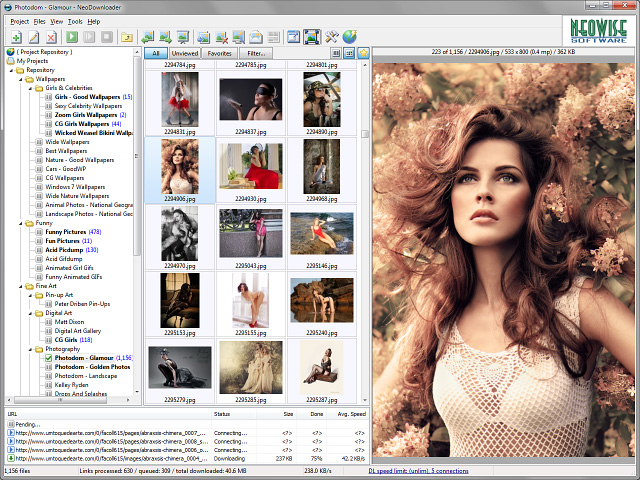 NeoDownloader will help you download thousands of favorite pictures, wallpapers, videos, mp3's and any other files from any website. Just specify a link and click a few buttons, and this fully automatic mass downloader will do the rest. You can view downloaded files with built-in viewer and media player. Beautiful celebrities and girls, amazing desktop wallpapers, funny pictures and animated gifs, and much more - you choose yourself!
Mehr…
Web Dumper
Version: 3.3.7 | Shareware (20,00 USD)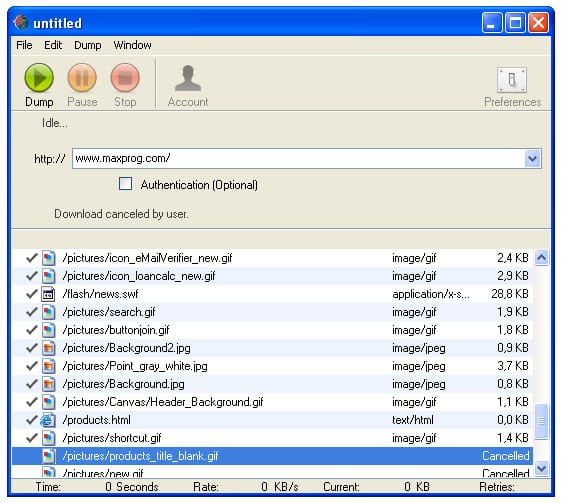 Mit Web Dumper können Sie ganze Webauftritte aus dem Internet auf die Festplatte herunterladen, um sie später offline im Browser betrachten zu können. Die Verzeichnisstruktur aller Webseiten bleibt beim Sichern auf die Festplatte erhalten. Web Dumper lädt die HTML-Dokumente automatisch mit ihren dazu gehörenden Bildern, Sounds, Filmen usw., indem es sie nach sämtlichen enthaltenen Links zu anderen Dokumenten absucht.
Mehr…
Free Download Manager
Version: 3.9 | Freeware
Download files and convert videos (including flash) faster with open-source Free Download Manager. Its features include integration with all browsers, support of downloads from rapidshare, adjusting traffic usage, BitTorrent support, resuming broken downloads, and more. The new version features prioritized and partial torrent downloads, support for Chrome and Safari browsers, multifile metalinks, FDM plugins, and numerous optimizations.
Mehr…
easyDown
Version: 1.06 | Shareware (19,99 EUR)
Programm durchsucht angegebene Seite nach angegebenem Suchkriterium und lädt diese in angegebenes Zielverzeichnis unter Berücksichtigung verschiedener Features runter. Besonderheit: Programm setzt Suche auf weiterführenden Seiten rekursiv fort. Es ist universell einsetzbar und verfügt über viele Features wie z.B. einen Generator zum Erzeugen von Download-Folgen. easyDown ist ideal zum Download von Bildergalerien geeignet!
Mehr…
Extreme Picture Finder
Version: 3.39 | Shareware (29,95 USD)
Bild Downloader und Web Picture Finder in einem Produkt. Automatisch herunterladen alle Bilder, Musik, Videos von einer Webseite. Sofort sehen Sie die Bilder in der integrierten Bildbetrachter. Web durchsuchen nach Bildern mithilfe von Schlüsselwörtern mit verschiedenen Suchmöglichkeiten: nur Thumbnails, nur Bilder in voller Größe, die beide von ihnen. Plus-integrierte Datenbank mit Tausenden von Webseiten-Adressen nach Kategorien sortiert.
Mehr…