Kategorie Sicherheit & Datenschutz / Passwort-Manager
ZIP Password Unlocker
Version: 4.0 | Shareware (19,95 USD)
ZIP Password Unlocker is an innovative utility for recovering forgotten passwords for ZIP archives created with WinRAR and other tools. It allows you quickly recover lost ZIP password using advanced SSE technology and unique search algorithm. With simple and intuitive GUI interface, this program lets you easily perform ZIP password recovery in 3 simple steps. And you can stop and resume your recovery process through its auto-save feature.
Mehr…
RAR Password Unlocker
Version: 5.0.0.0 | Shareware (19,95 USD)
RAR Password Unlocker allows you to recover forgotten or lost RAR passwords at high speed by using the latest technologies, including GPU acceleration, Multi-core CPU, SSE and more. It supports RAR archives created by WinRAR and other tools and offers 3 efficient password attack options: Brute-force, Brute-force with mask and Dictionary attacks. In addition, the auto-save feature allows you to stop and resume the recovery anytime.
Mehr…
SpotIE Password Recovery
Version: 2.9.5 | Shareware (18,50 USD)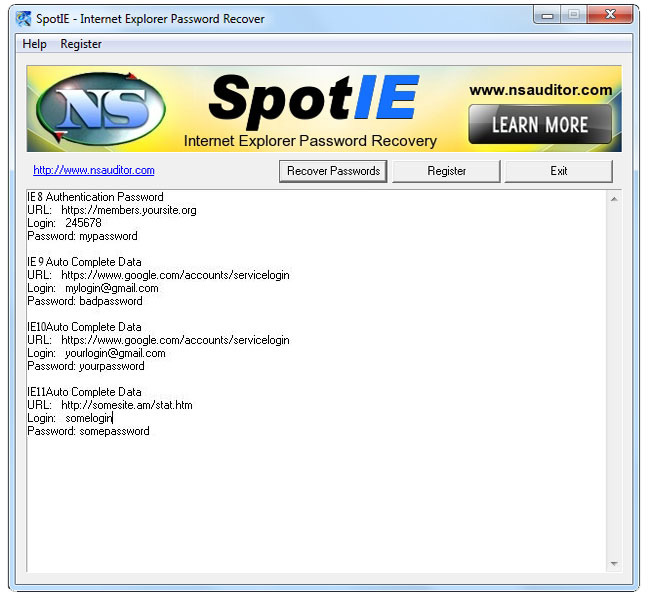 SpotIE Internet Explorer Password Recovery is a program for recovering passwords to web sites saved in Internet Explorer (in local password list), as well as AutoComplete strings (form fields) which MS Internet Explorer saves in cache. All the mentioned features are provided with a user friendly graphical interface.
Mehr…
Reset Windows Password
Version: 1.2.0 | Shareware (45,00 USD)
RWP ist unseres Erachtens nach das beste Programm um Adminstartoren und Benutzer Passwörter in jedem Windows System zurückzusetzen oder zu ändern. Es bietet die Erstellung von bootfähigen Medien zum Systemstart (CD, DVD und USB-Stick), unterstützt SAM und Active Dirctory Konten, nutzt Künstliche Intelligenz (AI) Code zur sofortigen Wiederherstellung gewisser Konten und hat eine umfangreiche Treiberunterstützung für Festplatten mit an Bord.
Mehr…
Atomic Outlook Express Password Recovery
Version: 1.60 | Shareware (20,00 EUR)
Sie haben ein Zugangspasswort zu E-Mail oder News verloren, das in Outlook Express oder Windows Mail gespeichert ist? Kein Problem! Atomic Outlook Express Password Recovery verschafft Ihnen im Handumdrehen und vollautomatisch Zugriff auf die Kennwörter der Benutzerkonten. Die Passwörter werden garantiert und 100 % korrekt wiederhergestellt. Outlook Express Password Recovery bietet volle Unterstützung für Outlook Express und Windows Mail.
Mehr…
Recover MSN Messenger Password
Version: 2.0.1.5 | Shareware (38,00 USD)
MSN messenger password unlock program recover login information and unhide hidden asterisk character passwords even ?automatically login? and remember me? check boxes are ticked. MSN password restoration software retrieves multiple account passwords lost due to machine fault, software corruption and accidental manual deletion. MSN password recovery tool provides GUI and instantly cracks and decrypts MSN messenger and Windows messenger password.
Mehr…
Atomic Excel Password Recovery
Version: 1.60 | Shareware (25,00 EUR)
Stellt kennwortgeschützte Tabellen aus MS Excel 97-2003 garantiert wieder her. Atomic Excel Password Recovery arbeitet mit neuartigen Algorithmen, die den Inhalt des Originaldokuments entschlüsseln und wiederherstellen - schnell, ohne Brute-Force-Angriff und völlig unabhängig davon, wie lang oder kompliziert das Passwort war. Bei Bedarf kann Atomic Excel Password Recovery natürlich auch Brute-Force- und Wörterbuchangriffe durchführen.
Mehr…
Passwords Generator
Version: 3.31 | Shareware (12,99 EUR)
Der einfachste Weg, um zufällig und schwer Passwörter zu knacken - ist es, Passwörter Generator verwenden . Dieses Programm ist denkbar einfach im Gebrauch, aber gleichzeitig ist es können alle notwendigen Funktionen. Jetzt können Sie unzählige Menge von Passwörtern mit einem Klick erstellen. Passwörter Generator verfügt über ein Template-System , das einzustellen Passwörter für Ihre Bedürfnisse ermöglicht . Vorlagen können für die Wiederverwendu
Mehr…
WinPass
Version: 2.1.0.0 | Shareware (19,99 USD)
WinPass from "Pantaray Research Ltd." is the easiest to use and most friendly Secured Password Organizer & Launcher. WinPass will help you store your passwords and other sensitive data in a secured database protected with one master password. WinPass is using innovative techniques to help you enter your credentials into any website or PC application with only few mouse clicks.
Mehr…
Msn Password Finder
Version: 3.0.1.5 | Shareware (38,00 USD)
MSN password recovery software recovers missing or lost usernames and passwords of MSN or hotmail accounts when save password option is checked in MSN explorer by user. MSN password viewer utility restores user?s multiple email accounts passwords that has been lost due to manual deletion or any computer error. Msn secret code finder tool supports all versions of MSN explorer including 6.0, 7.0 and others and runs on all windows platforms.
Mehr…
Affiliate ID Manager
Version: 1.0 | Freeware
An all-in-one ID and link management system for online marketers. You can save more than 10 different details, including the login name, password, login link, cloaked link, tracking link and payout info. The software comes with a powerful search and organization feature that allow you to easily organize and search for the info that you want. The software is protected by a Master Login Password so that no one will have access to your details.
Mehr…
SpotFTP Password Recover
Version: 2.4.8 | Shareware (18,50 USD)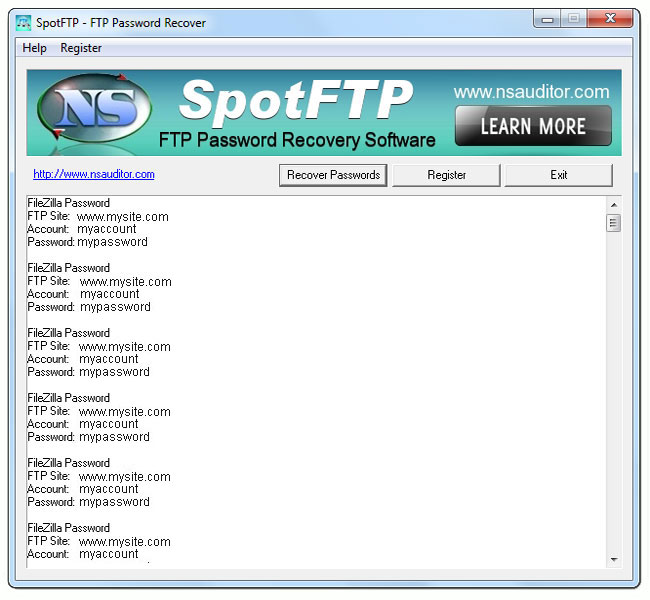 SpotFTP is FTP password recovery software. The program recovers ftp user name and passwords for FileZilla, WS_FTP, Microsoft Expression Web FTP, Far ftp client, CuteFTP, FlashFXP ftp, DeluxeFTP, FFFTP, SecureFX ftp client, WebDrive, FTP Voyager, AutoFTP, 32bit FTP, FTP Now, FTP Navigator, CoffeeCup Direct FTP and FTP Control Passwords.
Mehr…