Kategorie Sicherheit & Datenschutz / Passwort-Manager
Cyclonis Password Manager
Version: 2.1.1.110 | Freeware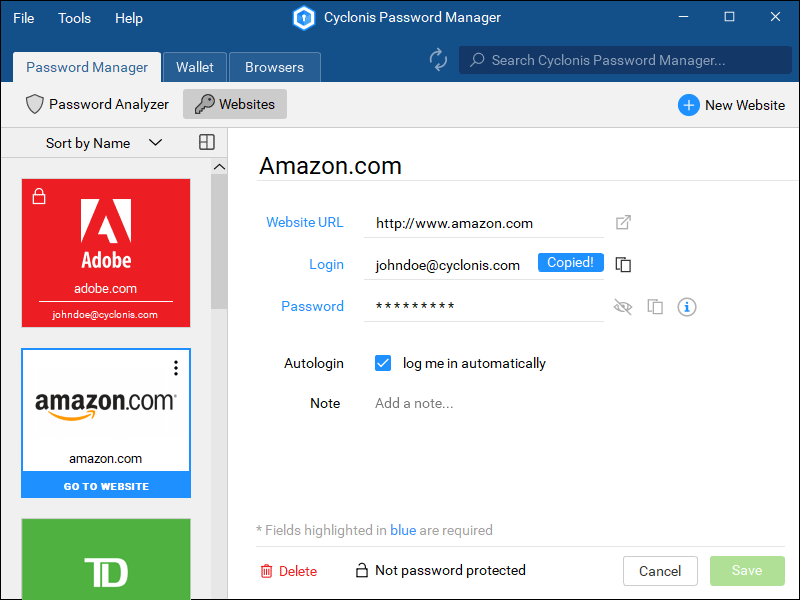 Mit dem praktischen 'Cyclonis Password Manager' erhalten Sie nicht nur einen Passwort-Manager, sondern auch einen Generator für unknackbare Passwörter und ein Analysewerkzeug. Als Alternative wäre zum Beispiel LastPass zu nennen.
Mehr…
GcMail Safe
Version: 2.1.2.3 | Shareware (14,95 EUR)
GcMail Safe ist ein einfacher, kleiner aber feiner Passwort Manager der all Ihre Passw
Mehr…
Network Password Manager
Version: 5.2 | Shareware (249,00 USD)
Network Password Manager ist ein Betriebsprogramm. Es hilft die Kennwörter im Betrieb zu speichern, zu benutzen, zu verwalten und Zugriffsrechte den Benutzern einzuräumen. Es gewährleistet durch die 256 AES Chiffrierung eine zuverlässige Sicherheit. Es arbeitet in einem Mehrbenutzermodus und schafft eine gemeinsame Umgebung. Es werden Windows-Benutzergruppen benutzt. Ein benutzerfreundliches Interface vereinfacht den Installationsprozess.
Mehr…
Elcomsoft Phone Breaker
Version: 9.15 | Shareware (199,00 USD)
Erhalten Sie Zugriff auf gespeicherte Informationen in FileVault 2 Containern und Geräten mit iOS, Apple iCloud, Windows Phone und BlackBerry 10! Laden Sie Geräte-Backups aus der Apple iCloud, Microsoft OneDrive und BlackBerry 10-Servern herunter. Verwenden Sie die Apple ID mit Passwort oder binäre Authentifizierungs-Token aus Computern, um iCloud-Daten herunterzuladen. Entschlüsseln Sie iOS-Backups mit der GPU-beschleunigten Passwort-Ermittlung.
Mehr…
PRIMA Passwort-Kiste
Version: 2.0 | Freeware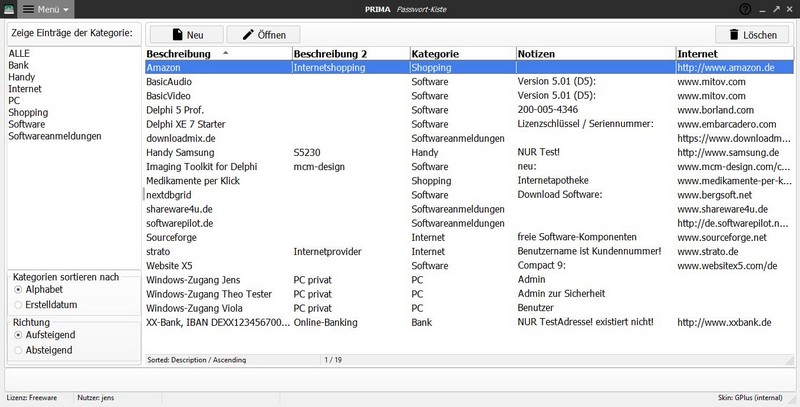 Zentrale Verwaltung von Zugangsdaten, die auch portabel nutzbar ist.
Mehr…
Advanced Password Recovery Suite
Version: 1.0.1 | Shareware (29,95 USD)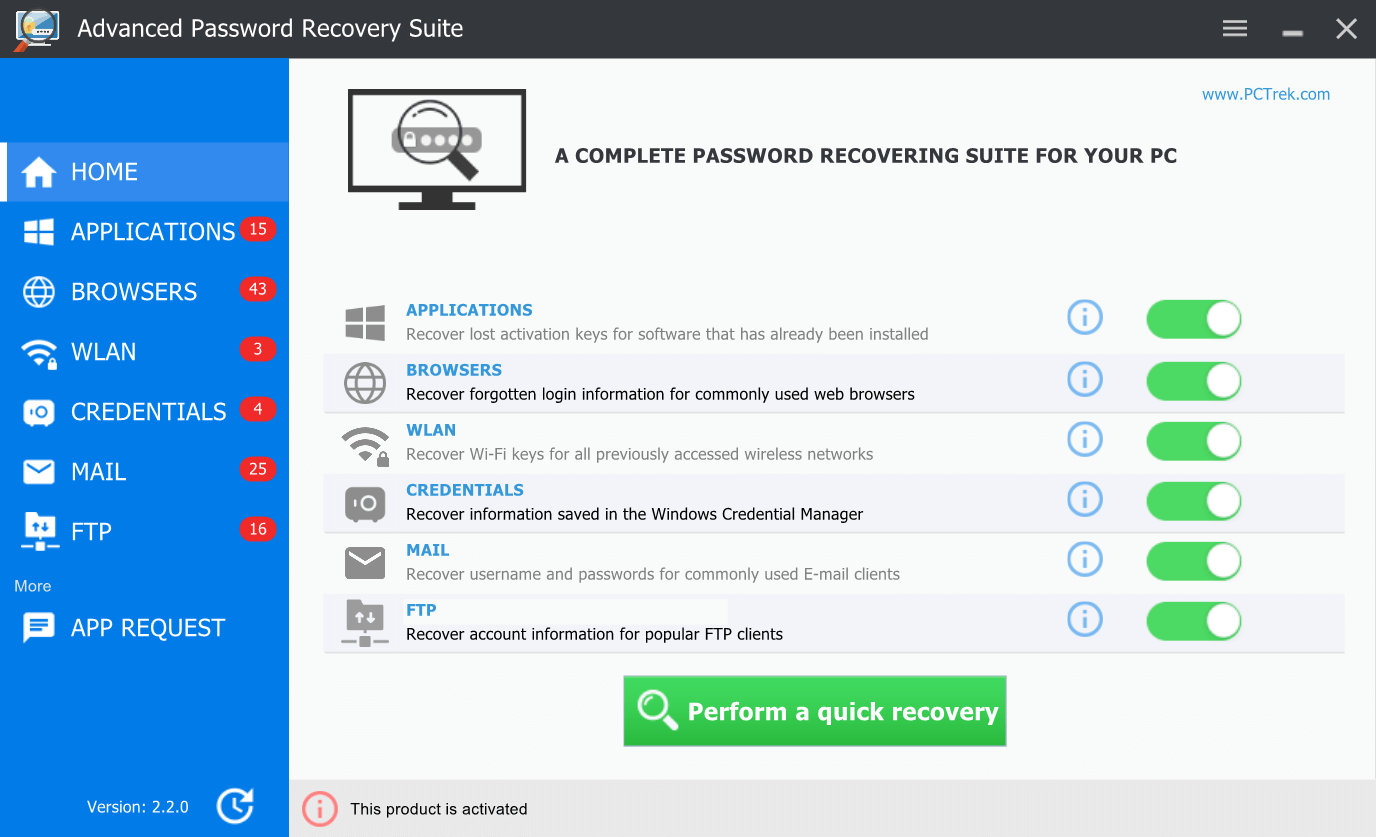 Advanced Password Recovery Suite is an easy-to-use tool with ability to recover your forgotten software keys or login details for most popular web browsers, wireless networks, Windows Credential Manager, E-Mail or FTP clients.
Mehr…
Instant Messengers Password Recovery Master
Version: 1.1 | Shareware (19,95 USD)
Instant Messengers Password Recovery Master will stretch its helping hand to you if you lost or forgot an account password for your instant messenger, including ICQ, Trillian, Miranda, Pidgin, SIM, MSN, Windows Live Messenger, Yahoo! Messenger, RQ, AIM, QIP, PSI, Paltalk, Google Talk, etc. Unlike other recovery software, Instant Messenger Passwords Recovery Master has a friendly interface and let you recover password absolutely effortlessly.
Mehr…
Asterisk Password Decryptor
Version: 3.31 | Shareware (19,95 USD)
Asterisk Password Decryptor instantly recovers lost passwords from most Windows applications that store passwords hidden behind the asterisks (*****). It easily recovers passwords for e-mail accounts in Microsoft Outlook, Windows Mail and many other e-mail clients, FTP accounts in CuteFTP, FlashFXP, FileZilla and other FTP clients. Asterisk Password Decryptor also allows to see the hidden password on web pages in Internet Explorer.
Mehr…
SoftFuse Password Generator Pro
Version: 2.7 | Shareware (39,95 USD)
SoftFuse Password Generator Pro is an ideal software to generate strong and unique passwords. Using this extremely powerful password generating and user management software you can create up to billion strong passwords, PIN-codes, hashes and export them to a file (csv, pdf, xls, xml...) in seconds! This advanced password generator produces extremely strong passwords up to 255-character length and passwords' lists including thousands of entries.
Mehr…
Firefox Password Recovery Master
Version: 1.1 | Shareware (19,95 USD)
Firefox Password Recovery Master is a convenient utility for instant retrieval of any cached passwords stored in Mozilla Firefox browser. Just run the program and it will automatically execute a search and provide you with the list of passwords for password protected websites in a blink of an eye, regardless of their length, complexity and language.
Mehr…
Network Password Recovery Wizard
Version: 5.5.0 | Shareware (32,00 USD)
Ein Programm zur Wiederherstellung der meisten Netzpasswörter von Windows: Einwahl (RAS), VPN, Direct-PC, LAN und DFÜ-Verbindungen, Einträge von .NET Passport, Windows Credential Manager-Passwörtern, Wireless-Verbindungen (WEP, WPA, WPA-PSK), Remote Desktop, CardSpace(InfoCard) PIN usw. Die Oberfläche ist als Assistent entwickelt, der sowohl Neulingen, als auch Powerusern behilflich ist.
Mehr…
Opera Password Recovery Master
Version: 1.1 | Shareware (19,95 USD)
Opera Password Recovery Master is a great tool for any forgetful user of Opera. It'll recover passwords to protected sites and mail accounts cashed by Opera. Passwords are recovered instantly, as soon as you start the program. The length, complexity or the language of a password do not really matter because the program has powerful artificial intelligence that can recover any password. The program supports all versions of Opera.
Mehr…