Kategorie Sicherheit & Datenschutz / Passwort-Manager
Windows Password Recovery
Version: 11.2.0 | Shareware (65,00 USD)
Windows Password Recovery ist eines der leistungsstärksten, ausgereiften, Feature-reichsten verfügbaren Windows Passwort-Wiederherstellungstools. Die Software unterstützt eine große Anzahl von Passwort Hash Lade- und Importoptionen und verwendet die fortschrittlichsten Wiederherstellungstechniken. Sicherheitsexperten können die Analyse-, Protokollierungs- und Berichtstools auch zur Bewertung von Passwortvarianten verwenden.
Mehr…
Facebook Password Recovery Master
Version: 1.0 | Shareware (19,95 USD)
Reliable tool that recovers lost Facebook logins and passwords stored in an Internet Explorer, Firefox, Chrome or Opera browser. Just run the program to get the list of all the logins and passwords for the Facebook accounts, regardless of length and complexity, that got lost in your computer. Exports recovered passwords to file, copies to clipboard. Supports English and national characters, works in all versions of Windows, from 9x through Seven.
Mehr…
Advanced Office Password Recovery
Version: 6.22 | Shareware
AOPR kann Passwörter, die die in allen Produkten und Versionen von Microsoft Office von alten 2.0 bis neuesten 2010-Auslösungen erstellten Dokumente schützen, entfernen, ersetzen oder retten. Eine intuitive Benutzerschnittstelle erlaubt, eine Auswahl von Masken und Attacken vorzuschreiben, während ein hoch-optimierter low-level Code die beste Effizienz und die schnellste Rettung der schwierigsten Passwörter gewährleistet.
Mehr…
Free Password Manager
Version: 1.1.17 | Freeware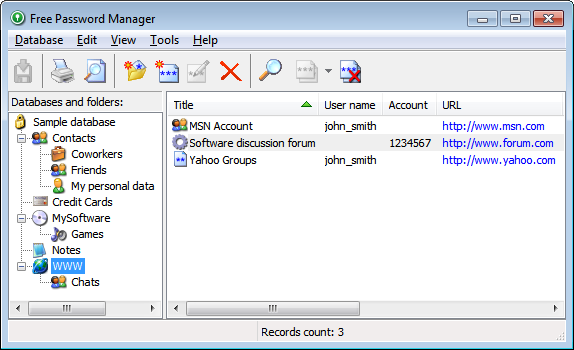 Free Password Manager is a freeware program to protect your personal information. Every computer user has a lot of valuable data, such as passwords, credit card numbers, access codes, serial numbers, etc. Such data must be stored securely and be protected from hackers. Free Password Manager will store your data in an AES-encrypted database. The database format can be fully customized for your needs. Free Password Manager is very easy to use.
Mehr…
12Ghosts Password
Version: 9.70 | Shareware (12,99 USD)
Some programs show the current password in a password box (asterisks) from where you can revover it. If all you can see are asterisks, with 12-Password now you can make the password visible again. Simply move the mouse cursor over the password field to recover the password.
Mehr…
Senioren-Passwort-Manager
Version: 1.2.2 | Shareware (14,90 EUR)
Sinn und Zweck dieser Software besteht darin, der Vielzahl der Passwörter, mit denen man sich heute herumschlagen (und behalten) muss, Herr zu werden, indem man sich nur noch ein Passwort (General-Schlüssel) merken muss. Die Datenbank, in der die Passworte gespeichert werden, ist selbst durch ein Datenbank-Passwort nach außen gegen den unberechtigten Zugriff geschützt. Alle Passwörter werden zusätzlich verschlüsselt in die Datenbank geschrieben!
Mehr…
All My Software
Version: 1.6 free | Freeware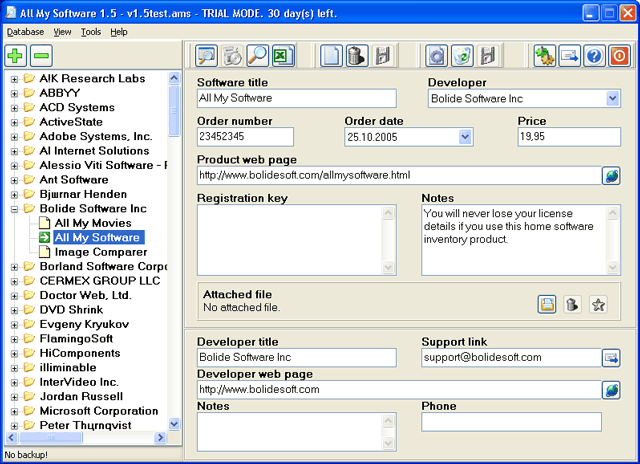 You will never lose your license details again if you use our home software
inventory product, "All My Software". With a flexible backup reminder, it will safely store your
registration information for an unlimited number of products. All of your registration information, together with the developers' contact details, will always be within easy reach. Automatical scan for installed and uninstalled software will save a lot of your time.
Mehr…
Crypt-o
Version: 2.5.251 | Shareware (39,95 USD)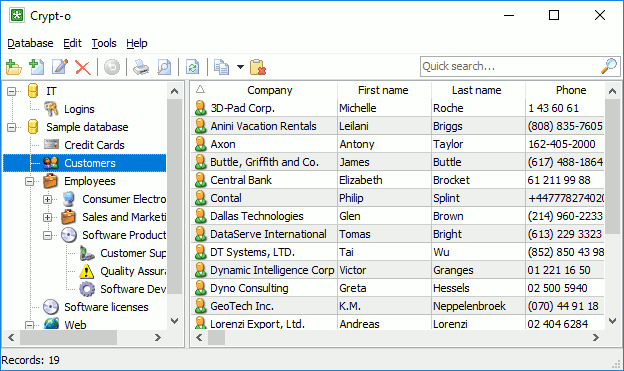 Crypt-o is a Client/Server password manager with many advanced features like strong data encryption, customizable databases, multi-user access, flexible permissions system, form filling, portable mode, Web access. Crypt-o is a secure Client/Server solution for creating custom databases, which is designed for use in enterprise networks. The data is reliably stored in Firebird SQL Server database and encrypted using AES algorithm with 256-bit key.
Mehr…
SpotDialup Password Recover
Version: 1.6.7 | Shareware (14,50 USD)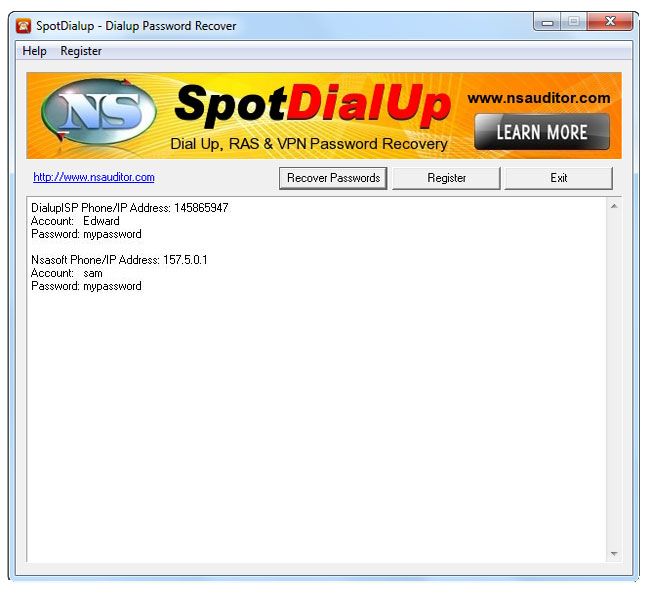 SpotDialup enumerates, displays logins and recovers passwords for Dial-Up, Internet and VPN virtual private network access, provides users with information about network connection properties, such as connection names, domains, phone numbers or IP addresses.
Mehr…
Random Password Generator
Version: 1.3.0.0 | Freeware
Random Password Generator is designed to create a much securer environment for either important data storage or privacy protection. It is able to generate highly secure random passwords that are almost impossible to crack. This smart and secure password generator also includes a useful Password Manager, by which you can mark, search, and organize the passwords generated. It's safe, secure, and 100% free!
Mehr…
Remote Password Recovery
Version: 1.0.6 | Shareware (29,50 USD)
Remote Password Recovery is a remote computers password auditing program and security test tool, it retrieves passwords for software products saved on local or remote network computers. The software recovers Internet Download Manager, FFFTP, FileZilla, WinProxy, FAR ftp, Easy Web Cam, Web Drive, Core FTP, Ipswitch IMail, Ipswitch Messenger, Ipswitch Messenger Server passwords.
Mehr…
RAR Password Unlocker
Version: 5.0.0.0 | Shareware (19,95 USD)
RAR Password Unlocker allows you to recover forgotten or lost RAR passwords at high speed by using the latest technologies, including GPU acceleration, Multi-core CPU, SSE and more. It supports RAR archives created by WinRAR and other tools and offers 3 efficient password attack options: Brute-force, Brute-force with mask and Dictionary attacks. In addition, the auto-save feature allows you to stop and resume the recovery anytime.
Mehr…