Kategorie Sicherheit & Datenschutz / Passwort-Manager
SpotIM Messenger Password Recovery
Version: 2.2 | Shareware (14,50 USD)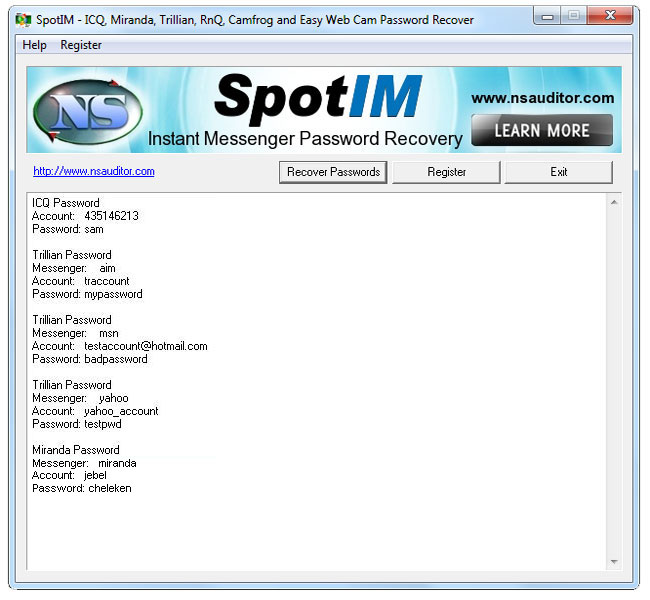 SpotIM Password Recover is a tool that is able to automatically find and decrypt the passwords of most popular Instant Messenger programs. The program recovers lost or forgotten passwords for ICQ, Trillian, Miranda, RnQ, Camfrog and Easy Web Cam accounts. SpotIM is the best Instant Messenger password finder that instantly cracks and decrypts the passwords stored on computer. All major protocols are recognized (ICQ, AIM, MSN, Yahoo, Jabber, IRC).
Mehr…
Affiliate ID Manager
Version: 1.0 | Freeware
An all-in-one ID and link management system for online marketers. You can save more than 10 different details, including the login name, password, login link, cloaked link, tracking link and payout info. The software comes with a powerful search and organization feature that allow you to easily organize and search for the info that you want. The software is protected by a Master Login Password so that no one will have access to your details.
Mehr…
SpotFTP Password Recover
Version: 2.4.8 | Shareware (18,50 USD)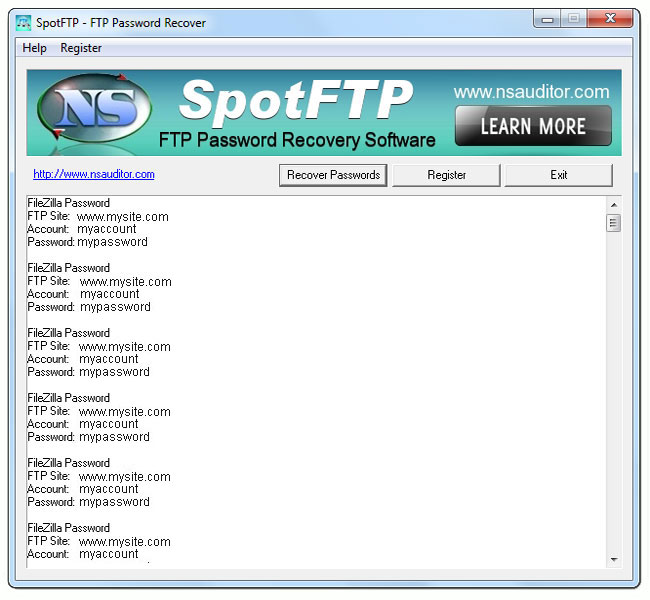 SpotFTP is FTP password recovery software. The program recovers ftp user name and passwords for FileZilla, WS_FTP, Microsoft Expression Web FTP, Far ftp client, CuteFTP, FlashFXP ftp, DeluxeFTP, FFFTP, SecureFX ftp client, WebDrive, FTP Voyager, AutoFTP, 32bit FTP, FTP Now, FTP Navigator, CoffeeCup Direct FTP and FTP Control Passwords.
Mehr…
SpotMSN Password Recover
Version: 2.4.6 | Shareware (17,50 USD)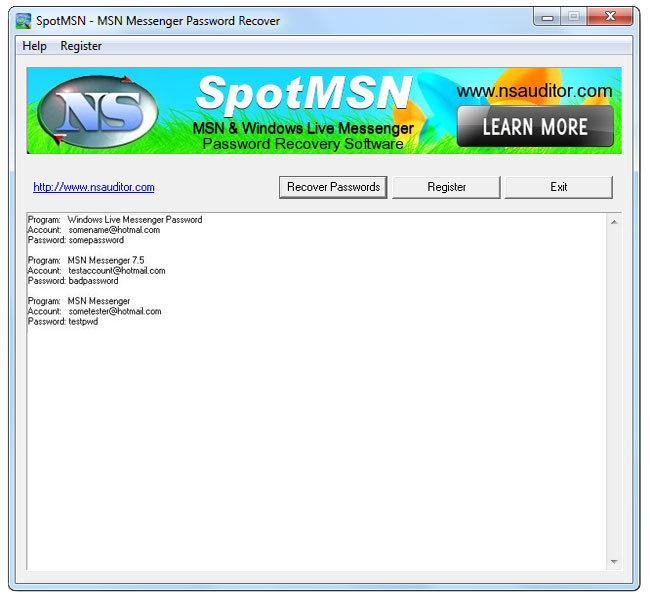 SpotMSN is messenger password recovery software for recovering lost or forgotten passwords for MSN messenger, Windows Live Messenger 8 and Windows Messenger accounts. SpotMSN is the best MSN password finder that instantly recovers and decrypts the MSN Messenger passwords stored on your computer. All the mentioned features are provided with a user friendly graphical interface.
Mehr…
Dekart Password Carrier
Version: 2.05 | Shareware (39,00 EUR)
Dekart Password Carrier ist eine sichere Hilfe beim Ausfüllen von Netzformularen und ein passwort-Manager, der Anmeldungen im Netz und bei Windows Anwendungen vereinfacht. Alle Passwörter werden durch sichere Verschlüsselung und biometrische Authentifizierung geschützt. Alle Windows Versionen werden unterstützt, Ihre Identität und vertraulichen Daten sind sicher, genießen Sie Schutz vor Phishing, Key-Loggern und anderer böswilliger Software.
Mehr…
Atomic Excel Password Recovery
Version: 1.60 | Shareware (25,00 EUR)
Stellt kennwortgeschützte Tabellen aus MS Excel 97-2003 garantiert wieder her. Atomic Excel Password Recovery arbeitet mit neuartigen Algorithmen, die den Inhalt des Originaldokuments entschlüsseln und wiederherstellen - schnell, ohne Brute-Force-Angriff und völlig unabhängig davon, wie lang oder kompliziert das Passwort war. Bei Bedarf kann Atomic Excel Password Recovery natürlich auch Brute-Force- und Wörterbuchangriffe durchführen.
Mehr…
Windows Mail Password Recovery
Version: 1.4.4 | Shareware (25,00 USD)
Windows Mail ist ein E-Mail-Programm und Newsreader und wird, als Outlook Express-Nachfolger, exklusiv mit Windows Vista geliefert. Falls Sie zufällig das Passwort für das E-Mail-Konto im Windows Mail / Windows Live Mail vergessen haben, können Sie es leicht mit Windows Mail Password Recovery wiederherstellen. Das Programm ist sowohl für die Amateure, als auch für erfahrene Nutzer gedacht.
Mehr…
Automatic Password
Version: 2.0 | Shareware (29,95 USD)
Yet another password manager? No way! Automatic Password sticks to title bars of all windows right next to the Minimize, Maximize and Close buttons, allowing a true single-click filling of various forms and login pages. Catching each password that you enter and memorizing every form that you fill, Automatic Password recalls them for hands-free or one-click filling of Web forms and login pages.
Mehr…
SpotAuditor
Version: 5.1.6 | Shareware (29,50 USD)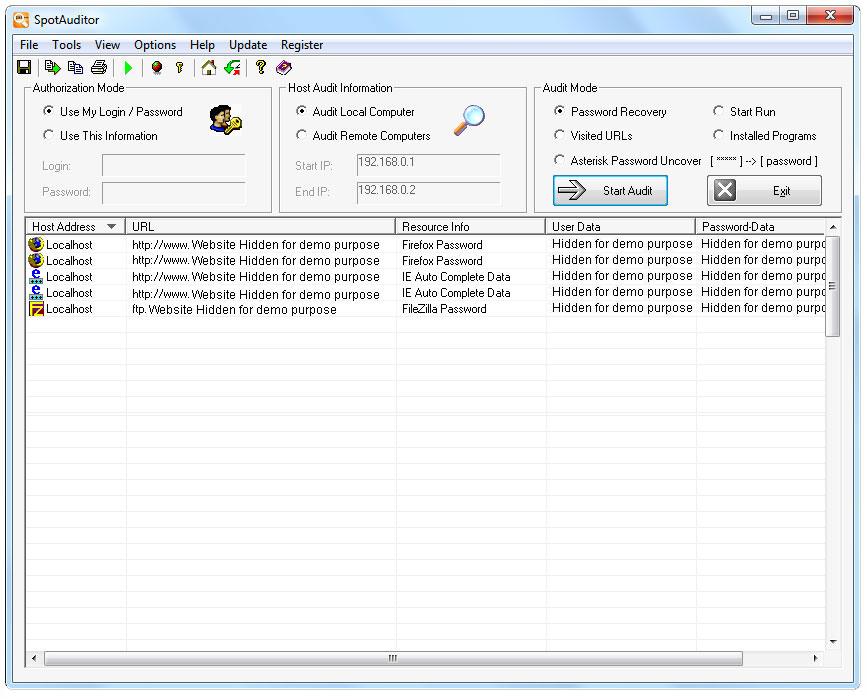 SpotAuditor is an advanced password recovery software for recovering over 40 programs passwords including Google Chrome, Internet Explorer, Firefox, Opera, Microsoft Office Outlook, Hotmail password, PalTalk, Google Talk, ICQ, Trillian, Miranda IM, RnQ, RDP, VNC, Total Commander, SmartFTP, Far ftp, FileZilla, WS_FTP, CuteFTP, CoffeeCup Direct FTP, recovers passwords behind the asterisks.
Mehr…
Passware Encryption Analyzer
Version: 1.0 | Freeware
Passware Encryption Analyzer is a free encryption scanning tool that finds password-protected files on a PC. Get a free check of how secure your files are. Full system scan takes under an hour. If you need to unprotect your file, Encryption Analyzer runs the required password recovery module. Enjoy the easy-to-use, explorer-like interface with all the necessary options at hand. Download now for free.
Mehr…
My Password Manager for Pocket PC
Version: 1.0 | Shareware (19,00 USD)
Wouldn't you agree that it's much more convenient to always have confidential data like credit card PIN codes, bank account numbers, access details for remote mail or LAN logins handy and not just on the office or home PC? My Password Manager for Pocket PC is meant exactly for storing such information on your mobile computer. The software can be installed on smartphones, and your phone is always with you and always handy.
Mehr…
Enterprise Password Safe
Version: 2013Q4.04 | Demo (30,00 USD)
The Enterprise Password Safe is designed to solve the problem of password management, protection, and access auditing in multi-user, multi-system environments. The EPS currently protects the passwords of a wide range of organizations around the world including Fortune 100 companies, small and medium businesses, government agencies, educational institutions, and charities.
Mehr…