Kategorie Grafik / Gallerie- & Katalog-Tools
Photo Sorter
Version: 1.2.0.68 | Shareware (19,95 EUR)
Pictures you can't find are JUST AS USELESS as pictures that are completely lost! So, it is important to think about a system for naming pictures and picture folders. Prograce Photo Sorter takes a fresh approach into managing your photos by re-arranging the folder structure to logical folder structure with descriptive names. Supports for EXIF, IPTC, RAW standards.
Mehr…
My Pictures 3D Album
Version: 0.96 | Freeware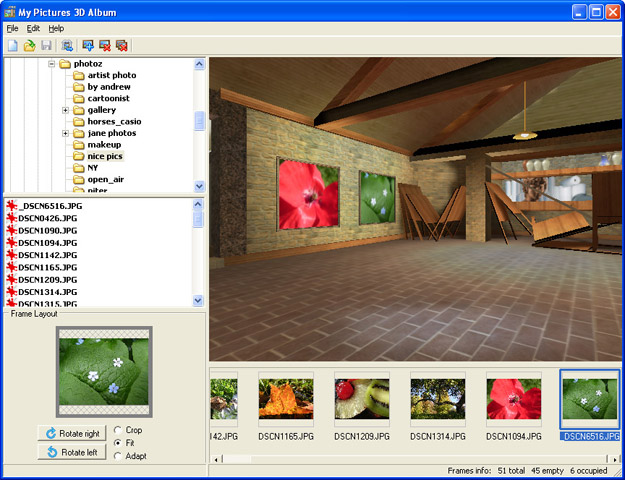 My Pictures 3D Album allows you to create stunning 3D photo albums. Show your photos in an artistic environment of picturesque 3D galleries, placing each of your photos at a certain location. 3D Albums can be easily shared. Amaze your friends by sending them your holiday photos in a 3D presentation (a stand-alone EXE file that does not require My Pictures 3D Album software to view) or placing 3D photo albums on your home page.
Mehr…
Web Gallery Builder
Version: 1.97 | Shareware (39,95 USD)
Creates great-looking websites that showcase your images. It's easy, it's fast, and you don't need to know HTML. Unique and comprehensive album settings. You can even change the look of your Web Gallery by selecting from different themes. Once you have completed the builder, you can post your Web Gallery on the Web and share it with others.
Mehr…
CatStudio Catalog Publishing Software
Version: 3.2.2 | Shareware (92,00 USD)
CatStudio provides a features-rich environment to create Product Catalog in HTML, Movie or PDF format. Besides the product information, it allows to add different types of content, includes: Flash animation, images, text, and others. The Web Catalog generated can be burnt into CD directly as an autorun HTML CD. The movie catalog output can be converted to VCD format easily. The PDF catalog is a portable output, which can be distributed freely.
Mehr…
Pictigal
Version: 1.12.1 | Shareware (12,95 EUR)
Mit Pictigal lassen sich Bildergalerien für Internetseiten erzeugen, die sich an ein bestehendes Design bzw. Layout anpassen lassen. Bilder können sortiert und verkleinert werden. Für Übersichtsseiten werden Miniaturbilder (Thumbnails) generiert. In die Bilder können Copyright-Hinweise und Logos eingefügt werden, auch als durchscheinende Wasserzeichen. Schließlich werden alle nötigen HTML-Dateien erzeugt. Mit Funktion zum Erstellen von Collagen!
Mehr…
Pics Organizer
Version: 1.6 | Shareware (9,99 USD)
If you feel lost in too many pictures, then Pics Organizer may assist you to organize on hard disk and prepare for store on your preferred media your collection of photos acquired with a digital camera. Bulk resize,find duplicates, advanced exif filters, batch rename photos files, create folders and subfolders, move or copy pictures to auto created organized folders structure, are just a few features that makes Pics Organizer a very powerful tool
Mehr…
CoffeeCup Photo Gallery
Version: 6.0 | Shareware
CoffeeCup Photo Gallery is an easy-to-use photo gallery creator for your Website. It supports all major image formats, including GIF, JPG, PNG, BMP, and more. And guess what: no HTML or Flash knowledge is required! Simply point the program to photos on your computer, and you're all set. Photo Gallery will automatically optimize your images and upload them with sliding thumbnails.
Mehr…
ReaGallery - HTML photo album generator
Version: 3 | Shareware (24,95 USD)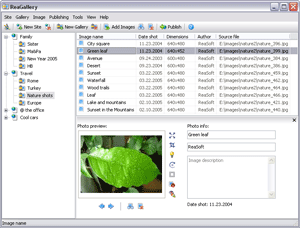 ReaGallery is a powerful and easy-to-use tool for creating great looking web albums with just a few mouse clicks.
ReaGallery now provides photo editing functionality - most popular image effects, including transparent watermark and red eye correction tools. Plus intuitive organizing and sharing capabilities.
Mehr…
My Pictures 3D Screensaver
Version: 1.2 | Freeware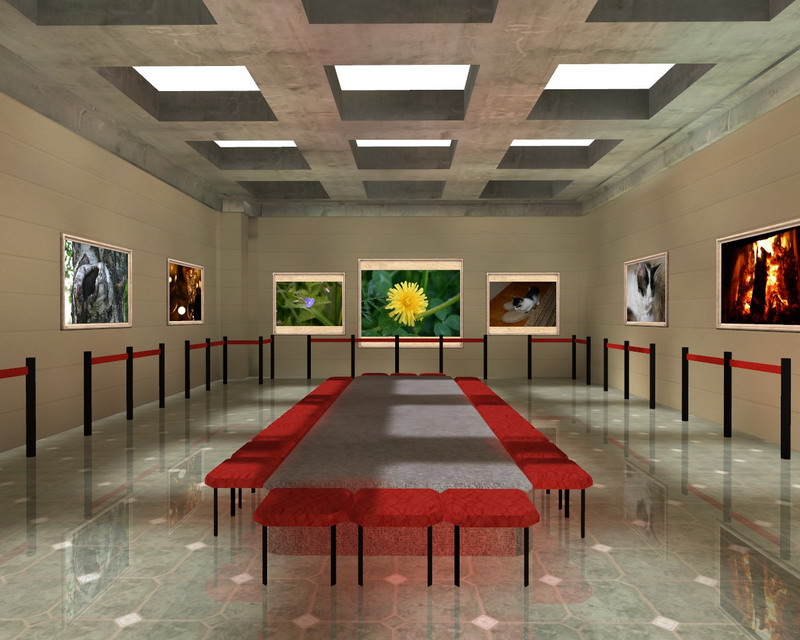 My Pictures 3D Screensaver allows you to view your favorite photos in a virtual 3D gallery. The selected pictures are displayed on the walls of beautiful galleries made in different styles: from an ancient temple to a modern showroom, from a medieval castle to a Renaissance yard. You can walk through the galleries in free move mode or in screensaver mode. Each photo can be supplied with a comment created in My Pictures 3D Album.
Mehr…
Collectorz.com Photo Collector
Version: 2.0 | Shareware (39,95 EUR)
Catalog your digital photo files automatically, just let Photo Collector scan your harddisk for images. Acquire images directly from your camera or removable media (memory cards). Catalog photos by Location, Event, Category, Subject, Keywords, etc... then browse the photo album to view images and create full-screen slideshows. Edit and print photos, export your album to HTML for sharing them online. Read/write EXIF&IPTC.
Mehr…
Red Eye Remover Pro
Version: 1.2 | Freeware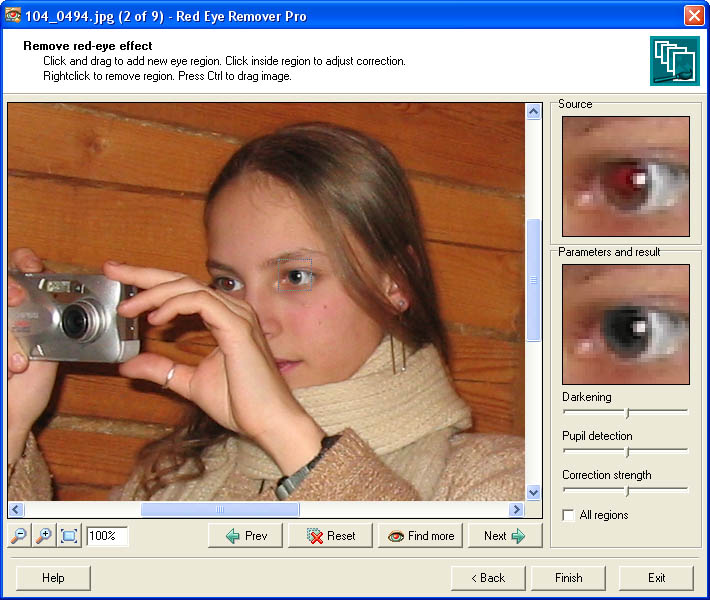 Red Eye Remover Pro is a unique professional red eye correction tool, providing fast and precise batch red eye removal. Using advanced science-intensive technology, Red Eye Remover Pro is able to automatically detect and instantly correct red eye in multiple photos. This unique software allows users to work with large collections of images at once and adjust the correction options, watching the results in real time.
Mehr…
PicaJet FX
Version: 2.6.5 | Shareware (49,95 EUR)
PicaJet Photo Organizer ist eine Bilddatenbank, in die bequem Bilder aus verschiedenen Quellen importiert und detailiert archiviert werden konnen. Eine Ubersicht mit Thumbnails bietet einen schnellen Uberblick uber den Datenbankinhalt. Die Bilder konnen nach Rating, Jahr, Importdatum oder einfach in einer Ordner-Ansicht lokalisiert werden. In der linken Spalte befinden sich die Kategorien, die Sie angelegt haben.
Mehr…