Kategorie Grafik / Gallerie- & Katalog-Tools
Bildarch
Version: 4.10.04 | Shareware (45,00 EUR)
Bildarchiv-/Bildverwaltungs-/Bilddatenbank-/Bildkatalog-Software für die effiziente Verwaltung von digitalen Fotos und Dias: - Beliebig viele Bilder - Hierarchiche Stichworte / Alias - Digitale Bilder: Eine Bilddatei pro Bild - Bildmedien - Bildordnern/-schau - Schnell- /Hierche-/Profisuche - Generator für Webgalerien - Listeneditor - Import/Export - Umbennen/Kopieren von Bilddateien - Bildkatalog für Betrieb ab CD - Backup-/Restore
Mehr…
DoublePics
Version: 3.07 | Shareware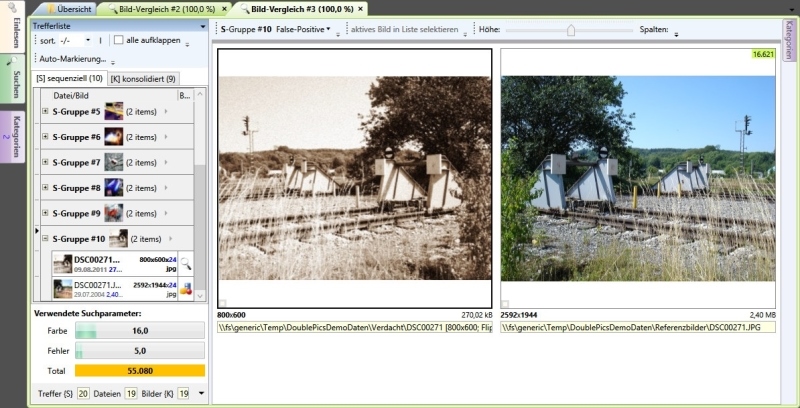 DoublePics findet und kategorisiert Bilder und Filme, die doppelt oder in ähnlichen Versionen auf einem Copmuter oder im Netzwerk existieren. Dabei spielen unterschiedliche Kontrast-, Farb- und Gammawerte keine Rolle. Unterschiedliche Dateiformate und Größen werden überbrückt. Seit Version 3 können sogar Bilder und Sequenzen in Videomaterial erkannt werden.
Mehr…
Dans Web Album
Version: 1.0.0.58 | Shareware (20,00 USD)
Tired of digital photo albums that are cluttered with ads and social media plugs, are public domains, or have trouble getting through firewalls? Consider Dan's Web Album: digital photo albums that are created with virtually one click. Dan's Web Album software produces an individual URL for every album you create, allowing you to share your photos online with whomever you choose.
Mehr…
Photo EXIF Manager
Version: 3.18 | Shareware (17,99 EUR)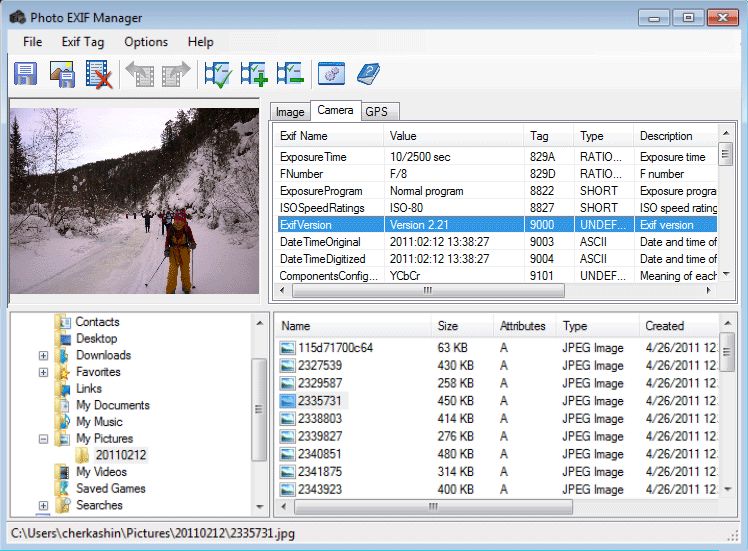 Photo EXIF Manager können Sie sehen und alle bekannten digitalen Foto EXIF-Tags bearbeiten. Datei- Navigation ist ähnlich der vertrauten Windows -Explorer und grafische Oberfläche ermöglicht es Ihnen auch Bildvorschauanzuzeigen. Alle Tags werden in einer Tabelle aufgelistet , und in drei Hauptgruppen Bild , Kamera und GPS zusammengefasst. Die Schnittstelle ist gut angelegt, so dass es einfach zu bedienen; sogar ein absoluter Anfänger sollten in d
Mehr…
Picolino
Version: 2014r | Shareware (19,90 EUR)
Mit Picolino können Sie Ihre Fotos, Grafiken und auch Videos in Internetalben speichern. Nutzen Sie Picolino, um sich Ihre Fotos überall anzuschauen und Ihren Freunden zu zeigen - ganz bequem und ohne Probleme. Belegen Sie ein privates Album mit einem Passwort, um zu kontrollieren, wer Ihr privates Album sehen darf und wer nicht.
Mehr…
Daminion
Version: 4.5 | Freeware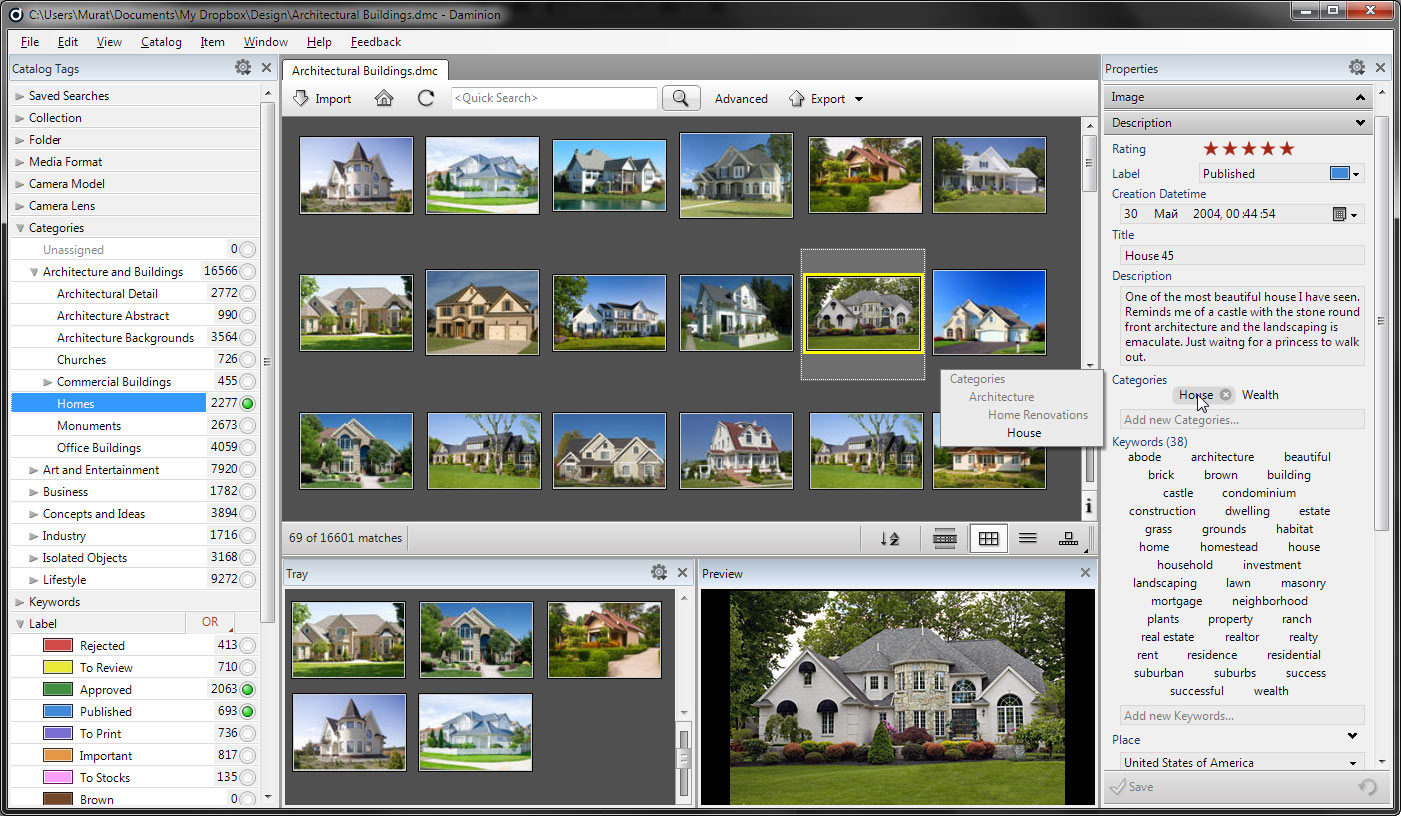 Easy to use and easy to install, Daminion is the best-in-class low-cost digital media asset management software (DAM). Assets you can't find are as good as gone - Daminion's quick, powerful searches can save you money and headaches. Broad format support, one-click optimized export, metadata (XMP, IPTC, MWG) marking and lightning-quick searches make the program the only solution you'll need.
Mehr…
FotoSortierer XL
Version: 4.1.0 | Shareware
Fotos sortieren oder doppelte Fotos löschen mit "FotoSortierer XL". Mit der Fotoverwaltung "Fotosortierer XL" bringen Sie Ordnung in Ihre Fotos! Schnell und bequem können Sie Ordner-Strukturen erstellen, anschließend die Fotos mit der Maus verschieben und sortieren, Bilder drehen oder nach doppelten Fotos suchen. Danach stehen mehrere Präsentationsmöglichkeiten für Ihre Fotos zur Verfügung, wie zum Beispiel ein Bildbetrachter oder eine Diashow.
Mehr…
PhotoOnWeb Album Creator
Version: 0.9.6.1 | Freeware
PhotoOnWeb is a software to create your own photo album with digital pictures and host it on the internet. The software offers quick and easy creation and customization of the album (more than 20 different templates to match the theme of your pics). Sort your photos in multiple albums, pick a template and click on the Publish button. PhotoOnWeb does it all for you, resizes the photos, builds the website and publishes it on the Internet.
Mehr…
Kalimages photo
Version: 2.1.2 | Shareware (39,30 EUR)
Documentez vos photos en ajoutant des legendes incluses dans les fichiers images. Recherchez et naviguez dans vos collections par mot cle affichant les photos sur un meme theme, un auteur, un lieu ou tout autre des nombreux champs disponibles en IPTC ou XMP. Identifiez les doublons potentiels par nom de fichier, taille, largeur, metadonnees identiques. Copiez la photo ou la vignette vers le presse papier, nommez la selection ou exporter en XML
Mehr…
Acritum Exif2htm
Version: 1.079 | Shareware (19,95 USD)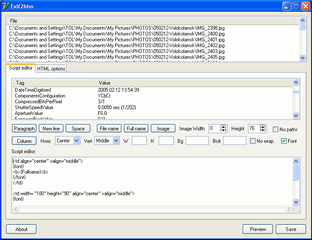 Exif2htm is a powerful tool allowing you to generate nice and fully customizable HTML tables and webalbums using EXIF metadata taken from JPEG and TIFF files. This information includes date and time when the photo was taken, aperture value, shutter speed, ISO, flash state, focal length and other camera settings. Exif2htm is also capable of generating simple TEXT files and comma-separated CSV files, which are compatible with Microsoft Excel.
Mehr…
Auto Photo Organizer
Version: 2.4.739 | Shareware (19,95 USD)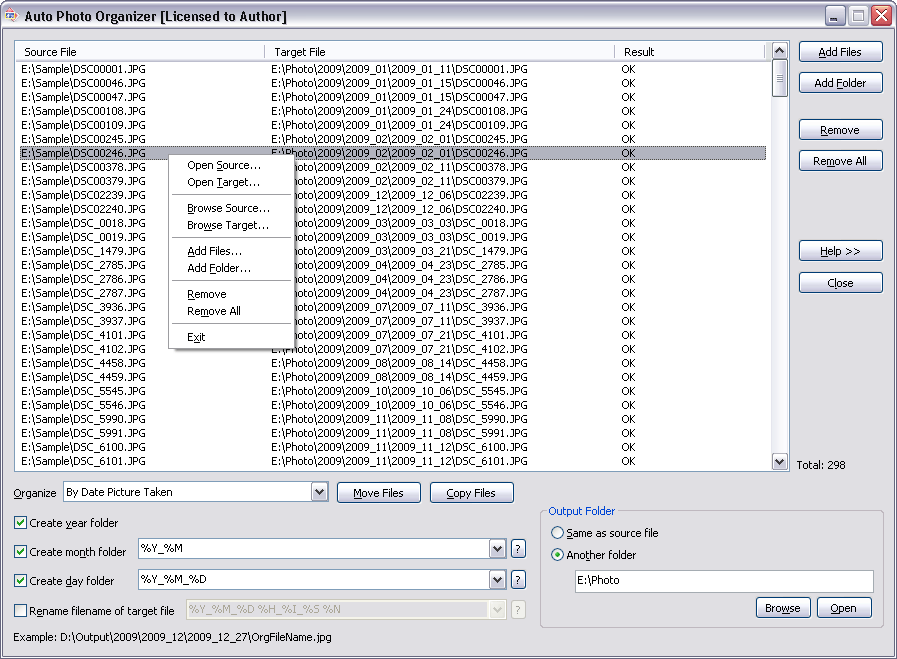 Auto Photo Organizer organizes and renames digital photos by date picture taken, date modified, date created, and extension. The software creates year, month, day, and extension folders and then copy or move photos or files to corresponding folder automatically. The software is compatible with photos taken by major digital cameras, for example, Canon, Nikon, Sony, Pentax, Olympus, and so on. And it is full compatible with Vista and Windows 7.
Mehr…
Easy Website Photo Gallery
Version: 1.1 | Shareware (34,95 USD)
Easy Website Photo Gallery is an easy-to-use web album generator which allows you to quickly and easily upload your photos to the Internet. It is highly useful for anyone who has an online shop, photographers or anyone else who wants to publish large numbers of photos on the Internet. The program has many built-in gallery templates, special effects for your photos and allows creating web slide shows and using Lightbox in your galleries.
Mehr…