Kategorie Grafik / Gallerie- & Katalog-Tools
Total Icon Organizer
Version: 1.4 | Shareware (29,90 USD)
Total Icon Organizer lets you search your collections of icons with ease. You can search your icon collection by various criteria (file type, name, height, width). Besides, you can exclude certain icons from search. Total Icon Organizer supports ICO, BMP, JPG, PNG, and GIF. If you are a designer or developer grab your free trial copy now - you will find it a great relief to search icons with Total Icon Organizer.
Mehr…
Diashow XL 2
Version: 13.0.2 | Shareware
Erstellen Sie mit Diashow XL in nur 4 Schritten faszinierende Fotoshows für PC, DVD, TV. Erwecken Sie mit nur wenigen Mausklicks Ihre Bilder zum Leben und gestalten Sie professionelle Diashows mit über 170 tollen Überblendeffekten, Ihrer eigenen Musik und Ihren Texten. Mit dem integrierten Brennmodul geben Sie Ihre Diashow komfortabel auf CD oder DVD weiter. Holen Sie das Optimum aus Ihren Bildern mit der enthaltenen Bildbearbeitung heraus.
Mehr…
ACDSee Pro Foto-Manager
Version: 3.0.355 | Shareware (124,99 EUR)
Machen Sie sich bereit, Ihren Fotografie-Workflow mit ACDSee Pro 3 zu beschleunigen. Verwalten, betrachten, verarbeiten und veröffentlichen Sie Ihre besten Arbeiten mit beispielloser Geschwindigkeit und Kontrolle. Sie profitieren von organisierten Dateien, optimierten Fotos und mehr Zeit hinter der Kamera.
Mehr…
Hide Photos (Encrypted Photo Album)
Version: 1.4 | Shareware (49,95 USD)
Hide Photos stores protected images in an AES-encrypted secure container that is easily accessible with an Explorer-like interface. It displays full-color thumbnail previews of the protected pictures, and conveniently organizes your collection with tags and comments for quick search. Hide Photos employs the industry-standard AES encryption with 256-bit keys for guaranteed security. Protect your digital pictures against the curious eye!
Mehr…
Duplicate Photo Finder
Version: 3.6 | Shareware (34,95 USD)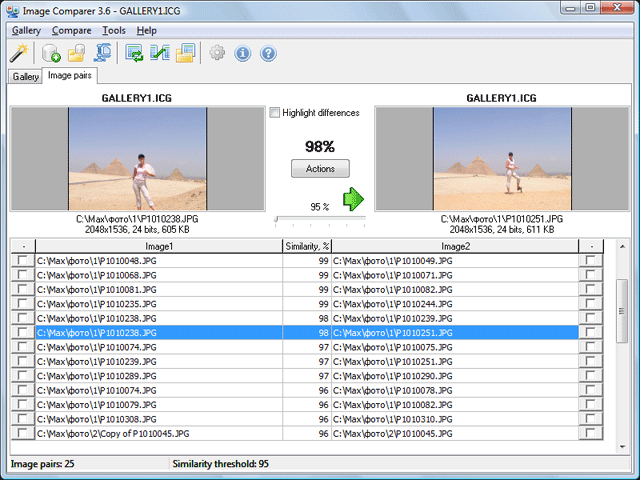 Automatically compare digital photos, find duplicates and determine the best shot. Have you tried showing a set or a large collection of digital snapshots to a friend or relative? Weren't they underwhelmed and a little bored by the number of all too similar shots of the same subject? Get rid of such phot duplicates automatically! Duplicate Photo Finder will identify and remove them with Formula-1 speeds and you do not need to do it manually.
Mehr…
Duplicate Image Finder Pro
Version: 3.6 | Shareware (34,95 USD)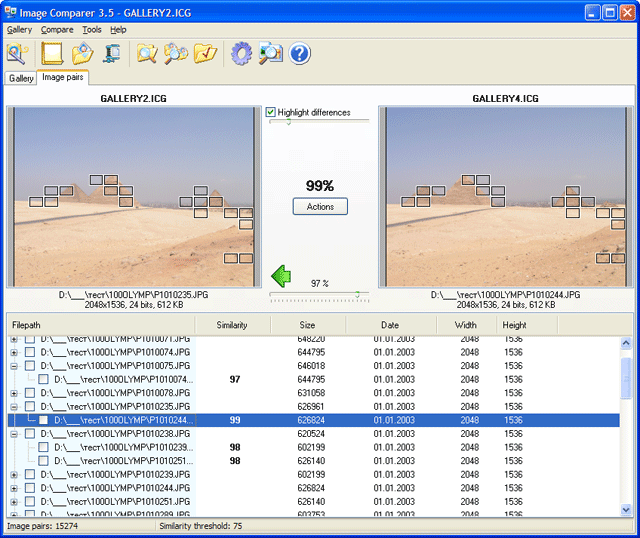 Duplicate Image Finder Pro acts like a human eye, allowing you to quickly locate duplicates and similar looking photo images in your collection. Just tell the program where your images are and get a list of duplicates. Duplicate Image Finder Pro allow you to compare found similar images side-by-side with differences highlighted. Don't miss the opportunity to refine your image collection with Duplicate Image Finder Pro!
Mehr…
Visual LightBox
Version: 4.8.3 | Freeware
Visual LightBox ist ein kostenloses Hilfsprogramm, mit dem Sie ganz einfach Fotogalerien mit modernem LightBox-Effekt für das Internet erstellen können. Sie brauchen keinerlei Programmierkenntnisse. Mit nur wenigen Mausklicks gestalten Sie effektvolle Bildergalerien. Sie lassen ganz einfach per "Drag&drop" die entsprechenden Bilder in das Fenster der Visual LightBox fallen, klicken auf "Veröffentlichen" und kurz darauf können Sie Ihre eigene.
Mehr…
Alamoon Watermark
Version: 4.7 | Freeware
Every webmaster or photographer knows that if you are publish photos, especially if you will be sending them to public place on the web or emailing them, you can't imagine how people use your photos. Someone could take the photos for their own use, and you might never even know! Alamoon Watermark lets you to create custom watermark (copyright text) to your photos.
Mehr…
GSA Photo Manager
Version: 1.3.8 | Shareware (19,00 EUR)
Mit dem Programm ist die Auswahl Ihrer Favoritenbilder ein Kinderspiel, sei es zur Organisation von Diaschauen oder einfach zur Sichtung und Auswahl Ihrer Fotos. Treffen Sie Ihre Wahl schnell und elegant im Einzelbilddurchlauf oder lassen Sie sich bei Ihrer Entscheidung in einer Mehrfachbild-Vorschau unterstützen. Ihre Bilder können in neue Formate gespeichert werden, zur Webseite verarbeitet werden (incl. FTP-Upload) und vieles mehr.
Mehr…
Image Comparer
Version: 3.8 | Shareware (34,95 USD)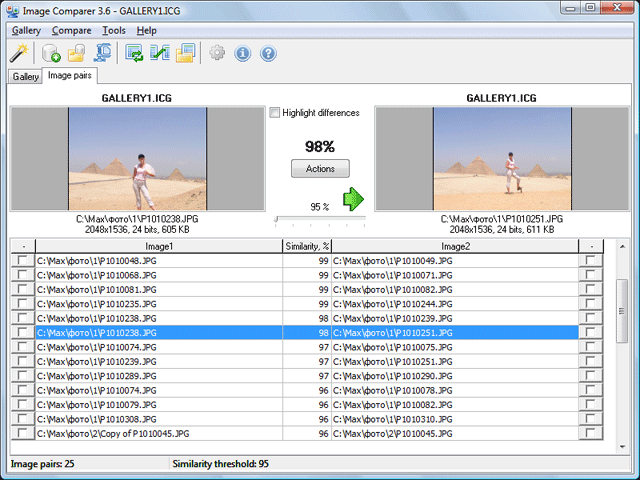 Image Comparer analysiert Eure digitalen Bilder und wählt automatisch das mit der besten Qualität. Somit braucht ihr nur ein Paar Klicks, um doppelte Bilder zu editieren oder zu löschen. Image Comparer bietet Euch inhaltsorientierte Bildersuche. Im Vergleich zu ähnlichen Produkten bietet das Programm nicht nur eine Suchfunktion für Duplikaten, sondern erkennt und analysiert Bildinhalte und gruppiert Bilder, die Ähnlichkeiten vorweisen.
Mehr…
Photo! 3D Screensaver
Version: 1.2 | Freeware
With Photo! 3D Screensaver you can see your favorite photos in an exciting environment of 3D virtual galleries. The program offers a large collection of fabulous 3D galleries. Now you can download new cool templates right from the application, as well as create your own. The new version features photo playlists option and can extract photos from Flickr(TM) photo service. Installation file also includes Photo! 3D Album.
Mehr…
Kalimages PRO
Version: 1.0.9 | Shareware (250,00 EUR)
A professional tool for digital image management to capture metadata from photos or other digitalized contents loading the extracted information into a relational database for sql specialized functions and full text image search. Kalimages PRO application has IPTC/IIM, IPTC Core and XMP support including support for any xmp customized data you may have. It is designed to scan large image or photo folders.
Mehr…