Kategorie Lernen / Sprachen
Just Translate 2016 for Windows
Version: 3.5.0.1 | Shareware (7,99 EUR)
jalada Just Translate liefert auf Knopfdruck Übersetzungen in und aus 80 Sprachen. jalada Just Translate kann Wörter, Sätze, E-Mails, Tweets, ganze Webseiten und beliebig andere Texte übersetzen.Damit werden Informationen für Sie zugänglich und nutzbar, unabhängig von der Sprache, in der sie verfasst wurden. Konzipiert für den täglichen Einsatz, macht jalada Just Translate die Kommunikation in unterschiedlichen Sprachen zum Kinderspiel.
Mehr…
2 Texts Compare
Version: 15 | Shareware (30,00 USD)
"2 Text Compare" - is a Plagiarism Detection software to quickly compare two Documents and quickly find all shared parts. "2 Text Compare" is a powerful plagiarism checker! It uses advanced TF-IDF text comparer that is able to detect obfuscated plagiarism!
Mehr…
Phonetizer
Version: 2.4 | Demo (25,00 USD)
Automatically add IPA (International Phonetic Alphabet) transcription to any English texts, edit the resulting text, copy it to an external program for additional editing or printing. Phonetizer automatically recognizes inflections of English verbs, nouns and adds transcription to whole texts instead of single words using a database of over 45,000 words' transcription.
Mehr…
Virtual Teacher Background Panel
Version: 1.1 | Freeware
Are you one of millions out there who are trying to learn foreign language, but never have enough time? Get Virtual Teacher Background Panel a tool that displays words and phrases you are trying to learn and their translation. Learn foreign language in passive mode. Aslo you get VT Vocabulary Builder and you will be able create your own vocabularies.
Day by day, month by month...Do not waste your time!
New product, 100% free to try!
Mehr…
Cursor Translator
Version: 3.2 | Shareware (17,95 EUR)
Pick words from anywhere on screen and get the translation with your mouse cursor moves on it. You can perform translations between such 53 languages as English, French, German, Italian, Spanish, Portuguese, Dutch, Greek, Russian, Japanese, Korean, Simplified Chinese, Traditional Chinese, Hungarian, Danish, Dutch, Finnish, Swedish, Arabic, Catalan, Croatian, Czech, Hebrew, Norwegian, Afrikaans, Albanian, Belarusian, Bulgarian, Estonian etc.
Mehr…
Han Trainer Digital Flashcards (Chinesisch-Deutsch)
Version: 4.59 | Demo (14,95 EUR)
Han Trainer Digital Flashcards sind die optimale Loesung fuer alle, die an jedem beliebigen Ort auf effizientem Weg chinesisch-Vokabeln lernen moechten, ohne sich dabei mit Buechern oder Lernkarten zu belasten.
Mehr…
Arabic Keyboard Typing Tutor
Version: 5 | Shareware (27,99 USD)
Diese Software wurde für Leute entworfen, die lernen müssen arabische Texte zu tippen. Zuerst lernen Sie die Grundbegriffe wie die Positionierung der Hände auf der Tastatur und dann werden die Fähigkeiten in einer Reihe praktischer Übungen nach und nach gesteigert. In jeder Übung kommen 2-4 neue Tasten hinzu. Ergänzt wird das Programm durch zwei grafische Spiele. Im ersten fallen ausgewählte Buchstaben von oben herab
Mehr…
Round text reading
Version: 1 | Freeware
Words experiment. Round reading. Type a words. Then read it around a center. Ability to concentrate on the problem is one of the constituent parts of the successful mental work.
Mehr…
AlbionXP
Version: 1.2 | Shareware (39,00 USD)
English explanatory dictionary enables you to easily look up the meanings of English words, and can be used as a convenient tool for creating word lists for learning with our vocabulary builder Vocabilis. Here are some of the key things you can do with AlbionXP: you can look up definitions of over 145,000 English words, listen to them spoken, create word lists and learn them with our vocabulary builder Vocabilis.
Mehr…
Die Peitsche des Cicero
Version: 1.5 | Demo
Universeller Vokabel- und Formentrainer für den Grundwortschatz Latein (1.500 Vokabeln). Wortschatz gruppiert nach Themen, Wortfamilien und Wortarten. Flexible Abfrage-Einstellungen und Druckfunktion. Oberfläche komplett zweisprachig: Deutsch und Latein.
Mehr…
WhiteSmoke Writing Software
Version: 2010 | Shareware (89,95 USD)
WhiteSmoke 2010 is a complete solution for checking and enhancing English writing. A comprehensive tool for proofreading and editing, WhiteSmoke features a grammar checker, style checker, spell checker, and a suite of tools such as an English dictionary-thesaurus and a range of templates for letters and documents.
Mehr…
Han Trainer
Version: 5.00 | Demo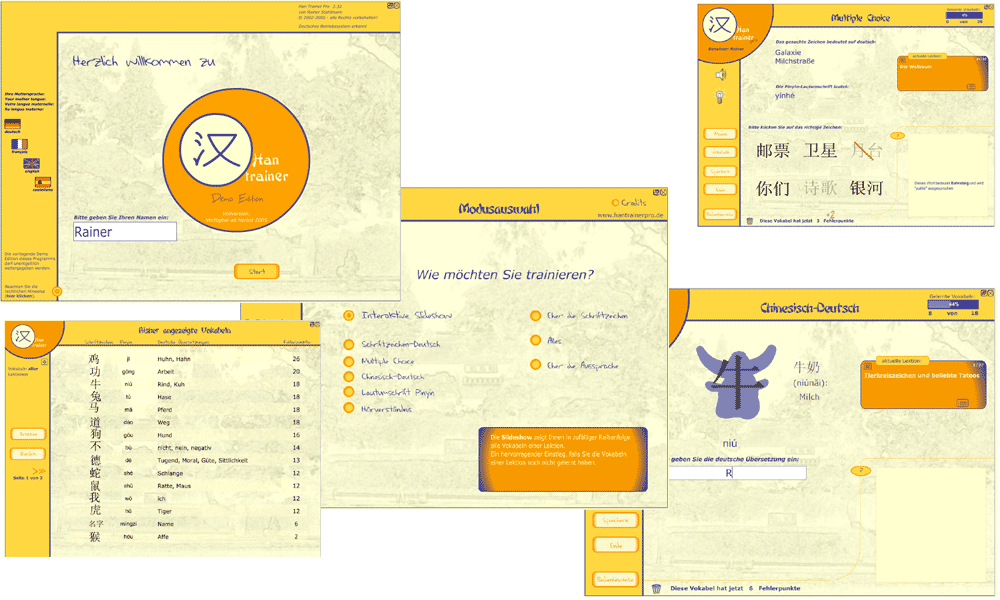 Han Trainer ist ein abwechslungsreicher, multimedialer Chinesisch-Vokabeltrainer, der mit zahlreichen neuen Ideen und Merkhilfen sowie einem aufwändig aufbereiteten Vokabular speziell auf die Bedürfnisse von Chinesischlernenden eingeht. Auch als App für Android erhältlich.
Mehr…