Kategorie Kommunikation / Chat & Instant Messaging
Community Chat
Version: 6.0 | Demo (269,00 USD)
Community chat is a cross-platform web application with major engines (PHP/.NET) and video support. The latest version boasts of implementation ultra-modern features for flash based software, namely built-in whiteboard, instant messengers support, online games, MP3 player and more. Number of available plugins brings flexibility in chat configuration and allows meeting requirements of business and entertainment orientated websites.
Mehr…
Chat Zone
Version: 1.0 | Demo (999,00 USD)
ChatZone is a unique flash-based solution for on-site communication and entertainment. Incorporating all Flashcoms applications in one highly dynamic platform with desktop style interface, it brings all-sufficient solution to your website and delivers truly unmatched real-time communication and entertainment experience for site members.
Mehr…
BigAnt Instant Messenger
Version: 2.92 | Shareware (15,00 USD)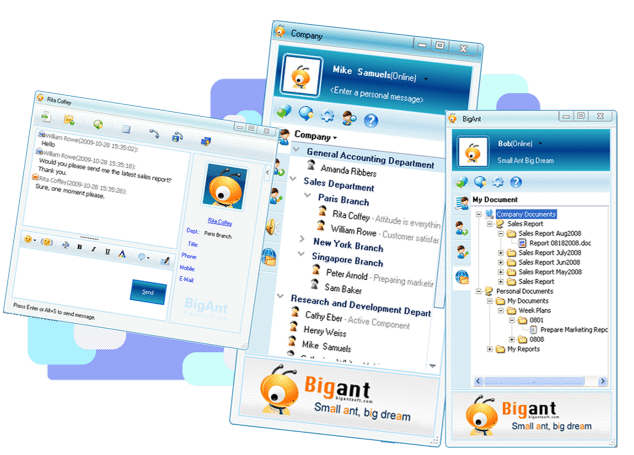 BigAnt Instant Messenger is an office instant messenger with business features, BigAnt Instant Messenger raises the level of collaboration and community for relatively low cost.Key features.1.Create clear organization structure.2. Transfer file or folder as swift as thought.3.Quick send. Send your file or folder using the selection's right-click context menu.4.Send group message with ease.
Mehr…
BigAnt Messenger
Version: 2.92 | Freeware (15,00 USD)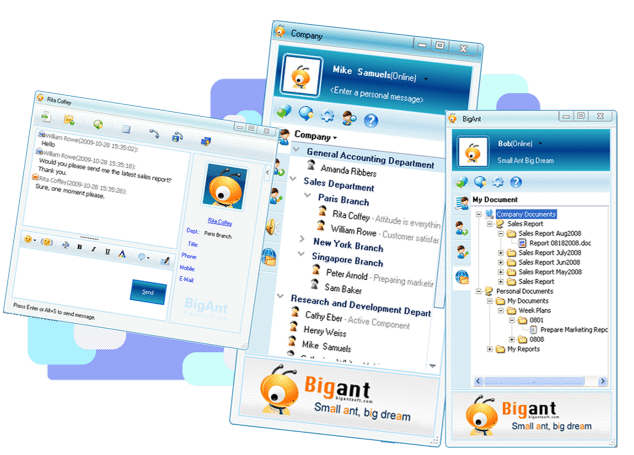 BigAnt Messenger offers you all functionality of a high-speed Enterprise Messaging system. Text chat, transfer file and folder, voice conference. Typically boosts communication and allows easy collaboration.No limit of online users.
Key features:
Transfer files or folders without any limitation. Enjoy maximum security as BigAnt encrypts all data transmitted.A powerful client-server easy for maintenance.
Mehr…
BigAnt Messenger for Enterprise
Version: 2.92 | Shareware (15,00 USD)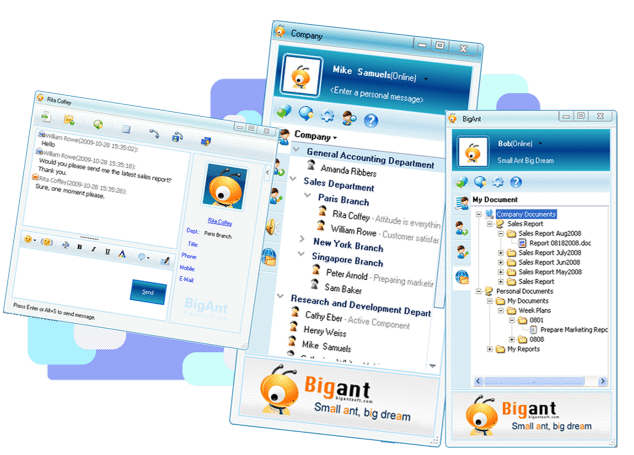 BigAnt Messenger for enterprise is a secure corporate instant messaging program, instant messaging, file sharing, voip, video chat and more.
Set up an instant messaging system for your own company with BigAnt to boost your office productivity. No matter the size of your company, small or large, local or world wide, BigAnt is right for you.
Mehr…
MorphVOX Pro Voice Changer
Version: 4.4.65 | Freeware (39,99 USD)
Voice changing software for online games, VoIP, and the multimedia. MorphVOX Pro Voice sets new standards for voice morphing. MorphVOX Pro is optimized for online games, but is also is great for talking via instant messaging and VoIP. Advance features include file morphing and record to file for quality voice-overs. The new version sports an enhanced professional user interface, extended file format support and an extensible plug-in architecture
Mehr…
Community Video Chat
Version: 5.0 | Demo (199,00 USD)
Community Video Chat is feature-rich, multi-user real-time video/audio/text flash application that will enable all possible modes of
communication for site users. It supports text messages with all text formatting tools available in other FlashComs applications, moderator
options, custom skins, message history, blacklist and more. Flexible video window positioning allows seeing all chat room users.
Mehr…
Actual Live
Version: 7.0.9.32 | Shareware (29,99 USD)
Actual Live is a fully integrated e-business solution. Actual Live helps you to easy provide Live Support Service for your online visitors. You can also monitor each visitor coming from Search Engine, Referral Site or directly which can be improve your e-marketing campaign analysis. In addition, you can proactive chat with your online visitors to increase the conversion rate.
Mehr…
Webcam Simulator XP Edition
Version: 6.657 | Shareware (9,95 USD)
Simuliert webcam auf deinem System indem das Übertragen der videoakten als webcam. Es fügt eine virtuelle Kamera deinem System ohne ein tatsächliches webcam zu haben hinzu. Es kann mit allem sofortigen Kurier wie MSN, Yahoo, AOL, ICQ, Camfrog videoschwätzchen verwendet werden. Ein webcam simulieren und sein jemand, das du immer sein wolltest.
Mehr…
Wippien
Version: 2.2.7 | Freeware
Wippien is instant messaging client with VPN support, that combines different protocols - ICQ, MSN, AIM, Yahoo, Google Talk. It gives you ability to have several computers arround the world connected to isolated local LAN without any special setup. NAT traversal techniques are used to penetrate NAT devices and make direct connections between peers, and allows you to access their resources (such as sytem shares, printers..)
Mehr…
MSN Font Color Editor
Version: 3.000 | Freeware
Choose the font color you like for your MSN from 32-bit true colors.
Tired of MSN's fixed font colors? Use this tiny application to change it to the color you love. It is easy and fun to use. You may need to restart MSN for the changes to take place.
Mehr…
moove online 3D World
Version: 12.0 | Freeware
Kostenlose 3D Chat Welt für den eigenen PC - alles geschieht in völlig privater Umgebung: Eigene vollbewegliche 3D Avatare mit echten Gesichtsausdrücken im Studio erstellen. Eigenes 3D Haus einrichten mit Möbeln, Webcam, Voice, Zugangskontrolle. Eigene Bilder an die Wände hängen. Weitere Kleidung und Möbel kostenlos. Besuchen mit Chat, Romantik, Flirt, neue Liebe, neue Freunde, umarmen, küssen und mehr.
Mehr…