Kategorie System Utilities / Automation-Tools
AKS Text Replacer
Version: 1.5 | Shareware (40,00 USD)
AKS Text Replacer will provide full control over search and replace process. It will allow defining various search conditions and will ask for confirmation before replace. It is not another silent replace utility; this software will show the text as it is and as it will be after replacement. This feature-rich utility will be useful for software developers, web-masters, anyone who works with plain text documents.
Mehr…
Flowman HotFolders&ProcessMonitor Bundle
Version: 4.3 | Demo (4.990,00 EUR)
Automate all your routine tasks - Manage all automation needs (and also existing scripts) in one simple "drag and drop" style graphical user interface. - Automation triggers based on defined schedule, hot folder, ftp hot folder or database actions - Monitor processes and log files - Develop your own automation plugins with included SDK - License includes free backup server license for business critical use.
Mehr…
Smart Mail Notifier
Version: 2.0 | Freeware
Smart Mail Notifier is a tiny user friendly software for checking mail and RSS. Being located in the system tray it checks mail automatically and displays new messages in a usable way. Smart Mail Notifier also allows you to answer any delivered letter swiftly. You can delete unwanted messages from the server, and keep or print needed ones. Smart Mail Notifier supports POP protocol, as well as safe SSL connection.
Mehr…
Easy Wallpaper Changer
Version: 2.0 | Freeware
Easy Wallpaper Changer allows you to install and change wallpaper quickly and easily. This tiny program in a system tray lets you change the wallpaper in a couple of clicks. Wallpaper change may be performed automatically by timer or manually, in course or randomly. Easy Wallpaper Changer is easily adaptable and has a simple and clear interface.
Mehr…
SuperLauncher
Version: 1.9.4.70 | Shareware (27,90 EUR)
Mächtige Trägerrakete und Planer, die schnellem Zugang zu Ihren Lieblingsanträgen, Mappen, Webseiten und Dokumenten ermöglichen. Dieser Produktivitätsbooster unterstützt Drag-n-Drop, hotkeys, Ablaufplanung, Textbeifügung und Gedächtnisstützen.
Mehr…
AlwaysUp
Version: 10.0 | Shareware (49,99 USD)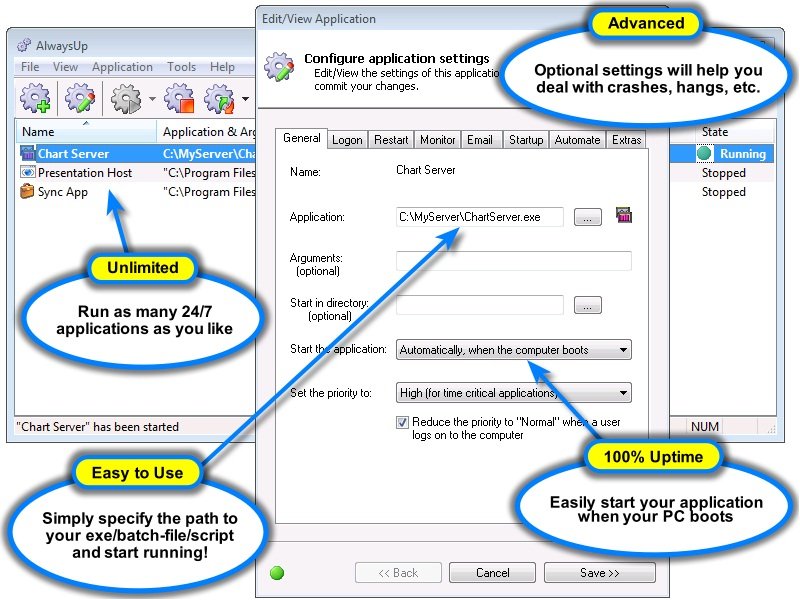 AlwaysUp runs your application as a Windows Service, monitoring it constantly to ensure 100% uptime. It will automatically restart your application if it crashes, hangs, or uses too much memory, dismiss "Application error" dialogs, and run customized "sanity checks" to ensure that your application is available 24/7. Regular, detailed email from AlwaysUp will keep you abreast of crashes, scheduled restarts and other relevant events.
Mehr…
Comfort Keys Lite
Version: 7.5 | Shareware (19,95 USD)
Denselben Text immer wieder eintippen müssen? Endlose Menüs durchblättern müssen um etwas bestimmtes auf einer Webseite zu finden? Schluss damit! Mit diesem Hotkey-Manager der neuen Generation könnt ihr Eurer Maus etwas Ruhe gönnen und Hotkeys für alle möglichen Operationen festlegen - wie die Profis!
Mehr…
Macro Toolworks, Professional Edition
Version: 8.3.6 | Shareware (99,95 USD)
Macro ToolsWorks ist ein mächtiges komplettes Windows Automations-Werkzeug. Mit der integrierten Makro-Sprache (150+ Befehle) kann Macro ToolsWorks die meisten Ihrer tägl. Routineaufgaben erledigen. Es lassen sich damit Makros erstellen, die in beliebigen Windows Anwendungen laufen, zu starten per Hot-Key oderText-Kürzel, individueller Toolbar, mit definierter Mouse-Aktion, oder per Planer zu bestimmter Zeit, oder bei speziellen Ereignissen.
Mehr…
RoboTask Lite
Version: 5.8 | Freeware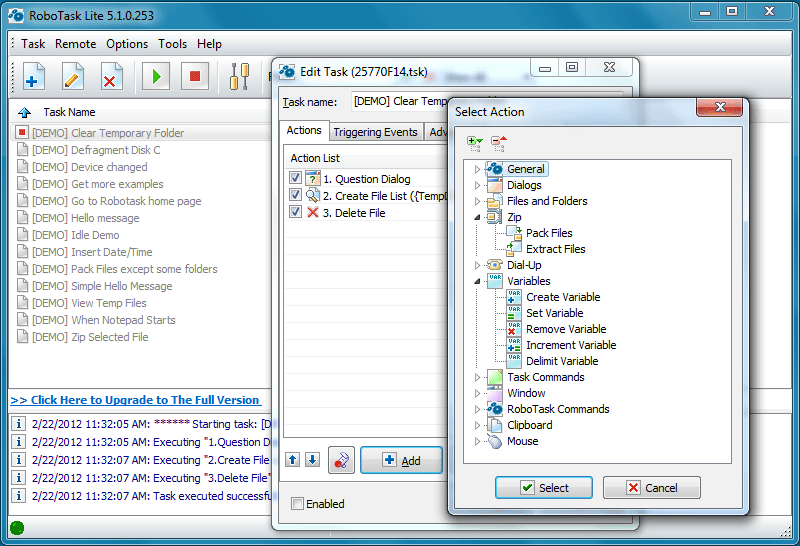 RoboTask Lite allows you to automate any combination of tasks on your computer, ranging from simply launching applications to moving or backing up files and much more. The program allows you to easily create simple tasks involving custom and system variables and set of predefined actions.
Mehr…
OpcDbGateway
Version: 5.03.0.3 | Shareware (1.416,00 EUR)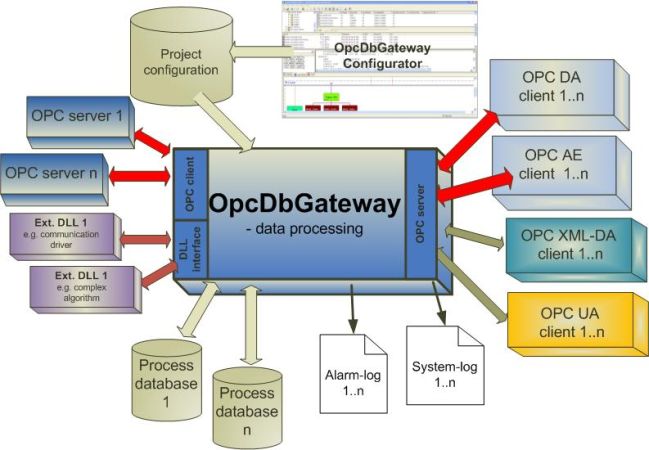 Configuring and runtime applications to integrate data from different devices and data sources. It consists of (1) an internal OPC DA, AE OPC XML DA, OPC UA server (2) an OPC DA client, (3) runtime (with custom dll's) to provide communication between different data sources, a process databases access, generating of alarms, trends, logging, starting of external programs, scripts and stored database procedures according to the configuration.
Mehr…
HSLAB Shutdown Folder
Version: 1.8.9 | Shareware (29,95 USD)
" Das ist in Windows abwesend! "
HSLAB Abschaltung Heft ist ein Dienstprogramm, das einen Service zur Verfügung stellt, der zum Windows 9x/NT/2000/XP Start- " Heft " ähnlich ist. Es stößt Anwendungen, Befehl files(*.bat, *.cmd) und die symbolischen Verbindungen, die in ein Abschaltung " Heft- Heft " gesetzt werden aus, kurz bevor Windows schließt.
Außer dem Programm beschleunigt Windows Abschaltung.
Mehr…
AutomationBox Tools
Version: 1.0 | Freeware
AutomationBox Tools are a set of free tools intended for the automation of recurring actions. Possessing a surprising degree of flexibility and versatility, it allows you to automate actions of virtually any level of complexity, including those ones that require interaction with a graphical interface. If you are seeking a comprehensive, reliable and flexible automation solution that you can afford, look no further than AutomationBox Tools!
Mehr…