Kategorie System Utilities / Automation-Tools
Tweak Microsoft Print to PDF
Version: 3.0 | Shareware (7,95 EUR)
Verbessern Sie die Funktionen des virtuellen Druckers von Microsoft Print to PDF in Bezug auf PDF-Dokumentensicherheit, PDF-Dateigröße, PDF-Papiergröße, Stapelkonvertierung, Flexibilität bei der Bearbeitung und Verteilung von PDF-Dateien, einfachere Integration in andere Software sowie stille PDF-Erstellung und Automatisierung.
Mehr…
Secure-PDF
Version: 1.022 | Shareware (19,90 USD)
Sicherheits-Toolbox für PDF-Dokumente inklusive Verschlüsselung und Signierung. Verschlüsseln Sie Ihre eigenen oder auch fremde PDF-Dokumente mit bis zu 256 Bit Schlüsselstärke (AES). Fügen Sie ein Passwort zum Öffnen hinzu, sodass Benutzer das verschlüsselte Dokument nur noch unter Angabe des korrekten Passworts einsehen können.
Mehr…
eSoftTools PST Password Recovery
Version: 2.0 | Shareware (19,00 USD)
The most efficient practice to recover PST password is by using eSoftTools PST Password Recovery Tool. This PST Password Remover tool offers option to unlock PST file without password on a click. PST Password Unlocker decrypts the encryption of Outlook file to remove PST Password and open password-protected Outlook PST file. It facilitates user in Outlook password recovery in case of lost or forgotten password.
Mehr…
EasyBilderSort
Version: 1.00 | Shareware (10,00 EUR)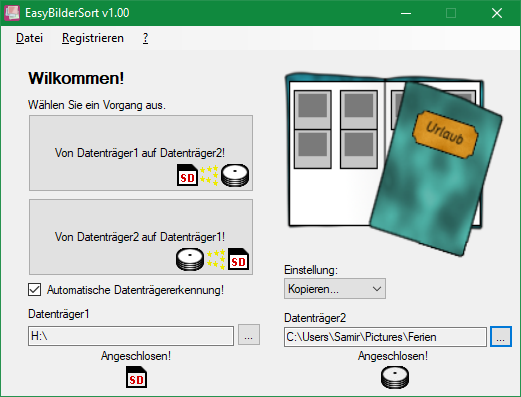 Haben Sie es satt, Ihre Daten m
Mehr…
RoboTask
Version: 7.1 | Shareware (119,95 USD)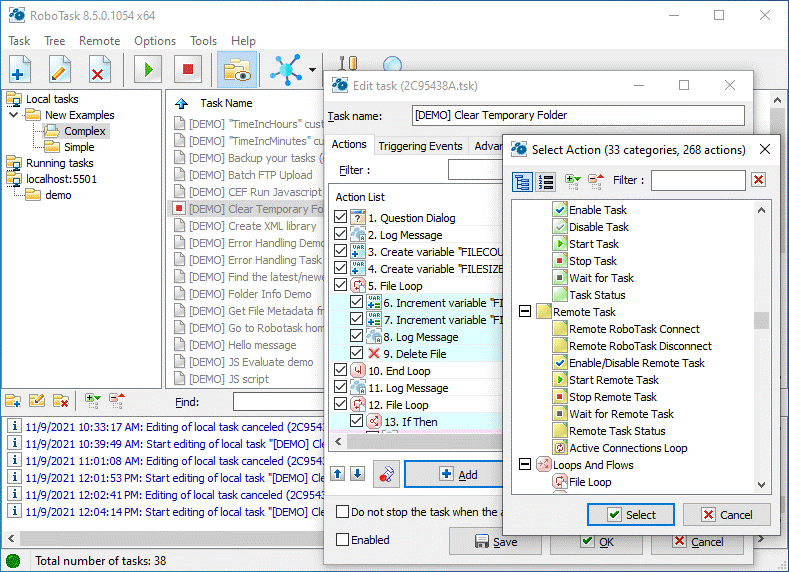 RoboTask allows you to automate any combination of tasks on your computer, ranging from simply launching applications, to checking email, moving or backing up files to uploading/downloading, sending email and much more. The program allows you to easily create simple tasks, as well as highly complex automations, involving conditional IF/ELSE statements, loops, custom variables and other advanced options.
Mehr…
EaseUS Partition Master Professional
Version: 12.9 | Vollversion (34,95 EUR)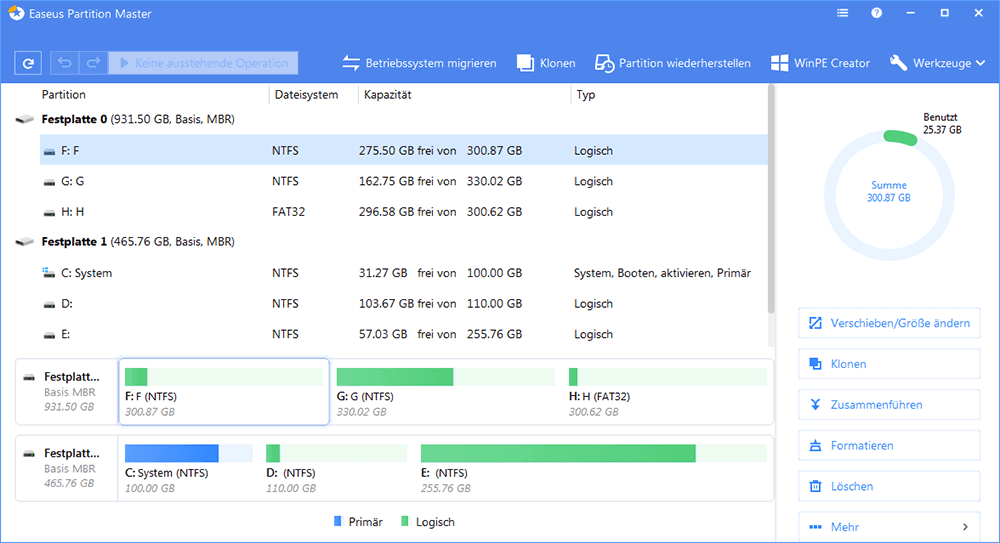 All-in-one Festplatte & Partition Manager Software, die drei Funktionen anbietet: Partition Manager, Laufwerk & Partition kopieren Wizard und Partition Wiederherstellen Wizard.
Mehr…
BlazingTools Smart Type Assistant
Version: 1.5 | Shareware (19,95 USD)
This program is a system-wide typing automation and speed-up tool. It includes abbreviations expanding, mistype corrections, correction of the aCCIDENTAL Caps Lock using, correction of TWo INitial CApitals, first letter of sentences, names of days; pasting large text fragments with one mouse click, extended Clipboard (Clipboard history), useful hotkeys, automatic Diary, ICQ-like system-wide keyboard scoring. Make your keyboard as smart as you!
Mehr…
12Ghosts ShutDown
Version: 9.70 | Shareware (12,99 USD)
Shut down with one click or with one key stroke. Run maintenance programs, daily or at certain days of the week, for example scan disk and backup programs. Just one click, then leave your computer and it will power-off automatically after all programs finished. It allows you to log off your computer after a specified time of inactivity, makes sure to restart your computer weekly, and even terminates not responding programs.
Mehr…
Visual Requirements (VR)
Version: 1.4.8 | Shareware (49,99 USD)
VR is a practical, low-cost/low-risk solution to effectively develop and manage requirements. It enables effective definition of software, computer screens, interfaces, system components, processes, dashboards, information sources, etc. using an efficient visual approach. VR helps to create requirements of better quality and increases the productivity of analysts, developers, engineers, testers, etc. It also enables effort / size estimation.
Mehr…
Auto Power-on Shut-down
Version: 2.83 | Shareware (24,95 USD)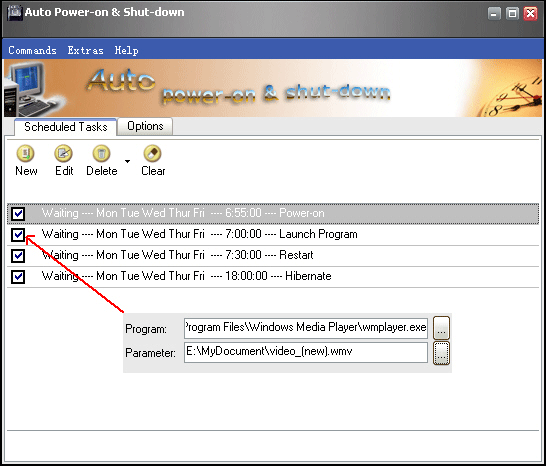 Allows your computer go into the save energy states included standby, hibernation as well as power-off at a specified date and time, help you prevent throwing money away to an always-on system. And it also allows you to auto-start up your computer to work at a specified date and time, even if the system was stopped in hibernation or standby states.
Mehr…
Green Computing Shutdown Scheduler
Version: 1.1 | Shareware (14,95 USD)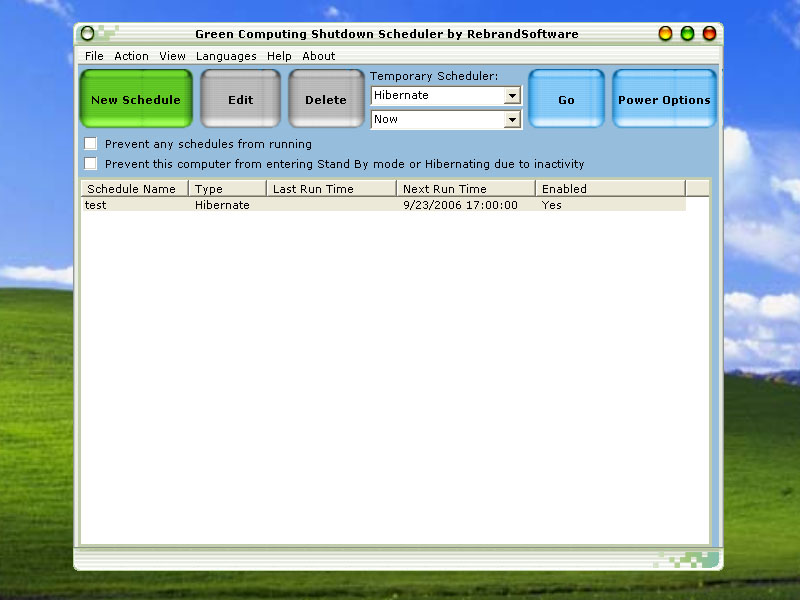 Save on your electricity bills by scheduling when your computer should shut down or hibernate. Does not Contain any Adware, Spyware, or other Third Party Software. A brandable (a.k.a. Private Label) version of this software, with full resell rights, is available at www.rebrandsoftware.com.
Mehr…
VisualCron
Version: 8.2.1 | Shareware (399,00 USD)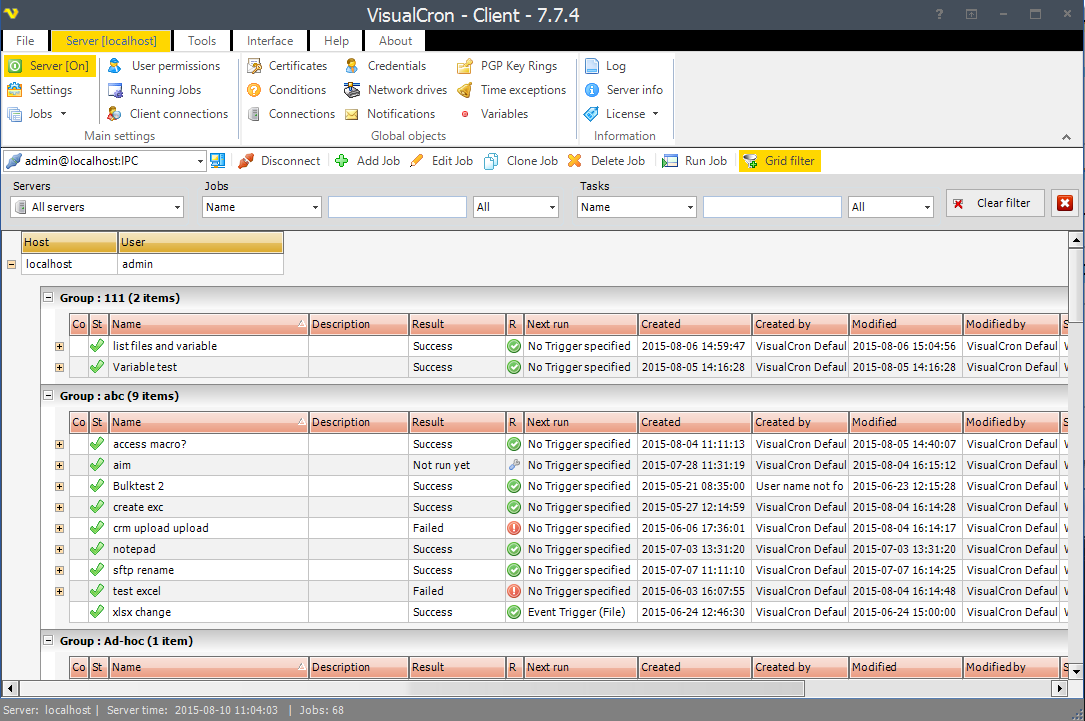 umfassendes Aufgaben- bzw Automatisierungstool für Windows. Client/Server Architektur. sicherer, ferner Zugriff über das Internet. Startet Prozesse, kopiert Dateien, führt Skripte aus und sendet Tastenanschläge. implementiert Auslöser, welche Jobs abhängig von best. Ereignissen startet - z. B. wenn sich eine Datei / Log verändert hat, ein Prozess startet / endet etc. In Echtzeit ablaufende, moderne und einfach bedienbare Benutzeroberfläche
Mehr…