Kategorie System Utilities / Automation-Tools
Visual Requirements (VR)
Version: 1.4.8 | Shareware (49,99 USD)
VR is a practical, low-cost/low-risk solution to effectively develop and manage requirements. It enables effective definition of software, computer screens, interfaces, system components, processes, dashboards, information sources, etc. using an efficient visual approach. VR helps to create requirements of better quality and increases the productivity of analysts, developers, engineers, testers, etc. It also enables effort / size estimation.
Mehr…
Green Computing Shutdown Scheduler
Version: 1.1 | Shareware (14,95 USD)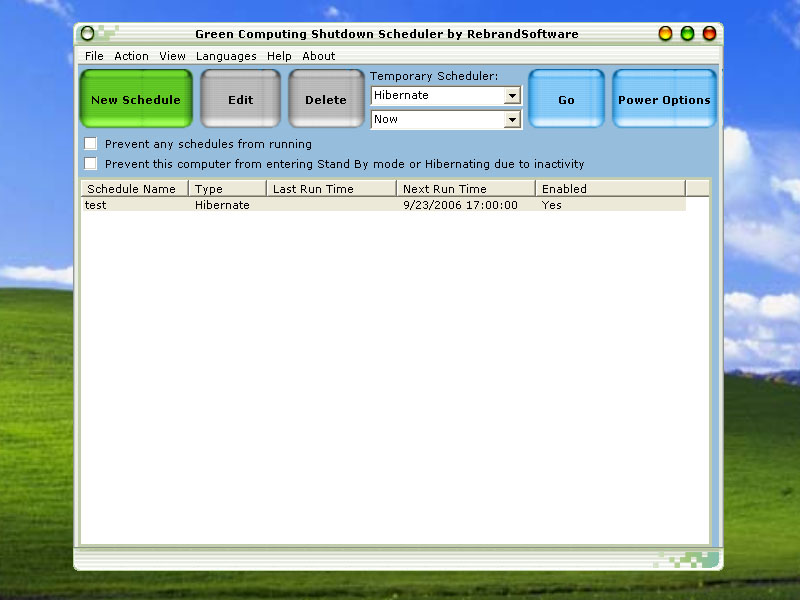 Save on your electricity bills by scheduling when your computer should shut down or hibernate. Does not Contain any Adware, Spyware, or other Third Party Software. A brandable (a.k.a. Private Label) version of this software, with full resell rights, is available at www.rebrandsoftware.com.
Mehr…
Auto Power-on Shut-down
Version: 2.83 | Shareware (24,95 USD)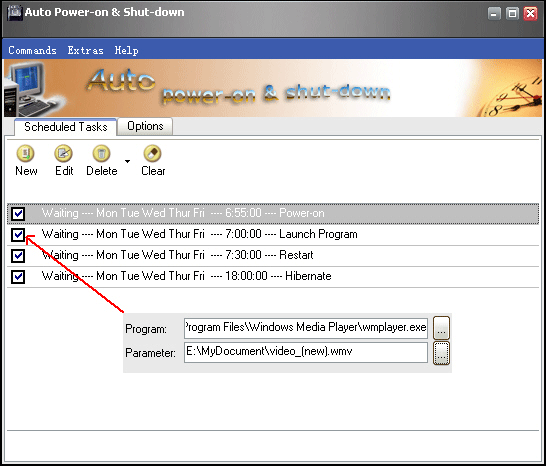 Allows your computer go into the save energy states included standby, hibernation as well as power-off at a specified date and time, help you prevent throwing money away to an always-on system. And it also allows you to auto-start up your computer to work at a specified date and time, even if the system was stopped in hibernation or standby states.
Mehr…
VisualCron
Version: 8.2.1 | Shareware (399,00 USD)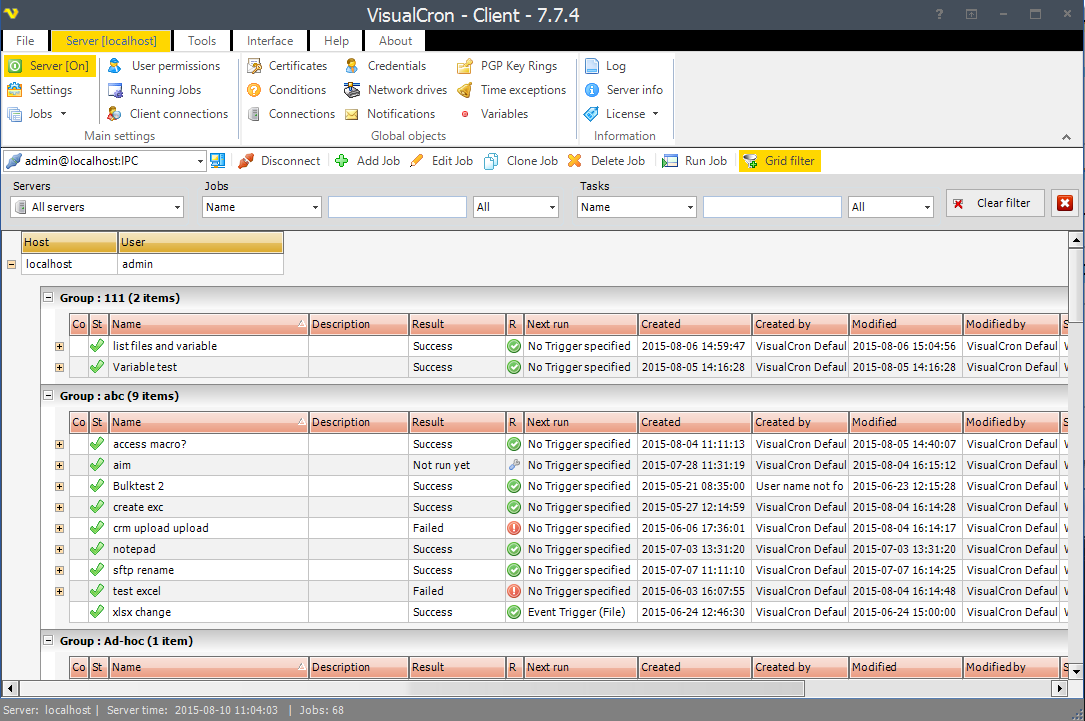 umfassendes Aufgaben- bzw Automatisierungstool für Windows. Client/Server Architektur. sicherer, ferner Zugriff über das Internet. Startet Prozesse, kopiert Dateien, führt Skripte aus und sendet Tastenanschläge. implementiert Auslöser, welche Jobs abhängig von best. Ereignissen startet - z. B. wenn sich eine Datei / Log verändert hat, ein Prozess startet / endet etc. In Echtzeit ablaufende, moderne und einfach bedienbare Benutzeroberfläche
Mehr…
Automation Batch Tools
Version: 3.3.0 | Shareware (29,00 USD)
Automation Batch Tools is a tool for automation and batch processing of repetitive tasks on the computer. With the built-in automation tasks modules you can e.g. generate image galleries, resize images, FTP upload files to multiple servers, rename files, search-and-replace text in files (optionally using regular expressions), and call external batch scripts and applications (thereby enabling even more uses).
Mehr…
Mouse Wheel Control
Version: 2.1 | Shareware (24,95 USD)
Mouse Wheel Control enhances the features of the mouse wheel. With it, you can use the mouse wheel everywhere, change its functionality or extend its use. There are a lot of programs where the mouse wheel is not used or where it is used in some other way than you'd like. Mouse Wheel Control solves this problem.
Mehr…
Advanced Task Scheduler
Version: 4.4.0.615 | Shareware (39,95 USD)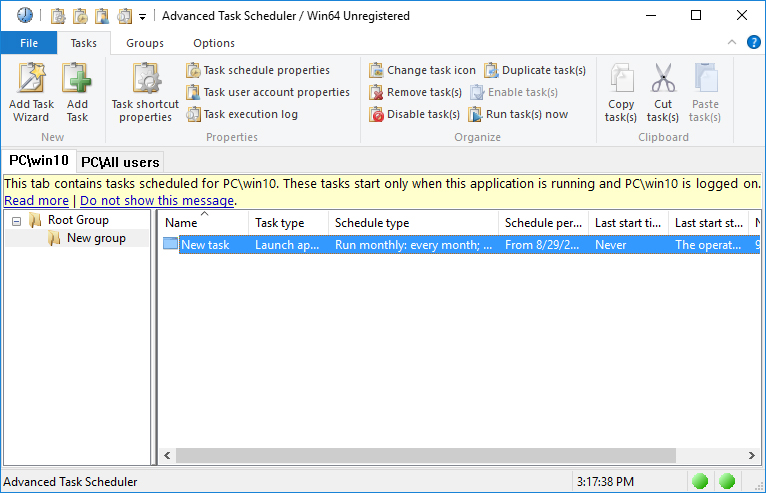 Advanced Task Scheduler - ist ein multifunktionaler Taskplaner zum Starten von Programmen, Batchdateien oder Internetseiten zu bestimmten Terminen. Zeitgesteuert kann der Computer heruntergefahren oder neugestartet werden, Alarmmeldungen angezeigt oder Programme und Internetverbindungen beendet werden. Advanced Task Scheduler kann als Windows-Dienst im Hintergrund laufen, auch wenn kein Benutzer angemeldet ist.
Mehr…
Jitbit Macro Recorder
Version: 5.3.2 | Shareware (39,99 USD)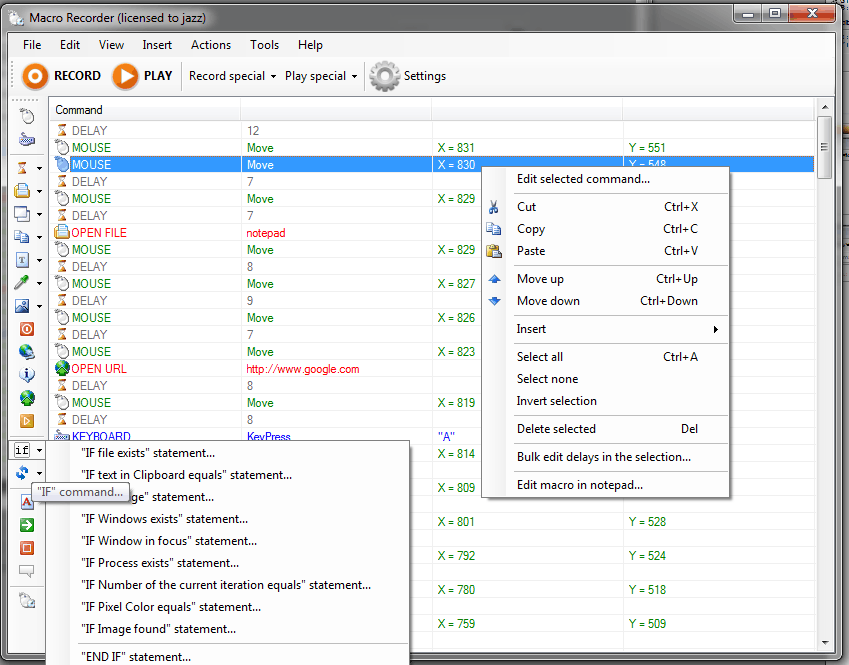 Jitbit Macro Recorder is not only a keyboard recorder, mouse recorder and player, but also a powerful automation script editor. All recorded keystrokes and mouse activity can be saved to disk as a macro (script) for later use, bound to hotkeys, extended with custom commands or even compiled to an EXE file. This macro recording program will save you a lot of time on repetitive tasks.
Mehr…
esdaS©'s AkkuService for Notebooks
Version: 2.0.0.6 | Shareware (49,00 EUR)
Das Software-Tool "esdaS©'s AkkuService for Notebooks" gibt Ihnen die Möglichkeit, den Ladevorgang Ihres Notebook-Akkus zu überwachen und im richtigen Moment das Netzteil abzuziehen. Der interactiver NT-Service, verfügt über einen freieinstellbaren Suspendmode. Alle Einstellung sind über ein Tool im Notifikationsbereich frei konfigurierbar. Akustische Mitteilung und Warnungen werden bei vollen, niedrigen und kritischen Akkuladezustand ausgegeben.
Mehr…
Hot Keyboard Pro
Version: 6.0.87 | Shareware (29,95 USD)
Hot Keyboard ist ein sehr nützliches Hilfsprogramm für Windows Systeme. Ob Sie an Ihrem Computer arbeiten oder einfach nur Spaß haben, mit Hot Keyboard beschleunigen sie Ihre Aktivitäten am Computer deutlich. Erstellen Sie Makros, weisen Sie ihm eine Tastenkombination zu und vergessen Sie häufig wiederkehrende Aufgaben!
Mehr…
Shutdown Lock
Version: 1.5 | Shareware (12,00 EUR)
Viele Programme funktionieren nicht richtig mit dem Ruhezustand oder Standby-Modus von Windows. Shutdown Lock macht alle Anwendungen, auch FlashGet oder AudioGrabber standby-fahig. Dieses kleine Programm bringt Anwendungen dazu, den PC in den Ruhezustand oder Standby-Modus zu versetzen, anstatt herunterzufahren.
Mehr…
RoboTask
Version: 6.8 | Shareware (119,95 USD)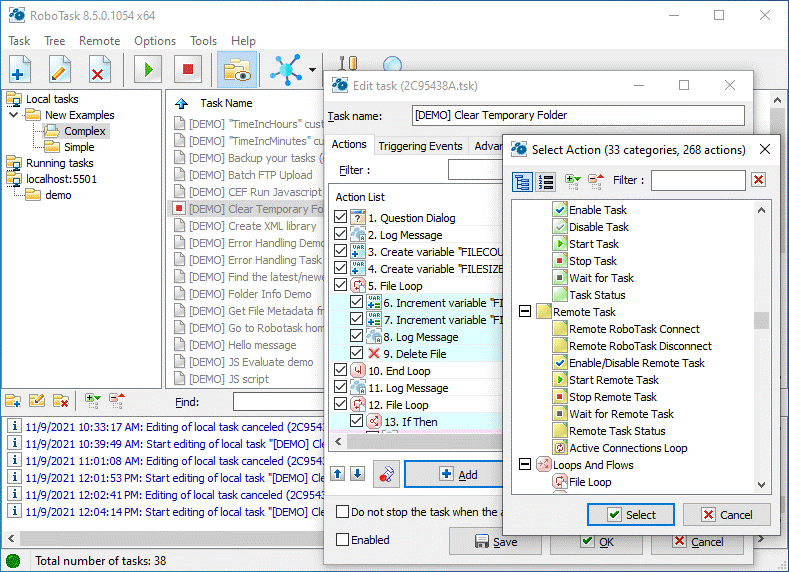 RoboTask allows you to automate any combination of tasks on your computer, ranging from simply launching applications, to checking email, moving or backing up files to uploading/downloading, sending email and much more. The program allows you to easily create simple tasks, as well as highly complex automations, involving conditional IF/ELSE statements, loops, custom variables and other advanced options.
Mehr…