Kategorie System Utilities / Automation-Tools
Total Folder Monitor
Version: 1.3 | Shareware (49,90 USD)
Total Folder Monitor will watch your folders and execute predefined actions. They include creating file list; pinging; running some application; copying, moving or deleting a file; terminating project or task; packing/unpacking files. You can set certain actions for all common situations: when everything is ok, when there is an error, when the error is fixed. Total Folder Monitor works fully automatically and helps you to get rid of the routine.
Mehr…
Windows Unattended Installation
Version: 2.6 | Freeware
Want to create a WindowsXP installation disk that will automatically install the system without asking questions about username, product key, time and locale settings? At the same time your favorite applications are automatically installed, the necessary keys are entered into the registry, drivers are updated, new patches (service packs) from Microsoft are installed. It's possible and you can do it easily with Almeza MultiSet!
Mehr…
Asoftech Automation
Version: 3.0 | Shareware (39,95 USD)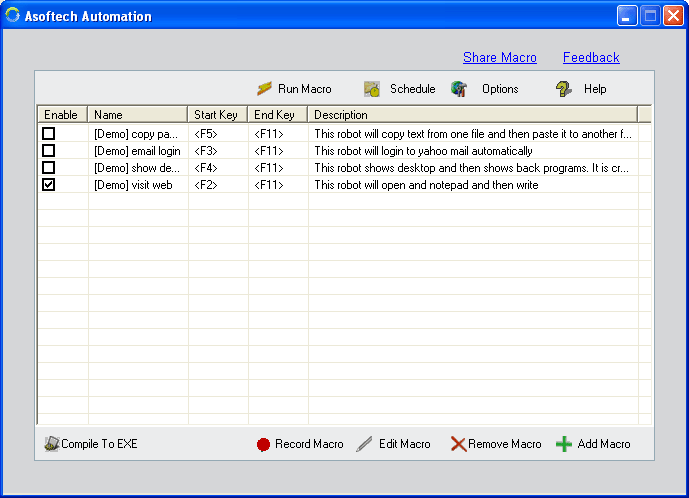 Asoftech Automation helps to automate all of the repetitive tasks you face each day. It records all operation of mouse and keystrokes and saves them as macros. You can also create macros manually with macro editor. Asoftech Automation can then play back the recorded macros to automate recorded tasks any number of times.It is very easy to use and doesn't require any programming experience.
Mehr…
visionapp OpsQuick
Version: 2009 | Shareware (359,00 EUR)
OpsQuick automatisiert die Verteilung von Windows Betriebssystemen für Server und Workstations über das Netzwerk. Das innovative Admin-Tool OpsQuick vereinfacht die Erstellung, Wartung und Verteilung von Windows-Betriebssystemen. Die intelligente Erweiterung von Microsoft Windows Deployment Services (WDS) macht OpsQuick zu einem schnellen und flexiblen Verteilungssystem für Microsoft Windows - für virtuelle und physische Systeme.
Mehr…
Batchrun
Version: 4.3 | Freeware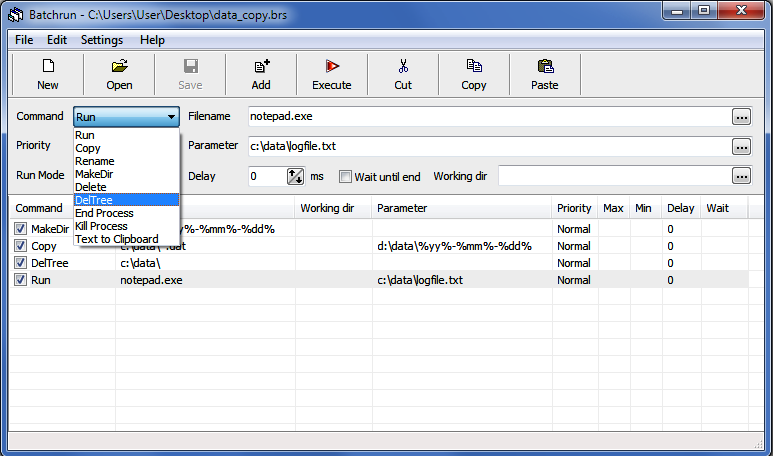 Mit Batchrun kannst du sehr schnell eine Batch Datei erstellen. Starte Batchrun, füge die Anwendungen hinzu die du gleichzeitig starten möchtest und wähle den Menüpunkt "Auf dem Desktop speichern" aus. Somit hast du kinderleicht deine erste Batchdatei erstellt. Ein Doppelklick auf die Batchdatei auf dem Desktop startet nun alle Programme. Neben dem "Run" (Ausführen) Befehl, stehen dir "Copy" (Kopieren), "Rename" (Umbenennen), "Makedir" usw.
Mehr…
Keyboard Software Wedge TWedge
Version: 3.0.0 | Demo (94,00 EUR)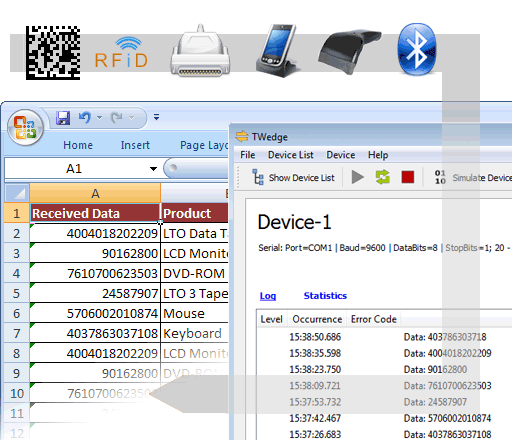 Automatische Datenerfassung mit TWedge - Keyboard Wedge, Software Wedge, Barcode Wedge: Diese Datenerfassungssoftware erweitert Programme und Datenbanken mit Echtzeit-Datenerfassung. Geräte mit USB, Bluetooth, RS232, RS485, UDP oder TCP/IP Schnittstelle werden einfach an alle Anwendungen angebunden (Barcodeleser, Barcodescanner, Waagen, Controller, Messgeräte, RFID). Flexible Datenerfassungssoftware mit integriertem Scripting!
Mehr…
Macro Toolworks, Standard Edition
Version: 8.3.1 | Shareware (39,95 USD)
Macro ToolsWorks ist ein mächtiges komplettes Windows Automations-Werkzeug. Mit der integrierten Makro-Sprache (150+ Befehle) kann Macro ToolsWorks die meisten Ihrer tägl. Routineaufgaben erledigen. Es lassen sich damit Makros erstellen, die in beliebigen Windows Anwendungen laufen, zu starten per Hot-Key oderText-Kürzel, individueller Toolbar, mit definierter Mouse-Aktion, oder per Planer zu bestimmter Zeit, oder bei speziellen Ereignissen.
Mehr…
AKS Text Replacer
Version: 1.5 | Shareware (40,00 USD)
AKS Text Replacer will provide full control over search and replace process. It will allow defining various search conditions and will ask for confirmation before replace. It is not another silent replace utility; this software will show the text as it is and as it will be after replacement. This feature-rich utility will be useful for software developers, web-masters, anyone who works with plain text documents.
Mehr…
Flowman HotFolders&ProcessMonitor Bundle
Version: 4.3 | Demo (4.990,00 EUR)
Automate all your routine tasks - Manage all automation needs (and also existing scripts) in one simple "drag and drop" style graphical user interface. - Automation triggers based on defined schedule, hot folder, ftp hot folder or database actions - Monitor processes and log files - Develop your own automation plugins with included SDK - License includes free backup server license for business critical use.
Mehr…
Smart Mail Notifier
Version: 2.0 | Freeware
Smart Mail Notifier is a tiny user friendly software for checking mail and RSS. Being located in the system tray it checks mail automatically and displays new messages in a usable way. Smart Mail Notifier also allows you to answer any delivered letter swiftly. You can delete unwanted messages from the server, and keep or print needed ones. Smart Mail Notifier supports POP protocol, as well as safe SSL connection.
Mehr…
Easy Wallpaper Changer
Version: 2.0 | Freeware
Easy Wallpaper Changer allows you to install and change wallpaper quickly and easily. This tiny program in a system tray lets you change the wallpaper in a couple of clicks. Wallpaper change may be performed automatically by timer or manually, in course or randomly. Easy Wallpaper Changer is easily adaptable and has a simple and clear interface.
Mehr…
AlwaysUp
Version: 9.7 | Shareware (49,99 USD)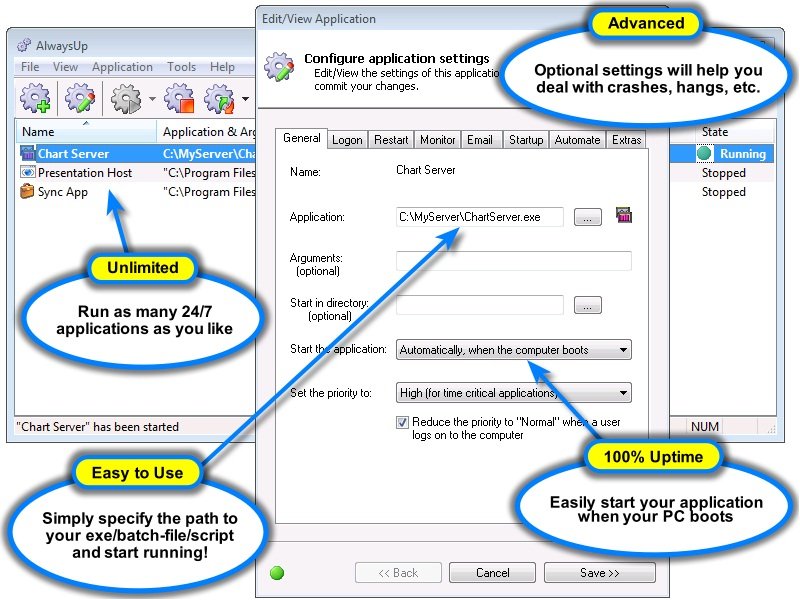 AlwaysUp runs your application as a Windows Service, monitoring it constantly to ensure 100% uptime. It will automatically restart your application if it crashes, hangs, or uses too much memory, dismiss "Application error" dialogs, and run customized "sanity checks" to ensure that your application is available 24/7. Regular, detailed email from AlwaysUp will keep you abreast of crashes, scheduled restarts and other relevant events.
Mehr…