Kategorie Lernen / Lehrer & Training Tools
Memoriad Competition Simulator
Version: 1.0 | Freeware
Prepare and exercise for Memory Olympiads (Memoriad), World Memory Championships, Mental Calculation World Cups and Photographic Speed Reading Contests. Learn to memorize thousands of numbers, playing cards, and learn to remember names and faces; Use your brain as human calculator (mental calendars, mental additions, mental multiplications and mental square roots, etc.); Learn photographic speed reading techniques.
Mehr…
PG ETraining Solution Open
Version: July-2008 | Shareware (295,00 EUR)
Schaffen Sie Ihre originellen Ausbildungsprogramme und Kursen, Design-Teste, bekommen Sie Zertifikate mit Hilfe des Systems von Ausbildungsmanagement online. Das ist ein gutes und leichtes Mittel, Ihren Studiumprozess zu optimisieren und Gewinn von Tausenden Studenten online zu bekommen. Es fuhrt ein volles Internet-basiertes Management der Ausbildungsprogramme fur Administrator, Studenten, Ausbilder und Verbraucher.
Mehr…
PG Scorm e LMS Pro
Version: 2008 | Shareware (575,00 EUR)
Kostendeckendes, leicht gebrauchtes Lernsystem für Darstellung der online-Kursen. Kann im Internet und Intranet gebraucht werden. Benutzerfreundlich, multisprachlich, SCORM-gerecht, funktionelle Lehrer- und Administratorkonsolen. Offene Code, zu allen Bedürfen und Systembedingungen anpassbar. Kostenlose Support und Installationservices.
Mehr…
TimeChimes Pro Automated Audio Player
Version: 2.00 | Shareware (34,99 USD)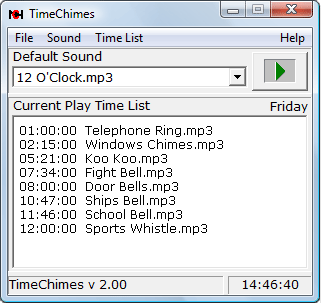 TimeChimes will play a sound or sounds at pre-scheduled times of day on each day of the week. Typically, TimeChimes can used to play school bells or shift-time sounds in factories, churches or businesses. It can also be used for other applications where you want a sound to play at preset times. Includes 9 pre-recorded bell type sounds. Supports dual week cycles.
Mehr…
PPT to Flash Pro version
Version: 2.43 | Shareware (180,00 USD)
PPT to Flash Pro is an easy flash authoring tool converts PowerPoint file to flash respect almost all features in PowerPoint.Very easy to use with a dramatically reduced output flash file size.Supports Office 2007. Key features:Accurate Conversion. Greater and Easier Accessibility.New Features:1.Capture most video clips (MPG,MPEG,ASF,WMV)
2.Support MP3,WAV,WMA audio 3.Add corresponding lyrics to background music to create a MTV.
Mehr…
AntiPlagiarist
Version: 2.7 | Shareware (9,95 USD)
Dieses Programm erkennt auf Knopfdruck Plagiate in Textform. Arbeit im Internet kopiert oder woanders abgekupfert? Hiermit schieben Sie diesem Treiben einen Riegel vor. Die Software unterstützt zahlreiche Dateiformate.
Mehr…
Memo-Coach
Version: 1.4.4 | Shareware (29,90 EUR)
Mit dem Memo-Coach wird Lernen merkbar einfach. Und das Gelernte nie wieder vergessen - ganz egal, ob es sich dabei um Vokabeln jeder Sprache, Prungsstoff, Fachbegriffe, Formeln, Allgemeinwissen oder einfach nur ein besseres Namensgedchtnis handelt: Ihr Memo-Coach hilft beim Einprgen und sorgt dafür, dass all das, was Sie sich merken möchten, ab nun verlässlich in Ihrem Langzeitgedächtnis landet. Und so wird Ihr "Nudelsieb" zum "Wissens-Netz"
Mehr…
Word2007 Lehrgang
Version: 2.0 | Freeware
Word2007 Lehrgang mit integrierten Übungen und kommentierten Lösungen. Der Autor bringt seine jahrelange Erfahrung in der Word-Ausbildung ein, verweist auf häufig beobachtete Fehler, Schwachstellen und Mißverständnisse. Der lehrgang ist für Anfänger und Fortgeschrittene geeignet.
Mehr…
VerseQ
Version: 2011.12.31 | Shareware (170,00 RUB)
Mehr…
PrimeExam
Version: 1.2.2 | Shareware (89,00 USD)
PrimeExam enables you to easily create mixed type exams from reusable question banks (multi-choice, True-False, essay, short answer, fill-in), print keys, and embed images. A user-friendly interface will help you to quickly convert existing text-based exams into question banks, create random exams based on detailed criteria as well as create exam forms to discourage cheating. Export your exams to Word, WordPerfect or HTML format.
Mehr…
Arbeitsblatt-Manager
Version: 1.01 | Shareware (90,00 EUR)
Mit dem Arbeitsblatt-Manager organisieren Sie auf effektive Weise Unterrichtsmaterialien, egal ob klassische Arbeitsblätter, Klassenarbeiten, Lösungsblätter oder andere Medien wie DVD, CD-ROM, Filme, Lektüren oder Spiele. Die in Zusammenarbeit von Lehrern und Programmierern entwickelte Software, kann sowohl von einem Lehrer zur Verwaltung der eigenen Materialien, als auch innerhalb des Kollegiums zur Verwaltung eines Materialienpools dienen.
Mehr…
Memorization Master
Version: final | Freeware
Memory and attention development/testing software. Now anyone who claims that he can memorize things can be tested by our "Memorization Master". The program tests: Memorization volume, Memorization reliability, Memorization speed. These characteristics are automatically summarized in the "Memorization skill increase" index (as compared to the norm).
Mehr…