Kategorie Netzwerk & Internet / Sonstige
Internet Cafe Software
Version: 10.1.0 | Shareware (99,00 USD)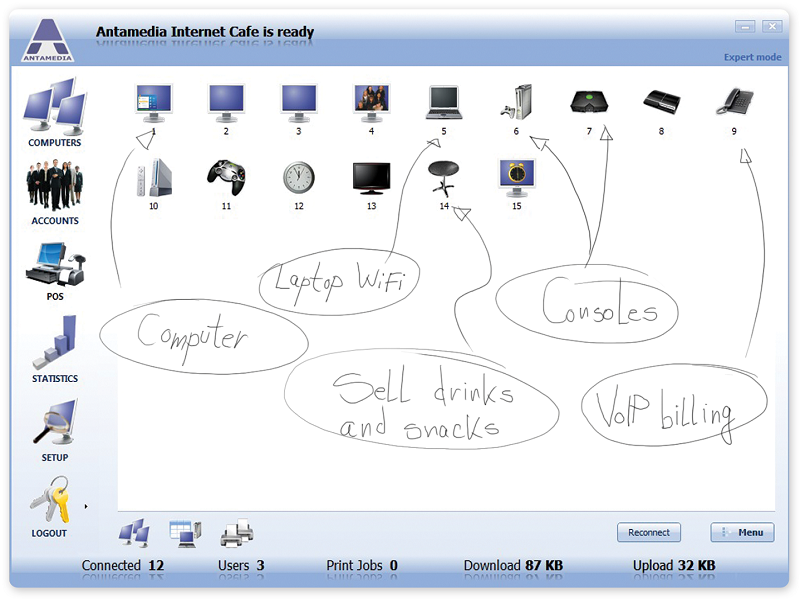 Antamedia Internet Cafe steuert, schützt und verbessert den Betrieb von Internetcafés, Spielzentren, Bibliotheken, Schul- oder öffentlichen Hotelcomputern. Sie schränkt den Zugriff auf System, Desktop, Laufwerke, Ordner und Programme ein. Mit der Software können Sie Kunden eingeschränktes Surfen, Spielen, Nutzung von Office-Anwendungen, Nutzung von WLAN-Hotspots, VoIP-Anrufe, Drucken und andere Dinge in Rechnung stellen.
Mehr…
Total Software Deployment
Version: 2.1.0 | Shareware (90,00 USD)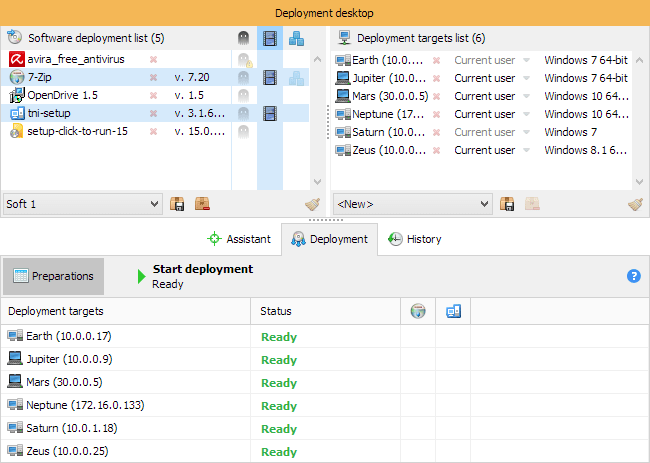 Total Software Deployment: verwaltete Bereitstellung von Software für Ihr Unternehmensnetzwerk. Mit Total Software Deployment können Sie Software im Handumdrehen auf einer beliebigen Anzahl Computer bereitstellen. Software-Bestandsmanagement, automatisches Netzwerk-Scannen und gleichzeitige Bereitstellung von Installationspaketen verschiedener Typen machen TSD zum klaren Sieger unter den Remotebereitstellungstools.
Mehr…
My WiFi Hotspot
Version: 5.0 | Freeware
Die weltweit kleinste Software, um Ihre kabelgebundene Internetverbindung von einem PC auf andere PCs oder Mobilgeräte zu übertragen, ohne einen WLAN-Router zu verwenden. Wenn Sie einen PC mit einer kabelgebundenen Internetverbindung und einer drahtlosen Netzwerkkarte haben, können Sie auf jeden Fall Ihren anderen PC oder Ihr Telefon oder Tablet auf das Internet zugreifen lassen.
Mehr…
Webcam Video Capture
Version: 6.731 | Shareware (9,95 USD)
Webcams, strömenden Bildschirm, vollen Schirm, Teil des Schirmes und sogar Bildschirm mit Ton gefangennehmen. Das Sehen glaubt! Webcam videosicherung verwenden, um Leute zeugen zu lassen, was du durch ein audio-visuelles Mittel übermitteln möchtest. Es gibt Zeiten, wenn es genau teilt, was du auf deinen Schirm bist die schnellste und freieste Weise in Verbindung zu stehen siehst
Mehr…
Expired Domain Names Pro
Version: 12.0 | Shareware (39,95 USD)
Tap into expired domain names -- and grab yourself a great-sounding domain name, with existing targeted traffic, for just a few bucks! Download your copy of the program ALL the expired domain names sites use. Includes a scan-and-surf expired domain browser, short name searcher, automatic domain appraisal & more!
Mehr…
Extreme URL Generator
Version: 1.4 | Shareware (14,95 USD)
Extreme URL Generator is an easy way to generate and save a list of similar URLs. It provides clean and intuitive user interface that lets you generate hundreds and thousands of URLs with just a few mouse clicks. After the URL list is generated you can save it into a text file or copy it into the Windows clipboard with another mouse click.
Mehr…
AceaXe Plus Windows XServer
Version: 1.6 | Shareware (199,00 USD)
SSH X-Server for Windows, Secure way to run Linux and Unix on Windows Desktop. The AceaXe Plus XServer package contains both 64 and 32 bit programs that emulate the X terminal on your PC. AceaXe Plus is XServer implementation of the X11 R6 release of the X Window System. The XServer can run one or more X Window based client applications (X clients) that are resident on a host computer. The host can be any computer that supports the X protocol.
Mehr…
cFosSpeed
Version: 10.22 | Shareware (15,90 EUR)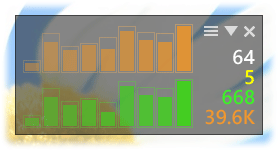 cFosSpeed - Internet Beschleunigung mittels Traffic Shaping, Bandbreite Management. Maximale Download-Speed, minimaler Ping. Für DSL, VDSL, Kabel, Modem, ISDN, Mobile, Tauschbörsen (P2P), Online-Spiele, VoIP, Streaming Media und Tuning. // Weitere Fähigkeiten: Prioritäten - selbst einmessend - Layer-7 Analyse - Firewall - autom. Routererkennung - optimale DFÜ-Verbindungen - VPN - WLAN - MTU-Optimierung - Multi User Features -Breitband limits
Mehr…
BayGenie eBay Auction Sniper Pro
Version: 3.4.0.0 | Shareware (19,95 USD)
BayGenie ebay Auction Sniper Pro tracks eBay auctions and automatically places bids in the last seconds of auctions. Features: integrated browser * supports bidding groups * supports 16 countries of eBay global sites * eBay login integration * supports all time zones * Auto sniping lead time * SMS notifications to mobile phone * multi-user support * configurable columns * secure connections (ssl) * no spyware, pop-ups, or adware * free upgrades
Mehr…
Briz RSS Reader
Version: 1.00 | Shareware (19,95 USD)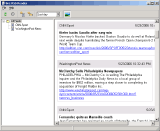 Briz RSS Reader is an easy-to-use news reader for MS Windows. It allows you to subscribe to, download and read desired RSS/Atom feeds. News feeds can be aggregated to display all the items in the one news line.
Mehr…
Email Spider
Version: 2.5 | Shareware (69,95 USD)
Advanced and powerfull tool for extracting email, page title, page URL from website, popular search engines (google, altavista, excite, yahoo, infoseek etc.) using keywords for targeted consumer, internet marketing, website promotion, list management and research.
Mehr…
WatcherBIN
Version: 1.04.24 | Shareware (19,95 EUR)
Mehr…