Kategorie Netzwerk & Internet / Sonstige
attenzoSMS
Version: 3.2.2 | Freeware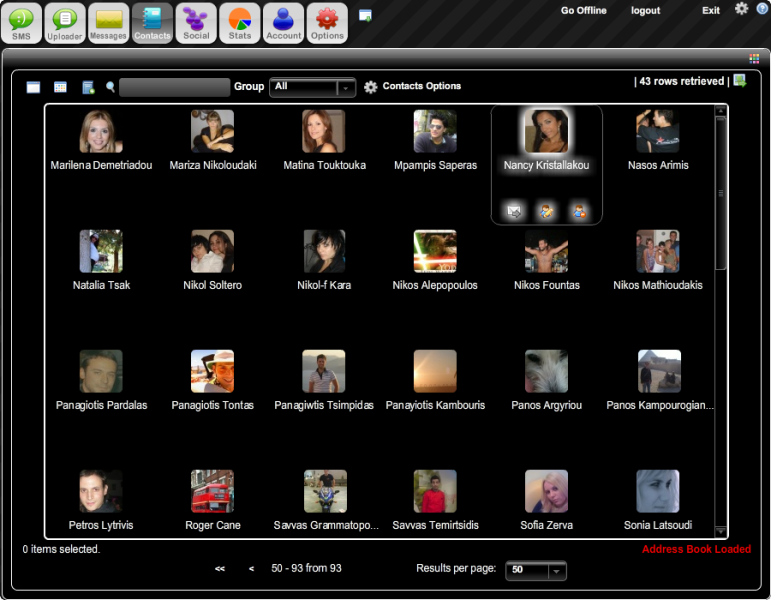 AttenzoSMS is an application that combines the benefits of a bulk-sms application and the most popular features of web. Based on Adobe Air, it is a bridge between three worlds: mobile, desktop and web. Whether your need is to send a simple sms to a friend, a product update to all your clients, or an sms invitation for an upcoming event to your Facebook friends, attenzoSMS will enable you to achieve it in an easy and enjoyable manner.
Mehr…
SliQ Submitter
Version: 1.1.1.1 | Freeware
Free directory submission software. Enter your website details and begin submitting to hundreds of directories. SliQ Submitter supports multiple titles, descriptions and categories. Boost your backlinks by making directory submissions
Mehr…
Internet Privacy Eraser
Version: 8.01.01 | Shareware (19,00 USD)
Protect your internet privacy from anyone who uses your computer system. Our internet privacy eraser software helps to delete every trace of your internet and computer activity from typed website url's to files and folders created in the hard drives. Try the 7 day trial version and see how effectively it protects your internet privacy.
Mehr…
Win Mail Backup
Version: 3.0.1 | Shareware (29,95 USD)
Win Mail Backup is an easy to use utility to backup all of your Windows Live Mail or Windows Mail as a single compressed, backup file. You can easily view messages in the backup; or restore the messages or the mail folders. WMB also saves and restores "My Documents", the Desktop, Firefox and Internet Explorer data. WMB will also assist with the transfer of mail from Windows Mail to a different machine.
Mehr…
Save Multiple Web Sites As Text Files Software
Version: 7.0 | Shareware (19,99 USD)
This software offers a solution to users who want to save one or more web sites as text files. The user simply adds URL/s one at a time or loads them from a list and then has the option to include links within the URL/s before selecting an output folder. Using this time saving software, processing even large numbers web pages takes just one click.
Mehr…
Privacy Master
Version: 1.0 | Freeware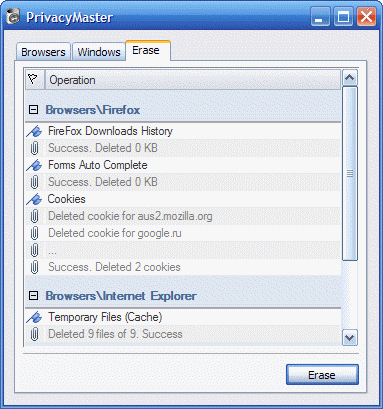 Erase your browser history, internet explorer and firefox's typed urls, visited urls history, temporary files and etc. The list of recent documents, launched programs and etc. Freeware.
Mehr…
AdWords Maker
Version: 1.0.5.0 | Shareware (10,00 USD)
Google AdWords keywords tool. Make more money by generating more AdWord phrases. Use AdWords Maker to make hundreds of unique, relevant AdWords phrases for your AdWords campaigns. Substitute, rearrange, format for match type and filter phrases. Takes the strain out of making new phrases. To get a better ROI, you need to use phrase and exact matches. You choose the match type and it formats the output. Use it and watch your sales grow.
Mehr…
CuteHotspot. WiFi hotspot software
Version: 4.0 | Shareware (159,90 USD)
Charge the customers of your cafe, club, shop, hotel, etc. when they connect their laptops, PDAs or any other mobile devices to your access point (Wi-Fi hotspot) and use the Internet to surf the web, read emails or chat via an instant messenger. Setup point-of-sale (POS) for making walk-in and memeber sales, use the built-in inventory system.
Mehr…
Web Data Extractor
Version: 8.3 | Shareware (149,00 USD)
Web Data Extractor ist ein leistungsfähiges Webdaten/Link-Extraktor Dienstprogramm. URL, Meta tag (Titel, Beschreibung, Stichwort), Text, E-Mail, Telefon, Fax aus der Webseite extrahieren, Suchergebnisse oder Lists der URLs. Hohe Bearbeitungsgeschwindigkeit, multi-threaded, akkurates Extrahieren ? die Daten werden direkt in einer Datei gespeichert. Das Programm bietet eine große Anzahl der Filter, um eine Session abzugrenzen, wie URL Filter, etc.
Mehr…
Free Link Checker
Version: 4.3 | Freeware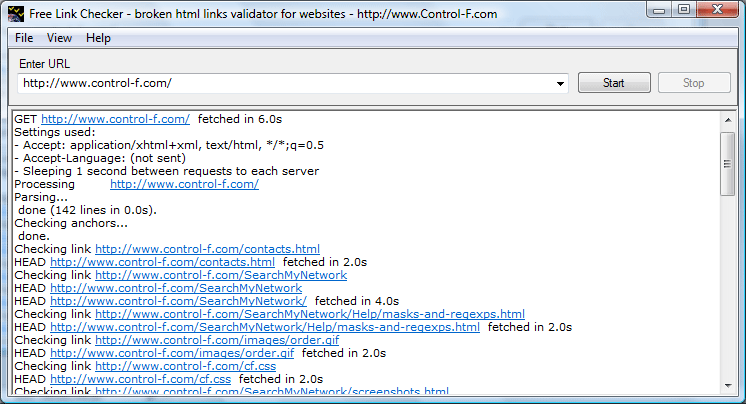 Free Link Checker is a desktop freeware program that does broken links testing. You specify a starting URL for validation and the link tester software finds dead links, invalid HTTP redirects and other problems on a web site or a single web page. A broken link report is provided after check. The search for broken links may be recursive, thus validating the whole web site for obsolete and dead HTML links.
Mehr…
FeederXL
Version: 3.0 | Shareware (27,90 EUR)
Mit Feededitor FeederXL + FTP erstellen Sie Ihre Newsfeeds und Podcast-Feeds in 3 Schritten. Sie geben die Daten ein und FeederXL erstellt Ihre RSS-News-Feeds automatisch. Upload mit integriertem FTP-Programm. Automatische Umwandlung von Umlauten und Sonderzeichen. Volle Unterstützung des RSS 2.0 Standards + HTML-Editor. FeederXL - einfach zu bedienen, flexibel in der Anwendung. Mit Beispieldateien. RSS 2.0 Beschreibung
Mehr…
Computer Spy Software
Version: 8.04.01 | Shareware (79,00 USD)
Computer spy tool works as your secret agent which helps you to monitor computer activities of a user in network. Perfect PC surveillance solution for employers who want to know what people do behind them. Computer spy software free to try evaluate version is available for 07 days for testing the monitoring experience which enables you to monitor 01 computer.
Mehr…