Kategorie Netzwerk & Internet / Sonstige
Rank Tracker Enterprise
Version: 8.9 | Shareware (299,75 USD)
Rank Tracker Enterprise ermittelt nämlich die Seitenposition jeder Seite für eine Suche bei Google, Yahoo!, Fireball und andere internationale und lokale Suchmaschinen. Sie können unbeschränkt viele Stichwörter oder Stichwortkombinationen hinzufügen. Sehr übersichtlich, erkennen Sie mit Rank Tracker bei jedem Start, die Veränderungen in Ranking Ihrer Webseiten und analysieren Ihre Ranking-Historie.
Mehr…
LizardSystems Change MAC Address
Version: 3.1.0 | Shareware (19,95 USD)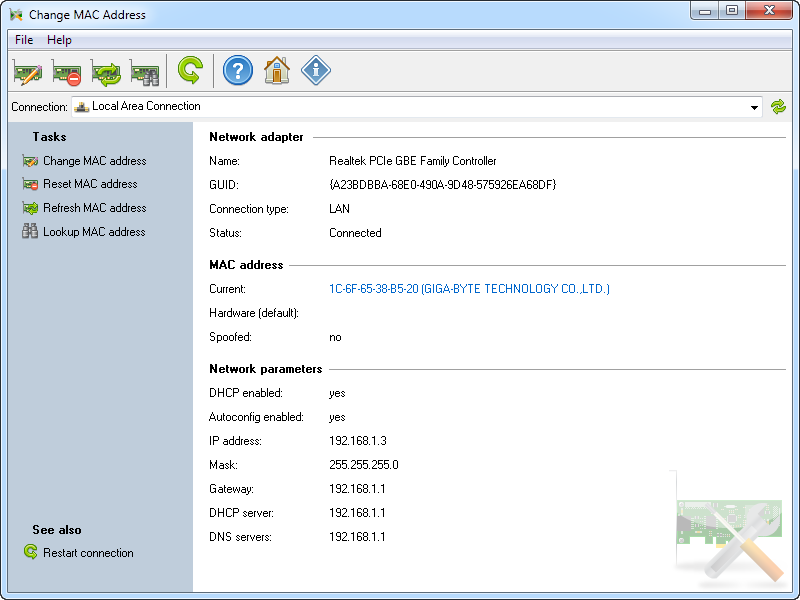 A powerful and simple tool for changing the MAC address of a network adapter. You can spoof the MAC address, set the MAC address of another manufacturer or generate a random MAC address in just several mouse clicks. Your changes will be applied at once and they will be retained after you restart the system.
Mehr…
Storage Profiler
Version: 4.11.2 | Demo (1.000,00 USD)
SolarWinds storage management software is comprehensive, affordable & easy-to-use. Storage Profiler couples real-time storage monitoring with historical trend analysis to help you manage the performance & growth of your storage network & avoid costly outages. Use it with Virtual & Server Profiler to keep an eye on your entire IT environment-from applications & logical connections to the actual physical infrastructure.
Mehr…
MAPILab Reports for Hardware and Software Inventory
Version: 1.0 | Freeware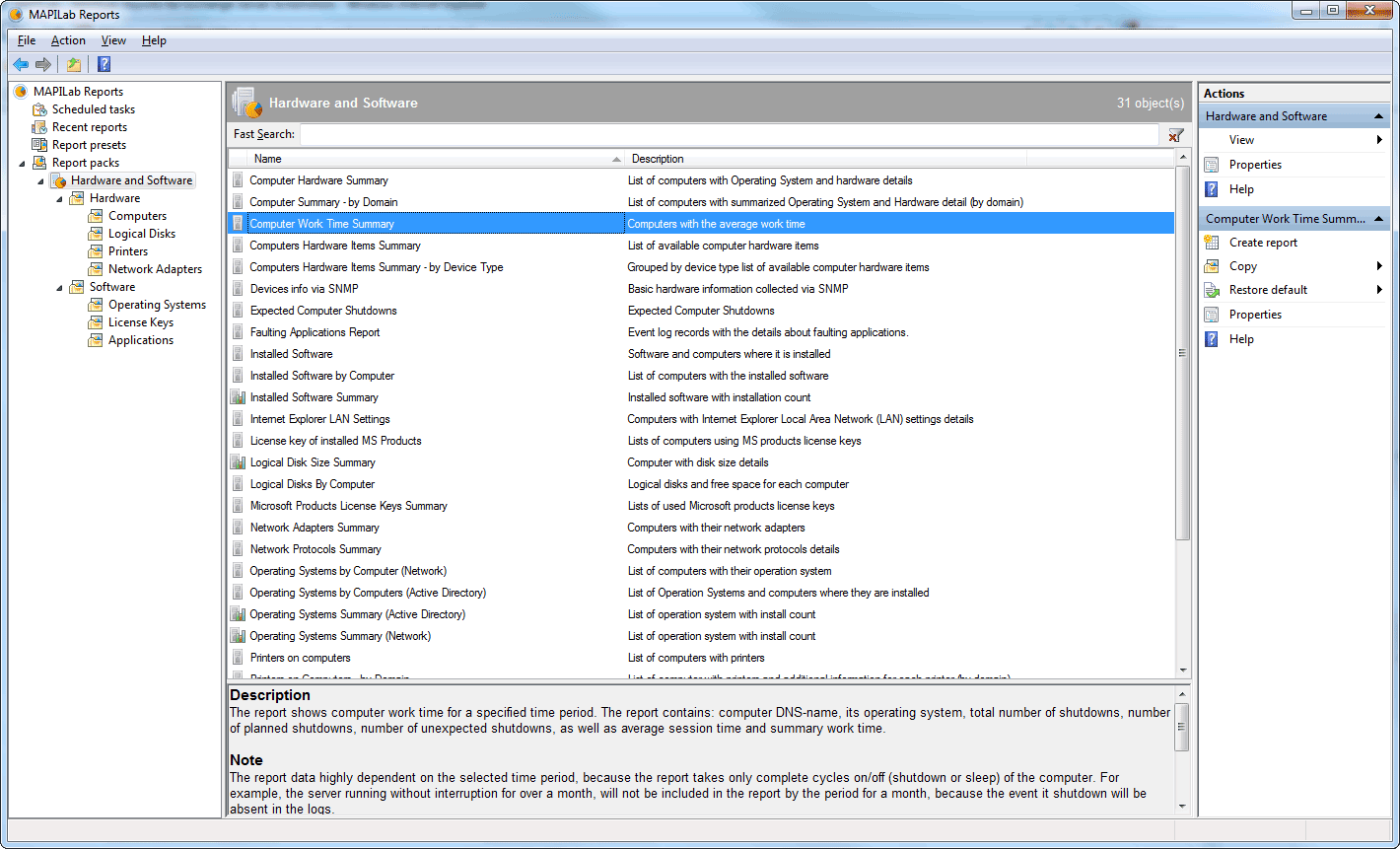 Das Programmprodukt MAPILab Reports for Hardware and Software Inventory dient zur Datenerfassung über den Zustand (Inventur) der Hard- und Software und beinhaltet über 30 Berichte über Hard- und Software der Workstationen und Server mit Microsoft Windows: ausführliche Berichte über Netzadapter und Protokolls, logische Disks und die Drucker. Berichte über Betriebssysteme und die angewendete Registerkeys zu den Microsoft-Produkten.
Mehr…
DSL/Internet Tester & Protokollierer
Version: 1.0 | Demo (9,99 EUR)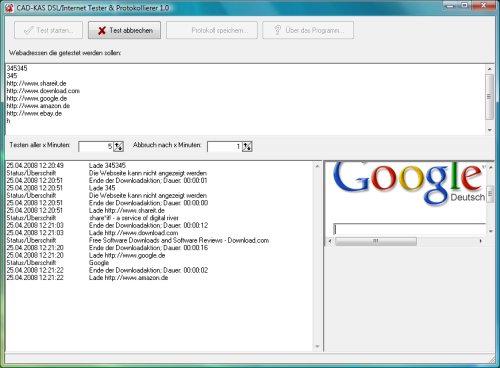 Das Programm ruft alle paar Minuten (einstellbarer Zeitraum) die eingestellten Internetseiten auf und protokolliert, ob diese Verfügbar sind und wie lange die Ladezeit ist. Wenn Sie sich bei Ihrem Internetanbieter wegen mangelnder Verfügbarkeit oder Geschwindigkeit beschweren wollen, können Sie sich auf das Protokoll berufen.
Mehr…
SoftPerfect Connection Emulator
Version: 1.7.3 | Shareware (199,00 USD)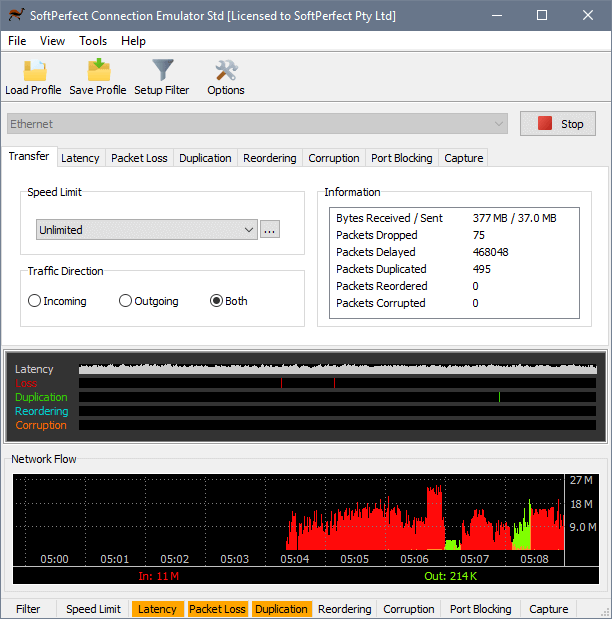 WAN environment emulator for network application developers, system administrators and network engineers. It imitates network connections with low bandwidth limits, latency and losses to mimic low-grade communication links. With this Emulator you can test how well your application performs on slow or long-distance connections to ensure the quality of your software product. Runs on any PC with Windows XP or newer. Download from www.softperfect.com
Mehr…
Total Mail Converter
Version: 2.9 | Shareware (59,90 USD)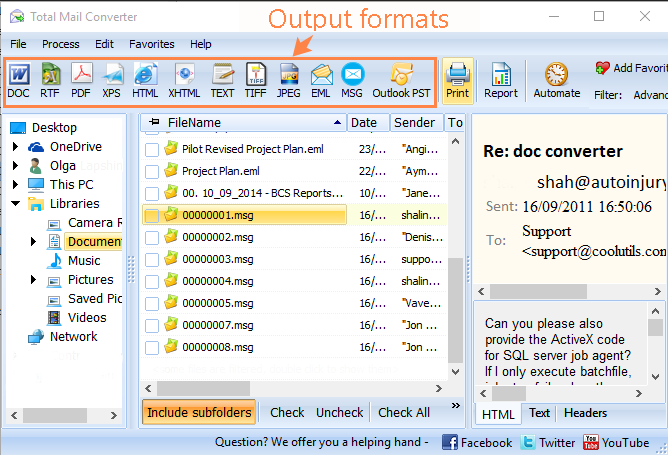 Do you want to convert MSG or EML files to PDF, TXT, HMTL, DOC, TIFF for archiving or migration? Convert your emails with Total Mail Converter. It processes emails in batches, offers 5 ways to deal with attachments, can add pagination or dates to the output files. Convert whole emails or just selected fields. Get full report on your MSG/EML file. Run it via a clear step-by-step interface or command line. Download the free trial copy now!
Mehr…
Active Directory Export
Version: 3.0 | Shareware (79,00 USD)
This simple yet powerful visual tool allows you to copy all user accounts and OUs from your existing domain and import them into a new domain. There is no need to learn frustrating, and time-consuming tools such as ldifde, csvde, or Windows Power Shell command, provided by Microsoft, for the basic task of exporting and importing user accounts from an Active Directory Domain. Our graphical interface will do the job for you in minutes
Mehr…
Convert IPv4 To IPv6 Software
Version: 7.0 | Shareware (19,99 USD)
This software offers a solution to users who want to convert old IPv4 addresses to the IPv6 standard. Output formats are as follows: IPv6 Full, IPv6 Shorthand, IPv6 and Dot Notation Full and IPv6 and Dot Notation Shorthand. There is a feature for converting multiple IP addresses. Multiple address convert allows you to load IPs from a text file and convert to IPv6 in batch.
Mehr…
Softerra Adaxes
Version: 2009.1 | Shareware (1.200,00 USD)
Softerra Adaxes allows you to monitor Active Directory environment, update large-volume user information, automate routine tasks, search information in Active Directory, distribute permissions and perform a lot of other activities in AD with just one solution.
Mehr…
BayExporter
Version: 2.10 | Shareware (250,00 EUR)
Mit dem BayExporter übertragen Sie Ihre eBay-Verkäufe zur individuellen Weiterverarbeitung in Ihre Auftragsbearbeitung, Faktura, Warenwirtschaft oder sonstige Anwendung. Somit können Sie Ihre Verkäufe über eBay gemeinsam mit den nicht über eBay getätigten Verkäufe in Ihrer gewohnen Software abwickeln. Eine manuelle Übertragung oder Doppelbearbeitung entfällt, was täglich viel Zeit und Geld spart.
Mehr…
AggreGate Device Manager for Windows
Version: 5.11.01 | Shareware (650,00 USD)
AggreGate Device Management Platform is a complete device management solution that employs modern network technologies to control, configure and monitor different electronic devices. It also helps you to aggregate device data into a common database, where you can "slice and dice" it using a rich set of device management, data processing and remote service features, as well as let other enterprise applications transparently access it.
Mehr…