Kategorie Büro / Datenbanken & Tools
Database Browser
Version: 5.3.1.10 | Freeware
Dieses einfache Tool erlaubt, sich mit jeder Datenbank zu verbinden und sie einzusehen, zu ändern, SQL-Scripte zu starten, Datenexport und Druck. Arbeitet mit Oracle, MS SQL Server, Interbase, MySQL, PostgreSQL sowie mit ODBC Connection Strings. Zwei Versionen sind verfügbar: Standard und Portable.
Mehr…
Visual Importer ETL Standard 32 Bit
Version: 5.4.3.15 | Shareware (100,00 USD)
Visual Importer lädt Daten in alle Datenbanken aus jeder DB oder Datei. Unterstützt Excel, Access, DBF und Textdateien, Oracle, MS SQL Server, Interbase/Firebird, MySQL, PostgreSQL und ODBC-kompatible Datenbanken. Tolle Performance: tausende von Datensätzen pro Sekunde.
Mehr…
MS SQL Server Automatic Backup & Restore Software
Version: 7.0 | Shareware (19,99 USD)
This software offers a solution to users who want to backup and restore MS SQL Server database frequently. Backups can be scheduled for once every 5 minutes up to once in a number of hours. Automated backups can be disabled at any time.
Mehr…
Vendor Organizer Deluxe
Version: 4.11 | Shareware (75,00 USD)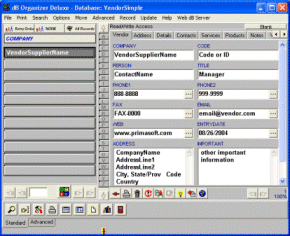 Vendor Organizer Deluxe is a flexible vendor and supplier management software for Windows users. Our software solution helps all kinds of companies and organizations to enter and manage information about vendors and suppliers. For the database novice, Organizer's intuitive interface and ready-to-use vendor management solution make it easy to set up and use.
Mehr…
iMiser Research Assistant
Version: 3.3 | Shareware (29,95 USD)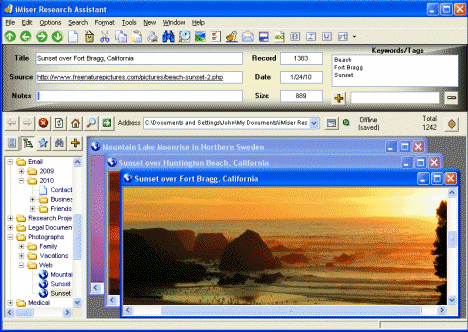 Add Permanence to the Web with this award winning software! Save and organize Web pages, email, images, blogs, text, RSS, and newsgroup and forum messages. Save local txt, html, rtf, doc, and pdf files. Highlight important Web page text in yellow. Add saved Web pages and word processor documents to iMiser Favorites with just one click. Find what you want Fast with two powerful search tools. Email saved information to friends.
Mehr…
SOHODOX
Version: 10.19.01.0 | Shareware (199,00 USD)
SOHODOX is a simple & cost-efficient document management solution for small offices. Using features like tags, folders, linking documents and a powerful search, it helps catalogue your paper and digital documents at the office. SOHODOX manages all types of documents. It controls access to documents and keeps your files confidential. It also lets you easily create a backup so you don?t lose vital documents for your business.
Mehr…
Loan Modification Machine
Version: 4.1.2.237 | Shareware (4.999,00 USD)
Loan Modification Machine - a Professional Loan Modification Software. Our software is designed for Loan Modification Professionals, or Mortgage Brokers eager to enter into this lucrative industry. Includes Loan Modification Software, Amortization Loan Center, Credit Cards Analyzer, Budget Center, Templates Manager, BPO Advisor, Lender Benefits Analyzer, all the forms you need, Templates Manager and more.
Mehr…
MySQL Automatic Backup & Restore Software
Version: 7.0 | Shareware (19,99 USD)
This software offers a solution to users who want to periodically backup entire MySQL databases. The user simply enters the login information for the database and tests the connection before choosing a folder for the backup file and selecting the interval between backups from a comprehensive drop down menu. Using this easy to use software can help avoid loss of vital data.
Mehr…
CallAdviser
Version: 4.01 | Shareware (445,00 EUR)
CallAdviser ist für alle Einsatzorte geeignet, an denen professionell telefoniert wird, z. B. für Outbound, Telemarketing, Telesales oder auch Inbound-Aktionen. Die Software ist weder in der Anzahl der zu bearbeitenden Adressen, noch der Projekte oder Fragestellungen begrenzt. TAPI für das Computerunterstützte Telefonieren (CTI) ist bereits integriert. Alle im Callcenter erstellten Wiedervorlagen können benutzerübergreifen abgerufen werden.
Mehr…
Import Export Microsoft Office Tool
Version: 1.0.0.0 | Demo (19,99 USD)
Import Export is an advanced application it gives you the flexibility to export selective data out to a spreadsheet, database, or a different text file format. Just like are web site advertisement says, All you have to do is .. Select a text file and click a few buttons and instant success your data is found. You then click a couple more buttons.. and now you have your data in a spreadsheet or a database. It has never been so easy!
Mehr…
VIPlanet
Version: 1.0 | Demo (15,00 EUR)
- all cities of the world (with a population more then 1000)
- additionally detailed geodata (small villages, hotels etc) for one country
- possibility to show only special things (for example only hotels)
- possibility to find all records containing any phrase
- possibility to add your big memo-text for every city or country
- possibility to show any city with your text-label
- possibility to change a city's text-label at any future date
Mehr…
Small Library Organizer Pro
Version: 3.2b | Shareware (245,00 USD)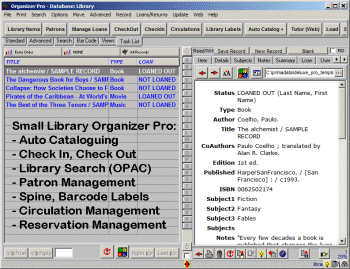 Library Software for Windows. Library Organizer Pro is for small private, public, or corporate libraries. Our library software is designed to manage the following activities of your library: easily catalog all library collections, manage member information, and keep track of the library check-in and check-out transactions. Includes several add-ons: web library browser, stand alone check in/out , auto-cataloging, library designer ...
Mehr…