Kategorie Büro / Datenbanken & Tools
Universal SQL Editor
Version: 1.8.4.2 | Shareware (39,00 USD)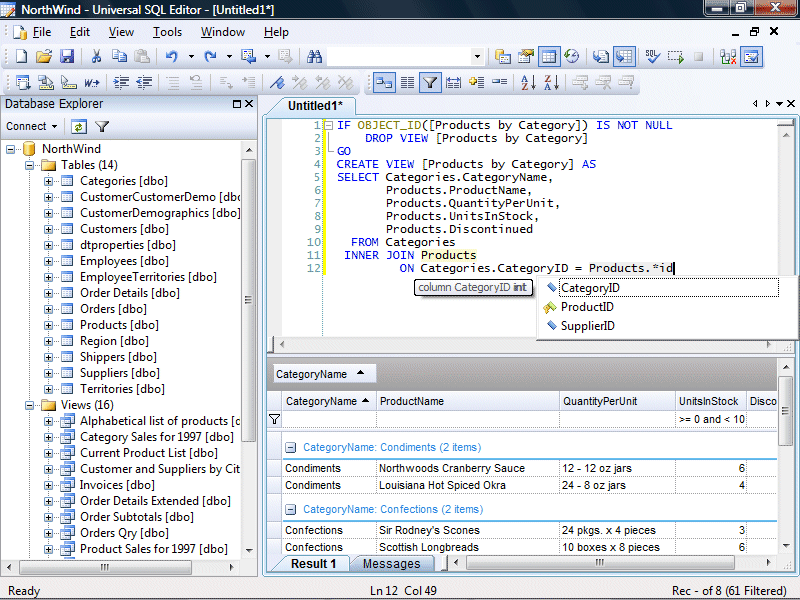 Universal SQL Editor is a lightweight Intellisense-enabled database query tool. It allows you connect Oracle, DB2, SQL Server, Sybase and any ODBC compliant database, and edit complex SQL with Intellisense-like autocompletion, highlight references, parameter hinting, syntax highlighting, SQL formatting, plus other useful features that allow you to work more efficiently.
Mehr…
Exult XML Conversion Wizard
Version: 2.5 | Shareware (105,00 USD)
Converts XML to MS Excel(XLS),MS Access(MDB),CSV,HTML & Text.Easily handles large & complex XML files.Elements & attributes are automatically mapped to columns.Builds relationships between tables to mirror XML structure using primary and foreign keys. No user intervention required for shredding XML to tables.Exports XML tables as Excel worksheets or Access tables.New! Merge data from two or more tables for extraction.Speed improved in version 2.
Mehr…
Advanced XML Converter
Version: 3.07 | Shareware (49,95 USD)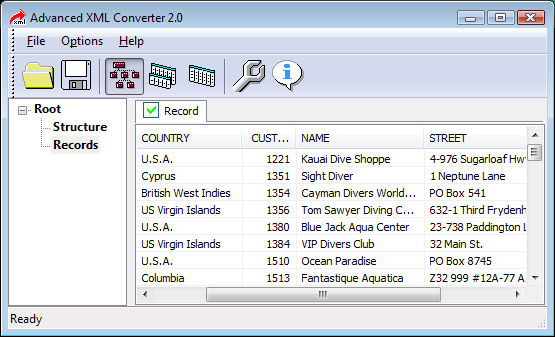 Konvertieren Sie XML-Dateien in HTML, CSV, DBF, XLS und SQL Formate automatisch. Advanced XML Converter macht es leicht, Tabellen oder Datenbanken im XML-Format in druckbare HTML-Dokumente, Excel-Tabellen, DBF-Datenbanken und Komma-separierte CSV-Dateien zu konvertieren oder SQL-Abfragen zu erstellen zum Wiederaufbau einer gesamten Datenbank mit Hilfe einer Reihe von SQL-Befehlen.
Mehr…
DBScribe for SQL Server
Version: 1.4 | Shareware (99,00 USD)
DBScribe ist ein SQL Server Datenbankdokumentationswerkzeug, das genaue Entwicklerdokumentation jedes Details eines Datenbankdiagramms schafft. DBScribe unterstützt eine grosse Auswahl von Dokumentationsstilen und Produktionsformaten (HTML, CHM, MS Word), Meister und Interface-Linienschnittstellen, vollendet das Datenbankstruktur-Dokumentieren, alle SQL Objektarten, ihre Details und die Eigenschaften, das kundenspezifische Dokumentationsprofil.
Mehr…
DBFView
Version: 4.2 | Shareware (49,00 USD)
Die benutzerfreundlichen Grafikenausführungen, die mit Datenbanken einfach und Auseinandersetzung arbeiten, befreien. Das Programm erlaubt, dass Sie hinzufügen, löscht, Zurückrufung, Sorte, Pep, Blick und Änderungsdateien in DOS oder Windows Zeichensätzen, werden detailliert Datenbankinformationen, exportieren zu txt/html/csv/xls/xlsx Format, und Suche in einer Datei. Benutzen Sie den populärsten DBF Redakteur und Zuschauer in der Welt!
Mehr…
MyDeveloper Studio
Version: 3.00 beta | Shareware (69,95 USD)
A comprehensive IDE for MySQL, it helps you work faster with MySQL by automating and simplifing the database development process. Presents a powerful visual interface for developing scripts, executing queries, managing users and privileges, and more. Key features include a completely unique stored routine debugger, an advanced SQL editor, integrated database explorer, database backup and restore, and fast direct connection to MySQL.
Mehr…
BlueSky Integration Studio
Version: 8.2 | Shareware (1.495,00 USD)
BlueSky Integration Studio is an Enterprise ready visual integration design environment for extracting, transforming, and loading (ETL) data from any data source to any data source using a simple drag and drop, property based interface. Plus, you can code any type of data transformation logic in standard Visual Basic .NET!
Mehr…
HKVertrag
Version: 3.00 | Shareware (30,00 EUR)
Verträge spielen im Geschäftsleben eine wichtige Rolle. In jedem Unternehmen müssen Verträge verschiedenster Art beachtet, aufbewahrt und verwaltet werden. Damit ein sinnvolles Vertragsmanagement möglich ist, bietet sich eine Software für die Vertragsverwaltung an. In einer Vertragsdatenbank werden alle Verträge erfasst.
Mehr…
DTM Schema Inspector
Version: 2.00.07 | Demo (79,00 USD)
DTM Schema Inspector is a database schema browsing and management tool that let the user work with database schemas more effectively. The program lets the users work simultaneously with any number of database schemas (metadata) and displays information in a convenient tree-view format, as well as offers current views of database contents and properties. The tool supports all modern database systems and desktop formats.
Mehr…
VIPlz
Version: 1.1 | Demo (15,00 EUR)
- Datenbank mit allen PLZ, BLZ und KFZ für Deutschland.
- Möglichkeit für jeden PLZ, Stadtteil, Strasse, BLZ und KFZ Ihre unbegrenzte Texten als Memos einzufügen.
- Strassen für etwa 350 Hauptstädte Deutschlands.
- Einfaches Suchen in aller Tabellen durch belibiges Teil des PLZ, Ortsname etc oder des Teil Ihres Memo;
Mehr…
ACT-To-Outlook Professional - 2007
Version: 9.1 | Shareware (195,00 USD)
Convert your ACT! database into Outlook, including Notes, History, Attachments and User Defined Fields to Outlook. In addition, convert multiple users into multiple Outlook folders for easy placement of Calls, Todo's and Meetings. Fully compatible with Outlook 2000, 2002 and 2003 and ACT! version 2007. Compatible versions for ACT! 2000, 6.0 and 2005/2006 are available at the act-to-outlook.com website.
Mehr…
DBRecovery
Version: 2010.1016 | Demo (799,00 USD)
DBRecovery suite provides a set of database recovery utilities in convenient setup package at cost-saving price. With DBRecovery one can recover tables and table data from damaged database. The suite provides recovery solution for several database server and client solutions, including MS Access, SQL Server, Oracle, MySQL, PostgreSQL, FileMaker, MS Works, Sybase and others. DBRecovery suite components are easy-to-use, no special skills required.
Mehr…