Kategorie Sicherheit & Datenschutz / Verschlüsselungs-Tools
Dekart Private Disk Multifactor
Version: 2.00 | Shareware (55,00 EUR)
Verschl?sselungssoftware, die vertrauliche Daten auf Laptops, USB Sticks und anderen Ger?ten sch?tzt. Vereint NIST-zertifizierte AES 256-Bit Verschl?sselung mit innovativer Disk Firewall, 64-Bit Kompatibilit?t, Protabilit?t durch USB Laufwerke und Chipkartenauthentifizierung zu einer preisg?nstigen und einfach zu bedienenden L?sung. Bietet vorausschauenden Schutz gegen Viren, Trojaner, Adware, Spionagesoftware und unerlaubten Netzwerkzugriff.
Mehr…
Excel Password Recovery Wizard
Version: 2.0.8 | Shareware (29,95 EUR)
Excel Password Recovery Wizard provides you with a friendly interface to recover Excel passwords in a flash. The choice of available recovery methods includes Brute Force, Smart Search and a dictionary-based attack. They can be used separately or in a combination, which increases chances of recovery for complex passwords. The built-in attack profiles enable rapid password recovery with only one key press. Success is guaranteed.
Mehr…
DriveCrypt Plus Pack
Version: 3.9 | Shareware (125,00 EUR)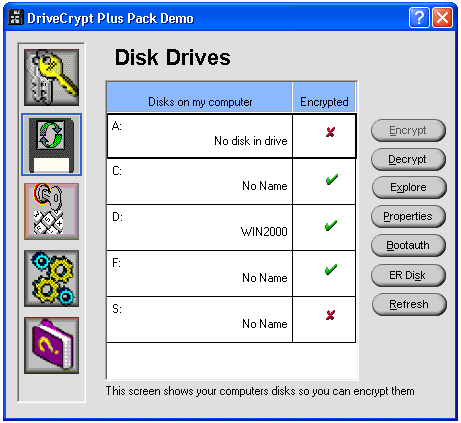 DriveCrypt Plus Pack (DCPP) is a Full disk encryption software which partially or fully encrypts your hard disk including the operating system, allowing pre-boot authentication. The User enters a password on computer start up, before the operating system boots up. DCPP is the fastest and most feature-rich real-time encryption system available. DCPP is the only software on the market able to hide the entire operating system inside another one.
Mehr…
jFileCrypt
Version: 0.3.0 | Freeware
With the easy-to-use application jFileCrypt you can encrypt your files fast and very secure with a password. It's written in Java 5 and runs under nearly every operating system. The encryption standards Blowfish, DES, 3DES, AES and RC4 are supported.
Mehr…
Office Password Remover
Version: 2.0 | Shareware (39,95 USD)
Office Password Remover allows you to remove an "open" password in MS Word and Excel documents. The search for a decryption key is done on the online document decryption server, while the actual decryption is executed on your computer. This technology provides maximum security to the owner of the document as the latter remains on the computer and is not sent anywhere. Password removal is accurate and done in about 15 seconds.
Mehr…
Dekart Private Disk
Version: 2.09 | Shareware (45,00 EUR)
Mit dieser Sicherheitssoftware schutzen Sie Ihre sensiblen Daten auf einem virtuellen Laufwerk Dank einer 256-bit AES Verschlusselung. Daten, die Sie auf diesem Laufwerk speichern, werden automatisch mit dem Verschl?sselung-Algorithmus versehen.
Mehr…
Folder Password Expert USB
Version: 2.1.0.6 | Shareware (39,95 USD)
Folder Password Expert USB is security software designed to protect your folders against unwanted access to their contents. You can install the program on your PC, laptop, flash drive, USB external or removable drives. You can also protect folders on your hard drive and then burn these protected folders to your CD or DVD. Download Folder Password Expert USB now.
Mehr…
MessageLock Email Encryption for Outlook
Version: 2.2.0.2200.1 | Shareware (69,99 USD)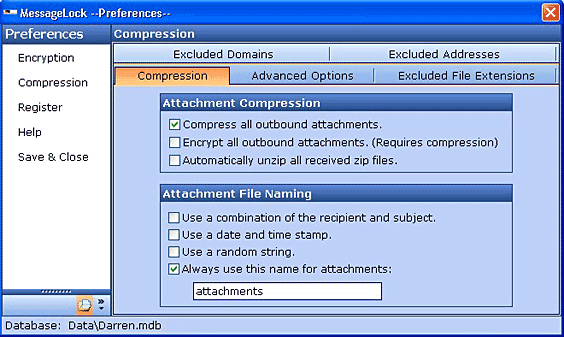 MessageLock adds email encryption and zip file compression to Microsoft Outlook. It combines strong U.S. Gov't approved AES-256 bit encryption with the near-universal compatibility of the Zip file format. MessageLock delivers email encryption and zip compression for your message and/or file attachments. With version 2.2, MessageLock now integrates with the Lockbin.com web service, allowing you to send secure messages to anyone. Download a trial
Mehr…
Crypt4Free
Version: 5.67 | Freeware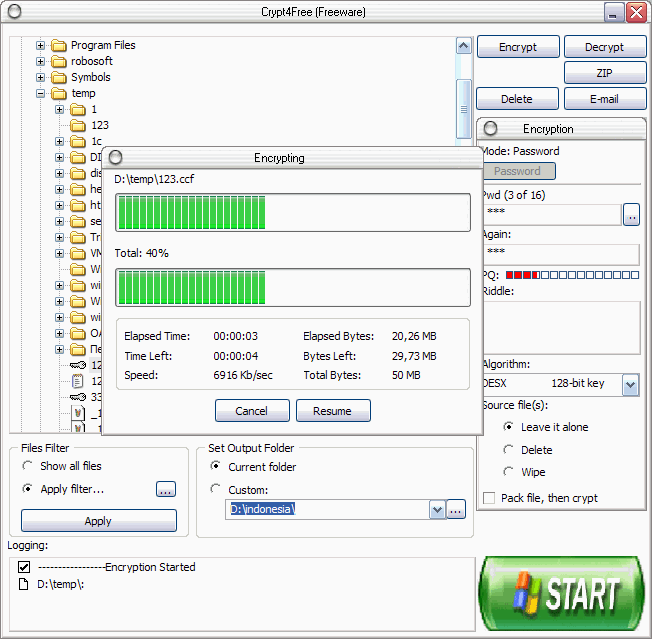 Crypt4Free (freeware) is files encryption software with ability to encrypt files and text messages. Support for ZIP files and ability to secure delete sensitive files. Skinnable user friendly interface.The latest version includes "Privacy Master" tool to erase all personal traces on computer.
Mehr…
PDF Encrypter
Version: 1.7 | Shareware (29,90 USD)
Do you want to encrypt your PDF documents? New PDF Encrypter is the thing you need. It is fast, money saving and most handy. PDF Encrypter allows you to set User Password as well as Owner Password. Be sure that no stranger can get access to your file. Besides, there is a wide range of user permissions. For example you can permit to copy and print the file but forbid to modify it.
Mehr…
Handy Safe for Sony Ericsson
Version: 4.0 | Shareware (23,45 EUR)
Handy Safe - Assistant for secure and convenient managing of sensitive data for Sony Ericsson P910 / P900 / P800 (Symbian UIQ)
Mehr…
Data File Repair 2.0
Version: 2.0 | Shareware (199,00 USD)
Password-Protected & Corrupt or Damaged File
Data Repair and Recovery Service
We can recover passwords from files of most formats. We can also recover damaged files of most formats. Please send us your file for a FREE evaluation by clicking here.
You do not pay if we cannot recover your password-protected or corrupt or damaged file.
Mehr…