Kategorie Sicherheit & Datenschutz / Verschlüsselungs-Tools
PDF Postman Email Encryption for Outlook
Version: 1.4 | Shareware (49,99 USD)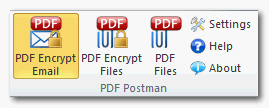 PDF Postman offers an easy way to send private emails with MS Outlook. Messages and files are placed in a PDF file then encrypted with strong AES-256 encryption. Since most recipients already have a PDF viewer, they only need to click on the encrypted pdf file and enter a password. Works across devices and platforms. No expensive or complex S/MIME certificates to install. Download a free trial of PDF Postman.
Mehr…
Cryptbox
Version: 2017.7m | Shareware (29,95 EUR)
Cryptbox 2017 verschlüsselt Dokumente und legt sie in virtuelle Datensafes, die im System wie normale Laufwerke aussehen. So sind Sie vor Datenklau gemeiner Cyberkrimineller geschützt. CryptBox ist innovativ und akzeptiert verschiedene Typen von Zugangspasswörtern für einen Safe. Ihre Dateien werden durch den AES-256-Bit-Algorithmus so stark gesichert, dass selbst Spezialfirmen sie nicht lesen können.
Mehr…
Atomic Outlook Password Recovery
Version: 2.0 | Shareware (40,00 EUR)
Die Popularität des Microsoft Office Outlook-Stoßes ist unbestreitbar. Was muss man machen, wenn die Parole vergessen ist?Atomic Outlook Password Recovery einsetzen. Schnelles Rückstellen der Outlook-Parolen 2003/2007. Die Unterstützung der beiden Parolentypen: für die Mailboxen Parolen und für die persönlichen Mappen (pst-Parolen). Die Unterstützung Microsoft Office Outlook 97/98/2000/XP/2003/2007. Rückstellen ist schneller als herstellen!
Mehr…
Abacre File Encryptor
Version: 1.0 | Shareware (29,99 USD)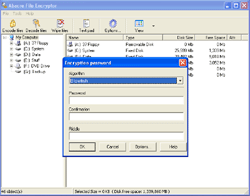 Abacre File Encryptor encrypts any files or folders by using 39 advanced encryption algorithms (CAST, Blowfish, Twofish, Rijndael and others). Files maybe encrypted into a single file or individually and compressed during encryption. Secure Password Generator suggests reliable passwords. Use Text Pad to encrypt any text and Wipe Files command to permanently remove files from computer. Rich set of command line parameters and shell integration
Mehr…
CovertMail
Version: 2.0.384 | Shareware (29,00 USD)
CovertMail for Outlook Express helps keep your emails private. It provides complete privacy of your message store, protecting it from anyone who may want to access your correspondence without authorization. CovertMail hides the identity you specify (it won't be visible through Outlook Express anymore) and encrypts message store. You can get yourself two identities, a usual one and a secret one - the latter totally hidden from anyone.
Mehr…
Lock Folder Lock File!
Version: 1.4 | Shareware (34,95 USD)
Mit Lock Folder Lock File! können Sie Ihre Dateien, Ordner oder sogar ganze Laufwerke vor unerlaubtem Zugriff schützen. Ihre Daten werden durch ein Passwort geschützt und unsichtbar gemacht. Das Programm ist einfach anzuwenden und bietet dennoch ein hohes Leistungsniveau und extra viel Sicherheit. Lock Folder Lock File! eignet sich auch für Laptops. Selbst wenn Ihr Computer gestohlen wird oder verloren geht, sind Ihre Daten immer noch geschützt.
Mehr…
ArchiCrypt USB-Protect
Version: 3.0.1 | Demo (24,95 EUR)
Schützt Daten auf USB-Sticks, externen Laufwerken und in Verzeichnissen auf Ihrem Rechner. Daten werden nicht nur hochsicher mit modernen Verfahren verschlüsselt, sondern auch vor neugierigen Blicken versteckt. Nur wer das Passwort kennt, kann den Schutz aufheben und zum Beispiel über ein virtuelles Laufwerk auf die Daten zugreifen. An allen aktuellen Windows Rechnern ohne Installation und selbst mit Gastrechten nutzbar.
Mehr…
Folder Protect
Version: 2.8 | Shareware (39,95 USD)
Do you have to share your computer with people who seem to nose into your business? Worry no more. Protect files and folders containing potentially damaging information against unwanted access. Install Folder Protect on your computer today, and you will never again have to worry about invasion of your privacy. Folder Protect is fully compatible with Windows 7, Vista, XP, NT, ME, and 98. Download Folder Protect now.
Mehr…
AWinware PDF Encryption Tool
Version: 1.0.1.4 | Shareware (13,96 EUR)
Download free PDF Encryption software; protect PDF content copying, printing, form filling, page extraction, commenting and editing using 40 Bit RC4 and 128 Bit AES encryption level. Set your own PDF open password (user password) and permission password (owner password). Disable PDF modification options, Try PDF security tool, prevent unauthorized access. Lock bulk pdf files instantly. Stop text copying. Disallow document signing.
Mehr…
Sofonica Folder Soldier Free
Version: 1.3 | Freeware
Sofonica Folder Soldier Free is the freeware which can protect your folders from unauthorized persons.It comes with password protection so that no one else could change its settings.It supports locking many folders in just a single click.It comes with uninstall guard which does not allow anybody else to uninstall the program until a valid password is put. The program is extremely easy to use.
Mehr…
SafeKuvert
Version: 1.0.2 | Shareware (29,00 USD)
SafeKuvert provides the user with the ability to encrypt, digitally sign, compress, and/or securely delete files from the hard disk. It uses the Public Key Infrastructure (PKI) built into Windows, standard X-509 certificates from any source including Active Directory, and support for AES, 3DES, DES, RC2, RC4 symmetrical encryption algorithms. The resulting encoded files are standard PKCS#7 messages saved in files with a ".pkcs7" extension.
Mehr…
Advanced FTP Password Recovery
Version: 1.1.180.2006 | Shareware (19,00 USD)
Advanced FTP Password Recovery is a program that will catch, sniff and show your forgotten FTP passwords. This FTP password finder is very easy to use and can recover saved passwords from all FTP clients including CuteFTP, WS_FTP, FileZilla, WinSCP, SmartFTP, FlashFXP, CoreFTP, FTP Commander and many others. We guarantee your FTP password recovery provided this password is saved in your FTP client.
Mehr…