Kategorie Sicherheit & Datenschutz / Verschlüsselungs-Tools
Folder Lock
Version: 6.3.0 | Shareware (24,95 EUR)
Folder Lock ist eine schnelle Verschlüsselungssoftware, mit der Ordner durch Passwörter geschützt, USB-Laufwerke gesichert sowie Dateien und CDs/DVDs gesperrt werden können. Zugriff auf den Safe erhalten Sie, wenn Sie den richtigen Code zur Dechiffrierung des 256Bit-AES-Verschlüsselungsalgorithmus eingeben. Die neueste Version des Programmes unterstützt auch die Erzeugung von Safes auf USB-Sticks.
Mehr…
MEO File Encryption for Mac
Version: 2.16 | Freeware
MEO is a powerful data encryption application to encrypt or decrypt files of any type, including Microsoft Word, email and PDF documents on Mac OS X. Encrypt or decrypt any type of files on Mac OS X with this efficient and easy to use data encryption tool. MEO uses the latest data encryption technologies to help you protect your sensitive data against un-authorized viewers. Know that your files are safe with this free data encryption software.
Mehr…
Password Cracker
Version: 4.20 | Freeware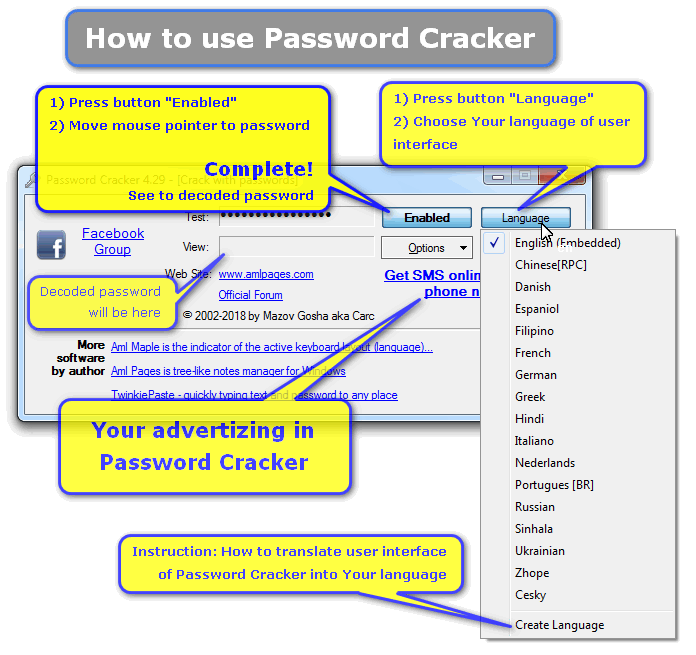 Tool zur Wiederherstellung vergessener Passwörter (auch im Internet Explorer)
Mehr…
Password Recovery for FileZilla
Version: 1.05.04.09 | Shareware (19,00 USD)
FileZilla Password Recovery is a program that instantly recovers and decrypts FTP account information including passwords for all FTP sites that have been added in FileZilla Client. Proxy server passwords are recovered (both Socks and FTP proxy). Admin password of FileZilla Server is also shown. All versions of FileZilla server and client are supported.
Mehr…
SafeHouse Explorer USB Disk Encryption
Version: 3.01 | Freeware
FREE SafeHouse Explorer provides total privacy and protection for your sensitive files and folders using passwords and strong 256-bit encryption. This software is amazingly simple to use and features a familiar Windows Explorer-like look and feel. Protecting files is as simple as dragging and dropping them into SafeHouse Explorer. Create any number of private storage vaults on any media including external drives, USB memory sticks and CD/DVDs.
Mehr…
Atomic VBA Password Recovery
Version: 3.1 | Shareware (30,00 EUR)
Stellen Sie vergessene VBA-Kennwörter von Dokumenten aus Microsoft Office 95 bis 2013 sofort und automatisch wieder her. Mit Atomic VBA Password Recovery ist die Wiedererlangung eines verlorenen VBA-Passworts eine Angelegenheit von Sekunden. Sie öffnen ganz einfach ein Dokument, das ein kennwortgeschütztes VBA-Projekt enthält, und Atomic VBA Password Recovery zeigt im selben Moment das originale VBA-Passwort an.
Mehr…
The Enigma Protector
Version: 4.40 | Demo (199,00 USD)
A professional system for licensing and protecting executable files for Windows. The Enigma Protector is an essential tool for every developer of commercial software and shareware for Windows. The Enigma Protector includes a wide range of unique features aimed at protecting executable files from illegal copying, hacking, modification, and analysis. The supported formats include almost all types of 32- and 64-bit executable files.
Mehr…
Password Recovery for Trillian
Version: 1.19.11.08 | Shareware (19,00 USD)
Password Recovery for Trillian is a tool that will instantly find all Trillian accounts on your computer, extract encrypted Trillian passwords and decode Trillian passwords that were discovered. All versions of Trillian are supported. Passwords are recovered from all profiles found on your PC. This program works when you're able to login automatically into the account without having to enter the password in Trillian.
Mehr…
Atomic Outlook Password Recovery
Version: 2.0 | Shareware (40,00 EUR)
Die Popularität des Microsoft Office Outlook-Stoßes ist unbestreitbar. Was muss man machen, wenn die Parole vergessen ist?Atomic Outlook Password Recovery einsetzen. Schnelles Rückstellen der Outlook-Parolen 2003/2007. Die Unterstützung der beiden Parolentypen: für die Mailboxen Parolen und für die persönlichen Mappen (pst-Parolen). Die Unterstützung Microsoft Office Outlook 97/98/2000/XP/2003/2007. Rückstellen ist schneller als herstellen!
Mehr…
Accent ACCESS Password Recovery
Version: 2.10 | Shareware (22,45 EUR)
If you lose or forget the password for MS Access, don't despair - you can use Accent ACCESS Password Recovery to recover the password faster than otherwise. The Accent ACCESS Password Recovery can recover the passwords in MS Access 95/97/2000. You simply open your password protected file and this program will find, show, and save the password. A2PR has a nice GUI; supports drag-n-drop function for opening files, and is a small download.
Mehr…
Internet History Eraser
Version: 8.01.01 | Shareware (19,00 USD)
Chily Internet Privacy Eraser software can be used to erase Internet history completely from your computer system. You can erase cookies, caches, recent documents, start menu run history, address bar URL's, application logs, network browsing, temporary files, start menu click history, printer stream history, desktop registry streams using Internet history eraser.
Mehr…
Password Recovery for MSN
Version: 1.08.01.10 | Shareware (19,00 USD)
Password Recovery for MSN is the MSN password finder that instantly cracks and decrypts the MSN Messenger, Windows Live Messenger and Windows Messenger passwords stored on your computer. It can be used to recover your forgotten MSN password. The program works when you're able to login with your messenger without entering your password. All versions of MSN Messenger and Windows Messenger are supported. Multiple accounts are supported.
Mehr…