Kategorie System Utilities / Backup & Wiederherstellung
Easy Backup for Outlook Express
Version: 2.374 | Shareware (34,00 USD)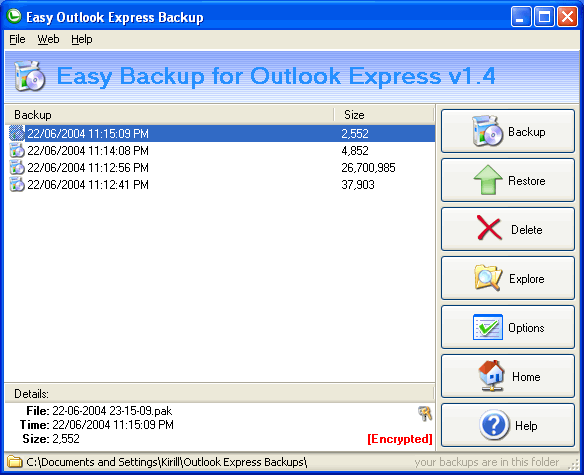 Mit Easy Backup for Outlook Express erstellen Sie Sicherheitskopien all Ihrer Daten und Einstellungen von Outlook Express. Die Shareware sichert Nutzerprofile, E-Mails, E-Mail-Regeln, Ihr Adressbuch, Listen blockierter Absender und Signaturen. Alle Informationen und Daten werden in verschlüsselten Dateien gespeichert, die anschließend auf CD gebrannt oder auf einem beliebigen anderen Datenträger aufbewahrt werden können...
Mehr…
12Ghosts Backup
Version: 9.70 | Shareware (12,99 USD)
Keeps every change of your documents, while you are working on them, at a save place or on a different disk. Automatically stores changed versions in an archive folder and applies a smart filter to keep versions of all ages. This stores more document versions in a more intelligent way than any other backup program. Simple to use interface: just add items to a list of files or folders (supports wildcards and subfolders, e.g. C:My Documents*.doc)
Mehr…
WMBackup - Backup für Windows Live Mail
Version: 4.1 | Shareware (15,00 EUR)
Sichern Sie Ihre E-Mails und Windows (Live) Mail-Einstellungen. Stellen Sie diese Daten im Notfall wieder her oder transferieren Sie die Daten auf einen anderen Computer. WMBackup ist eine Software zum Archivieren von E-Mails, Mailkonten, Kontakten, Kalendern, Filterregeln, Signaturen usw... in Windows Mail bzw. Windows Live Mail. Zusätzlich können Sie auch die Favoriten der Browser Internet Explorer, Firefox, Chrome, Opera und Vivaldi sichern.
Mehr…
GrandBackup Ultimate
Version: 1.2 | Shareware (65,95 EUR)
GrandBackup is an ideal tool for anyone who wants to secure their important data. It provides users with an intuitive interface for rapid creation of backup tasks. Tasks can be executed automatically on different events, such as folder contents change, detection of an external disk, and according to a schedule. Backups can be compressed, encrypted and password-protected for users' peace of mind. They can be saved on a local or networked machine.
Mehr…
O&O DiskImage
Version: 6.0 | Shareware (29,00 USD)
Beugen Sie Datenverlust einfach und sicher vor! Mit O&O DiskImage können Sie jederzeit Ihren ganzen Rechner, einzelne Laufwerke und Dateien im laufenden Betrieb sichern. Im Fall von Datenverlust stehen Ihnen Ihre gesicherten Daten mit wenigen Mausklicks schnell wieder zur Verfügung ? selbst wenn Windows nicht mehr startet! Alle Standard- und Profi-Funktionen sind in einem einzigen Produkt gebündelt.
Mehr…
CoolZipBackup
Version: 1.40 | Shareware (24,95 EUR)
CoolZipBackup ist ein Backup-Programm, das Ihre Dateien UND Registry Schl?ssel schnell, sicher und platzsparend sichert, komprimiert, und wenn Sie m?chten, verschl?sselt (PK2 und AES). CoolZipBackup hilft Ihnen bei der Vorauswahl der zu sichernden Dateien und Verzeichnisse. Diese Backup-Liste k?nnen Sie dann im Laufe der Zeit spielend einfach erweitern. Weiterhin k?nnen Sie z. B. Ihre Backup automatisieren oder veraltete automatisch l?schen.
Mehr…
GrandBackup Business
Version: 1.4 | Shareware (37,95 EUR)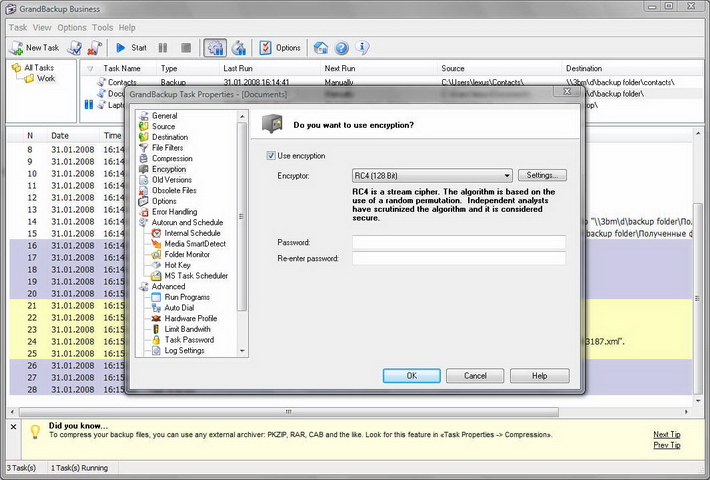 Automatically copy essential documents and other important files and folders to a reserve location on the same drive, another drive, or across the network. You set up Tasks that describe the source, destination, and the backup schedule. GrandBackup Business monitors the source files for changes or additions and then automatically copies the new or changed files to their designated destinations.
Mehr…
Insofta Document Backup
Version: 4.0 | Shareware (25,00 EUR)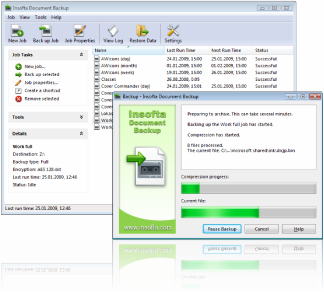 Einfach gute Backup-Anwendung... Es unterstützt einige Komprimierungsmodi und AES-Verschlüsselung zur maximaler Sicherung. Unterstützt Einzelschrittsicherung. Ein eingebauter Planer macht automatisch Sicherungskopien Ihrer Daten. Backup-Archive können auf der Festplatte, im lokalen Netzwerk oder auf einer CD, bzw. DVD gespeichert werden. Die Archive warden automatisch nach CD-Größe geteilt, wenn nötig.
Mehr…
Acritum One-click BackUp for WinRAR
Version: 3.01 | Freeware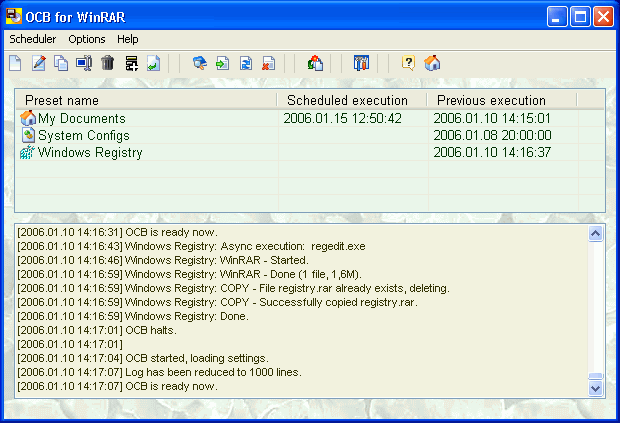 Das Tool One-click BackUp ermöglicht das Sichern von festgelegten Dateien und Ordnern mit einem Klick mit Hilfe von WinRAR. Dabei unterstützt die Software Backups auf Festplatte, USB-Laufwerken, Disketten und ZIP-Disketten, CD/DVD, SMTP und FTP Servers. Außerdem ist es möglich, Backups über das lokale Netzwerk oder Internet zu starten.
Mehr…
Remote Backup Magic Pro
Version: 3.5 | Shareware (24,95 USD)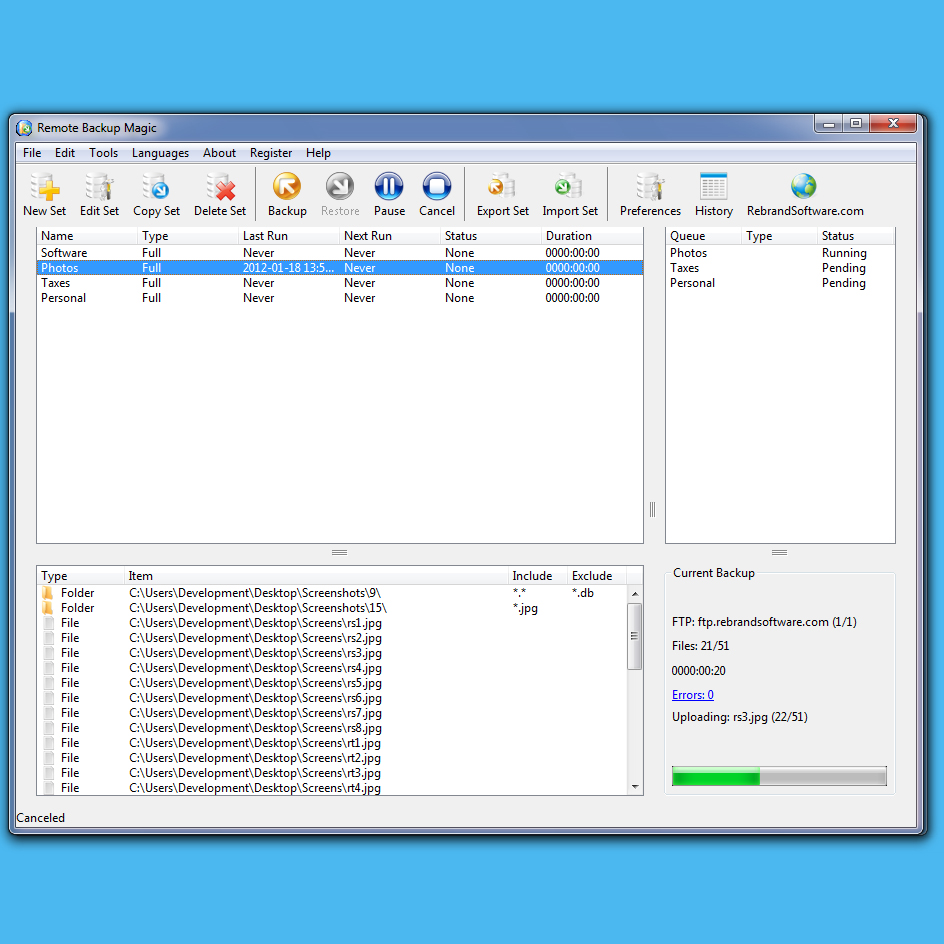 Hard drive crashes, virues and other data-erasing disasters can happen any time. Protect your data by backing it up to multiple locations: FTP, Email, LAN and Local folders.
Mehr…
The Undelete
Version: 6.43 | Shareware (39,95 USD)
The Undelete recovers lost files and undeletes documents with a step-by-step wizard. Files can be easily recovered even from crashed hard drives or corrupted partitions completely automatically. NTFS, exFAT, FAT12/16/32, HFS, HFS+, Ext2, Ext3, Ext4, Reiser4, UFS drives are supported. The Undelete Smart Scan locates and recovers documents, digital pictures and archives before anything else, ensuring that your most valuable data is rescued first.
Mehr…
Recovery for Photoshop
Version: 1.1.0902 | Demo (149,00 USD)
Recovery for Photoshop is a powerful data recovery software for damaged Adobe Photoshop image files (.PSD,.PDD). Recovered layers are saved in Windows Bitmap format (.BMP). Original dimensions and color depth are recovered for each layer, as well as color palette. Easy-to-use tool, no special user skills required.
Mehr…