Kategorie Grafik / Konverter & Optimierer
Guck mal
Version: 15.0 | Shareware (12,95 EUR)
Guck mal stellt eine breite Palette von Funktionen rund ums digitale Bild bereit. Dabei verhilft die unkomplizierte Bedienung schnell zu professionellen Ergebnissen.
Mehr…
DXF R12 CNC Polyline Reducer
Version: 1.2 | Demo (149,00 USD)
2D CAD/CNC Tool zur schnellen Umwandlung von Polylinien in Kreisbögen oder längere Linien, des weiteren Glättung erzeugter Kurvenkonturen. Durch diese Funktionen wird die Anzahl der Grafikelemente stark reduziert, die Konturqualität verbessert. Ermöglicht die Bearbeitung von Grafiken und Zeichnungen mit hunderttausenden von Linien. Die Software enthält weiterhin viele grafische Kontrollmöglichkeiten zur Analyse der erzeugten Konturen.
Mehr…
Spherical Panorama Fisheye Stitcher
Version: 5.05 | Shareware (49,00 EUR)
Spherical Panorama 3/2-Fisheye Stitcher, creates a spherical panoramas.
Spherical Panorama 3/2-Fisheye Stitcher's important features are :
- Automatic and manual image correction. Tiff and Jpeg Fisheye Input format.
- Jpeg and BMP output spherical panorama format.
- Spherical panorama converter for creation of a logo.
- Internal 360 spherical panorama viewer.
Universal support of standard and custom user's equipment, for any rotators and tripods.
Mehr…
Free Online PDF to DWG Converter
Version: 10 | Freeware
Kostenloser Online-Konverter, der erlaubt, PDF in editierbaren DWG-Dateien umzuwandeln. Außerdem können Sie den Text nach der Umwandlung verändern und dieses Feature ermöglicht einfachere Arbeit mit der erhaltenen Datei. Dank der Ebenheit der Bogenobjekte wird die maximale Identität der Zeichnungsobjekte erreicht. Erfordert keine CAD-Anwendungsinstallation!
Mehr…
Total Watermark Professional
Version: 1.6.753 | Shareware (29,95 USD)
The best way to protect your digital photos is by watermarking them, i.e. placing a faint logo or text superimposed over the top of the photo. Posting a copyright message or corporate logo on your proprietary photos cools down folks' desire to copy and use the photos without permission. Photo watermarking is pretty easy, as long as you have the right software. Also, you can upload images to a website or most popular social networks.
Mehr…
Bulk Images to Pdf Maker
Version: 1.0.1.3 | Shareware (13,85 EUR)
Convert all your scanned tiff images into pdf files using our image to pdf maker software. Conversion tool creates pdf from scanned tiff, support multi-frame tiff documents, make pdf form jpg, bmp, png, ico, tiff, PCX, DCX, EMF, WMF, gif. Program can create single pdf file containing all images as well as can create individual pdf for each input image.
Mehr…
AWinware Image to Pdf Creator 4
Version: 1.0.1.4 | Shareware (17,29 EUR)
AWinware Image to Pdf maker version 4 is advanced and easy to use desktop utility quickly converts JPEG, PNG, BMP, TIFF, GIF, TGA, PCX, DCX, EMF, WMF, TIFF image formats into Adobe Acrobat pdf documents. Tool supports conversion of multipage tiff files too. It draws each frame of tiff on a new page of pdf. If you wish to secure converted pdf, it has inbuilt option to apply security password on pdf.
Mehr…
Vextractor Lite
Version: 1.30 | Shareware (49,95 USD)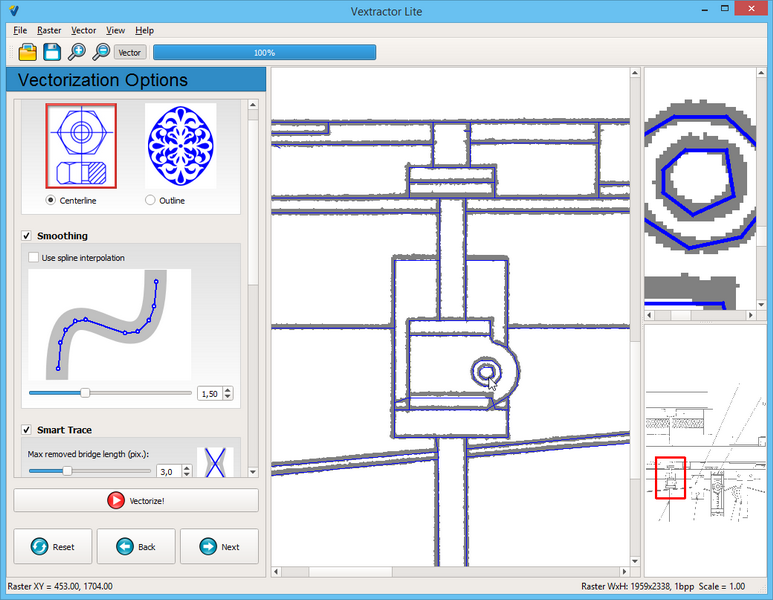 Vextractor Lite is an auto-tracing program for converting raster images to vector formats by building centerlines and outlines. This tool could be used for the tracing photo, logotypes and other line art images for use in Vector Graphics Design software. You can also vectorize charts, drawings, maps and schemes for input to CAD or GIS systems. Supported vector formats: DXF.
Mehr…
Q2ID
Version: 2017 | Demo (199,00 USD)
Q2ID ist ein InDesign-Plugin, um Quarkxpress-Dokumente in Adobe InDesign schnell konvertieren. Nicht mehr neu zu erstellen, Dokumente aus dem Nichts. Q2ID gibt Ihnen einen großen Vorsprung auf Quarkxpress auf InDesign Datenkonvertierung. Unsere Q2ID Bundle Abonnement haben Sie Zugriff auf alle aktuellen Q2ID Plugin-Versionen. Sie haben Zugang zu Q2ID haben für InDesign CC, CS6, CS5.5 und CS5 Mac und Windows mit einem einzigen Lizenz.
Mehr…
ID2Q
Version: PerpetualBundle | Demo (199,00 USD)
ID2Q bietet eine schnelle, einfache und kostengünstige Methode für Sie, Ihre Dateien aus Adobe InDesign zu Quarkxpress zu konvertieren. Einmal in Quarkxpress sind Anwender nun in einem flexiblen und vertrauten Umgebung, so dass für viel einfachere Bearbeitung. ID2Q (Adobe InDesign zu Quarkxpress) ist eine XTension für Quark. Das Quarkxpress XTension bietet dem Anwender eine schnelle und einfache Möglichkeit, Adobe InDesign-Inhalte in einem neuen
Mehr…
Tiff Split n Merge
Version: 1.3 | Shareware (24,00 USD)
Axommsoft tiff split n merge tool is easy to use and GUI based software, joins multiple tif into one, deletes pages which are blank or un-useful, extract a range of pages from tiff doc like 5, 9, 29, ? etc. Download & tryout trial version, it displays watermark on output however full registered version has no limitation. Tool can be used to manipulate multiple tiff files in a single batch process.
Mehr…
Convert a JPEG to Pdf
Version: 1.0.1.4 | Shareware (17,29 EUR)
An efficient Windows utility which lets user to convert image files into pdf document. Tool support conversion of photos having extension like *.jpg, *.png, *.gif, *.bmp, *.tiff, *.emf, *.wmf & *.tga etc. It has ability to create multipage pdf of more than one image. Users are provided with option to import more than one image file to enlist in program list grid before starting conversion.
Mehr…