Kategorie Grafik / Konverter & Optimierer
Tiff Pdf Cleaner
Version: 1.5 | Shareware (59,90 USD)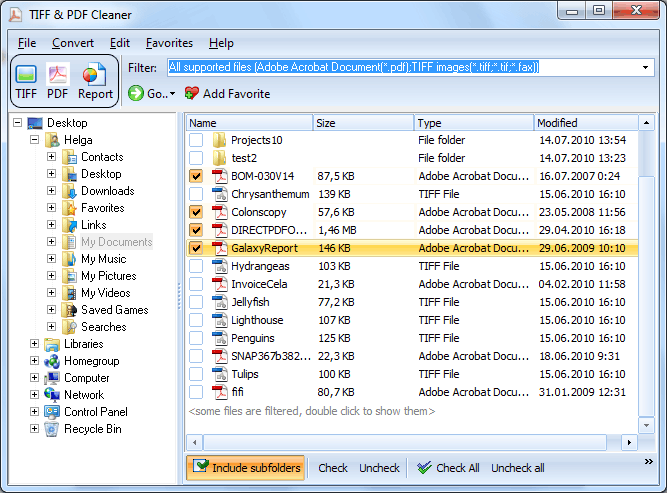 Tiff Pdf Cleaner detects and deletes blank pages in TIFF and PDF files. It works fully automatically and can process files recursively (sub-directories as well as directories). You just select the folders with your files and in few minutes get the same folders without a single blank page! The tool keeps folder structure in the output location. All that is done in few clicks due to well-thought interface. Download now and give it a try.
Mehr…
Tiff Teller
Version: 2.2 | Shareware (27,50 USD)
Tiff Teller provides you with all the info about your TIFF and PDF files. It will show you page count, width, height, file type, file path, size of your files. You choose the fields to be displayed. The detailed report can be printed or exported to xls, doc, txt, csv, html, xml, pdf, ods and other formats. Each file can be previewed right inside the program. Run TIFF Teller via user interface or command line. Download your free trial version now.
Mehr…
TotalVectorize
Version: 1.1 | Shareware (39,90 USD)
This useful handy utility helps you to convert images to WMF or SVG. There are two ways of workig: it can either rasterize one image or a batch of them. All this made by one click. Transparent interface and high efficiency will make you enjoy the process of converting. Also, Total Vectorize may be run from the command line allowing for use in batch files or can be launched from within other programs.
Mehr…
FILEminimizer Pictures
Version: 3.0 | Shareware
FILEminimizer Pictures verkleinert die Dateigröße Deiner Bilder und Fotos um bis zu 98% dank balesio's innovativen nativen Dateioptimierungs-Technologie. Im Gegensatz zur Zip-Komprimierung wird das Format beibehalten, eine Dekomprimierung (?Entzippen?) ist damit überflüssig. Die optimierten Bilder und Fotos sind um ein vielfaches kleiner und perfekt für den Versand via Email. Spare jetzt eine Menge Zeit mit der neuen Facebook®-Integration.
Mehr…
Ivan Image Converter
Version: 4.0 | Shareware (69,95 EUR)
Winner of 7 awards and acclaimed in publications worldwide, Ivan Image Converter is the perfect solution for instant batch processing of all your images. The most comprehensive program of its kind on the market today, it reads over 170 file types and converts to a choice of 44. With full photo editing capabilities, simple interface, Command Line support and more, it is a powerful and inexpensive way to make image processing hassle-free.
Mehr…
Rotate Multiple Images Software
Version: 7.0 | Shareware (19,99 USD)
This software offers a solution to users who want to batch rotate multiple images. The user can add files or an entire folder. The rotate options are 90, 180 or 270 degrees and the rotation can be clockwise or counterclockwise. With one click on the Start button, a very large number of images can be rotated identically.
Mehr…
JPG To SWF Converter Software
Version: 7.0 | Shareware (19,99 USD)
This software offers a solution to users who want to convert multiple JPGs to SWFs. Simply add files to queue individually, by folder, or by drag-and drop. Use this software to create slideshows with a custom delay between each slide or to create a single SWF per image file. This software saves you time by batch-converting your data into the popular SWF format.
Mehr…
Text To Image Converter Software
Version: 7.0 | Shareware (19,99 USD)
This software offers a solution to users who want to convert one or more text files into images. The user chooses the file/s or an entire folder to be processed and chooses: foreground color, background color and font. The user enters the number of text lines to include in each image before starting the conversion. The software has an alternative option for typing in the text manually.
Mehr…
reaConverter Pro
Version: 7.3.02 | Shareware (99,99 USD)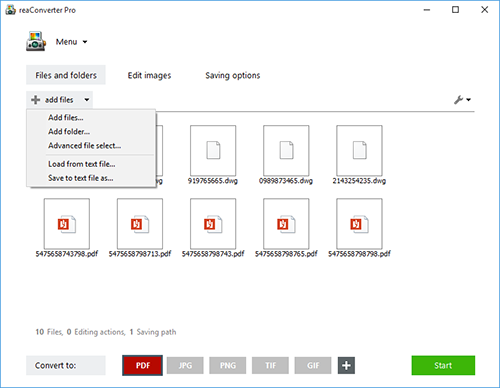 ReaConverter ist eine professionelle Anwendung fur grafische Dateien, Fotos, Zeichnungen und anderen Grafiken jedes beliebigen Types. Damit konnen die Nutzer Bilder in die verschiedenen Formate konvertieren, sowohl diese nach ihren Wunschen bearbeiten. Dank der Einfachheit der Software wird es selbst fur die unerfahrenen Nutzer einfach sein, professionelle Grafiken zu erstellen.
Mehr…
PDF Printer for Windows 7
Version: 1.01 | Shareware (69,00 USD)
With PDF Printer, converting any document to PDF is completely simple. You just have to print the document and that's that. PDF Printer includes a virtual print driver that simply does all the work for you. Features: Convert e-mail to Adobe PDF files, Achieve web pages as Adobe PDF files, Optimize Adobe PDF output, Quickly regenerate a PDF file, Embed fonts of your choose, Apply passwords and assign permissions, Remove sensitive and hidden data.
Mehr…
Photo To Cartoon Image Converter Software
Version: 7.0 | Shareware (19,99 USD)
This software offers a solution for users who want to create cartoons from picture files. The user simply adds files or an entire folder before starting the conversion. If system performance is slow, a window will pop up offering options for changing the Windows color scheme. The application displays the original image and the resulting cartoon in the next window.
Mehr…
BatchScanPlus
Version: 2.04 | Shareware (39,00 USD)
Batch scanning of books or series of documents for delivery as PDF files. It treats the series of pages as a set and allows page splitting, cleaning, trimming, straightening and more. The book gutter and page borders black area in scans as well the image noise can be eliminated easily. Simple OCR, sophisticated PDF generation and image conversion features are included as well. Supports TWAIN and WIA scanners.
Mehr…