Kategorie Grafik / Konverter & Optimierer
Any DWG to DXF Converter
Version: 2010 | Shareware (75,00 USD)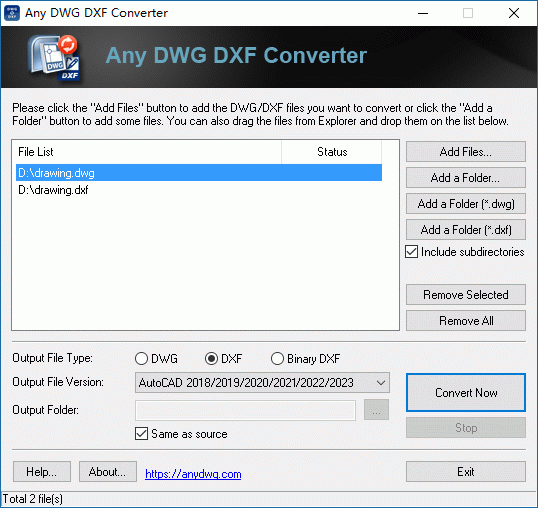 Any DWG DXF Converter is a batch DWG and DXF bi-directional converter that allows you to convert DWG to DXF, DXF to DWG without the need of AutoCAD. It allows you to choose the AutoCAD version of the output DWG and DXF file.
Key Features:
1. AutoCAD NOT required.
2. Convert DWG to DXF, and DXF to DWG in batches.
3. It is also a DWG/DXF file version converter.
4. Supports R2.5 to 2005 DWG/DXF files.
5. Very easy to use.
Mehr…
Watermark Factory - advanced watermark creator
Version: 2.58 | Shareware (49,00 USD)
Watermark Factory allows you to add text or image watermark to any picture. Protect your copyrights or simply add comments to any picture. This useful program has beautiful and easy to use interface. You will be able to process thousands of files in a few seconds. Watermark Factory - the Swiss Army knife of watermark creation!
Mehr…
JLSoft Picture Resizer
Version: 2.3 | Freeware (10,00 EUR)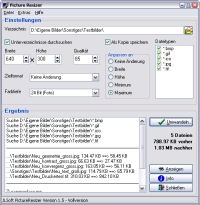 JLSoft Picture Resizer ist ein Tool, um mehrere Bild-Dateien (*.jpg, *.gif, *.tif, *.bmp, *.ico, *.png, etc) in eine andere Auflösung oder ein anderes Format zu konvertieren. Dies ist besonders für Benutzer einer Digitalkamera sinnvoll, um die Bilder bestmöglich zu archivieren. Zusätzlich sind weitere Funktionen, wie das automatische Drehen oder Einfügen von Copyright-Texten möglich.
Mehr…
CoffeeCup PixConverter
Version: 4.0 | Shareware
Convert all your digital photos for use with Flickr or on your Website, sending in e-mail, posting on auction sites, and lots more. CoffeeCup PixConverter is the easy way to batch convert your digital photos for all your online needs. Add photos one by one or convert an entire folder! You can watermark your photos with text and graphics, and there's even a snazzy thumbnail maker built in to create Web photo albums in a snap!
Mehr…
TiffSplitter
Version: 2.0 | Shareware (39,50 USD)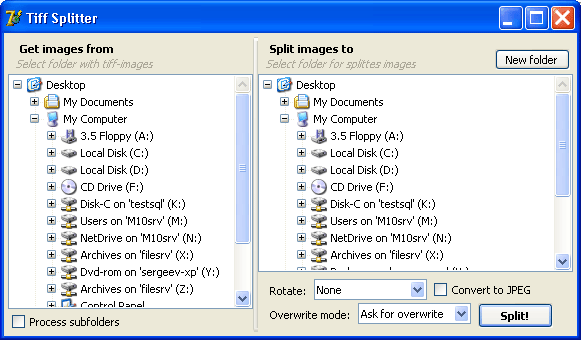 A new most handy program that splits multi-page TIFF files into separate images. TIFF Splitter is easy-to-use and has transparent interface. TIFF Splitter has two 2 ways of handling: you may either use the command line or user interface. Select the folder where you have your tiff files and the directory you want to place output files and press the button "Split". TIFF Splitter will do the rest for you!
Mehr…
ReaJPEG Pro
Version: 4.5 | Shareware (29,95 USD)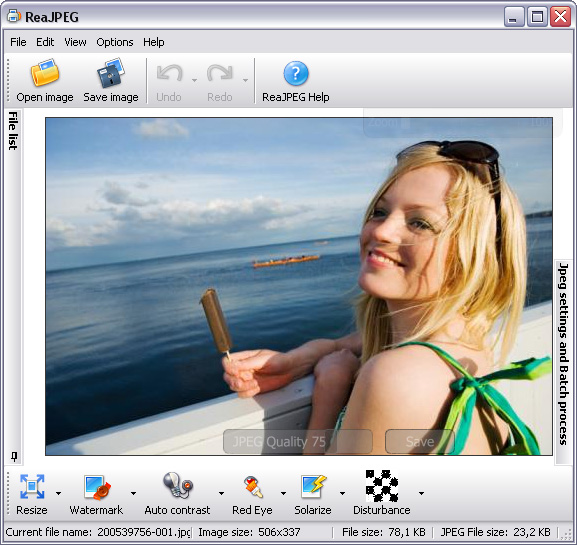 Gut gefiel Batch Picture Editor und CRW / NEF / ARW ??/ RAW-Konverter bietet beliebte Foto-Bearbeitungs-Funktionen, einschließlich Resize Pictures, Zuschneiden, Drehen, Spiegeln, Ändern von Helligkeit, Kontrast, Grenze usw. Verbesserung Fotobearbeitung ist heutzutage ohne den Optionen unmöglich Hinzufügen von Wasserzeichen, rote-Augen-Korrektur und ein Dutzend abwechslungsreiche künstlerische Effekte.
Mehr…
PDF Ripper
Version: 2.06 | Shareware (29,00 EUR)
PDF Ripper extracts image, text, chart, formula, vector drawings from Adobe PDF files, and convert PDF to Word, PDF to DOC, PDF to RTF, PDF to HTML, PDF to Text with a minimum loss of information while preserving the layout and graphics. Batch extraction and conversion are supported. PDF Ripper supports all PDF standards from PDF 1.0 to PDF 2.0, and it does not requires Adobe Acrobat or Microsoft Word, since it is standalone and royalty-free.
Mehr…
Easy Graphics File Converter
Version: 10.00 | Shareware
Zur Konvertierung zwischen BMP, GIF, JPG und BMP Graphikdateien. Das Programm arbeitet in zwei Operationsweisen: (i) Eine einzelne Datei kann mit einer einzigen Anweisung in alle anderen Formate umgewandelt werden (Ausnahme GIF). (ii) Im Batchmodus kann eine beliebige Anzahl von Dateien in einem Ordner aus einem in ein anderes Format umgewandelt werden (Ausnahme GIF).
Mehr…
Jpeg Enhancer
Version: 1.8 | Freeware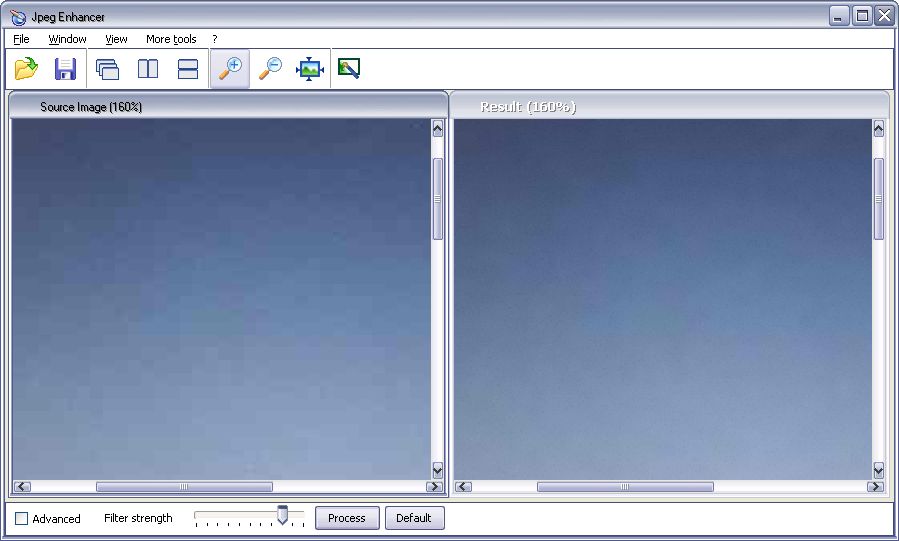 Jpeg Enhancer is an advanced application that lets you remove JPEG artifacts and blotchy look from JPEG images, making them look as if saved with a 100% (super-fine) quality. It is based on advanced science-intensive technology. If you are a home user it will help you improve your digital photo quality. It is also a must-have for publishers, design studios and web pros to help repair over-compressed images supplied by their clients.
Mehr…
Virtual PDF Printer
Version: 3.0 | Shareware (63,00 EUR)
Virtual PDF Printer serves as a real printer to convert anything printable to PDF. The printer is a high quality PDF generator with high printing resolution, PDF document information creation, PDF content encryption with passwords protection, PDF access control, PDF scaling, PDF version and compatibility control, font embedding options and more. Virtual PDF Printer is an affordable, effective solution offering dynamic generation of PDF documents.
Mehr…
Algolab Raster to Vector Conversion Toolkit
Version: 2.97.72 | Shareware (99,00 USD)
Vectorizer für CAD/CAM/GIS Fachmänner, Entwerferen und Illustratoren. Vorhanden auch als Algolab Raster to Vector SDK, ActiveX ? Com. Component. Setzt um und rafiniert architektonische, mechanische, Zeichnungen, Karten, Graphik für Bücher und mehr von Raster bis Vektoren. Digitalisiert Mathegraphik. Rafiniert Vektor-Graphik, erschafft feine Linien und Formen. Ausgangformaten sind DXF (AutoCAD), AI (Adobe Illustrator), EMF, WMF and ASCII XY (Excel
Mehr…
Able Graphic Manager
Version: 2.7.10.10 | Shareware (34,95 EUR)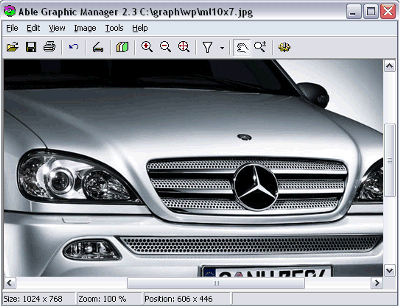 Able Graphic Manager is a program that enables you to easily view, acquire, print and convert graphic files in normal (file by file), batch (many files at a time) and command line modes. Input formats: Drawing Interchange Format (DXF), TIF, TIFF, JPG, JPEG, JPE, JP2, J2K, JPC, PCX, BMP, DIB, RLE, PNG, WMF, EMF, TGA, TARGA, VDA, ICB, VST, PIX, PXM, PPM, PGM, PBM, ICO, CUR. Output formats: JPG, TIF, PCX, PNG, BMP, TGA, GIF, WMF, PXM, PPM, PGM, PBM.
Mehr…