Kategorie Netzwerk & Internet / Browser
Visual Explorer
Version: 3.2 | Freeware
Visual Explorer is the ultimate, full featured web browser with support for Internet Explorer favorites and add-ons. Easily remove private data, surf securely with the safety (phishing) filter, perform instant Google searches with a single click, print web pages exactly how they appear on screen and block unwanted ads and pop-ups. Customize with themes, skins and keyboard shortcuts.
Mehr…
Tube Explorer Lite
Version: 3.0.0 | Freeware
Tube Explorer Lite is a tool to help you browse, watch, search and download videos from YouTube, Yahoo! Video, Google Video. With the built-in pagination video browser, you can quickly and efficiently browsing videos from different web sites. You can batch download multiple videos to your computer by just a click, full support RTMP protocal, is the first program that can download any video from video.yahoo.com.
Mehr…
Jobjob.org Job Sarch Toolbar
Version: 1.2 | Freeware
Find your dream job. The Jobjob.org Job Toolbar allows you to see jobs from multiple sources, all in one place. The Jobjob.org Toolbar also includes RSS Feeds for up-to-the-minute job listings and Podcasts for Career advice/Job Tips.
Mehr…
VIWeb
Version: 2.0 | Demo (9,00 EUR)
- you can open and hold a lot of Internet Sites together;
- you can select a texts from any Internet Pages and save it to a realy MS Access Database as your Notes;
- every Note has a Date, Theme, Internet-address, Comment and Text fields;
- you can find all Notes in the Database by a part of phrase.
- you can add a "Theme" for every Note and than group the Notes by that Theme;
Mehr…
Forum Promotion Suite
Version: 2.3 | Shareware (19,95 USD)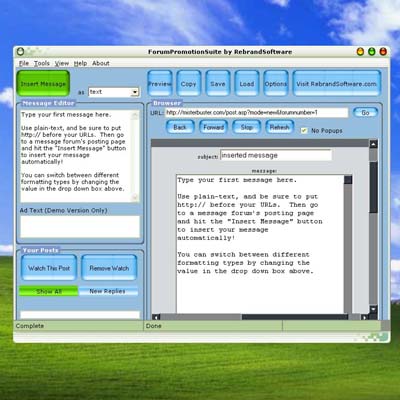 Help promote your website, product or service through messageboards. Automatically insert your messages into messageboard posting forms, formatted in any of several different message board posting formats. Even track your posts for new replies!
Mehr…
Link Commander Lite
Version: 4.6.4.1158 | Shareware (25,00 EUR)
Erstellen Sie Ihre eigene Browser unabhängige Link Zusammenstellungen mit Spaß! Quälen Sie sich nicht mit öden Link Beschreibungen! Erhalten Sie sie direkt aus den Ursprungs-Web-Seiten! Finden Sie schneller den je gesuchte Links dank dem flexiblen Sortierungssystem und gestuften Suchoptionen! Vereinfachen Sie das Einfügen neuer Links, mit dem Echtzeit-Monitoring der Webseiten und der Internet Adressen! Genießen Sie die Arbeit mit Link Commander!
Mehr…
Source Code Browser
Version: 2.1 | Shareware (14,95 USD)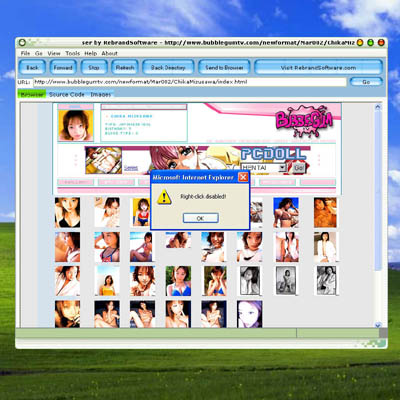 Don't you hate those webpages that try to prevent you from viewing their source code or saving images by disabling Right-Click? Now you can view the source of any webpage, as well as save any image from a webpage, using this source browser software!
Mehr…
SurfOffline
Version: 2.2.0 | Shareware (39,95 USD)
SurfOffline is a convenient offline browser with easy-to-use interface and navigation. Capable of downloading up to 100 files simultaneously, this application can save a website to your hard drive completely or partially in just minutes. Another important feature is a wizard like interface that enables the users to quickly set up downloading rules. Importantly, the program supports HTTP, HTTPS, FTP, proxy servers, CSS, Flash and JavaScript.
Mehr…
Online News Screensaver
Version: 1.50 | Shareware (14,95 USD)
Dieser informative Schoner holt Ihnen News und Wettervorhersagen direkt auf den Screen. Wählen Sie zuvor bei der Installation aus, welche Themen Sie interessieren (Entertainment, Gesundheit, Wirtschaft, Sport und vieles mehr!) und schon werden Sie in Ihren Arbeitspausen mit interessanten Neuigkeiten versorgt. Es muss einen Verbindung zum Internet bestehen!
Mehr…
AdBeGone
Version: 1.2.0 | Shareware (19,99 USD)
Eliminates annoying pop-up advertising from opening up on your computer as you surf the Internet. It integrates directly into Internet Explorer, and works in the background... increasing your productivity, and easing your frustration. Adbegone is full-featured with everything you would want from a pop-up blocker, while making sure it never gets in your way.
Mehr…
Abolimba Multibrowser
Version: 6.01 | Freeware
Abolimba Multibrowser ist ein leistungsfähiger Webbrowser, der beliebig viele Internetseiten innerhalb einer einzigen Anwendung darstellt. Die Seiten werden in Abolimba jeweils auf eigenen Browserseiten angeordnet, was ein komfortables und übersichtliches Surfen erlaubt. Gegenüber den üblichen Webbrowsern bietet der Browser zahlreiche Zusatzfuntionen (z.B. Favoritengruppen, Popup- & Werbe-Blocker, URL-Kürzel, Passwortverwaltung, Anonym Surfen..)
Mehr…
BriskBard
Version: 1.4.2 | Freeware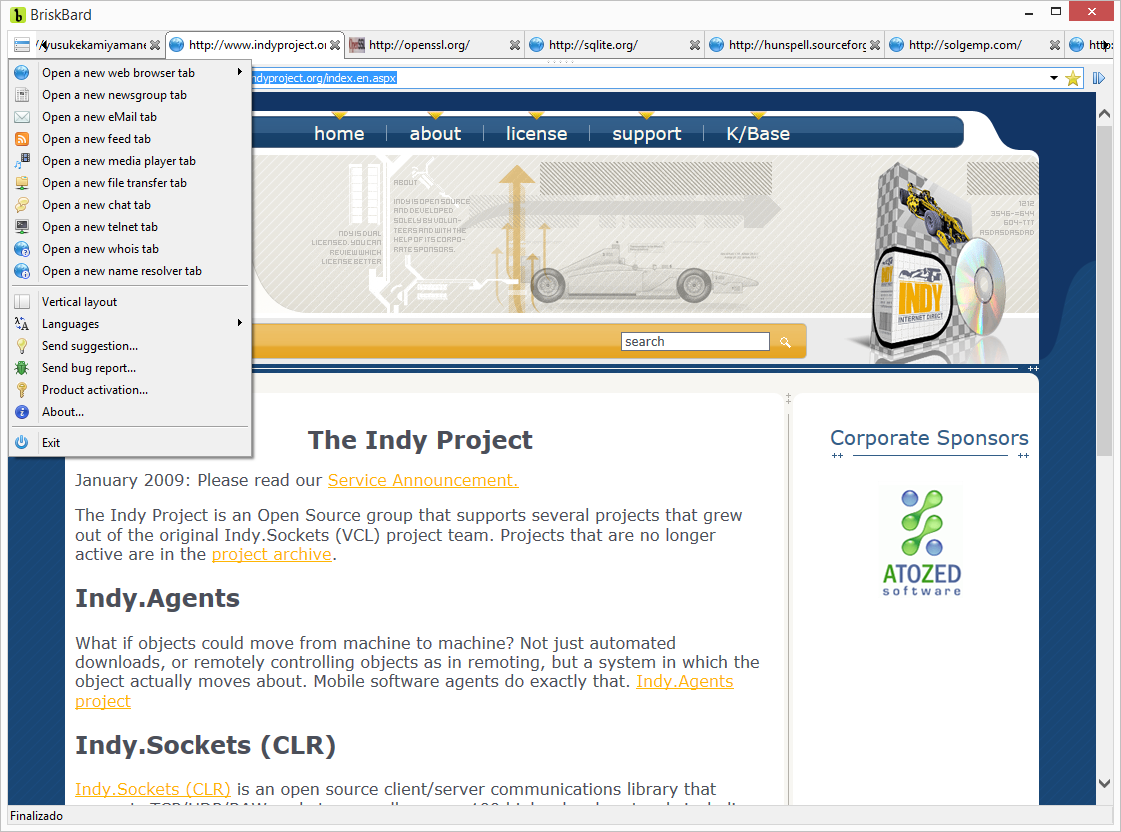 BriskBard is the new web browser for Windows program that simplifies many of the most common tasks in Internet integrating in one program a web browser, an email client, a media player, a news aggregator, a file transfer client, a newsgroups reader, a contact manager, instant messaging, and several web developer tools.
Mehr…