Kategorie Büro / Investment Tools
Fibonacci Lines Analyzer
Version: 2.0 | Shareware (39,00 USD)
Fibonacci Lines Analyzer is a powerful application designed to show the Fibonacci retracement, expansion levels, arcs, spiral, ellipses, time zones, Fibonacci fan, channel, grid, spiral with one point, super Andrews pitchforks, the star of David 1, the star of David 2, Speed Resistance Lines, Gann fan, Gann fan with arcs and Gann square of nine lines (pivot price and time) presenting the result in graphical form.
Mehr…
Options Lexis
Version: 2.0 | Freeware
Options Lexis is an easy to use, yet extremely powerful award winning options trading learning tool that will guarantee that you completely and confidently learn the language of options trading. With Options Lexis you learn all options terms found in an options glossary or options dictionary.
Mehr…
Pairtrade Finder
Version: 2.50727 | Shareware (497,00 USD)
Pairtrade Finder is proprietary stock trading system software used by hedge funds, fund managers and professional traders with buy and sell signals specializing in the highly profitable style of pairs trading. With free data to analyze over 100,000 stocks from stock exchanges all around the world including NYSE, NASDAQ, AMEX, LSE, TSE and ASX you will never be short of unique trading opportunities.
Mehr…
Stock Volatility Calculator
Version: 1 | Freeware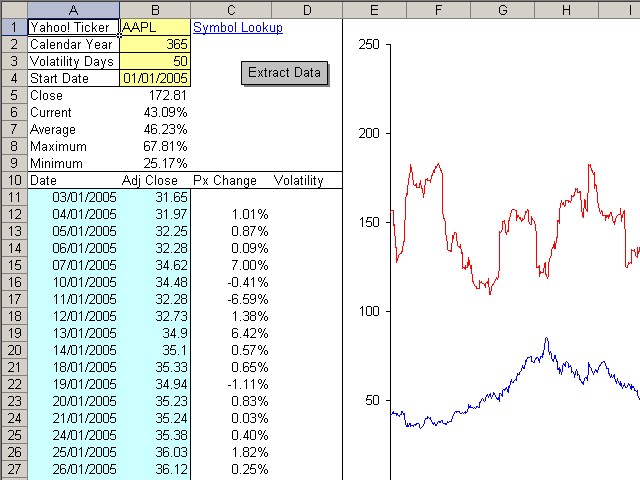 This is a free spreadsheet that downloads free historical stock data from the Yahoo database and calculates the historical (realized) volatility of the selected stock. The standard deviation of prices are plotted along side the stock price chart. The user can freely change the stock used by entering the ticker symbol into the appropriate field and perform a fresh download.
Mehr…
Meta Trader Account Copier
Version: 1 | Freeware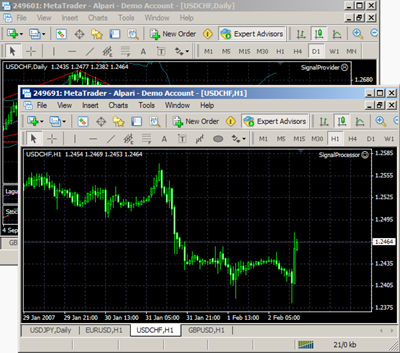 The purpose of this software is to help traders, who use Meta Trader 4 trading terminal, in their routine work with trading signals. Some traders, who can not trade successfully by themselves, prefer to copy trades of professional traders. Some successful traders would like to increase their profit by selling trading signals. But it is very hard task to process those signals manually.
Mehr…
ProTrader .Net Station
Version: 21.12.2007 | Freeware
ProTrader professional trading platform (PFSOFT) - combines market-making and order routing(STP) in a single platform, suitable for security types such as Forex, Options, Futures and Stocks.
Mehr…
Forex Tester
Version: 2.8.4 | Shareware (199,00 USD)
Test waters in the competitive Forex trading. Learn how to perform basic currency trading and master advanced strategies without spending a dime! Forex Tester 2.0 simulates Forex environment, supplying the trader with real data on currency values and exchange rates and making forex training and education much easier and faster.
Mehr…
Trading Strategy Tester for FOREX
Version: 1.803 | Shareware (99,00 USD)
Trading Strategy Tester for FOREX is a software simulator of Foreign Exchange Market - FOREX. It is an excellent instrument for studying trading in a fast and convenient way, to gain and improve trading skills without risking real money. Saving your time, taking away the necessity to wait hours and even days in real-time conditions for situation to turn out, it will open your eyes on market behaviour.
Mehr…
Option Trading Workbook
Version: 2.1 | Freeware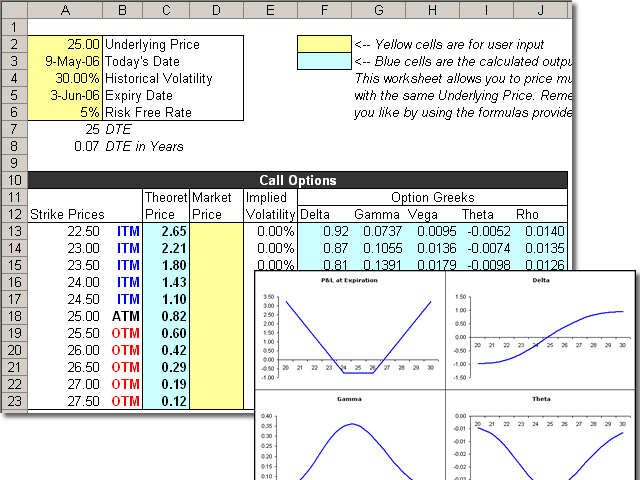 Option pricing spreadsheet that calculates the theoretical price and all of the Option Greeks for European Call and Put options. The spreadsheet also allows the user to enter up to 10 option legs for option strategy combination pricing. The calculations are made in Visual Basic and all of the code used is fully disclosed in the Visual Basic editor for user intervention.
Mehr…
TrendMedium Add-On for MetaStock
Version: 2.75 | Shareware (299,00 USD)
TrendMedium is a trading system for stocks and Forex which works as an add-on for Equis MetaStock. The system is based on revolutionary genetic algorithm to create "open ephemeral models" that describes the current stock movements and performances. Walk Forward Test helps to find the best performing models and strategies that will work the same way in real life. The generated models are exported to MetaStock and work like other components do.
Mehr…
VITicker
Version: 1.1 | Demo (15,00 EUR)
- World stocks ticker with diagrams and lists for NYSE, NASDAQ etc
and possibility to open a lot of quotes and lists together.
- Friendly and simple user interface.
Mehr…
Visual Options Analyzer
Version: 4.5.6 | Shareware (69,95 USD)
Visual Stock Options Analyzer is a powerful analysis tool for development, testing, and application of stock and options strategies. Its easy-to-use interface allows you to test new strategies, manage a growing portfolio, and explore "what-if" scenarios with ease. VOptions versatility and power make it suitable for new, experienced, or advanced traders alike. Option pricing models: Black-Scholes, Binominal European and Binominal American.
Mehr…