Kategorie Entwicklung / Sonstige
CommentMakerPro
Version: 1.2 | Shareware (20,00 USD)
CommentMakerPro (Microsoft Visual Studio Add-In) creates fully customizable template-based class, function and file comment blocks for C++ code. The default settings of CommentMakerPro create comments that are compatible with a popular document generation tool Doxygen, which is used by many software companies. CommentMakerPro uses Visual Studio for the code analysis.
Mehr…
Resource Builder
Version: 3.0.2 | Shareware (45,00 EUR)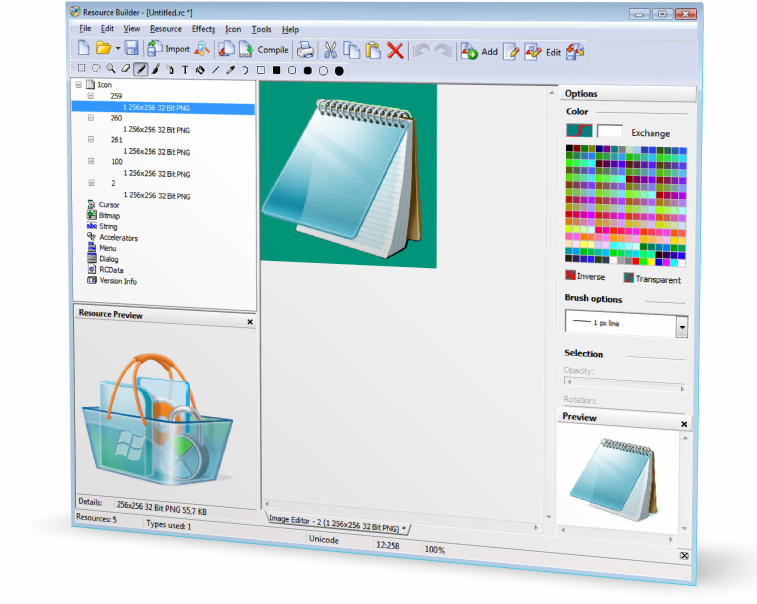 Mighty strong resource files editor for developers. Create, edit, compile and merge RC scripts to build new resource files (.res). Import resources from existing WIN32 executables and 32-bit/16-bit resource files (RES, DCR). Resource Builder supports JPEG and can perform graphics conversion to and from BMP, CUR and ICO files. Moreover, the program also allows updating resources in existing executable modules. Free trial.
Mehr…
Virtual Serial Ports Driver XP2
Version: 2.0 | Shareware (99,95 USD)
Virtual Serial Ports Driver (VSPD) is a Windows device driver. Using it you can create any number of virtual serial COM ports in your system which will be virtually connected to each other via virtual null-modem cable
Mehr…
3D Stacked Horizontal Bar Graph Software
Version: 4.1 | Shareware (49,95 USD)
Web Enabled solution for creating Stacked Horizontal Charts & Graphs. Versatile components for web authors and developers to easily build and publish dynamic and interactive bar graphs.
With a free trial and Money Back guarantee, try it out today.
Mehr…
Lingobit Localizer
Version: 7.0 | Shareware (495,00 EUR)
Lingobit Localizer ist ein Software-Lokalisierungstool, mit dem Firmen ihre Übersetzungskosten senken können, und somit die Softwarelokalisierung selbst im kleinen Maßstab günstig ermöglichen. Lingobit Localizer ist bekannt für die Vereinfachung der Softwarelokalisation unter .NET (C#, VB.NET), MFC (VC /Win32), Delphi, C Builder und bei Java-Anwendungen; kann direkt auf DLL- oder EXE-Dateien arbeiten.
Mehr…
pdfServMachine
Version: 1.6 | Demo (600,00 EUR)
Broadgun Software - pdfServMachine
Serverseitig nach PDF konvertieren!
Die pdfServMachine ist ein Entwicklertool (SDK), um servergest?tzt Dokumente "on the fly" nach PDF zu konvertieren.
Dabei werden HTML-, Text- und Microsoft Office-Dokumente unterst?tzt.
pdfServMachine wird auf dem Windows Ser-ver als Service ausgef?hrt und ?ber eine COM API angesteuert.
Mehr…
Virtual Serial Ports Driver XP
Version: 4.0 | Shareware (111,95 USD)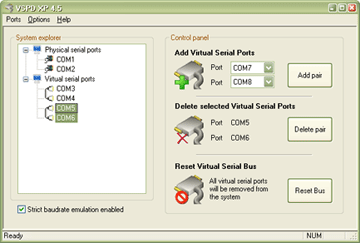 Virtual Serial Ports Driver XP (VSPD XP) creates two pure virtual serial ports in your system which are virtually connected to each other. For other Windows applications, virtual ports will be seen exactly as two real serial ports connected via null-modem cable. You can select any port numbers for virtual pair. You can transfer files, exchange data or do whatever you want as it was real serial ports.
Mehr…
Virtual Serial Port Kit
Version: 5.5.5 | Shareware (149,95 USD)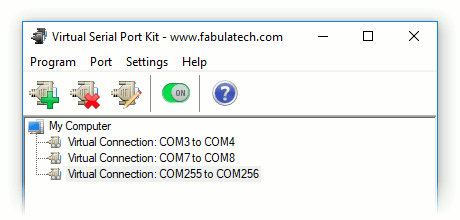 Virtual Serial Port Kit creates pairs of virtual serial ports in your system which are virtually connected to each other. Physical null modem cables are not required. You can connect any number of virtual port pairs. Virtual serial port pairs will look and work exactly like real hardware serial ports connected via null modem cables.Virtual Serial Port Kit is designed for software developer to speed up development process during software debugging
Mehr…
Athlant Personal Edition
Version: 2.04 | Demo
Athlant is a fully integrated into Delphi/BCB source control expert. It supports such systems as: SourceSafe, ClearCase, StarTeam, Source Integrity, Perforce, TeamConnection, CS-RCS, QVCS, PVCS, CVS, Team Coherence, CM Synergy, AllChange, Code Co-op, SourceOffSite, Surround SCM and CA Harvest. You can check files in/out, get latest versions, compare versions visually and many others.
Mehr…
PE Corrector
Version: 1.84 | Shareware (39,95 USD)
PE Corrector is easy to use tool for correcting Windows Portable Executable files (exe, dll, sys, bpl, dpl, cpl, ocx, acm, ax, scr). This program is very useful when you need to clear trash from PE files and protect your private info from crackers. Also with PE Corrector you are able to: examine the list of the export functions; erase selected functions in export section; reduce size of PE files; prepare PE files for exe-packers; and more...
Mehr…
sevWizard ActiveX
Version: 1.0.0.2 | Shareware (49,00 EUR)
Ein ActiveX-Control, mit dem sich im Handumdrehen eigene Assistenten (Wizards) im Look & Feel von Windows 2000/XP erstellen lassen. Einsetzbar in VB4/5 und VB6.
Mehr…
DBDesigner 4
Version: 4.0.5.4 | Freeware
DBDesigner 4 ist ein visueller Datenbank-Designer der den Entwurf, die Erzeugung und Wartung von MySQL Datenbanken in einer einzigen Entwicklungsumgebung vereint.
Professionelle Features und eine klare und einfach zu bedienende Benutzeroberfl?che bilden eine h?chst effizientes Werkzeug zur Verwaltung von Datenbanken.
Mehr…