Kategorie Entwicklung / Sonstige
Practiline Source Code Line Counter
Version: 1.0 | Shareware (29,95 USD)
PractiCount and Invoice ist ein Textzaehl- und Rechnungs-Software fuer Uebersetzer, Phonotypisten, Bueros, Autoren. Es kann auch Gruppen von mehrern Word-, PowerPoint-, Excel-, WordPerfect-, HTML- und PDF-Dateien zaehlen. Einstellbare Wort-, Zeilen-, Seitenzaehloptionen ermoeglichen die Einstellug der Zeilen- und Seitenparametern nach der Wort- o. Zeichenzahl. Zaehlen in Textfeldern, Kopf- und Fusszeilen, Fuss- und Endnoten sowie Anmerkungen.
Mehr…
Visual Build Professional
Version: 9.0 | Shareware (295,00 USD)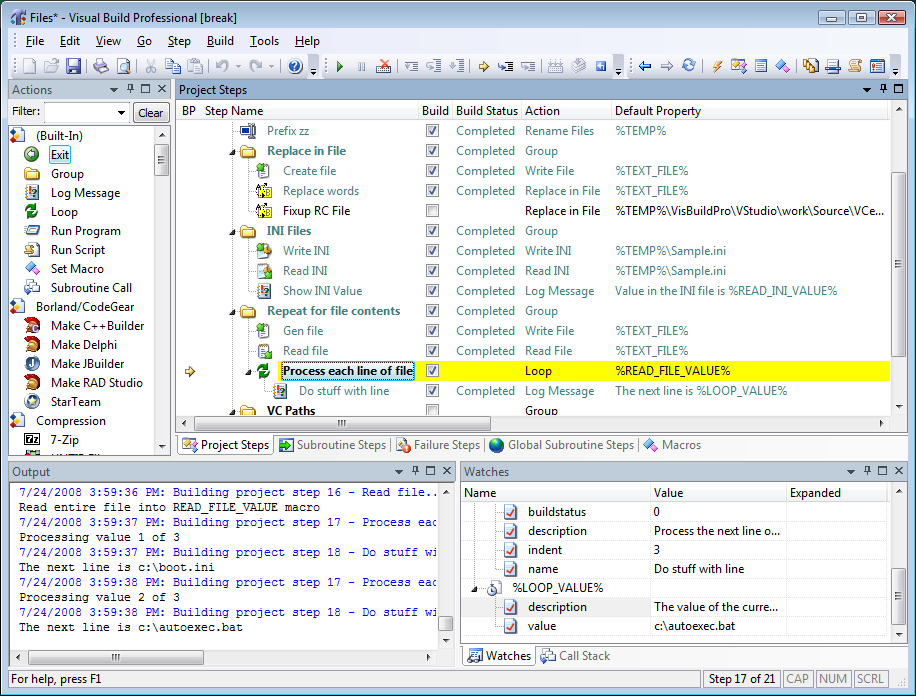 Visual Build Pro is a tool that enables developers, software process engineers, and build specialists to create an automated, repeatable process for building their software. Visual Build provides built-in support for Microsoft Visual Studio .NET/2005, Visual Studio Team System, Visual Basic, Visual C++, SourceSafe, eMbedded Tools, Borland Developer Studio, Delphi, JBuilder, C++Builder, ClearCase and more.
Mehr…
Sequence Diagram Editor
Version: 1.6 | Shareware (99,00 USD)
Windows modeling tool that simplifies and speeds up the creation and maintenance of UML sequence diagrams, telecom/wireless call flow diagrams and process workflow diagrams. Sequence Diagram Editor performs automatic layout/formatting (across multiple pages if necessary) and supports additional drawing elements like states, actions, timers and scenarios. You can print diagrams directly or export to PDF/RTF.
Mehr…
Resource Tuner Console
Version: 2.02 | Shareware (199,00 USD)
This command-line resource editor automates editing of file resources in large numbers of Windows 32 and 64-bit executable files and makes resource editing easier and faster. Using Resource Tuner Console as a post-build task is a great way of creating a repeatable process for updating the file properties: version information, strings, bitmaps, manifests and icons. This lets you make sure your application is always "face-lifted" after a build.
Mehr…
BAT 2 EXE
Version: 1.0 | Demo (29,99 EUR)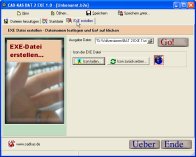 Erstellen Sie aus BAT Dateien (Batch-Stapelverarbeitungs-Dateien), ausführbare EXE Dateien. Sie können so den Quellcode gegen Veränderungen schützen und ein eigenes Icon für die EXE Datei auswählen. Ihr Script wirkt dadurch sehr professionell und lässt sich nicht mehr ohne weiteres von einem "normalen" Kommandozeilen EXE-Programm unterscheiden! Unverzichtbar, wenn Sie Ihre Scripte z.B. im Internet anbieten.
Mehr…
IncUpdate
Version: 3.20 | Shareware (99,00 USD)
IncUpdate is the tool that helps you to add a professional web based updating system to your software product in 10 minutes and you don't need to write a single line of code. As it is a developer tool, not component, you can use it no matter what programming language you are using.
Mehr…
Dis# - .NET decompiler
Version: 3.1.3 | Shareware (399,00 USD)
The typical problem with decompilation is the absence of full source information in the executable file. Dis# is a .NET decompiler which allows you to edit local variables and other names and keep the changes in a project file. The decompiled code is similar to the original source. A trial version is available.
Mehr…
EventStudio System Designer
Version: 6 | Shareware (299,00 USD)
EventStudio is a tool for modeling object and message interactions. EventStudio takes a different approach to modeling. Users model the system in a text based modeling language. EventStudio analyzes the model for design errors and automatically generates use case and sequence diagrams for multiple scenarios. Diagram layout handling is fully automated. Sequence diagrams can be generated at different levels of abstraction.
Mehr…
Perl Module Manager
Version: 1.2.0.18 | Freeware
Perl Module Manager hilft Ihnen bei der Installation, Deinstallation und Verwaltung von Perl-Modulen unmittelbar von Online-Sources (CPAN) unkompliziert und intuitiv
Suchen Sie nach Tausenden von Modulen in CPAN-Archiven und deren Mirrors und installieren Sie diese mit einem Mausklick. Alle notwendigen Änderungen in der Datei perllocal.pod werden automatisch vorgenommen. Keine externen Programme notwendig
Das Programm ist Freeware und bleibt so
Mehr…
JRStegano .net component
Version: 3.0 | Shareware (135,00 EUR)
Ist eine .net componente zum verstecken von Texten und Dateien in Grafiken. Diese Technik wird Steganographie genannt.
JR-Stegano erm?glicht es ganze Dateien in einer Grafik zu verstecken, ohne da? deren Qualit?t auch nur im geringsten darunter leidet.
Das Steuerelement erzeugt innerhalb der Grafik ein Filesystem. Es k?nnen beliebig viele Daten, oder Dateien angef?gt werden.
Mehr…
JRFile Viewer Activex
Version: 1.2 | Shareware (93,00 EUR)
JR-FileViewer ist eine FileList mit m?chtigen Funktionen. Sie erhalten mit minimalem Programmieraufwand eine Drive und FileList die keine W?nsche offen l?sst. Alle Funktionen sind abschaltbar, dadurch bestm?gliche Anpassung an Ihre Anwendung
Funktionen:
-DriveList und FileList mit Darstellung von Systemicons.
-Darstellungsarten Icon, SmallIcon, List und Report
-Auto Update Funktion
-Anzeige von System Verzeichnissen
und vieles mehr
Mehr…
CommentMakerPro
Version: 1.2 | Shareware (20,00 USD)
CommentMakerPro (Microsoft Visual Studio Add-In) creates fully customizable template-based class, function and file comment blocks for C++ code. The default settings of CommentMakerPro create comments that are compatible with a popular document generation tool Doxygen, which is used by many software companies. CommentMakerPro uses Visual Studio for the code analysis.
Mehr…