Kategorie System Utilities / Datei- & HDD-Management
Shred Agent
Version: 1.1 | Shareware (60,00 USD)
Shred Agent works at the hardware level, wiping your files completely, eliminating any possibility of recovery. What makes Shred Agent different from most other file wiping utilities is the capability to control the wiping of files in the background. For example you can configure the filters to wipe temporary files created by office programs.
Mehr…
Meetsoft Partition Recovery
Version: 2.0.2.138 | Shareware (44,95 USD)
Meetsoft Partition Recovery is a powerful and easy-to-use software utility. It was developed to help you to recover lost partitions from below situations: [1] Accidental partition deletions [2] Partition losses which caused by invalid partition table [3] Partition losses which caused by virus or others reasons. Meetsoft Partition Recovery supports FAT12, FAT16, FAT32 NTFS, NTFS5 & HPFS partitions.
Mehr…
Active SMART
Version: 2.9.81 | Shareware (15,96 USD)
ActiveSMART is a hard drive health status monitoring and disk space audit software. It uses S.M.A.R.T. (Self-Monitoring, Analysis and Reporting Technology) to monitor HDD health status, check the drives temperature, prevents data loss and predicts possible drive fails, using special algorithms. ActiveSMART checks the bad blocks in your hard drive, has several monitoring modes and is intended for both personal and extensive computer systems use.
Mehr…
DiskInternals Linux Recovery
Version: 2.7 | Freeware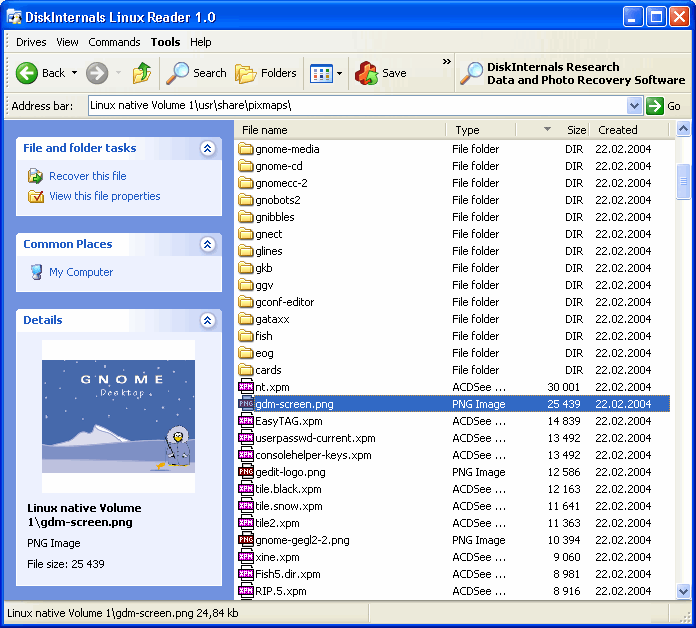 DiskInternals Linux Recovery is a utility for Windows that allows you to recover information contained in Linux Ext2/Ext3 partitions. The program can restore deleted and damaged data, repair a partition table, recover files if the drive is inaccessible and restore disk after a crash. It also can create a partition image that can be processed as a regular disk. All features are provided on a no-cost basis, DiskInternals Linux Recovery is freeware.
Mehr…
Duplikat-Finder
Version: 6.5.0.0 | Shareware (16,00 EUR)
Mit Duplikat-Finder können Sie Ihre Datenträger nach doppelten Dateien durchsuchen. Dieses Programm vergleicht alle gefundenen Dateien zuerst nach ihrer Größe und im Anschluss alle gleich großen Bit für Bit.
Mehr…
File-IO
Version: 2.02 | Shareware (20,00 EUR)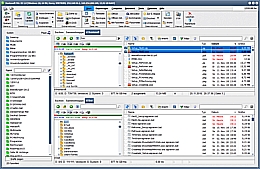 Innovativer Dateimanager, der den Windows-Explorer ersetzt / ergänzt. Versehentliches Löschen von Dateien wird deutlich unwahrscheinlicher. Das Programm zeigt deutlich mehr Informationen beim Kopieren, verschieben oder Löschen von Dateien an, als der Windows-Explorer. Mit der Anlage von Favoriten kann schnell zu oft benutzten Verzeichnissen gesprungen werden. Mit 2 Dateifenstern und mehreren Verzeichnisfenstern je Dateifenster große Flexibilität.
Mehr…
MailRecovery Server
Version: 2010.1014 | Demo (999,00 USD)
MailRecovery Server suite combines data recovery programs for email applications into convenient setup package. With this suite you are able to recover corrupted email correspondance, contacts, calendar items etc from both client files (PST, OST, DBX) and server databases (EDB, STM). MailRecovery Server suite provides data recovery solutions for Microsoft products, such as Outlook Express, Outlook, Exchange, including version 2010.
Mehr…
Disk Inspector
Version: 3.1 | Shareware (29,95 USD)
ALL-in-ONE easy to use disk cataloging software which helps you to effective organize, maintain and explore your media collections. Catalogs your Audio CD and MP3's (including ID3 Tags), DVD Movies, Digital videos, photos and pictures (including EXIF data and thumbnails), Software, Documents and more. Reads archives and presents them as the folders. Generates stylish and handy HTML reports presenting brief or detailed info about your media.
Mehr…
Duplicate Checker
Version: 3.4 | Shareware (20,00 USD)
Datei-Finder und-Entferner vervielfältigen. Duplicate Checker ist ein starkes Werkzeug um vervielfältigte Bilder, MP3s und andere Dateitypen zu finden. Mit diesem Zubehör können Sie Daten auf ihrer Festplatte oder auf ihrem Server-Speicher ordnen. Hauptfunktionen: 1) Suchen Sie Dateien mit dem selben Namen, der selben Größe, dem selben Thema (beim Vergleichen der Dateien werden CRC32 Kontrollsummen verwendet) 2) Bildvorschau und Abbildungssatz.
Mehr…
SoftPerfect File Recovery
Version: 1.2 | Freeware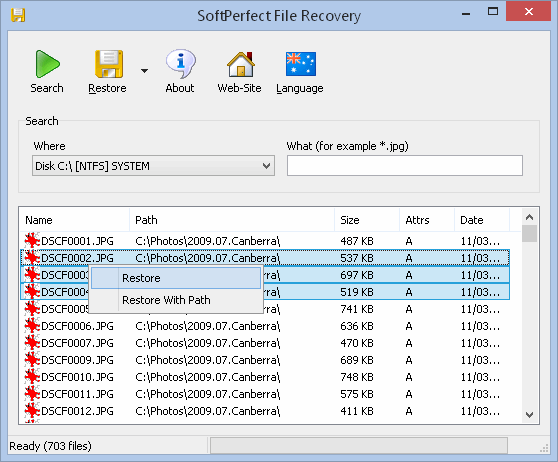 SoftPerfect File Recovery is a free and useful tool to restore accidentally deleted files from hard and floppy disks, USB flash drives, CF and SD cards and other storage media. It supports most popular file systems such as FAT12, FAT16, FAT32, NTFS and NTFS5 with compression and encryption. If your important files disappeared and you cannot find them in the recycle bin, try this software and get the files back to life. No installation required.
Mehr…
Acritum Sophisticated Rename
Version: 3.106 | Shareware (29,95 USD)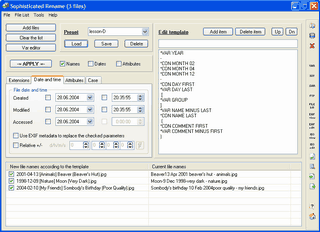 Sophisticated Rename (SR) ist ein Programm, das es erlaubt, eine Anzahl von Dateien gemäß bestimmter anspruchsvoller Muster bzw. Vorlagen umzubenennen. Unzählige Variablen, Zähler, Konstanten, Bedingungen für jeden Dateinamen. FTP Dateien Umbenennung. Interne EXIF und ID3-Editoren. Batchverarbeitung von Datum/Zeit/Dateiattributen/Groß- und Kleinschreibung. Plugins Unterstützung. Deutsch Interface für ver. 2.08.
Mehr…
CDRoller
Version: 10.60.20.0 | Shareware (36,00 EUR)
CDRoller ist ein mächtiges und preiswertes Toolset für Wiederherstellung von CD/DVD/BD/HD-DVD Daten, das auch leicht anzuwenden ist.
Mehr…