Kategorie System Utilities / Datei-Tools
EF Duplicate MP3 Finder
Version: 7.10 | Shareware (10,00 EUR)
EF Duplicate MP3 Finder ist ein hilfreiches Programm, mit dessen Hilfe Sie nach gleichen oder ?hnlichen Musikdateien suchen k?nnen, die mehrfach auf Ihrer Festplatte oder Ihrem Server vorhanden sind und so unn?tig Speicherplatz belegen. Unterst?tzt die Audioformate MP3, iTunes, Ogg/Vorbis, FLAC und WMA. Mehrsprachig. Shareware
Mehr…
EF Commander
Version: 11.81 | Shareware (25,00 EUR)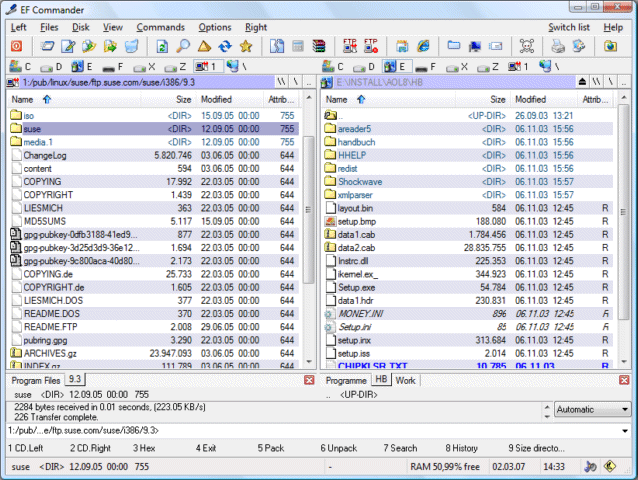 M?chtiger, vielseitig konfigurierbarer und dennoch leicht zu bedienender Datei?manager. Highlights: Schnelle und komfortable Dateiverwaltung, Komfortable Benutzeroberfl?che, interne Packer f?r viele g?ngige Archivformate, zahlreiche interne Viewer, FTP-Client mit bis zu 10 Verbindungen gleichzeitig. Brennen von CDs und DVDs, Mehrfachumbenennung. Integrierter Text- und HEX-Editor. Durch Plugins erweiterbar u.v.a. F?r Windows.
Mehr…
XemiCo Address Book
Version: 1.0 | Freeware
XemiCo Address Book is a straightforward contact manager. It will allow you to keep all important details about your contacts in a searchable list. The program's icon in the system tray provides quick access on a double click. Completely free to use.
Mehr…
Magellan Explorer
Version: 3.32 | Shareware (39,95 USD)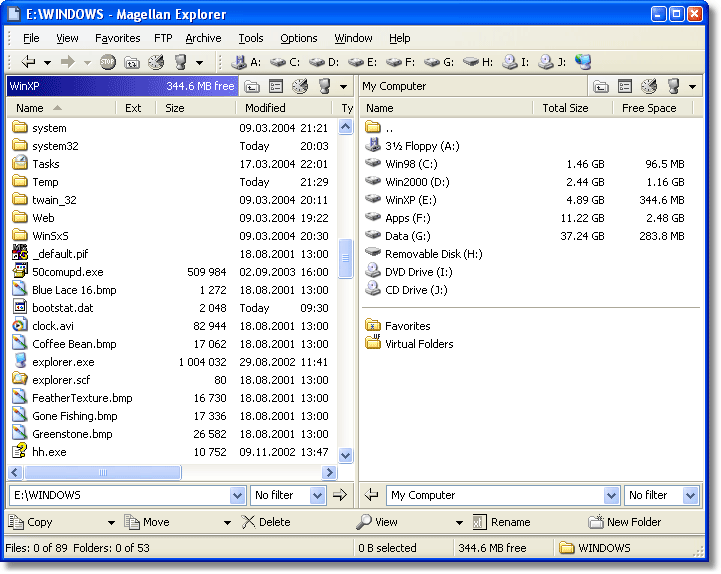 Magellan Explorer makes it easy to manage your files. Use the built-in high-speed FTP client, work directly with popular archive formats including ZIP, RAR, ACE and UNIX formats, and view pictures. All within a single, easy-to-use, attractive package.
Whether you prefer the dual window layout of Norton Commander or are more familiar with Windows Explorer, you will feel right at home as Magellan Explorer can be customized to fit your needs.
Mehr…
Exchange EDB Export PST
Version: 8.7 | Shareware (299,00 USD)
Enstella Exchange EDB export PST software is a perfect problem solver for Exchange users, who can get back their corrupt EDB file by using EDB export PST program. It recover EDB file by using best techniques and export Exchange EDB to PST within few mouse clicks. EDB to PST Exporter easily export Exchange EDB file to such PST as 97 to 2016. Software can retrieve EDB emails with attachments/tasks/notes contacts/calendar etc
Mehr…
EDB to PST
Version: 8.7 | Shareware (299,00 USD)
Get advance technique to convert EDB file to PST file or save EDB as PST at Enstella site. Enstella made such as superb quality based Priv1 EDB to PST software which brilliantly recover corrupt EDB file and restore EDB to PST in a very efficient manner. This best EDB to PST recovery software instantly extract EDB emails from stored EDB mailboxes & then safely import EDB to PST with all email features of such EDB vesions-5.0/5.5/2000 to 2013.
Mehr…
Enstella Exchange to PST Export Tool
Version: 8.7 | Shareware (299,00 USD)
If you want to recover exchange mailbox from corrupt EDB file & export EDB to PST then get Enstella Exchange to PST Export tool which really gives you instantly Exchange email recovery, This EDB to PST exporter easily export Exchange email to PST with whole email items-contacts, tasks, notes, calendars, sent items, junks emails, draft etc. export exchange EDB to PST software greatly works on such MS Exchange server versions-5.0 to 2013
Mehr…
w4Explorer
Version: 1.1 deu | Shareware (59,00 EUR)
w4Explorer ist ein aussergew?hnlicher 4 Fenster-Explorer mit Dateimanagement, -Betrachtern, -Duplikatsuche, -Verschl?sselung, -Umbenennen, Dokument- u. Medienmanagement mit Archiven (Offline-Browsen von CD-/RW-/DVD-Medien), zahlreiche Druck- u. Exportausgaben (Explorerb?ume, CD/DVD-Cover, Kataloge), Multimediasupport (Direktansteuerung von WinAmp 2.9x), Bilddatenbanken, FTP-Client, Starten von Anwendungen und Funktionen zur Festplattenverwaltung
Mehr…
EF CheckSum Manager
Version: 8.20 | Shareware (10,00 EUR)
Ein Programm zur Integrit?tspr?fung von Dateien anhand von Pr?fsummen in den Formaten SFV, MD5 und SHAx. Sie k?nnen mit diesem Programm sowohl vorhandene Pr?fsummen verifizieren als auch eigene Pr?fsummen f?r Ihre wichtigen Daten erstellen. Der EF Checksum Manager arbeitet sehr schnell und unterst?tzt die rekursive Verarbeitung von Verzeichnisstrukturen bis hin zu ganzen Laufwerken. Mehrsprachig. Shareware
Mehr…
FileReplace
Version: 2.0 | Shareware (9,90 EUR)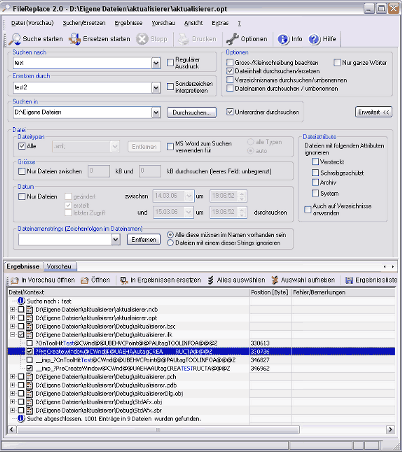 Mit FileReplace k?nnen Sie bestimmte Begriffe gleichzeitig in mehreren Text und Worddateien und Datei-/ Verzeichnisnamen suchen und ersetzen. Die Suche kann mit verschiedenen Optionen gesteuert werden. Es sind auch regul?re Ausdr?cke m?glich.
Inklusive Vorschau der gefundenen Eintr?ge und selektives Ersetzen anhand der Suchergebnisse.
Mehr…
Art Directory Print
Version: 3.1 | Shareware (29,95 USD)
The program prints directory, CD or DVD listings or saves them as HTML, XML or CSV. It adds itself to the Windows Explorer context menu and allows printing with 3 clicks. Easy to use. Fully customizable. Report folder sizes and disk quotas.
Mehr…
ArchiDoc
Version: (3035) | Shareware (69,95 USD)
Desktop XML version of the complete ORACLE based document management system, that gives any size enterprise the ability to quickly find, share and access all document types both scanned in paper and electronic files, from one easy screen.
Sofisticated Security; Easy-to-install;Version Control;Team work;Office integration;Multy Language interface;Auditing and reporting. As well as (for Oracle product line) Instant back-up; Internet-type access
Mehr…