Kategorie Heim & Hobby / Astrologie | Biorhythmus | Mystik
Biorhythms Calculator 2017 Amateur
Version: 2.0.27 | Freeware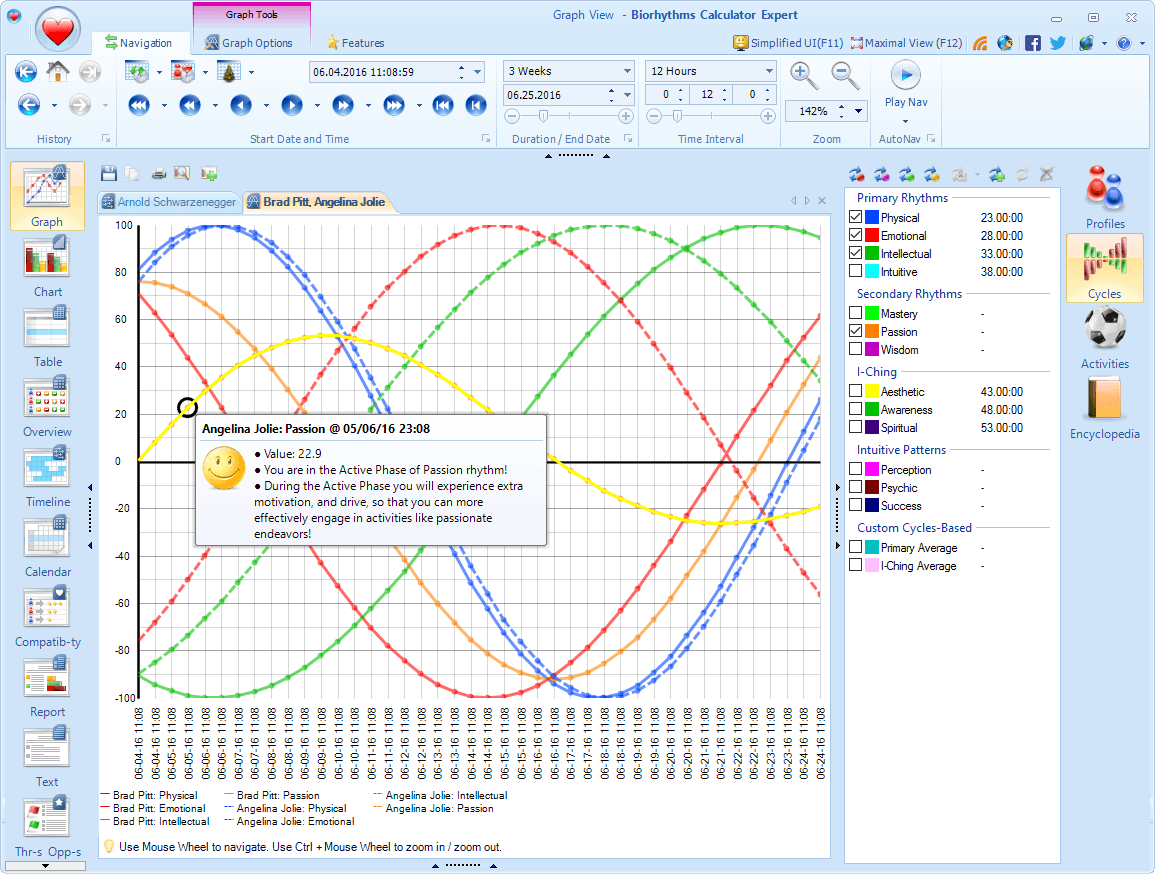 Get complete picture of your biorhythms and see how compatible you are in various areas with your loved ones, relatives, and friends by seeing a total of 15 built-in rhythms: Primary, I-Ching, Secondary, and Intuitive Patterns, as well as user-defined rhythms, by visualizing them like never before in 9 fully customizable and interactive views including: Graph, Table, Calendar, Timeline, Compatibility - all with full clipboard and printing support
Mehr…
Virtual FortuneTeller: Lenormand
Version: 2009 | Shareware (14,90 EUR)
"Virtual Fortune Teller: Lenormand" uses Maria Lenormand's deck - a simple and effective approach to fortunetelling. Interactive, multimedia software...visit a professional fortuneteller. The knowledge bases used by the program will contain interpretations for tens of thousands of cards and their positions and combinations. Eight popular spreads. Divination calendar. Expert help in card reading. Card faces, card backs and background options.
Mehr…
My Zodiac Calendar
Version: 1.0 | Shareware (24,90 USD)
With this program you can play with astrology and do serious calendaring at the same time. It shows the horoscope sign, moon phase and position of planets for a selected date while keeping track of your appointments, tasks, reminders and quick notes.
Mehr…
Advanced Biorhythms
Version: 2011.2.5 | Shareware (17,00 USD)
Advanced Biorhythms is a program that forecasts your emotional, physical, intellectual, and intuitional activity cycles, also known as biorhythms. Advanced Biorhythms has unique user-friendly interface: handy calendar of cycles and extended info panel gives you all the information you might need(including comprehensive prognosis and advice of the day). Experienced users will love a lot of additional features.
Mehr…
Biorhythms Plus! 2008
Version: 1.0 | Freeware
Powerful, easy-to-use biorhythms analysis application that is ideal for making personal forecasts and biorhythm charts. Has support for 12 cycles: Physical, Emotional, Intellectual, Intuitive, Mastery, Passion, Wisdom, Aesthetic, Awareness, Spiritual, Perception, Psychic, and Success. See your biorhythms in various views: Graph, Chart, Calendar, Table, Timeline, Text, Report, and cohesive Threats and Opportunities View.
Mehr…
VIHoro
Version: 1.0 | Demo
- keep a list of your family, friends and stuff
- get a couple of today's Sun, Love and China Horoscopes for selected person by one click
- you can show a lot of Horoscopes sites together
- you can select one or more Horoscopes sites you want to show
- no limits for amount of Persons in the list
- no limits for amount of Horoscope Sites in the lists
- simply and friendly
Mehr…
VIBio
Version: 1.2 | Demo (9,00 EUR)
Biorythms with diagramms and comments.
- classical biorythms: physical, emotional, intellectual;
- modern biorythms: intuitial, aesthetic, spiritual;
- comments for today;
- possibility to show and compare a lot of biorythms together;
- possibility to write a txt file for every Person's biorytms;
- simply and friendly user interface;
Mehr…
Learn Hypnosis... Now!
Version: 2.0 | Demo (19,99 USD)
Now you can be one of the elite group of people that know the secrets of hypnosis! Mike will take the mystery and the hocus-pocus out of hypnosis and give you the facts, in plain, easy to read English. No PhD is required. No degree or even knowledge of psychology is needed. There is no age limit, no restrictions. Yes, even you can Learn Hypnosis... Now! Free downloadable hypnosis MP3 included! Details inside the book, so download it now!
Mehr…
Cactus Emulator
Version: 2.3 | Freeware
Icon Processor konvertiert BMP, JPEG, GIF, PNG, PSD, WMF und CUR Formate zu Windows Icons. Sie können Dateien und Ordner aus Windows Explorer oder anderen Dateimanager per Drag'n'Drop zufügen und ganze Bibliotheken in einzelne Icons aufteilen. Sie können die Auflösung und Größen der Bilder ändern um angepasste Bilder zu erstellen. Problemlos bearbeitet man mit Icon Processor mehrere Dateien auf einmal.
Mehr…
Natural Biorhythms
Version: 3.04 | Shareware (45,00 USD)
Advanced biorhythms calculator. Knowing your biorhythms, you can be sure about what to expect
from each day in order to succeed at sports, dating, business, negotiations, exams, or job interviews. Be a winner in any situation! Loads of features, including: 10 kinds of rhythms, daily personal forecasts, compatibility test with relationship advices, biorhythmic matching, printable monthly calendar, extensive celebrities database, etc.
Mehr…
Digital Physiognomy
Version: 1.79 | Shareware (15,00 EUR)
Digital Physiognomy nutzt die Technologie neuronaler Netze um Korrelationen zwischen den physiognomischen und psychologischen Eigenschaften aufzuzeigen. Dabei wird auch auf Techniken der Foto-Identifikation der Polizei zuruckgegriffen.
Mehr…
PC-BIO32
Version: 4.0 | Shareware (20,00 EUR)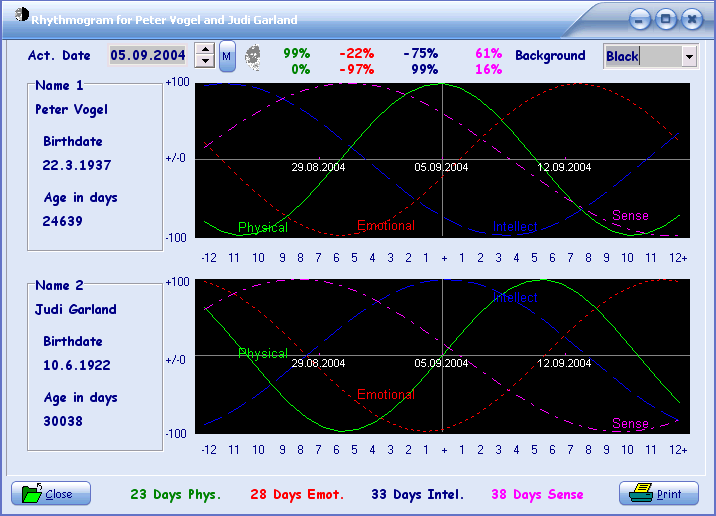 PC-Biorhythmus32 für Windows9x/2K/Me/NT/XP/Vista/Win7 mehrsprachig mit Datenbank, Tagesanalyse,Kritischen Tagen, Partnervergleich, Sternzeichen, Mondphase, Numerologie, Time-Planer-Format Druck, Body-Mass-Index, Edelsteintherapie, Allergieberatung, Erste Hilfe, Notrufnummern, umfangreicher Hilfe und Onlinehandbuch usw. Online. Updater.( 70 verschiedene Layouts (5 intern 65 extern ) Eingeschränkte Testversion ... EUR 20.--
Mehr…