Kategorie Spiele & Unterhaltung / Puzzle & Denkspiele
PuzzleJig
Version: 1.52 | Shareware
PuzzleJig creates sliding-block puzzles out of any .bmp and .jpeg file, and then lets you solve them. The game is not hard to play. If you get stuck, the program can show you a move. PuzzleJig also tells you how many pieces are in the correct position -- plus it will let you look at the assembled image at any time. You can save unfinished puzzles for later completion.
Mehr…
JongPuzzle
Version: 3.85 | Shareware
JongPuzzle is the mah jongg - like tile solitaire game for Windows. It is a fun puzzle game like mah jongg, that tests your mind. Its intuitive interface is very easy to learn, and you will be playing within a few minutes. The goal of JongPuzzle is to remove all of the tiles from the game board. Tiles can be removed only in pairs and must be free on their left or right side or on their top or bottom, so you can connect them three or less lines.
Mehr…
FindSame
Version: 1.70 | Shareware
The goal of FindSame is to earn as many points as you can by removing paires of the similar tiles from the board. For earning points you need to select one tile and after that to select tile with similar picture. This pair will desappeare and you will earn some points. On game board will appeare new tiles. The game will be over, when all game cells on the board will be filled by tiles. Speed of appearence of tiles grows during the game.
Mehr…
3DSwapBalls
Version: 1.91 | Shareware
The object of the game is to score as many points as possible by swapping adjacent gems to create sets, either horizontal or vertical, of 3 or more identical gems. Sets can be horizontal or vertical, and can contain more than 3 gems. When you have successfully created a set, they will disappear and new gems will fall into place. If you want move gem, just click on it and after click on place near.
Mehr…
ClickPuzzle
Version: 3.25 | Shareware
ClickPuzzle is a fun arcade-style puzzle game for Windows, it is suitable for all ages. You will spend much time with this game because it is easy and mind free game. The goal of ClickPuzzle is to earn points by removing tiles from the game board. Tiles can be removed only in groups of identical pictures. Game field will be packed after removing tiles. Game is over if all groups removed.
Mehr…
Gem Zone
Version: 2.0 | Shareware (19,95 USD)
Destroy gems to create rows of three in this original and addictive puzzle game with calm pleasant music. You can play two game types: Normal and Timed. Normal game has a click count limit; play level after level and train your brain skills! Timed game has a time limit; create rows as fast as you can! Gem Zone features: true-color graphics, cool visual effects, simple mouse controls. This brilliant game is easy to learn, fun to play.
Mehr…
Multi Maze Mountain 2
Version: 1.1b | Shareware (10,00 USD)
Multi Maze Mountain is a computergame dealing with the multiplication tables.
You are trapped in a maze and you have to find the door to exit this
maze. You also have to collect three keys to open this door. The maze
is blocked with green, red and blue blocks. To pass a red or blue
block you have to answer a question. If your answer is wrong a new
block will appear, covering a part of the maze.
Mehr…
BrickShooter for Windows CE
Version: 2.2.2 | Shareware (14,95 USD)
Pocket BrickShooter is a uniquely challenging puzzle game for strategists of all levels from children to grand masters. BrickShooter is not just for people who can think and move fast. It's for anyone who enjoys solving puzzles and taking their own sweet time doing them.
Mehr…
Crazy Sumz
Version: 1.3 | Shareware (10,00 EUR)
Crazy Sumz ist eine Sammlung von 4 Spielen, bei denen es immer um Summen oder Zahlen geht. Du drehst die Numble-Scheiben, um ihre Punkte anzugleichen, Du deckst die Pit-Ketten auf, Du vertauscht die Zahlen der Circum-Ringe oder Du versuchst dich an den Symacus-Symbole.
Mehr…
Neun
Version: 2.0.0.1 | Shareware (8,00 EUR)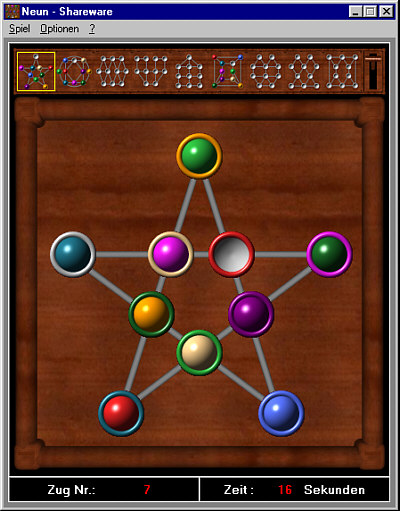 Neun ist ein Schiebepuzzle, welches aus zehn Felder besteht. Auf neun der Felder befindet sich jeweils eine farbige Kugel. Die Aufgabe des Spieles besteht darin die Kugeln so zu sortieren das sie mit der Randfarbe des Feldes ?bereinstimmen.
Die schnellsten Spieler k?nnen sich in eine Bestenliste eintragen. In der Sharewareversion stehen jeweils nur sechs der achtzehn Figuren zur Verf?gung, welche beim Start durch Zufall ermittelt werden.
Mehr…
AbcPuzzles
Version: 8.3993 | Freeware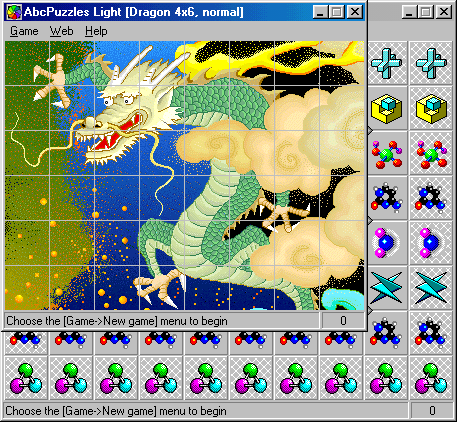 AbcPuzzles bietet einen Satz Fliese-gegründete Spiele und Puzzlespiele mit verschiedenen Brettgrößen und -kontrollen an. Einige Spiele verwenden die Bilder, kriechen, die inneren Blöcke aber intact verlassen die Außenseite eine. Einige Bilder werden zur Verfügung gestellt und Ihre Selbst richtig formatierte Bitübersichten können verwendet werden. Alle weiteren Spiele sind ähnlich, aber Ihre Aufgabe ist, die Fliesen in den Reihen zu ordnen...
Mehr…
BrickShooter (Deutsch)
Version: 3.4.3 | Shareware (14,95 EUR)
Ein einmaliges strategisches Puzzle-Spiel f?r jedermann. Ob Anf?nger oder Meisterstratege - jeder kann mitmachen und seinen Schwierigkeitsgrad selber bestimmen. Auch die Dauer des Spiels legt der Spieler selber fest, der jederzeit aufh?ren und das Spiel sp?ter fortsetzen kann. Wer Spa? an Puzzle-Spielen hat und sein kombinatorisches Geschick trainieren will, ist bei diesem Spiel genau richtig. Und als Dank winkt ein Eintrag in der "Ruhmeshalle"!
Mehr…