Kategorie Spiele & Unterhaltung / Puzzle & Denkspiele
Bird Valley
Version: 1.0 | Freeware
MyRealGames is the first place you should be looking if you want to download free games. With literally hundreds to choose from over a large range of categories, you won't be getting bored in a long time. Just to give you an example of one of the many great choices available, why not check out Bird Valley, a beautiful and colorful puzzle game with 250 levels to work your way through!
Mehr…
Alles Murmel
Version: 1.81 | Shareware (15,00 EUR)
Bei diesem packenden Denkspielklassiker müssen Sie gleichfarbige Kugeln durch Verschieben aneinander reihen. So erzielen Sie Punkte und bleiben möglichst lange im Spiel. Alles Murmel umrahmt dieses einfache aber doch geniale Spielprinzip mit schöner Grafik, ohrwurmverdächtiger Musik, vielen verschiedenen Spielmodi und ideenreichen Sondersteinen. So vergeht die Zeit wie im Flug! Vorsicht - Suchtgefahr!
Mehr…
Woolies Adventure
Version: 1.0 | Freeware
Woolies Adventure is one of the many games to choose from, from this website. A delightful adventure game with seven levels to work your way through, and beautiful and colorful graphics, it is just one of the many great examples of games found on this site. If you don't have a great deal of time or want to spend the money on conventional PC games, you can download free games from this website and you can also download as many as you want.
Mehr…
Playrix Fishdom: Frosty Splash
Version: 1.3 | Shareware (19,95 USD)
Build up your frosty Fishdom! Use your imagination to recreate the nippy and fun atmosphere of winter in your tank. Earn money as you complete challenging match-3 levels and use it to buy festive fish and winter-themed decorations.
Mehr…
Fishdom: Spooky Splash
Version: 1.1 | Shareware (19,95 USD)
Build up your spooky Fishdom! Earn cash as you complete addictive tile-swapping levels and spend it to fix up your spooktacular tank. Create the eerie atmosphere of an underwater haunted house with witches, vampires and ghosts in your aquarium. Have fun taking care of quirky tropical fishies and adding boo-tiful accessories to the virtual aquarium of your dreams in this fishinating puzzle by Playrix!
Mehr…
Romance Of Rome
Version: 1.0 | Shareware (19,95 USD)
Romance Of Rome opens as you learn that imperial relics are stolen and the Emperor promises to marry his beautiful daughter to any person who brings them back. Help Marcus find the stolen relics and win the heart of the Emperor's daughter. Travel to every corner of ancient Rome, collect skillfully hidden items, earn money, get original trophies and complete challenging quests to earn love and worship of Roman citizens.
Mehr…
Fishdom: Harvest Splash
Version: 1.1 | Shareware (19,95 USD)
Create your harvest Fishdom! Progress through challenging match-3 levels, and get cash to set up your harvest feast tank. Get creative and decorate it with festive fishies and fall-time accessories. Turn your aquarium into a welcoming farm with ripe vegetables and yummy treats. Win trophies and build up your heartwarming Fishdom by Playrix!
Mehr…
Island of Fear and Terror
Version: 2.2 | Freeware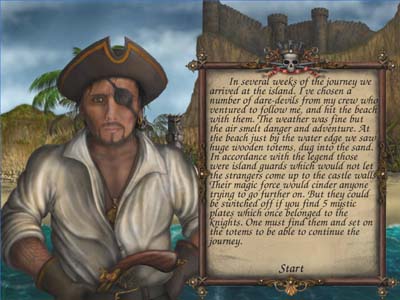 The game Greedy Spooks - a brave captain is going to a mysterious island to find the ancient treasures. Thanks to the Internet you can download free games like this! The action of the game takes place in those times when wind-driven frigates were plowing the seas, and the life was full of adventures and surprises.
Mehr…
Cyclanoid
Version: 8.304 | Freeware
Cyclanoid - herausforderndes Puzzlespiel, bei dem die Quadrate des Spielfeldes so arrangiert werden müssen, dass Sie den Symbolen an den Rändern des Spielbretts entsprechen. Bei diesem Spiel müssen Sie durch das Drehen von 4 quadratischen nebeneinander liegenden Teilen die verschiedenen Icons so anordnen das diese untereinander liegen. Dabei sind die äußeren Teile bereis richtig und können nicht bewegt werden...
Mehr…
FreeGames Confectionary
Version: 2.3 | Freeware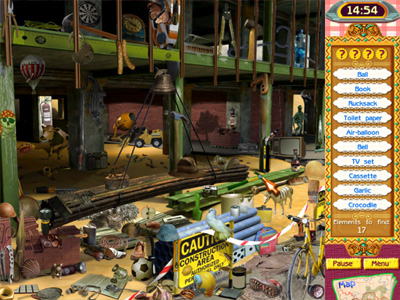 Eines Tages bekommst du einen Brief, in dem steht, dass du nach dem Tode deines Onkels eine alte Konditorei (einst ein blühendes Geschäft) erbst. Du bist der Einzige, der das Familiengeschäft retten kann. Farbreiche Grafiken, realistischer Sound und fesselnde Handlung lassen keinen Spieler kalt.
Mehr…
Cradle of Persia for Mac OS X
Version: 1.07 | Shareware (19,95 USD)
Build the mysterious heart of Ancient Persia in this engaging puzzle game! Seek out the riddles of the ruins as you travel through the land of a thousand and one nights. To do this you will need skill and a keen wit, but the result will unlock a mystery never before seen by man, here in the Cradle of Persia.
Mehr…
The Enchanting Islands
Version: 1.4 | Shareware (19,95 USD)
The Enchanting Islands were filled with light and color until an evil sorceress spread darkness throughout the land. Collect elements, cast spells and defeat ferocious guardians in your quest to return life to a fairy-tale realm!
Mehr…