Kategorie Kommunikation / Sonstige E-Mail Tools
DataNumen Exchange Recovery
Version: 6.9 | Freeware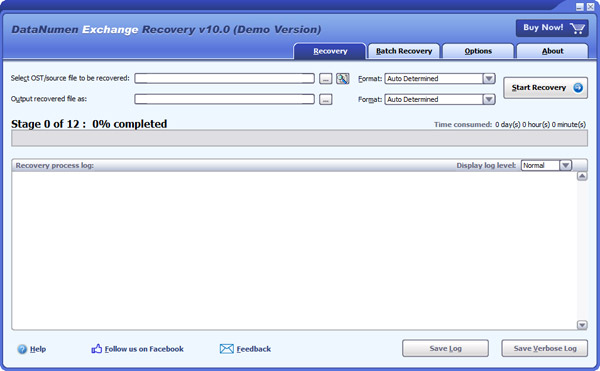 DataNumen Exchange Recovery is the best recovery tool for Microsoft Exchange offline storage(.ost) files, supporting Exchange 5.0 - 2019, Outlook 97 - 2019 and Outlook for Office 365. It can scan the orphaned or damaged offline storage files(.ost) and recover your emails, folders, posts, appointments, meeting requests, contacts, tasks etc. in them. Moreover, it can recover deleted items, split oversized OST files, and recover encrypted OST files.
Mehr…
Personal Mailer
Version: 1.5 | Freeware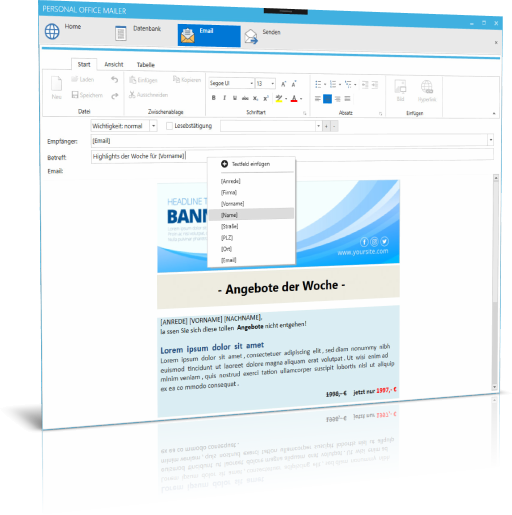 Personal Mailer versendet personalisierte Serien-E-Mail, Newsletter oder sonstige Rundschreiben an Kunden, Vereinsmitglieder oder Interessenten.
Über Textfelder können in Ihren E-Mail-Text oder den Betreff empfängerspezifische Daten eingebunden werden. Ihre Nachrichten erwecken so den Anschein persönlich erstellter E-Mails.
Mehr…
Mail2PDF Archiver
Version: 1.0 | Shareware (69,00 USD)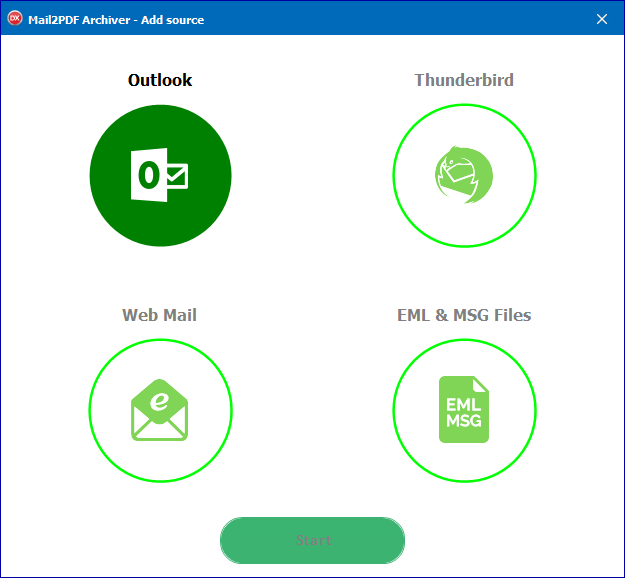 Mail2PDF Archiver is the user-friendly app to archive and back up emails. Get PDF copies of your emails on your hard drive. You will be able to open them later without Outlook or any email client. PDF backup is convenient for regular users as it does not require any special software. Run your back up once a week or once a year, it's all set in minutes. Download your free evaluation copy now.
Mehr…
Zeta Uploader - Send large Files online
Version: 2.1.0.82 | Freeware
Kostenlos Große Dateien online versenden schnell und einfach per E-Mail. Dateitransfer und Austausch elektronischer Daten, mehrere Dateien und Ordner (samt Unterordnern und Dateien) an einen oder mehrere Empfänger per E-Mail versenden. Automatisch ZIP-komprimiert, Kennwort geschützt und mit Ablaufdatum.
Mehr…
MyLiveSignature
Version: 1.00 | Freeware
Every time you send an e-mail you place your signature at its bottom. Would you like to make this signature look less impersonal? MyLiveSignature.com will help you make your email signature the ultimate expression of your personality!
Mehr…
BackRex Outlook Express Backup
Version: 2.8.178 | Demo (24,95 EUR)
BackRex Outlook Express Backup allows you to save Windows Mail and Outlook Express mail and news folders, address book, message rules, blocked senders list, signatures, and custom preferences. You can save all Internet Explorer and Mozilla Firefox custom settings, including favorites and history. BackRex can help you to migrate settings and data from one computer to another, even with different versions of Windows and/or Outlook Express.
Mehr…
OEDupRemover - E-Mail Duplikate löschen
Version: 3.11 | Shareware (8,00 EUR)
Outlook Express Duplicate Remover, kurz OEDupRemover, ist eine Software, um doppelte bzw. mehrfach vorhandene E-Mails in Outlook Express automatisiert aufzuspüren und zu löschen. Die Software scannt dabei alle oder auch einzelne Ordner einer Identität und listet die mehrfach vorhandenen E-Mails auf. Sie entscheiden dann, welche mehrfach vorhandenen Mails Sie von der Software löschen lassen möchten. Die neue Suchroutine scannt über 300 Mails/Sek.
Mehr…
Tweaker for Outlook Express
Version: 1.0 | Freeware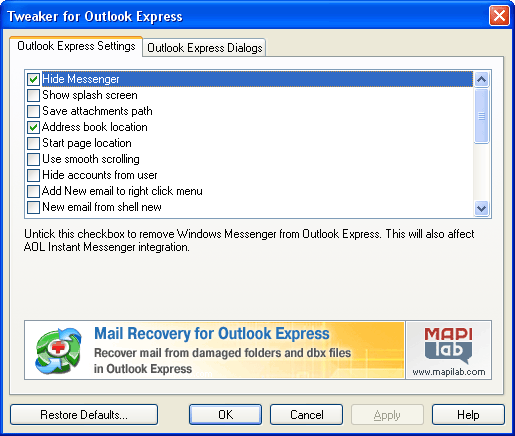 Das Plugin Tweaker for Outlook Express erweitert die Möglichkeiten von Outlook Express und hebt einige Mängel auf. Durch die freundliche Benutzeroberfläche ist das Programm selbst für Anfänger einfach zu bedienen.
Mehr…
Outlook Recovery Toolbox
Version: 3.1.7 | Shareware (49,90 USD)
Choose Outlook Recovery Toolbox for data recovery purposes, repairing Microsoft Outlook folders. This program represents a powerful way of ost and pst file analysis, it can be performed after the occurrence of any problem causing the corruption of user mailboxes. This tool is the only way of getting the data back without losing the privacy of your personal information. Besides it is safe and it never puts modifications to the mailbox under.
Mehr…
E-Mail Converter
Version: 1.6.0 | Shareware
Der IN MEDIA KG E-Mail-Converter Konvertiert MSG nach EML und umgekehrt! Egal ob einzelne Datei, komplette Verzeichnisse oder Orderstruktur, alles ist möglich bei der Konvertierung!! Konvertieren Sie von Outlook 97/2000/2003/2007 nach Outlook Express oder Windows Mail oder umgekehrt!
Mehr…
IntelliAddress Professional
Version: 2.9 | Shareware (49,00 EUR)
IntelliAddress ist ein Outlook-Tool, das Adressen (Anschriften) in vorhandenen E-Mails automatisch zu Outlook-Kontakten umwandelt. Eintreffende Mails werden nach im Text enthaltenden Anschriften durchsucht und automatisch in Outlook-Kontakte verwandelt. Word-Vorlagen für Briefe u. Faxe mit Absender und Empfänger. Findet Kontakte in Webseiten und Dokumenten (Word, PDF etc.). Eliminiert Outlook Duplikate, Telefonnummern-Format wählbar.
Mehr…
SoftAmbulance Live Mail Recovery
Version: 5.53 | Shareware (44,90 USD)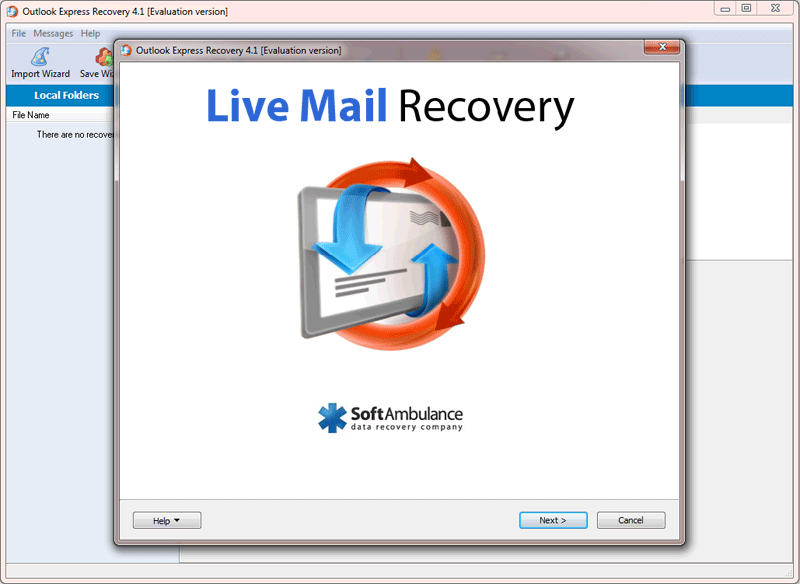 Permanently deleted an important message? Lost access to your email after a system failure? Corrupted DBX database? Install SoftAmbulance Live Mail Recovery to get back your email and restore Outlook Express operation in a matter of minutes! Can't access your mail? Outlook Express does not open? Empty mail folders? No problem! SoftAmbulance Live Mail Recovery fixes major problems as effectively as it handles minor issues.
Mehr…