Kategorie System Utilities / Shell Tools
Image To PDF Command Line
Version: 3.4 | Shareware (49,00 USD)
Image To PDF is a Windows application which can directly convert dozens of image formats, such as TIF, JPG, GIF, PNG, BMP, PSD, WMF, EMF, PDF, PCX, PIC and so on, into PDF format. Image To PDF can automatically clear and skew-correct B/W images by employing special techniques to insure high quality output after conversion. ImageToPDF can operate independently of Adobe Acrobat and has faster processing speed.
Mehr…
UserInfoTip
Version: 2.3 | Shareware
Mark files and folders , through change their face ,and add description to them. The description you add will appear in the explorer popup windows. Description also available in the Windows explorer columns (NOT supports in Vista and 7). You will also be able to see a full content and size of files and subfolders in a popup window for a folder. Select "Manage description" and that's it.
Mehr…
TIFF To PDF Convert Command Line
Version: 3.4 | Shareware (39,00 USD)
Supports virtually all TIFF compressions, including ZIP,LZW,CCITT G4/G3, JPEG, Packbits.
Can combine multiple directories and tiff into one PDF file.
Supports Multi-page tiff file to PDF conversion.
Append to existing PDFs.
Supports encryption with 40 or 128 bit.
Can set automatic despeckling (of B/W images; removes noise) and skew-correction.
Supports single file,single directory,multi-level directory processing.
Mehr…
Ap PDF Password Recovery command line
Version: 3.1 | Shareware (39,90 USD)
PDF Password Recovery can be used to decrypt protected Adobe Acrobat PDF files, which have"owner"password set, preventing the file from editing (changing), printing, selecting text and graphics (and copying them into the Clipboard), or adding/changing annotations and form fields. Decryption is being done instantly. Decrypted file can be opened in any PDF viewer (e.g. Adobe Acrobat Reader) without any restrictions.(command line)
Mehr…
Folder Marker Pro - Changes Folder Icons
Version: 4.2 | Shareware (34,95 EUR)
A powerful helper especially designed for office work. Quickly change folder icons (mark folders) to indicate priority (high, normal, low), project completeness level (done, half-done, planned), work status (approved, rejected, pending) and type of information stored within folder (work, important, temp and private files). Simply right-click on any folder and select the icon or color to be used from the newly added menu option.
Mehr…
BlazingTools Boss Invisible
Version: 1.01 | Shareware (4,95 USD)
If you have ever had someone walk into the room unexpectedly while you are playing a game on your computer, or looking at erotic pictures, or you have something on your computer screen that you don't want seen... then Boss Invisible is for you! With Boss Invisible, you can control the visibility of all programs running on your computer with just a quick move of your mouse or by pressing a hotkey!
Mehr…
PDF to HTML batch converter command line
Version: 3.0 | Shareware (39,90 USD)
AP PDF to HTML Batch Converter is a useful pdf tool, the converter produces fully functional HTML documents with text,pictures,graphics,table,links and bookmarks, using the original PDF document formatting, and it is more suitable for Internet publishing. thus exposing their content to search engines and significantly increasing your site audience. And it does not need any software support, such as Adobe Acrobat, Acrobat Reader, etc.
Mehr…
9Desks
Version: 1.8 | Shareware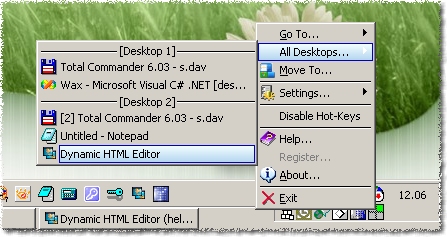 9Desks is a program that permits you to have up to nine virtual desktops for better applications management. You can work in a more clean environment dividing active applications in more desktops. 9Desks contains many advanced features like rules for starting applications, password for desktops, Active Desktop management, Themes support, Applications Recovery and it is more compatible with third party applications.
Mehr…
Folder Marker Free - Changes Folder Icons
Version: 4.2 | Freeware
Folder Marker is a handy shell extension that enables you to quickly change folder icons to indicate a priority level or project status (high, low, done, half-done, planned etc.), or you can use it to mark a folder with a special icon or color of your choice. Simply right-click on any folder and select the icon or color to be used from the newly added menu option. Folder Marker supports single and multiple folder selections and is freeware.
Mehr…
Taskbar Button Manager
Version: 2.3 | Freeware
Taskbar Button Manager is a simple utility that helps you arrange the buttons on your Windows taskbar in any way you want by using drag and drop. Moving your task buttons is very easy, no hotkey needed. In addition to drag and drop you can also use a special program window for moving the taskbar buttons. You can hide running programs too, so they don't show on your taskbar.
Mehr…
MouseImp Pro Live!
Version: 0.0.0.0 | Freeware
MouseImp is a handy tool that helps you to use your conventional mouse more efficiently. The AutoShrink feature increases your available workspace by removing toolbars from the screen so that only caption bars remain. The Direct Scroll feature makes it easier to scroll through windows. Instead of using a scroll bar, you can activate MouseImp and scroll by moving the mouse up or down anywhere in the window.
Mehr…
WatchOverEnergy
Version: 1.1 | Freeware
Many users are willing to reduce their energy use and costs, but some time standard stand-by functions are too annoying. For instance, computer monitor can change to stand-by mode when user is watching movie or reading a long article and simply don't move mouse or press any keys. It is easy to fine-tune WatchOverEnergy program, telling it not to activate monitor stand-by mode when you are running specific programs or some files are opened.
Mehr…