Kategorie System Utilities / Shell Tools
Fileinspect Sidebar Gadget
Version: 1.0.0 | Freeware
Sidebar Gadget is a Vista sidebar tool that provides detailed information about the most resource-heavy processes running on your computer. It displays how much CPU and RAM each process (e.g. lsass.exe) uses. You can view a detailed process description by clicking on the magnifying glass sign. You can change the number of processes you want displayed, processes update frequency, and customize the gadget from the Settings window.
Mehr…
Start Menu Catalog
Version: 1.0 | Shareware (14,95 USD)
Has your Start Menu become so massive that you are now having problems finding the necessary programs? If that`s true, you definitely need Start Menu Catalog. Just start this program and select the necessary categories for your applications - such as Games, Internet, Screensavers, etc. Your menu will shrink in size and it will be much easier for you to find programs in corresponding categories. Download now and bring order to your Start menu!
Mehr…
Key Remapper
Version: 1.8 | Shareware (24,95 USD)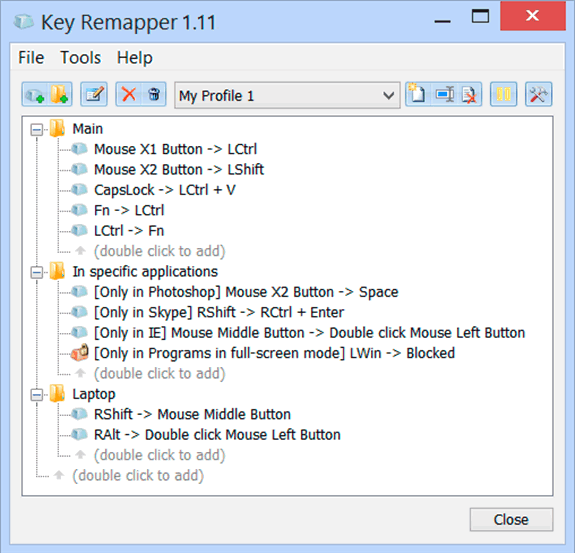 Key Remapper erlaubt es, Tastatur- und Maustasten sowie Mausrad zu sperren und umzubelegen, indem man ihnen Werte anderer Tastatur- und Maustasten, das Scrollen des Mausrads bzw. Tastenkombinationen mit Modifizierungstasten zuweist. Weiterhin erlaubt das Programm, Doppelklick auf Maus- oder Tastaturtaste zu emulieren, mit der Möglichkeit, Verzögerungszeit festzulegen. Die Tastenumbelegung kann dabei durch bestimmte Programme eingeschränkt sein.
Mehr…
Extensions for Windows
Version: 1.0 | Shareware (49,95 USD)
Extensions für Windows ist das 1. von der Gemeinde gesteuerte, modulare Upgrade für Windows XP und Vista. Es hat viele neue Features, Tools & Anwendungen, die mit Windows nahtlos integriert sind, inkl. Windows Explorer mit 2 Panels und Tabulatoren, Bildschirmkopie, Bildschirm-Recorder, Tastenkombination-Manager, Bildkonverter, FTP- & SFTP-Client, DiskAnalyzer, Erweiterter Task Manager, Dokument- und PDF-Konverter, Datei suchen und Ersetzen, uvm.
Mehr…
PikySuite
Version: 3.0 | Shareware (29,95 USD)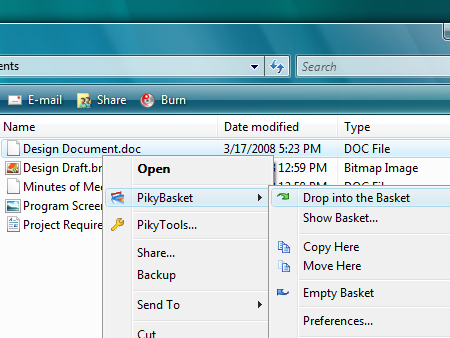 PikySuite is a group of three products (PikyBasket, PikyFolders, & PikyTools) that eliminate day-to-day computing frustrations from frequent activities such as copying files, accessing favorite/recent folders and taking backups. It adds joy by adding simplicity and power to common tasks in Windows XP/Vista. PikySuite is meticulously designed to save a lot of unnoticed time & effort wasted on trivial file/folder tasks everyday.
Mehr…
VanDyke ClientPack for Windows, Mac and UNIX
Version: 8.1.1 | Shareware (59,95 USD)
VanDyke ClientPack is a suite of tools for securely automating routine file transfer, shell, and public-key administration tasks, saving you time, reducing potential human error, and increasing compliance with security policies. The ClientPack provides Secure Shell encrypted logon and session data, including vsh port forwarding to secure TCP/IP data, X11 forwarding, and vcp and vsftp for secure SFTP file transfers.
Mehr…
FolderNavigator
Version: 1.7 | Shareware
If you sometimes have to search for - which of subfolders or files occupy plenty of room , this program is for you. Two clicks and you can see all the sizes of subfolders, hidden files and more. Fast and simple browse through folders, subfolders, and files, and open or delete too.
Mehr…
Start Menu Tuner
Version: 1.47 | Shareware (19,95 USD)
Have All Programs In Your Start Menu Become Enormously Numerous?
The program Start Menu Tuner will easily solve your problem. Use it to create program categories you need and sort your programs by them. You will do it easily and visually. You will spend minimum effort even if you are new to computers.
Mehr…
UserInfoTip
Version: 2.3 | Shareware
Mark files and folders , through change their face ,and add description to them. The description you add will appear in the explorer popup windows. Description also available in the Windows explorer columns (NOT supports in Vista and 7). You will also be able to see a full content and size of files and subfolders in a popup window for a folder. Select "Manage description" and that's it.
Mehr…
TIFF To PDF Convert Command Line
Version: 3.4 | Shareware (39,00 USD)
Supports virtually all TIFF compressions, including ZIP,LZW,CCITT G4/G3, JPEG, Packbits.
Can combine multiple directories and tiff into one PDF file.
Supports Multi-page tiff file to PDF conversion.
Append to existing PDFs.
Supports encryption with 40 or 128 bit.
Can set automatic despeckling (of B/W images; removes noise) and skew-correction.
Supports single file,single directory,multi-level directory processing.
Mehr…
Image To PDF Command Line
Version: 3.4 | Shareware (49,00 USD)
Image To PDF is a Windows application which can directly convert dozens of image formats, such as TIF, JPG, GIF, PNG, BMP, PSD, WMF, EMF, PDF, PCX, PIC and so on, into PDF format. Image To PDF can automatically clear and skew-correct B/W images by employing special techniques to insure high quality output after conversion. ImageToPDF can operate independently of Adobe Acrobat and has faster processing speed.
Mehr…
Ap PDF Password Recovery command line
Version: 3.1 | Shareware (39,90 USD)
PDF Password Recovery can be used to decrypt protected Adobe Acrobat PDF files, which have"owner"password set, preventing the file from editing (changing), printing, selecting text and graphics (and copying them into the Clipboard), or adding/changing annotations and form fields. Decryption is being done instantly. Decrypted file can be opened in any PDF viewer (e.g. Adobe Acrobat Reader) without any restrictions.(command line)
Mehr…