Kategorie System Utilities / Shell Tools
Taskbar Button Manager
Version: 2.3 | Freeware
Taskbar Button Manager is a simple utility that helps you arrange the buttons on your Windows taskbar in any way you want by using drag and drop. Moving your task buttons is very easy, no hotkey needed. In addition to drag and drop you can also use a special program window for moving the taskbar buttons. You can hide running programs too, so they don't show on your taskbar.
Mehr…
Folder Marker Free - Changes Folder Icons
Version: 4.2 | Freeware
Folder Marker is a handy shell extension that enables you to quickly change folder icons to indicate a priority level or project status (high, low, done, half-done, planned etc.), or you can use it to mark a folder with a special icon or color of your choice. Simply right-click on any folder and select the icon or color to be used from the newly added menu option. Folder Marker supports single and multiple folder selections and is freeware.
Mehr…
WatchOverEnergy
Version: 1.1 | Freeware
Many users are willing to reduce their energy use and costs, but some time standard stand-by functions are too annoying. For instance, computer monitor can change to stand-by mode when user is watching movie or reading a long article and simply don't move mouse or press any keys. It is easy to fine-tune WatchOverEnergy program, telling it not to activate monitor stand-by mode when you are running specific programs or some files are opened.
Mehr…
MouseImp Pro Live!
Version: 0.0.0.0 | Freeware
MouseImp is a handy tool that helps you to use your conventional mouse more efficiently. The AutoShrink feature increases your available workspace by removing toolbars from the screen so that only caption bars remain. The Direct Scroll feature makes it easier to scroll through windows. Instead of using a scroll bar, you can activate MouseImp and scroll by moving the mouse up or down anywhere in the window.
Mehr…
Captain Tray Pro
Version: 6.4 | Shareware (18,95 USD)
Captain Tray ist eine kleine Anwendung, die jedoch einen gro?en Unterschied bewirkt, wenn es
darum geht, Ihre Lieblingsprogramme zu organisieren, den Systemtray zu individualisieren, Shortcuts
zum sofortigen Minimieren der Fenster zu erzeugen, Untertitel von Bildern zu ?ndern und anderes zu
bewirken.
Mehr…
Jitbit Virtual Keyboard
Version: 2.22 | Shareware (19,00 USD)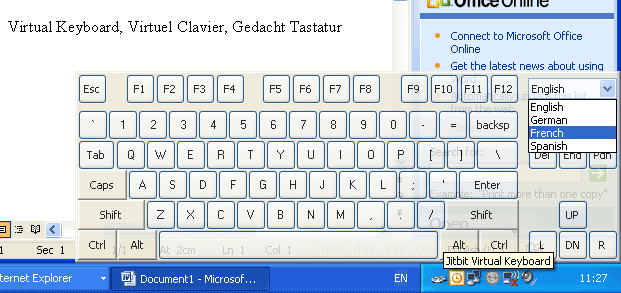 Jitbit VirtualKeyboard is a multilingual on-screen virtual keyboard. Type text with your mouse, trackball or stylus (digital pen used by TabletPC devices with a touch screen), whenever you are unable to use a physical computer keyboard. Virtual Keyboard also protects you confident data by preventing key-loggers and other keystroke trackers from spying your data. Enter your passwords, personal data, secret information safely with Virtual Keyboard.
Mehr…
PropertyEditor
Version: 5.0 | Shareware (19,95 USD)
PropertyEditor extends the context menu of Windows Explorer with a host of new useful capabilities. Configure the context menu for the selected files, folders, or drives, change icons in two clicks, create in-depth reports about the content of any selected drive or folder, configure many NTFS parameters, including Streams, Junctions, Hard Links, and Mount Points, and learn who has access to encrypted files.
Mehr…
CDBFinfo
Version: 1.20 | Freeware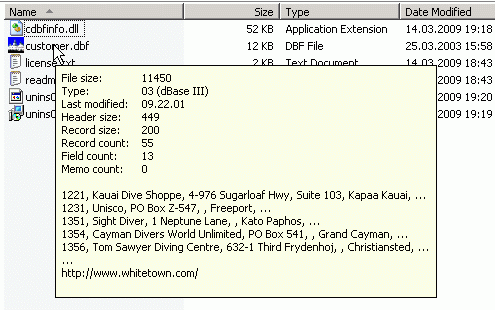 The CDBFinfo Shell extension allows you to view brief information about a DBF file without opening it. It displays: size of file, type of file, size of header, records count, fields count, memo fields count. Also it shows content of first five records and fields. The CDBFinfo Shell extension supports dBase III, dBase IV, FoxPro, Visual FoxPro and dBase Level 7 formats.
Mehr…
Tidy Start Menu
Version: 4.33 | Freeware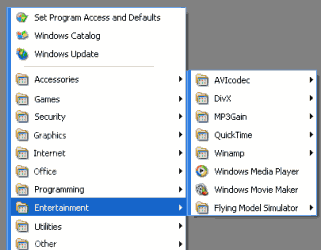 Wenn Sie müde sind, in langer Startmenüliste nach Programmen zu wühlen, so ist dieses Programm für Sie. Es erlaubt, alle Programme im Startmenü in Gruppen aufzugliedern. Das Menü sieht ordentlich aus, und jedes Programm ist einfach und schnell zu finden. Z.B. können Sie alle Spiele in die Gruppe ?Spiele' vereinigen, so dass Sie nach Anklicken des Menüs anstelle der Spielliste den Menüpunkt ?Spiele' sehen, wo Sie das gewünschte Spiel finden.
Mehr…
Smooth Program Scheduler
Version: 1.0 | Freeware
This freeware will start any program you want at a scheduled time. It can perform both one-time and recurring tasks. For special programs additional control is available so you can use Scheduler to make fully automated tasks to do different actions.
Mehr…
Talisman Desktop
Version: 3.4 | Shareware (25,00 USD)
Talisman Desktop (Talisman) ist eine Alternative für den Windows-Desktop. Mit Talisman können Sie beliebige Oberflächen für Ihren Computer zusammenbauen. Talisman versteckt dabei die Standard-Bildschirmarbeitsfläche von Windows. In der Talisman-Arbeitsoberfläche können Sie beliebige Symbole, Schaltflächen, Bilder oder andere Objekte platzieren. Alle Objekte können externe Programme oder interne Shellbefehle ausführen.
Mehr…
I Hate This Key Deluxe Edition
Version: 5.0 | Shareware (11,95 USD)
This handy utility sits in the system tray and allows you to control special key behavior. You can easily protect yourself from accidentally pressing unwanted key combinations. The program is intelligent enough to let you disable Windows Logo keys in fullscreen games only, or disable the Insert key in text editors while allowing it in combinations like Ctrl+Ins. "Doubleclick" and "Press and hold" modes, sound notifications and more...
Mehr…