Kategorie Audio & Multimedia / Sonstige
A VIP Task Management Solution
Version: 4.39 | Shareware (29,95 USD)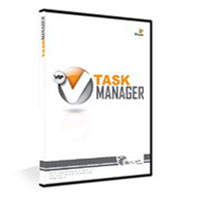 Task management together with project management and time management, help us achieve the goals we set. We believe that task management is even more powerful because task is a fundamental unit of anything we do, so if we do something wrong on task level, it will affect the whole project or business plan.
Mehr…
Audials One
Version: 2019 | Shareware (49,90 EUR)
Musik, Radios, TV, Filme & Videos finden, aufnehmen, runterladen, konvertieren &
Mehr…
Audials Tunebite Platinum
Version: 2019 | Shareware (39,90 EUR)
Universal Streaming-Rekorder Musik, Filme + TV, Filme und DVDs legal und ohne Werbung aufnehmen, Autotagging f??r Filme & TV Serien, gesch??tzte Musik konvertieren und ??berall genie??en, Universalkonverter PC, Smartphone, Tablet, Apple, Internetvideo-Downloader + Video zu MP3 + Deutsches Internet TV + DVD-Kopierer+ Playlist Media-Player + CD/DVD-Brenner + Medienverwaltung+ verbesserte Videothek +Cloud-Manager + ID3-Editor
Mehr…
Audials Music Rocket
Version: 2019 | Vollversion (39,90 EUR)
Audials Music Rocket bietet die schnellste M??glichkeit per Download legal und gratis Musik im MP3-, WMA- oder AAC-Dateiformat von bekannten Audio- & Video-Portalen zu bekommen und direkt in Audio umzuwandeln. Jeden Monat Top-Hits und neue Charts frei Haus! Rock, Schlager, Deutsche Musikvideo, Pop-Musik, Dance Charts, US Single & 80s Charts. Lieblingsmusik aus 100.000 der besten Internetradios h??ren. Podcasts, Musik-TV und Mediathek inklusive!
Mehr…
Audials Tunebite Premium
Version: 2019 | Shareware (24,90 EUR)
++Musik Streaming Rekorder mit doppelter Geschwindigkeit + Audio Konverter++ Aufnahme/Mitschnitt aller Audio-Streams in jedes Audio-Format f
Mehr…
Audials Radiotracker
Version: 2019 | Shareware (24,90 EUR)
Gezielt Radios mitschneiden. Alle Radios, Musik und Podcasts
Mehr…
Oxygen SimpleUp
Version: 1.0 | Shareware (9,95 EUR)
Oxygen SimpleUp gilt fürs Laden von Bildern, Fotos, Melodien, Klingeltönen, Spielen und anderen Dateien von Ihrem PC zu Ihrem Mobilgerät . Dieses Programm lässt die Daten laden entweder mit Windows Explorer Kontextmenü oder einfacher mit Drag-n-Drop geladen werden. Es ist leicht mit SimpleUp die Daten gleichzeitig auf mehreren Handys zu laden.
Mehr…
Bossa
Version: 3.2 | Shareware (24,00 USD)
Bossa lets you do more with iTunes. Automate your music and schedule what you want to hear. Bossa's built-in timer allows you to easily Automate your music on a daily or weekly schedule. Generate timed Playlists for your iPod by selecting what you want to hear and for how long. Make a playlist up to 24 hours long. In the Lab you can find artist pictures and information. Purchase music in the built in Amazon music store.
Mehr…
DiskInternals Music Recovery
Version: 2.0 | Shareware (39,95 USD)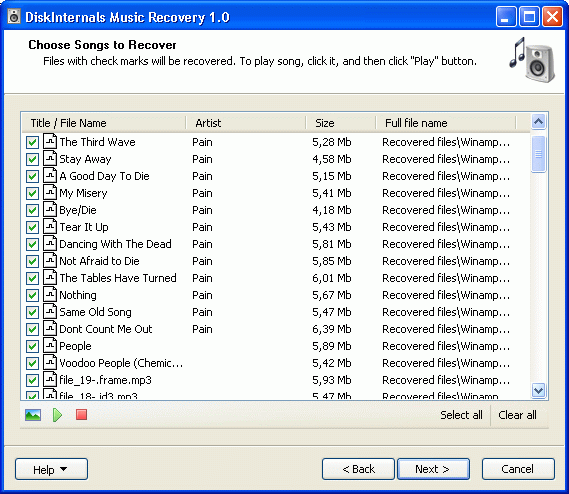 With DiskInternals Music Recovery you?ll be able to restore your music from any storage, including hard drive, iPod, USB-flash, mp3 players, CD and DVD disk. It supports most of the media formats and ALL file systems, including Windows, Mac OS and Linux. The utility has the preview mode allowing you to listen the deleted media files; if you can hear a file it can be recovered. It also supports WMA/mp3 mat tags and has the music slideshow feature.
Mehr…
Fast MP3 Cutter Joiner
Version: 3.1.1572 | Shareware (29,95 USD)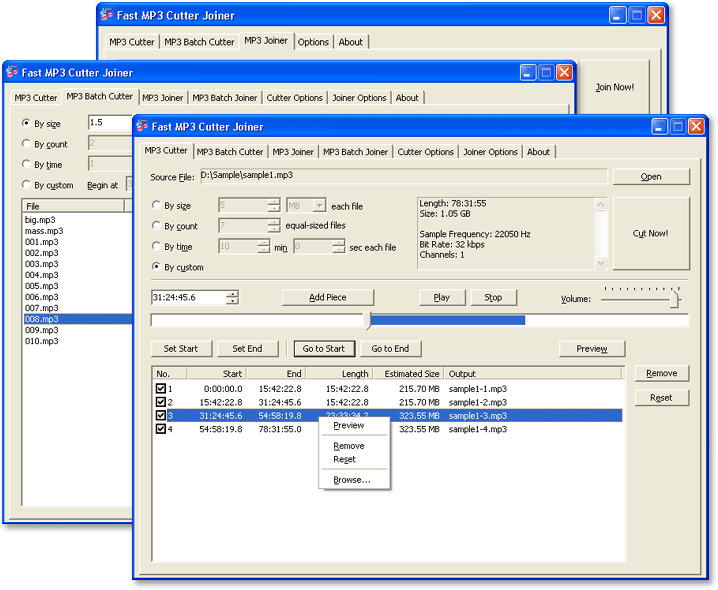 Fast MP3 Cutter Joiner cuts and trims a large MP3 file into multiple smaller pieces, and joins multiple MP3 files into a single MP3. You can cut MP3 by file size, pieces count, time duration, and custom selections. It also offers forward and backward overlap, fade-in and fade-out, keeping ID3, batch cut, and batch join. The software cuts MP3 files directly without re-encoding, so it is fast and exactly keeps sound quality of original MP3 files.
Mehr…
MP3 Sorter
Version: 1.2.0.68 | Shareware (19,95 EUR)
How can radio DJs so quickly find tracks when they need them? It's because all files are neatly arranged in folders and the favorite song can be found quickly. Prograce MP3 Sorter will help you quickly and easily arrange your collection of MP3 files. All files will be renamed to have the artist's name and the title of the track in their names and arranged in folders like this: "ArtistsAlbum + Year". Try it for free
Mehr…
Oxygen FM Manager
Version: 2.0 | Freeware
Mit Oxygen FM Manager können Sie FM Radio in Nokia Handys verwalten. Das Programm läßt FM Stationen zum PC herunterladen, ändern, und zurück ins Handy mit ein paar Mausklicks kopieren. Sie können eigene FM Einstellungen verfassen, sie auf dem PC speichern und zurück ins Handy überspielen. Oxygen FM Manager ermöglicht den Eingang zu der Liste von Oxygen Online FM Stationen, die Daten über FM Stationen der ganzen Welt enthält.
Mehr…