Kategorie Audio & Multimedia / Sonstige
Xilisoft ISO Maker
Version: 1.0.21.0112 | Shareware (24,95 EUR)
Xilisoft ISO Maker ist ein professionelles CD/DVD zu ISO Maker Programm, das Ihnen hilft, CD/DVD schnell zu rippen u. ISO-Dateien zu erzeugen, damit Sie DVD auf Ihrem Computer oder Ihrer tragbaren Festplatte sichern können. Entweder Data CD/DVD oder Video/Audio DVD kann durch diesen intelligenten ISO Maker ziemlich einfach mit wenigen Operationen gerippt werden, und die ISO-Datei wird ohne Qualitätsverlust erzeugt.
Mehr…
iVolume for Windows
Version: 3.7.5 | Shareware (23,95 EUR)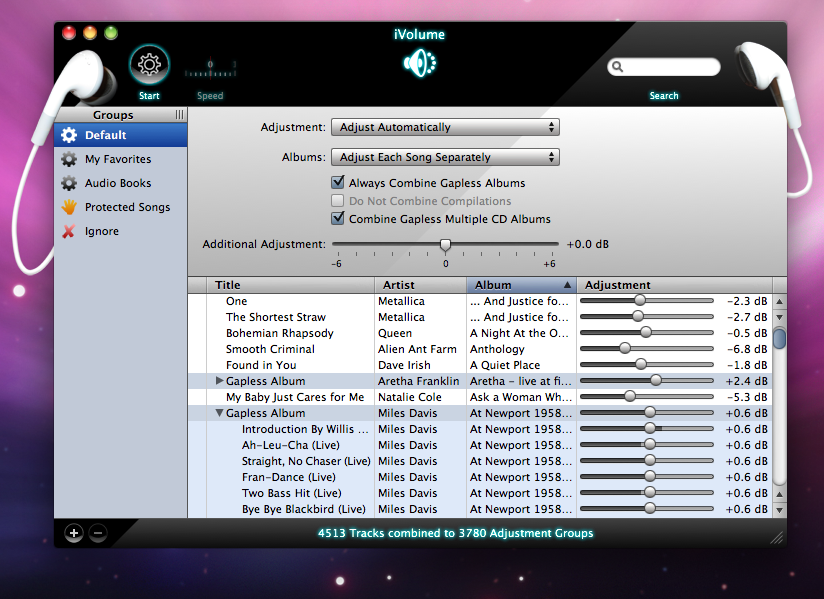 Tired of constantly adjusting your music's volume? iVolume ensures that all your songs play at the same volume level. iVolume calculates the volume perceived by the human ear for each song of your iTunes music collection. Thereby iVolume gets the most out of the approved Replay Gain algorithm and adjusts your songs accordingly.
Mehr…
iCopyBot iPod to Computer Transfer
Version: 7.8.8 | Shareware (14,46 EUR)
Batch copy your iPod music, videos, books and photos back to your computer folder or iTunes library with just few clicks, include playlists, songs rating, comment, play count, volume adjustment and so on. It is useful when you reinstall your system or you just want to copy music, videos, books and photos from iPod to your computer, or backup all your contents from iPod to a new computer, or just want to share iPod contents with a friend.
Mehr…
MP3 Speed Changer
Version: 3.01 | Shareware (19,95 USD)
MP3 Speed Changer enables you to speed up audio files - podcasts, audiobooks without changing the pitch. Batch processing feature and easy-to-use user interface make MP3 Speed Changer valuable tool for audio listeners and authors who want to save time. Features: Change tempo of podcasts, audiobooks, music, Change pitch, Batch processing, Supports MP3, WMA, OGG and many other audio and video formats, Extract audio from video and speed it up.
Mehr…
MediaWidget - Easy iPod Transfer
Version: 3.0.12 | Shareware (19,99 EUR)
MediaWidget | Easy iPod Transfer - is iPod transfer software designed to help you manage your iPod, as a simple alternative to iTunes. MediaWidget can transfer content from any iPod to any computer or from computer to iPod. MediaWidget can even transfer your content directly from your ipPod to iTunes. MediaWidget|Easy iPod Transfer can transfer Music, Photos, Videos, Podcasts, and playlists from your ipPod to your computer or back into iTunes.
Mehr…
CopyTrans
Version: 4.817 | Shareware (19,99 USD)
Your iTunes library is empty, but your music is still on your iPod Touch? Do not connect your iPhone to iTunes without an iPod backup and risk an unwanted synchronization and deletion! Copy iPod to computer and safely recover iPhone or iPod Touch library. CopyTrans transfers: music, videos, apps, podcasts, audiobooks, smart playlists, artworks, ratings, playcounts, date added and many more! Backup iPod to PC and iPhone to iTunes the correct way!
Mehr…
MP3-Check
Version: 1.0.41.0 | Freeware
Mit MP3-Check können Sie Ihre gesamte Musiksammlung effektiv auf Qualität und Unstimmigkeiten prüfen lassen. Sie bekommen angezeigt, ob ein ID3v1 oder ID3v2 Tag fehlt, die Lautstärke bestimmt und angepasst wurde und ob die Sampling Rate der MP3s Ihren Anforderungen genügt.
Mehr…
Advanced Duplicates Finder
Version: 2.0 | Shareware (32,90 USD)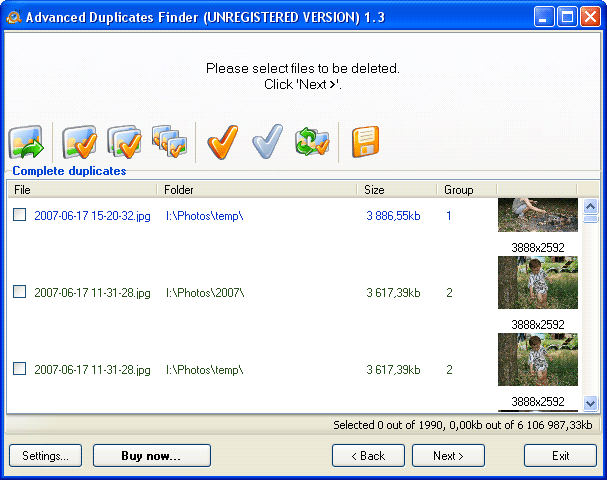 Advanced Duplicates Finder ist eine kompakte Anwendung für Suche, Identifizierung und das Entfernen von Duplikaten und Storno-Dateien, die Ihre Festplatte oder andere Medien überfluten, einschließlich RAR- und ZIP-Archive. Diese Software findet MP3-Dateien mit gleichen ID3-Marken, gleiche Bilder und Dateien mit gleichen Namen und Größen. Sie hat eine einfache Schnittstelle mit einem Assistenten, der Ihnen bei der Dateienbearbeitung hilft.
Mehr…
Moodmixer-Channelmanager
Version: 1.0 | Demo
Mit dem Moodmixer-Channelmanager können Sie mit geringstem Aufwand perfekte Playlistzusammenstellungen für Ihr Internetradio generieren und diverse Programme und Kanäle verwalten. 3 verschiedene Kontrollalgorithmen stehen Ihnen für die Berechnung der Playlisten zur Verfügung: Die Wichtigste: die Präferenzsteuerung: je höher Ihre Bewertung desto relativ häufiger wird ein Titel gespielt. Inkl Vortagsperre. Unterstützt m3u, pls, smil, txt oder xml.
Mehr…
Airfoil
Version: 5.1.0 | Shareware (29,00 USD)
Stream any audio from your computer all around your network. Send music wirelessly to devices like the Apple TV and AirPort Express, as well as third-party AirPlay hardware and Bluetooth speakers. You can even send to iOS devices and other computers. Audio on your computer, from music services like Spotify to web-based audio like Pandora, can now be heard throughout your house!
Mehr…
Xilisoft iPod to PC Copy
Version: 3.3.0.1104 | Shareware (19,95 EUR)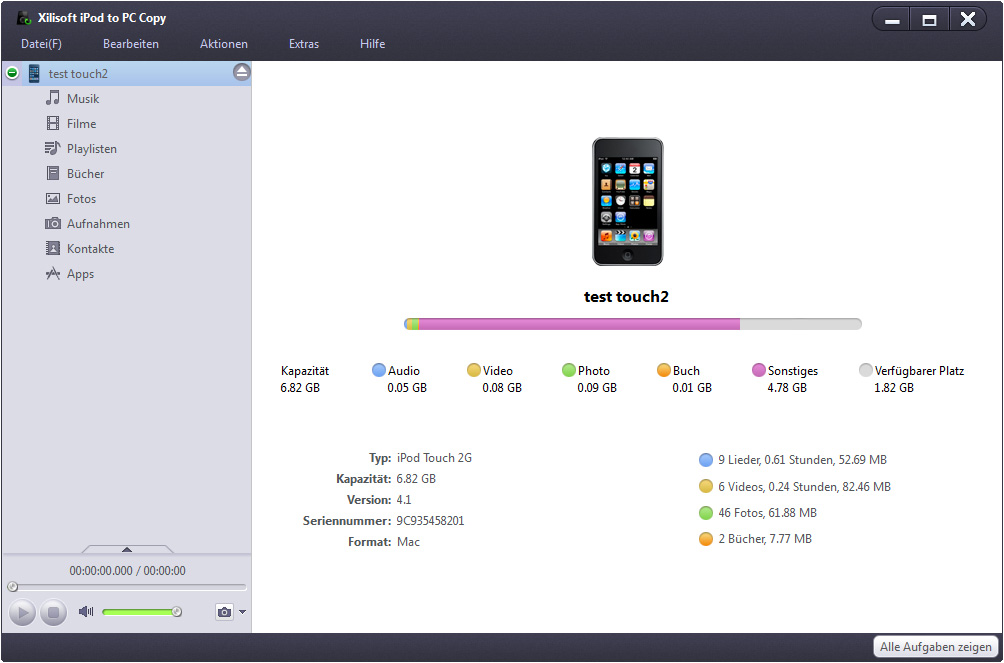 Xilisoft iPod to PC Copy ist ein praktisches iPod Transfer Tool zwischen iPod, iPhone u. PC. Als iTunes Alternative hat es folgende Funktionen:
1. er kann Video, Musik, Podcast, Foto und Fernsehprogramm vom iPod/iPhone zu Ihrem PC und umgekehrt transportieren.
2. er unterstützt auch das Transportieren von iPod/ iPhone zu iTunes.
3.Transportieren zwischen iPod und iPhone, sowie zwischen einige iPods ist eine zusätzliche Funktionen.
Mehr…
Digital Guitar Tuner
Version: 2.3 | Freeware
Digital Guitar Tuner is a free Windows software, which let's you accurately tune your guitar using direct input, microphone or MIDI tones. Now a new version 2.3 is available for downloading. Now it features 27 tuning types!
Mehr…