Kategorie System Utilities / Text- | Dokument-Editoren
Ap Text To PDF
Version: 2.2 | Freeware
Text To PDF ( txt2pdf ) is a program to convert ASCII texts into PDF format with a minimum loss of formatting information. support command line, batch convert, encryption, page orientation,font setting etc.
Mehr…
Type Booster: Autocomplete, Autoreplace
Version: 2.5.2 | Shareware (24,95 USD)
Type Booster is an automatic word-completion helper for those, who are not skilled enough in typing, or for those, who generally type a lot. This smart and easy-to-use program speeds up and simplifies your typing experience. Its ?Autocomplete?, ?Autoreplace? and ?Clipboard Enhancer? options let you experience the functionality of a sophisticated word processor in such programs as mail agents, messengers, professional software and etc.
Mehr…
PDF Splitter
Version: 1.7 | Shareware (59,90 USD)
Split your PDF file by pages in all possible ways. With PDF Splitter you can split multi-page PDF files by pages, extract only selected pages, split by bookmarks. The latest version can split PDFs by odd or even pages. Download your copy now for free. PDF Splitter is easy-to-use and has a transparent interface. Just set it up and go!
Mehr…
Advanced PDF to TEXT converter
Version: 1.9.1 | Shareware (39,95 USD)
PDF to TEXT converter effortlessly extract text information from your PDF files, preserving the original multi-column page layout. You can take advantage of the batch conversion utility to process several PDF files at once. The PDF to TEXT converter is a must have tool for document authors creating a lot of editable text based on existing PDF documents and citing other writings presented as PDF documents.
Mehr…
TotalPDFConverter
Version: 3.1 | Shareware (49,90 USD)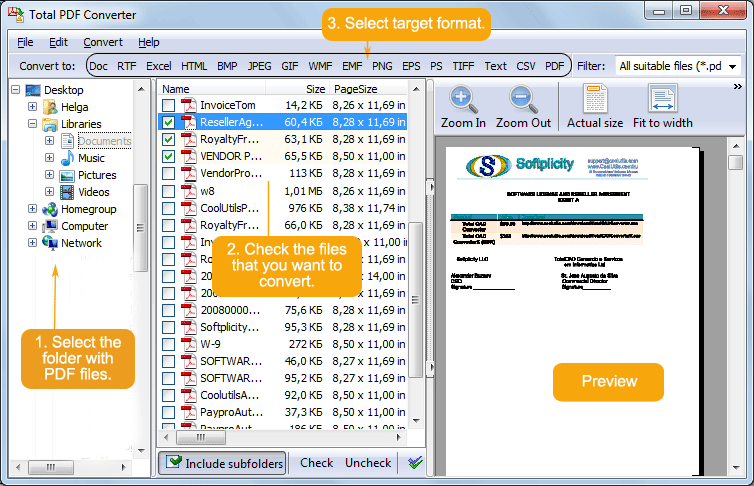 Total PDF Converter converts PDF to Doc, Excel, HTML, Text, CSV, TIFF, JPG, PNG, or BMP. It converts one PDF/PS/PCL/EPS/XPS file as well as a batch of them in no time. The resulting file is always prefect: the layout is strictly preserved. The program offers lots of additional options. You can combine several PDF files into one TIFF or add page numbers. Total PDF Converter works via user interface or command line. Download your free copy now!
Mehr…
HTMLtoRTF Converter Pro
Version: 3.1.0 | Shareware (39,00 USD)
The program can convert images (gif, jpg, png). You may convert HTML files with tables or can transform tables to the text. The program transforms any HTML and ASP files into Word files and plain text (TXT, RTF). RTF files can be open in any text editor, for example in MS Word, WordPad or PageMaker. RTF files are very convenient for editing and their size less than DOC files.
Mehr…
Emsa HTML Tag Remover
Version: 1.0.20 | Freeware
Emsa HTML Tag Remover is a software utility that allows removing html tags from a html file with some extra degree of control on how the html is removed and whitespace removal as well. It provides several options to remove different types of data from the html page. It allows whitespace removal, making
the resulting text output condensed as necessary. Finally, it works both in interactive mode, as well as in
command line mode. Freeware.
Mehr…
Arabic keyboard language support
Version: 5.1 | Shareware (17,99 USD)
Despite all achievement of the Western civilization, it has one minor thing that gives a major trouble to its guests from the East. That's the Latin character set with its left-to-right writing, which turns an easy task of dropping a short message home into a major challenge for those who are used to Arabic and the right-to-left writing - have you ever tried writing backwards? This software installs the arabic language to your system.
Mehr…
Easy Notes
Version: 5.13 | Shareware (20,00 USD)
Easy Notes let you to manage notes on your desktop, notes sorted in a tree structure, keep track of your tasks and use calendar in an intuitive way. Additionally, you can edit files with a plug-in extensible editor. It is possible to edit desktop and tree notes, calendar items, plain-text files, such as e.g. html code, in the same window that can serve as a word processor with rich-text formatting.
Mehr…
DataNumen Word Repair
Version: 2.5 | Demo (89,95 USD)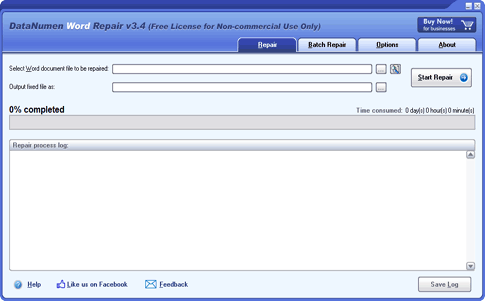 DataNumen Word Repair(DWORDR) is a powerful Word recovery tool. It can scan the corrupt or damaged Word doc files and recover your data in them as much as possible, so to minimize the loss in file corruption. Currently DWORDR supports to recover Microsoft Word 6,95,97,2000,XP,2003, 2007, 2010, 2013 documents. Moreover, it is integrated with Windows Explorer, supports drag & drop operations, which will make you repair doc files easily and quickly.
Mehr…
Compare It!
Version: 4.0 | Shareware (27,00 EUR)
Powerful file compare and merge utility. Features: built-in editor with syntax highlighting, undo and wordwrap; highlights changes within lines; editing or fast by-difference merging; printing; html and text reports; zip support; Unicode support; search and replace with regular expressions; manual line matching support; convertors support for non-text files comparison.
Mehr…
AlphaBrowser
Version: 1.3 | Shareware
AlphaBrowser is a text editor with syntax highlighting and a viewer of today's most popular file formats:
* MS Office (*.doc, *.rtf, *.xls).
* Html (*.html,*.htm,*.shtml,*.asp,*.css).
* Audio (*.mp3, *.mid, *.wav,*.rmi,*.midi).
* Video (*.avi, *.mov, *.mpg, *.mpeg, *.dat).
* Graphics (*.bmp, *.jpg, *.ico, *.emf, *.wmf, *.gif, *.ani).
* Resources *.exe and *.dll of files (not encoded certainly).
Mehr…