Kategorie Entwicklung / Management & Distribution
Manco .NET Obfuscator
Version: 4.5.4 | Shareware (204,95 USD)
Manco.Obfuscator is designed to convert .NET assemblies into the form which is hard to read after de-compiling to the languages like C# or VB.NET. It obfuscate name of the classes, fields, methods and other elements, which aren't a public. It allows resign assemblies after obfuscation using SNK or PFX files.
Mehr…
QPack Test Management (FREE)
Version: 5.3.1 | Freeware
QPack Free Software Testing Tools for Test Management by Orcanos. Includes Requirements Management and traceability, Test Plan, Test Execution, Defect Tracking - Get Free edition now. A Complete and structured Application Lifecycle Management solution, from requirements definition, through design and specs, Test Plan and Test Execution, Defect Tracking, strong Traceability and reporting tools.
Mehr…
LabelMee Software Rebranding
Version: 6.0 | Shareware (195,00 USD)
Rebranding leistungsstarke Software-Tool, ermöglicht Ihnen mit allen erforderlichen Mittel zur Schaffung und Erhaltung von mehreren Marken für Ihre Software. Es unterstützt die breite Palette von Entwicklungsplattformen wie C / MFC,. NET, Java, Delphi und Datenbanken. Sie brauchen nicht Quellcode oder Compiler zu starten Rebranding, da LabelMee Rebrander mit kompilierten Binärdateien. Verwenden Sie es jetzt und rebrand Sie Software in ein paa
Mehr…
QPack - Application Lifecycle Management
Version: 5.3.0 | Shareware
QPack by Orcanos - the leading solution for Application Lifecycle Management - ALM 2.0 - Requirements Software Solution - for software developement and for medical devices development, medical software testing, medical device software validation. Complete and structured solution or a software project, from requirements definition, through design and specs to customer delivery - the complete Application Lifecycle Management solution.
Mehr…
BoxedApp Packer
Version: 3.3.0.2 | Shareware (299,00 USD)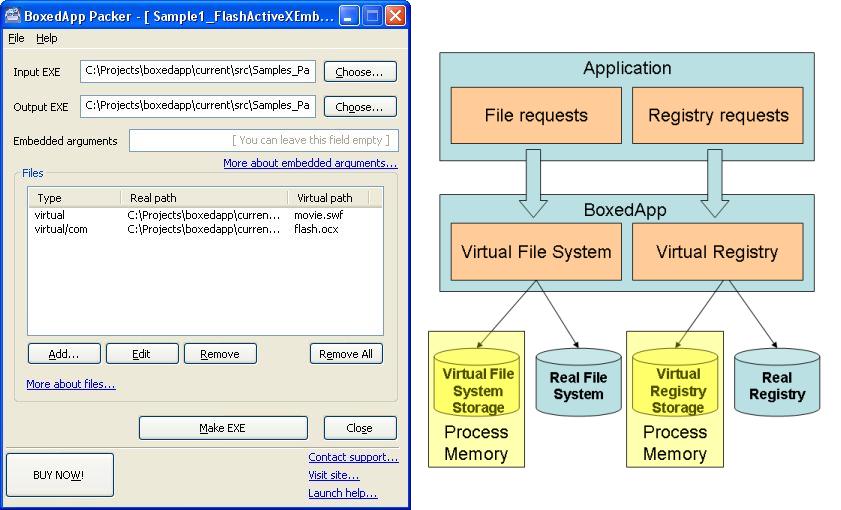 Developer utility for creating full-fledged applications that don't require the installation and can be packed in a single self-sustaining executable. Your applications may utilize third-party libraries and components and get the most of your PC, and yet not affect the computer's physical registry or hard drive, as they would be extracted directly into memory, virtual space and registry. Functionality can be further expanded by utilizing plugins.
Mehr…
GSA Auto SoftSubmit
Version: 7.96 | Shareware (34,00 EUR)
Tragen Sie Ihr Software-Produkt in Hunderte Softwarearchive ein. Durch das automatische Eintragen sparen Sie enorm viel Zeit für das Ausfüllen der WebForms. Software-Vermarktung war noch nie so einfach. Laden Sie einfach die PAD Datei und das Programm erledigt den Rest. GSA Auto SoftSubmit wird mehrmals im Monat aktualisiert, so dass Ihre Software in die mehr als 9000 Websieten immer ordnungsgemäî eingetragen wird.
Mehr…
secureSWF
Version: 4.0 | Demo (99,00 USD)
secureSWF ist eine robuste Adobes Flash und Flex ActionScript obfuscator. Die Bereitstellung der besten SWF Sicherheit, schützt es Ihre SWF-Dateien aus decompilers durch die modernsten Techniken und Verschleierung Schutz. Es hilft Ihnen auch, Ihre Flash-Anwendung gegen eine Vielzahl von Bedrohungen der Sicherheit durch die Bereitstellung verschlüsselte Domain Verriegelung, verschlüsselte Lader Schöpfung und Zeichenketten Verschlüsselung.
Mehr…
Manco .NET Licensing System
Version: 9.0.0.0 | Shareware (74,95 USD)
Manco .NET Licensing System is powerful licensing and copy protection tools for .NET Windows Forms, WPF, and ASP.NET applications, controls and components. Protection library is available for .NET Framework 3.5, 4.0, 4.5 and Windows Store app. It uses very flexible licensing schema with following main features: Strong encryption, Time/Usage Limited Evaluation, Flexible license content, Encrypt code and data, Source Code Integration.
Mehr…
Software Defender
Version: 2.1 | Demo (19,97 USD)
Software and digital product activation service. Stops piracy of your products. If you can point and click, then you have what it takes to stop pirates from ripping you off and profiting from your digital products, forbid habitual refunders from getting them for free, and prevent your products from being copied without you being paid. Powerful web control panel with charts and detailed reports showing every aspect of your product use (and misuse)
Mehr…
VIPadd
Version: 1.0 | Demo
- you can hold and manage all your PADs here;
- you can edit, delete and add Archives by yourself;
- you can submit or update your PADs half-automatically to more than 800 Archives;
- you can submit or update your PADs full-automatically to more than 130 Archives;
- you can find presence of your PADs automatically in more than 500 Archives;
- auto recognize of a category in a categoty-lists at Archives for you PAD;
Mehr…
LangAgent
Version: 2.1 | Demo (69,00 USD)
Increase your revenues, localize your applications with LangAgent! LangAgent automates all localization tasks, so programmer will be free from performing extra operations connected with localization. LangAgent generates tasks for translators, supports version control and tracks changes. You can use LangAgent not only for localization but also for proofreading. Add-in for MSVC enables you to apply LangAgent to your projects easily.
Mehr…
AntiDuplicate
Version: 5.5.0 | Demo (144,00 USD)
AntiDuplicate makes hardware keys for anti-piracy protection - using your computer. Software developers can now prepare hardware keys (dongles) from ordinary USB flash drives! The result is the durable media for software distribution and the USB token for anti-copy protection at the same time. AntiDuplicate SDK contains instruments and samples for Visual C++, C#, Visual Basic, FoxPro, PowerBASIC, WinDev, Borland Delphi and C++ Builder, Fortran.
Mehr…