Kategorie Kommunikation / Telefon
Diacorder
Version: 1.8.6 | Demo (280,00 USD)
Der DIACORDER USB ist ein vollausgestatteter Call Recorder für analoge Leitungen, der die passive Anrufaufzeichnung in analogen Erd- und Schleifenstart-Netzwerken unterstützt. Eine Kombination aus einem sorgfältig durchdachten Hardware-Design mit einer eleganten und verlässlichen Software macht das Gerät ideal für Aufzeichnungen in kleinem Umfang. Ein unabdingbares Werkzeug in Ihrem Büro, das Ihre Produktivität mit seiner praktischen Benutzerober
Mehr…
Diacorder
Version: 1.8.6 | Demo (280,00 USD)
Der DIACORDER USB ist ein vollausgestatteter Call Recorder für analoge Leitungen, der die passive Anrufaufzeichnung in analogen Erd- und Schleifenstart-Netzwerken unterstützt. Eine Kombination aus einem sorgfältig durchdachten Hardware-Design mit einer eleganten und verlässlichen Software macht das Gerät ideal für Aufzeichnungen in kleinem Umfang. Ein unabdingbares Werkzeug in Ihrem Büro, das Ihre Produktivität mit seiner praktischen Benutzerober
Mehr…
OfficeSIP Softphone
Version: 1.0.5 | Freeware
OfficeSIP Softphone is the ideal audio / video communications tool for you to use in your business, supporting a wide range of VoIP SIP servers. The softphone is also offered for free, providing you with a simple yet effective solution with minimal hassle. Audio and video quality is exceptionally good and the program is highly compatible and easy to set up. It does not utilize any unnecessary extra controls and gives you everything you need.
Mehr…
DialDirectly (for Skype)
Version: 1.14 | Shareware (12,00 EUR)
DialDirectly kann über anpassbare Hotkeys aus beliebigen Applikationen heraus Telefonnummern und Zielnamen direkt via Skype wählen und wiederholen. Die letzten 10 Nummern/Namen stehen zur Wahlwiederholung zur Verfügung. Das Programm kann einfach installiert und wieder deinstalliert werden, es werden keine Änderungen am Betriebssystem vorgenommen.
Mehr…
Symbian SMS Manager
Version: 2.18.24 | Demo (14,95 EUR)
Symbian SMS Manager läßt zu, alle Mitteilungstype auf dem PC zu verwalten. Das Programm liest Inhalt von Eingang, Ausgang, Entwürfe, Gesendet, eigenen Ordnern und E-Mail-Box und stellt Mitteilungstype SMS, MMS, E-Mail, Beamed dar. Sie können Plain- und Unicode-SMS-Mitteilungen erstellen, an einen oder mehrere Empfänger versenden und eigene Ordner zu verwalten. Außerdem speichert das Programm Mitteilungen als Reservekopie und wiederherstellt sie.
Mehr…
VRS Mehrkanal-Aufnahmesystem
Version: 5.49 | Shareware (391,30 EUR)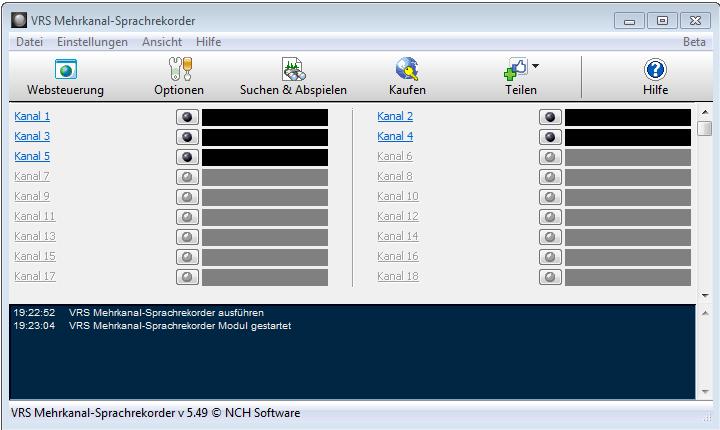 VRS ist ein Mehrkanal-Aufnahmesystem, das normalerweise für Telefonaufnahmen, Radiosender-Protokollierung oder Schaltzentralen-Aufnahmen verwendet wird. VRS nimmt 1 bis 64 Audiokanäle gleichzeitig mit erweiterter Audiokomprimierung auf, um Dateigrößen zu reduzieren. Nach Datum oder Kanal sortierte Aufnahmen suchen und abspielen.
Mehr…
OfficeSIP Messenger
Version: 2.2.5 | Freeware
OfficeSIP Messenger provides enterprises with advanced instant communications for free. Compatible with Office Communications Server and Office Communicator, OfficeSIP Messenger delivers reliable performance combined with trouble-free deployment and management. Supporting text, voice and video chats, the free softphone implements ICE, STUN, and TURN protocols to easily traverse NAT, and supports TLS for ultimate communication security.
Mehr…
Voicent Flex PBX
Version: 9.0.5 | Freeware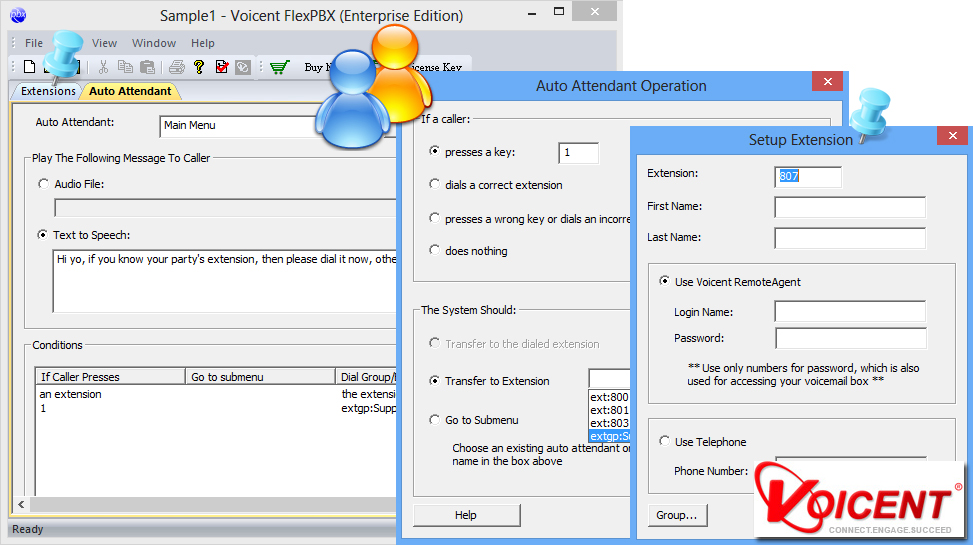 Voicent Flex PBX is an easy-to-use software-based PBX system for small and large business alike. It supports both analog phone services and VOIP services. Besides the basic PBX features like auto attendant, unlimited call queues, configurable extensions, and call forwarding, it is also extensible through Voicent IVR Studio for more advanced features like database access and email processing. Point-n-Click design, easy installation and affordable.
Mehr…
easyvoiprecorder
Version: 1.2 | Shareware (19,99 USD)
EasyVoipRecorder Its a small computer application to record VOIP softphones conversations.This is a Skype Recorder, Google Talk Recorder, VoipCheap Recorder, VoipStunt Recorder,VoipBuster Recorder, 12Voip Recorder, Yahoo Messenger Recorder, MSN Live Messenger Recorder,Xten Recorder, X-lite Recorder, Firefly Recorder tool.Its the perfect tool for record store, organize and share yours voip conversations.
Mehr…
Voicent Predictive Dialer
Version: 9.0.5 | Freeware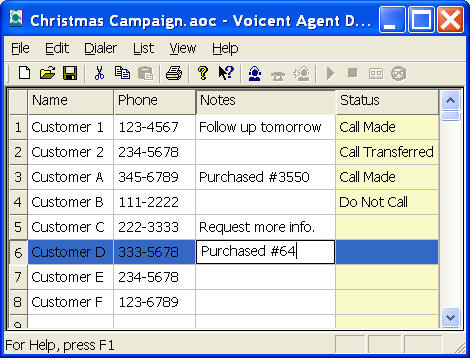 Voicent Agent Dialer is a predictive dialer and a semi auto dialer combined. It assists marketing or sales agents for telemarketing campaigns. Agent Dialer supports SIP based VOIP, Skype, and traditional phone services. Automatic dialing can play audio messages, transfer calls, and record conversations, all by the press of a key. It helps you to generate leads, reduce work load, save your voice, and increase productivity.
Mehr…
3CX Phone FREE VoIP Phone
Version: 4.0 | Freeware
Free VOIP / SIP phone (softphone) for Windows. Use your PC as a phone. Works with popular VOIP providers and SIP PBX's (including 3CX Phone System). The interface is easy to use and similar to that of popular Smartphones. 3CXPhone is compact and easy to install across a network. Features include Call Transfer, Call Recodrding, Hold, Headset support, Call History. Full version, not a lite version! Free download from http://www.3cx.com
Mehr…
AsnomTAPIduo
Version: 1.12.02.01 | Shareware (19,99 EUR)
COMIREL bietet TAPI Service Provider für bis zu 2 SNOM VoIP Telefone. Folgende Dienstleistungsmerkmale werden unterstützt: Anwahl - Annehmen - Beenden - Makeln - Halten - Wiederaufnahme - 3er Konferenz - Nachfragen - Verbinden - Weiterleitung nach Bedingung. Alle aktiven VoIP Profile werden als TAPI Lines zur Verfügung gestellt. Stellt die Anbindung an das Tool ActiNOTIFY (Groupware Integrat) zu Verfügung. SNOM Firmware V8
Mehr…