Kategorie Kommunikation / Telefon
VRS Mehrkanal-Aufnahmesystem
Version: 5.49 | Shareware (391,30 EUR)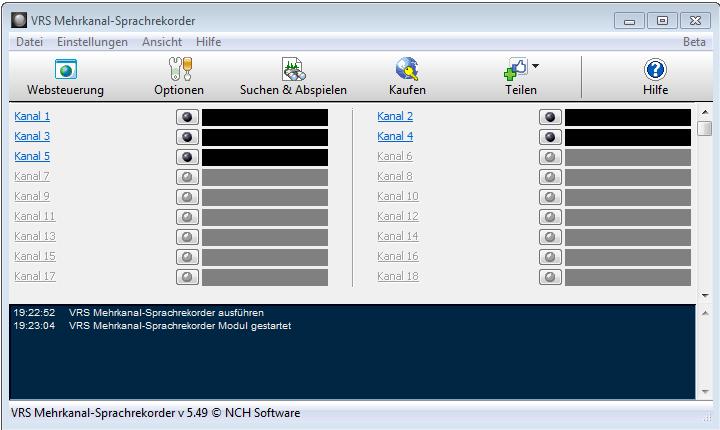 VRS ist ein Mehrkanal-Aufnahmesystem, das normalerweise für Telefonaufnahmen, Radiosender-Protokollierung oder Schaltzentralen-Aufnahmen verwendet wird. VRS nimmt 1 bis 64 Audiokanäle gleichzeitig mit erweiterter Audiokomprimierung auf, um Dateigrößen zu reduzieren. Nach Datum oder Kanal sortierte Aufnahmen suchen und abspielen.
Mehr…
Symbian SMS Manager
Version: 2.18.24 | Demo (14,95 EUR)
Symbian SMS Manager läßt zu, alle Mitteilungstype auf dem PC zu verwalten. Das Programm liest Inhalt von Eingang, Ausgang, Entwürfe, Gesendet, eigenen Ordnern und E-Mail-Box und stellt Mitteilungstype SMS, MMS, E-Mail, Beamed dar. Sie können Plain- und Unicode-SMS-Mitteilungen erstellen, an einen oder mehrere Empfänger versenden und eigene Ordner zu verwalten. Außerdem speichert das Programm Mitteilungen als Reservekopie und wiederherstellt sie.
Mehr…
OfficeSIP Messenger
Version: 2.2.5 | Freeware
OfficeSIP Messenger provides enterprises with advanced instant communications for free. Compatible with Office Communications Server and Office Communicator, OfficeSIP Messenger delivers reliable performance combined with trouble-free deployment and management. Supporting text, voice and video chats, the free softphone implements ICE, STUN, and TURN protocols to easily traverse NAT, and supports TLS for ultimate communication security.
Mehr…
Voicent Flex PBX
Version: 9.0.5 | Freeware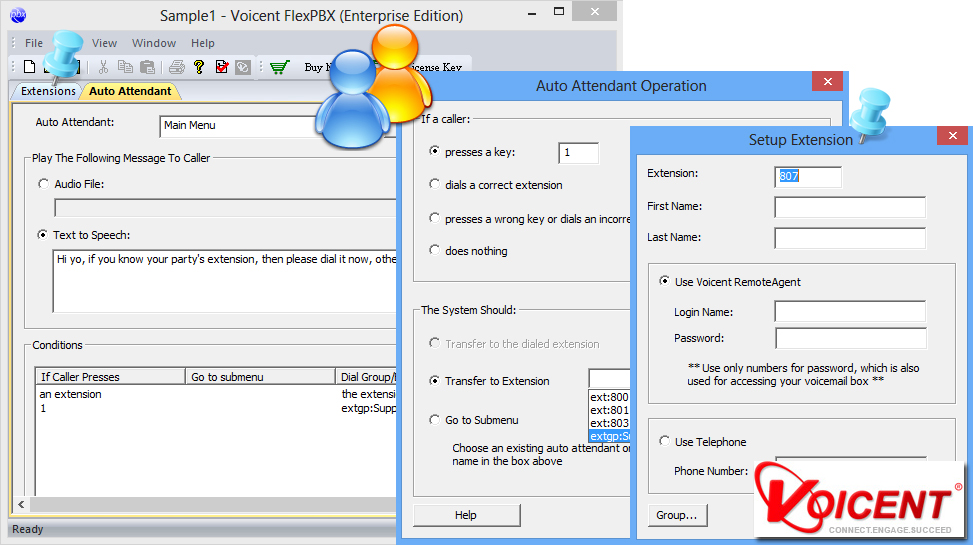 Voicent Flex PBX is an easy-to-use software-based PBX system for small and large business alike. It supports both analog phone services and VOIP services. Besides the basic PBX features like auto attendant, unlimited call queues, configurable extensions, and call forwarding, it is also extensible through Voicent IVR Studio for more advanced features like database access and email processing. Point-n-Click design, easy installation and affordable.
Mehr…
Voicent Predictive Dialer
Version: 9.0.5 | Freeware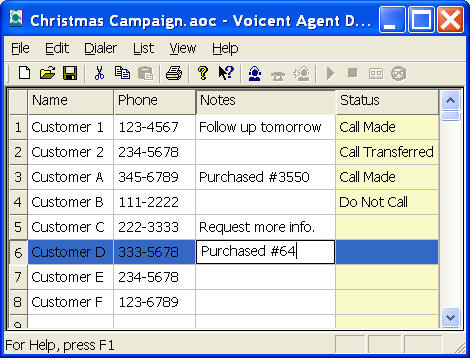 Voicent Agent Dialer is a predictive dialer and a semi auto dialer combined. It assists marketing or sales agents for telemarketing campaigns. Agent Dialer supports SIP based VOIP, Skype, and traditional phone services. Automatic dialing can play audio messages, transfer calls, and record conversations, all by the press of a key. It helps you to generate leads, reduce work load, save your voice, and increase productivity.
Mehr…
easyvoiprecorder
Version: 1.2 | Shareware (19,99 USD)
EasyVoipRecorder Its a small computer application to record VOIP softphones conversations.This is a Skype Recorder, Google Talk Recorder, VoipCheap Recorder, VoipStunt Recorder,VoipBuster Recorder, 12Voip Recorder, Yahoo Messenger Recorder, MSN Live Messenger Recorder,Xten Recorder, X-lite Recorder, Firefly Recorder tool.Its the perfect tool for record store, organize and share yours voip conversations.
Mehr…
3CX Phone FREE VoIP Phone
Version: 4.0 | Freeware
Free VOIP / SIP phone (softphone) for Windows. Use your PC as a phone. Works with popular VOIP providers and SIP PBX's (including 3CX Phone System). The interface is easy to use and similar to that of popular Smartphones. 3CXPhone is compact and easy to install across a network. Features include Call Transfer, Call Recodrding, Hold, Headset support, Call History. Full version, not a lite version! Free download from http://www.3cx.com
Mehr…
AsnomTAPIduo
Version: 1.12.02.01 | Shareware (19,99 EUR)
COMIREL bietet TAPI Service Provider für bis zu 2 SNOM VoIP Telefone. Folgende Dienstleistungsmerkmale werden unterstützt: Anwahl - Annehmen - Beenden - Makeln - Halten - Wiederaufnahme - 3er Konferenz - Nachfragen - Verbinden - Weiterleitung nach Bedingung. Alle aktiven VoIP Profile werden als TAPI Lines zur Verfügung gestellt. Stellt die Anbindung an das Tool ActiNOTIFY (Groupware Integrat) zu Verfügung. SNOM Firmware V8
Mehr…
CT Developer Studio
Version: 2.0 | Demo (99,00 USD)
Implement a professional voice response system into your business quickly and efficiently. CT Developer Studio helps you develop and host automated call handling systems which can be tailored to individual needs. Develop complex IVR software or implement a simple inbound call center, set up automatic dialing or create a fully automatic call management system in Windows.
Mehr…
TRx Professional Phone Call Recorder
Version: 4.33 | Shareware (57,96 EUR)
TRx is a personal phone line recorder program for Windows. TRx lets you manually record telephone calls on a phone line connected to the voice modem (or other telephony card) of your computer.TRx also works as a caller number ID display system and lets you put calls on-hold (and plays on-hold music and messages).
Mehr…
IVM Telephone Answering Attendant
Version: 5.12 | Shareware (69,99 USD)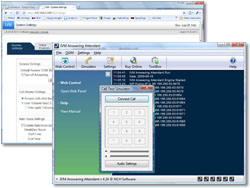 IVM can be used for a wide range of solutions from a simple computer answering machine to running a sophisticated telephone interactive response system. Just run the install file and IVM will be ready to answer calls.
Mehr…
Voicent IVR Studio
Version: 9.0.5 | Freeware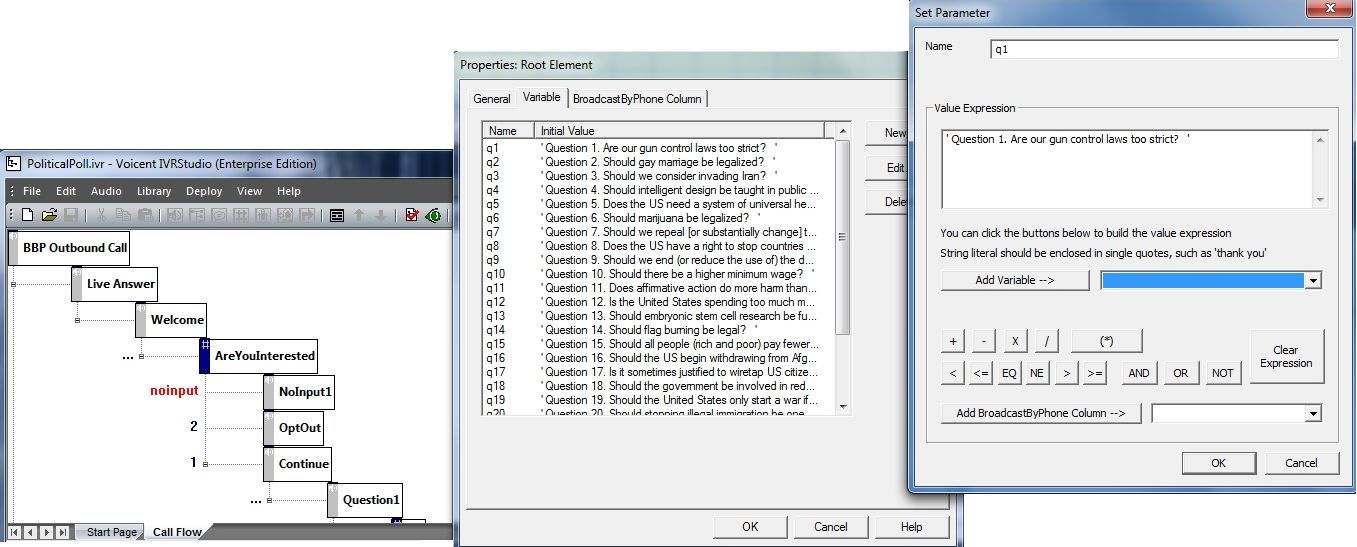 IVR Studio for easy development of interactive voice response systems. Quick development and deployment of music on hold, voicemail, auto attendant, voicemail to email, and other inbound call applications. Voicent IVR solutions offers point-and-click call flow design, ease of installation, and lower cost of ownership. Design IVR applications for SIP, VOIP, SKYPE, and PSTN services.
Mehr…