Kategorie System Utilities / Sonstige
Password Coffer
Version: 3.0 | Shareware (19,95 USD)
Password Coffer is an easy-to-use passwords organizer and protector. With nice interface, bringing great convenience to your work, Password Coffer is indeed an important assistant to you. It stores your private information securely and you can get your privacy very easily when you need.
Mehr…
TweakNow PowerPack 2005 Professional
Version: 1.4 | Shareware (34,95 USD)
TweakNow PowerPack is a fully-integrated suite of utilities that let you fine-tune every aspect of your computer's operating system and Web browser. The RAM Idle program manages the free memory that is available to run Windows programs. It prevents performance from degrading as you swap files and programs in and out of memory. The AutoShutdown program lets you suspend, hibernate, or shut down your computer after a specified period of time.
Mehr…
Windows Fenster Schliesser
Version: 2.2 | Shareware (8,00 USD)
The 'Close all Windows' tool automatically removes all the many windows (applications) accumulated during working on the PC. The "Window-Closer" is a small program, which resides in the system tray (next to the clock) and can be activated by a simple click or by a fast hotkey. Additional to the 'Close all Windows' functionality you get the Clipboard Cleaner and Text Hotkeys.
Mehr…
VG Autotask
Version: 2.0.4 | Shareware (9,95 EUR)
Dieses benutzerfreundliche Programm simuliert beliebige Maus- und Tastatureingaben. Sie k?nnen z.B. mit nur einem Mausklick ein Programm starten, dieses dann ?ber eine Tastaturaufnahme "fernsteuern" und anschl. den PC herunterfahren. Dank weiteren Ereignissen wie dem Erstellen eines Bildschirmphotos oder dem ?ndern der Aufl?sung sind Ihrer Fantasie keine Grenzen gesetzt.
Langwierige Programmabl?ufe sind ab nun mit nur einem Mausklick erledigt.
Mehr…
Password Protect Folders
Version: 1.0 | Shareware (39,95 USD)
Password Protect Folders is security software that lets you lock your personal folders with a password. People who share your computer will not be able to read or print your confidential information. You can easily access the folder when you need it - just double-click the folder and enter the password. The program was extensively tested on Windows XP, 2000, NT, 98 machines to ensure its complete compatibility. Very easy to use!
Mehr…
Extract! basic
Version: 2.2 | Shareware
Übernimmt Daten von einer PC-Schnittstelle (serielle RS232 / V24/TTY/ IR, USB,Bluetooth, Netzwerk...) und übergibt Ausschnitte daraus an beliebige Windows-Programme wie z.B. Excel, SPC, PMÜ, LIMS, POS, BDE etc. Datenquellen : Meßgeräte, Handmessmittel, Steuerungen, Sensoren, Waagen, (Barcode-)Scanner, Überwachungsgeräte,u.a. Das Programm ohne Vorkenntnisse anwendbar.
Mehr…
EF StartUp Manager
Version: 6.70 | Shareware (10,00 EUR)
Der EF StartUp Manager erm?glicht Ihnen eine einfache Handhabung und die vollst?ndige Kontrolle ?ber Anwendungen, die w?hrend des Systemstarts automatisch ausgef?hrt werden. Bietet mit dem so genannten "kontrollierten Startmodus" die M?glichkeit, Programme zeitverz?gert in definierter Reihenfolge zu starten. Mehrsprachig. Shareware
Mehr…
Shared Serial Ports
Version: 1.1 | Shareware (99,95 EUR)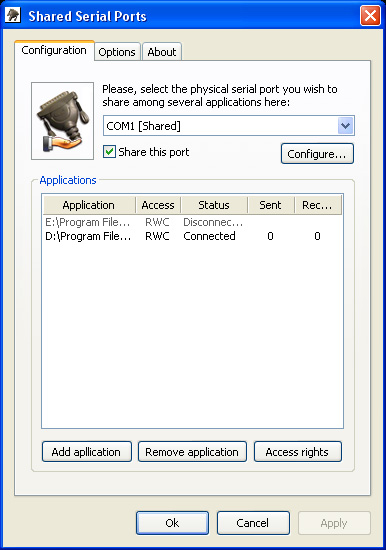 Shared Serial Port - advanced utility to share real serial ports between applications so that all applications will receive/send data from/to real serial port simultaneously. Shared Serial Port creates virtual serial ports, which are same copies as real ones. Any virtual serial port will have the same name as the real one and any number of applications will be capable of using it at the same time.
Mehr…
DiaryOne
Version: 7.0 | Shareware (29,95 USD)
DiaryOne is a creative multimedia diary keeper software for storing your private information securely. DiaryOne can store not only texts but also multimedia information including sounds, pictures, etc. It also provides various skins and stationeries for your diaries. You can select a diary skin as you like. Even, you can send your diary to others as email.
Mehr…
Odbc 4 All
Version: 2.3 | Shareware (49,00 EUR)
Allows any application, including DOS apps and batch files, to easily run SQL queries using any ODBC data source, (Access, MySql, Oracle, Informix, ...) redirecting the output to the screen, an ascii file / table or a DBF table. Can be used in standalone mode and/or inside a 3rd party application, with or without user intervention.
Mehr…
IsEqual
Version: 1.01 | Shareware (9,90 USD)
A must have for those who often deals with identifying files that have been changed.
New IsEqual will help you to quickly identify differences between files even with multitude of new features. IsEqual will do it in the most informative way - visual. Those parts that have been added or removed will be marked in different colors.
IsEqual will satisfy all your file compare and file merge tasks.
Mehr…
WinSettings
Version: 7.0.3 | Shareware (49,95 USD)
WinSettings is a Windows utility that protects your online Privacy and Security, to gain more control of your Windows Desktop, and make better use of acquired multimedia contents. It cleans up unwanted tracks left on the computer from surfing the Internet and in the Document Menu automatically on Windows Startup or on demand with just one single click, with features not available in Windows.
Mehr…