Kategorie System Utilities / Sonstige
Soft4Boost Toolbar Cleaner
Version: 6.2.5.241 | Freeware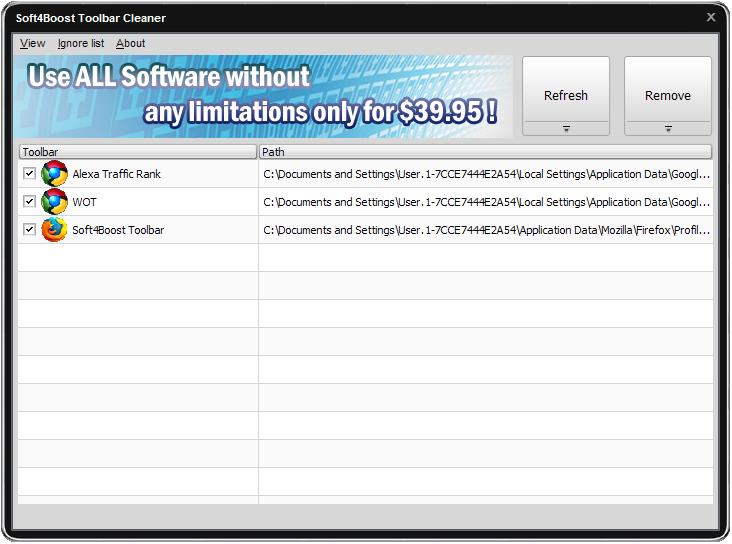 Soft4Boost Toolbar Cleaner entfernt unerwünschte Symbolleisten, Apps, Add-ons und Plug-ins wie Ask, viel, Babylon, Bing und MSN Toolbars. Jetzt herunterladen und sehen, was es für Sie tun kann! Auch Sie können Soft4Boost Toolbar Reiniger Design wie Sie es wünschen. Soft4Boost Toolbar Cleaner ist kompatibel mit Büro-, Grafik-, Anti-Virus-und andere Software auf Ihrem PC installiert.
Mehr…
Soft4Boost Any Uninstaller
Version: 8.6.7.481 | Freeware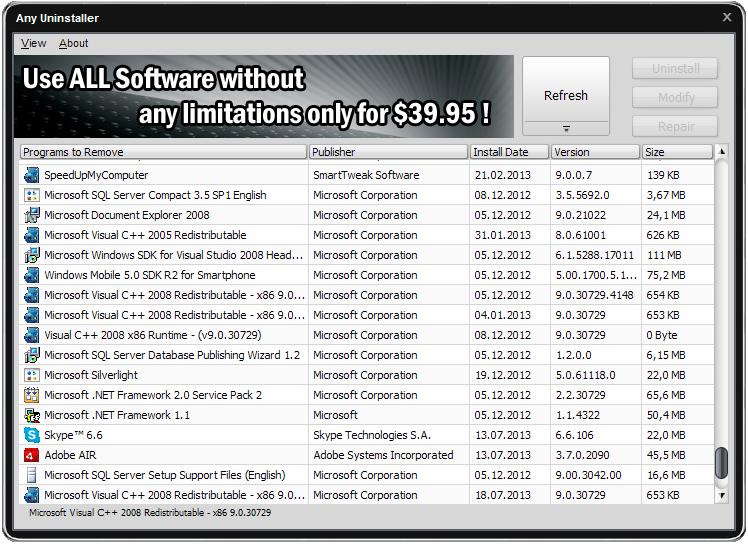 Soft4Boost Any Uninstaller hilft Ihnen, Software zu deinstallieren und entfernen Sie unerwünschte oder beschädigte Programme auf Ihrem Computer installiert einfach! Auch wenn Sie Probleme haben, deinstallieren und kann nicht deinstalliert werden sie von "Windows Programme hinzufügen oder entfernen" Control Panel Applet.
Mehr…
Soft4Boost Dup File Finder
Version: 7.9.3.369 | Freeware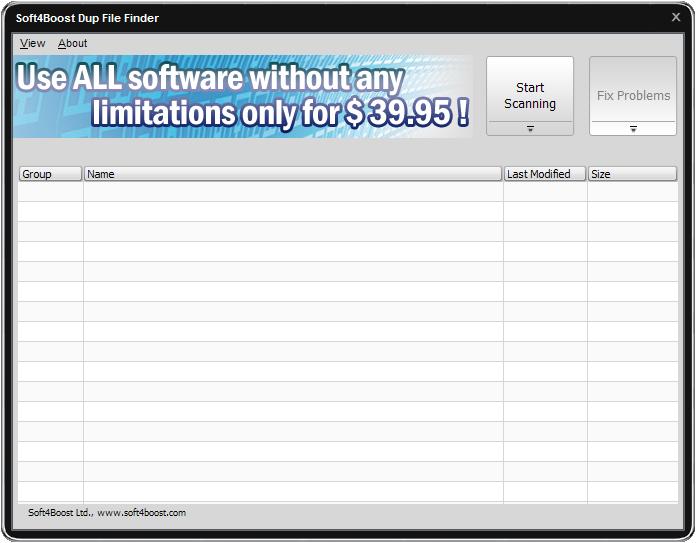 S4B Dup File Finder ist ein Allzweck-Programm, das Benutzern zu finden und löschen Sie doppelte Dateien nehmen wertvollen Platz auf ihrer Festplatte ermöglicht. Täglich Computer-Aktivität führt unweigerlich zu akkumulieren identische Dateien auf dem PC. Benutzer könnten Gigabyte aus dem Internet herunterladen. Halten Sie unnötige Duplikate auf dem Computer bedeutet, wertvolle Festplattenspeicher.
Mehr…
Soft4Boost Secure Eraser
Version: 5.7.5.303 | Freeware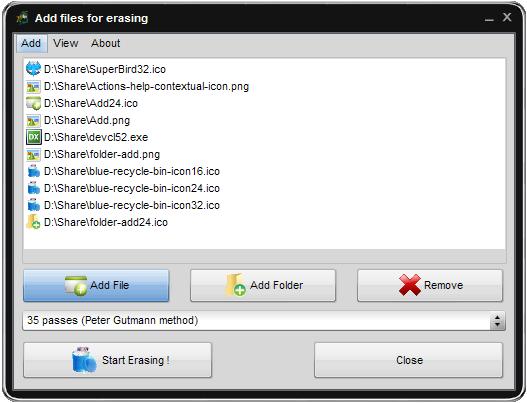 Soft4Boost Secure Eraser ist ein Assistent -Stil -Dienstprogramm, mit dem Sie sensible Daten vollständig von der Festplatte durch Überschreiben mehrmals mit sorgfältig ausgewählten Mustern ermöglicht. Mit international anerkannten Verfahren löscht sensible Daten Soft4Boost Secure Eraser so sicher, dass eine Rekonstruktion, auch mit spezieller Software ist nicht mehr möglich.
Mehr…
@SwIt Printfil
Version: 5.25 | Shareware (52,00 USD)
Erlaubt zeichenorientierten Applikationen auf Windows-Drucker auszudrucken, selbst wenn es sich um eine DOS/Windows oder eine Unix/Linux Lösung handelt, welche mit Telnet auf einem Windows PC ausgeführt wird. Sie können den Druck aus Ihrer Applikation in eine ASCII-Datei leiten oder Printfil ermöglichen, direkt ab Ihrem Parallel-Port die Druckaufträge an jeden beliebigen Drucker umzuleiten, inbegriffen USB-Drucker, Drucker im Netzwerk, Fax ...
Mehr…
Acronis Files Connect
Version: 10.6.4 | Shareware (795,00 USD)
At its core, Acronis Files Connect is an AFP server that runs on your Windows server and enables Macs to connect to file shares and NAS via Apple Filing Protocol (AFP) instead of the Server Message Block (SMB) protocol. Acronis Files Connect expands beyond Macs to provide fast, seamless file access to iOS, Android, and Windows phones and tablets.
Mehr…
AD FastReporter
Version: 2.1.1.2 | Shareware (79,00 USD)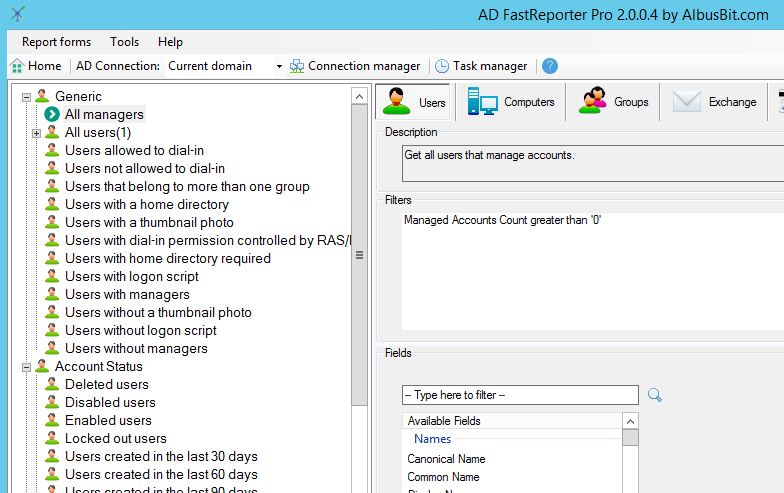 AD FastReporter ist eine großartige Möglichkeit, AD-Berichte einfacher und schneller zu erstellen, zu speichern, zu planen und zu teilen. Es ist einfach zu verwenden, so dass Sie kein Scripting- oder LDAP-Experte sein müssen.
Mehr…
Export Exchange Mailbox
Version: 5.5 | Shareware (199,00 USD)
Export exchange mailbox from 2016, 2013, 2010 to PST Outlook file by downloading result-oriented SysInspire Export exchange database Tool that repair damaged, corrupted exchange database, mailboxes and export exchange mailbox EDB to PST, MSG, EML, EMLX and MBOX format. Export exchange database to PST from offline Exchange EDB.
Mehr…
COM Port Splitter
Version: 5.0.119 | Shareware (79,95 EUR)
Mit COM Port Splitter können Sie einen reellen Port auf mehrere virtuelle Ports aufteilen, mehrere reelle Ports einem virtuellen Port zuweisen und den seriellen Datentransfer von einem reellen Port zu einem anderen reellen oder zu einem virtuellen Port umleiten. Sie können auch einen reellen seriellen Port mehreren Anwendungen zuweisen so daß alle gleichzeitig die selben Daten von einem reellen Port empfangen.
Mehr…
CD Recovery Toolbox Free
Version: 1.1.18 | Freeware
Try CD Recovery Toolbox Free if you encounter the corruption of CD, DVD or Blu-Ray discs, this approach allows repairing the data on affected discs regardless the reason of corruption. You may encounter disc scratches and other issues, it is not really important for the sequence of user activities, the process is fully automated. Get the setup file of disc repair application and follow the guidelines of CD Recovery Toolbox Free.
Mehr…
Flash Recovery Toolbox
Version: 1.1.17 | Shareware (27,00 USD)
Get Flash Recovery Toolbox for evaluation and test your chances of getting the data back by opening a flash drive of supported format, it is easy and you can repair FAT drives without additional instructions. It does not matter which contents is stored on the disk in question, you should simply follow the guidelines of flash recovery program and wait until the recovery is completed. Try to install Flash Recovery Toolbox on a powerful PC.
Mehr…
@Kill
Version: 1.2 | Freeware
This freeware software allows you to list the opened windows (applications) on your Windows machine and to kill some of them by specifing their title. It works even with hidden and system windows (for example trayed applications) and you can specify only PART of the window caption. You can also export a list of all or some opened windows into a text file, so that an external app. can know in advance if a program is running before killing it.
Mehr…