Kategorie Netzwerk & Internet / Such- | Nachschlage-Tools
Web Wortlisten Sauger
Version: 1.0 | Demo (19,99 EUR)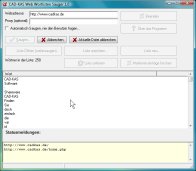 Suchen Sie Internetseiten nach allen verwendeten Wörtern ab und verfolgen Sie Links zu anderen Seiten, um auch dort nach Wörtern zu suchen. Die so erstellten Wortlisten können z.B. Grundlage für Wörterbücher, Passwort Finder oder zur Rechtscheibprüfung oder vieles andere genutzt werden. Die Rohdaten müssten natürlich von einem Menschen nachbearbeitet werden, um alle nicht erwünschten Einträge zu entfernen.
Mehr…
Bing Save Search Results Software
Version: 7.0 | Shareware (19,99 USD)
This software offers a solution to users who want to save results from a Bing search. After entering the search text, the user can specify the number of results to be displayed. There are check box retrieval options for: title line, description lines, the entire URL or the first page of the URL. The user chooses the required results from the list before saving them to a text file.
Mehr…
MyLanViewer network scanner / IP scanner
Version: 4.19.8 | Shareware (29,00 USD)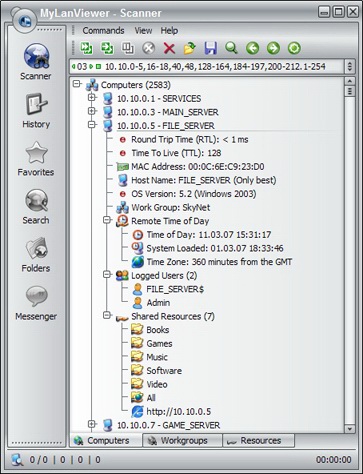 MyLanViewer network scanner / IP scanner is a powerful NetBIOS and IP scanner, whois and trace route tool, remote shutdown and Wake-On-Lan manager, wireless/Fi-Wi network scanner and monitor. It displays your network computers in an easy to read, buddy-list style window that provides the machine names, MAC addresses, shared resources and other technical details for each computer.
Mehr…
Arm Whois
Version: 3.11 | Shareware (24,95 EUR)
Arm Whois 3.11 gives a user an opportunity to find out information about a computer located in any part of the world. It automatically performs an intelligent search for the right database, delivers all available results within a few seconds in a readable form, processes lists of IP addresses and saves all info. Thanks to its simplicity, convenient interface and excellent performance, Arm Whois is a perfect solution for any kind of a user.
Mehr…
GSA Clip Spider
Version: 2.74 | Shareware (22,00 EUR)
Mit diesem Programm können Sie auf einfache Weise Film-Clips im Internet herunterladen. Eingegebene Internetseiten werden nach Filmdateien abgesucht. Clip Spider liefert schnelle und qualitativ hochwertige Ergebnisse. Die Bedienung ist denkbar einfach und schon nach wenigen Sekunden erhalten Sie die gewünschten Resultate.
Mehr…
G-Lock Blog Finder
Version: 3.5.5 | Freeware (99,00 USD)
Blog Finder searches for blog posts that rank in Google for a particular phrase and makes it easy to comment on them. It automatically seeks out high quality blogs that accept comments on the exact topics that you want. It brings up blogs with both DoFollow and NoFollow tags. Plus, using Fast Blog Finder you can determine the domain PageRank and page PageRank of found blogs.
Mehr…
Search My Network
Version: 1.23 | Shareware (39,95 USD)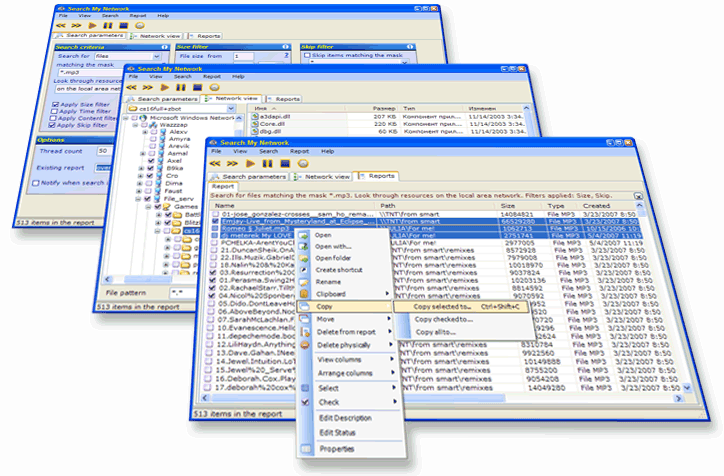 Search My Network is a LAN and desktop search and management program. You may quickly find files, folders, computers, printers and shares on your LAN or PC. Found items are stored in a report, and you may export it to many formats or manage files using copy, move, sort, find, delete, etc. The program includes a search scheduler, IP search, time/size/content search filters, LAN tree (for browsing through workgroups, computers, shares and folders)
Mehr…
PAS - Professionelle Autosuche
Version: 2.0.1.0 | Demo (89,00 EUR)
Seien Sie Ihrer Konkurrenz einen Schritt voraus! Sie verbringen den ganzen Tag vor Ihrem Computer und suchen interessante Fahrzeuge? Der Erfolg lässt allerdings zu wünschen übrig, da es fast unmöglich ist die Anzahl der neuen Angebote zu überblicken und dann noch ein Schnäppchen zu finden. PAS nimmt Ihnen die Arbeit ab. Überzeugen Sie sich selbst und testen Sie PAS völlig Gratis und unverbindlich für 7 Tage.
Mehr…
SoftPerfect Network Search Engine
Version: 2.0.3 | Freeware
A free self-contained index-based network search engine that indexes shared files in your local area network and provides users with the ability to locate necessary files within a few seconds. The built-in web-server and database ensure trouble free deployment and configuration while the web-based user interface enables users to enter intuitive search queries on all file types using a simple wild-card based format via their favorite web browser.
Mehr…
Arm Adult Filter
Version: 1.0 | Freeware
Arm Adult Filter will safeguard web surfing of your children by restricting access to web pages with obscene material, gambling sites and any other resources you consider improper. The software integrates with any browser. It can block web contents, including search results by the specified keywords. It also has adjustable lists of allowed and restricted websites. With Arm Adult Filter your children will browse the web safely for their mind.
Mehr…
Zoom Search Engine Free Edition
Version: 7.0.1001 | Freeware
Zoom is a free package for web developers to add a powerful custom search engine to their website, or CD/DVD, in a matter of minutes. No complicated server-side setup procedures, just index and upload from the convenience of your own Windows computer. Features include: "Google-like" context descriptions, logging and statistic reports, sort by date options, spelling suggestions, and more. Available for PHP, ASP, JavaScript or CGI platforms.
Mehr…
10-Strike Network File Search
Version: 2.3 | Shareware (28,00 EUR)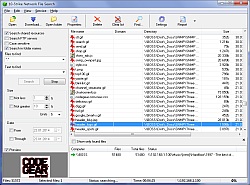 Search files on local network's servers and computers. Search files on FTP servers. Preview search results and open found files directly from the remote computers or copy them to your hard drive. Generate and save handy reports. If you are a system administrator, you can find all video or MP3 files that your users are hiding on servers. Search in hidden resources. Delete the necessary files from servers.
Mehr…